Daily Brief
The Friend Tech Airdrop Opp
How to hit the ground running on Crypto Twitter's latest craze.
Dear Bankless Nation,

Crypto Twitter has been abuzz this past week over the new Friend Tech web app with people scouring for codes to the invite-only social platform.
Friend Tech has already alluded to the possibility of an airdrop, but how can you maximize your chances of getting on that list? Read on! 🫡

-Bankless team
The Latest Social Airdrop Opportunity
Bankless Writer: Jack Inabinet | disclosures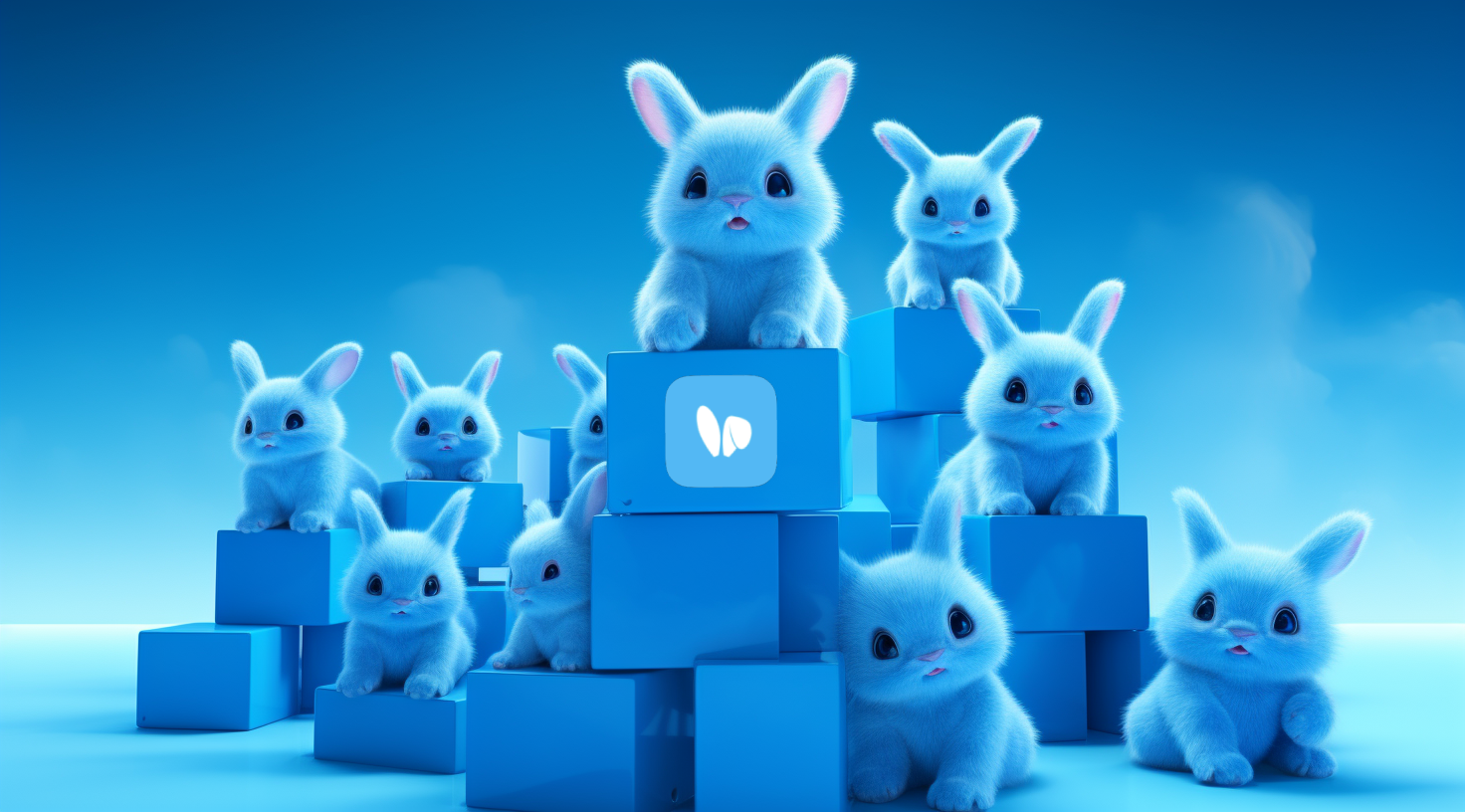 As part of our Airdrop Hunter launch, we'll be transitioning away from full monthly email updates and pushing our paid subscribers towards the actual product on Bankless.com. We promise it's worth logging in for! (pro tip: log-in with your wallet for the most seamless experience)
Today, we're showcasing one of our latest additions to Airdrop Hunter: Friend Tech!
We talked about Friend Tech in our recap last week, and Metaversal covered the NFT element of it yesterday – why are we talking about this thing so much? To be honest, it's an interesting consumer app development during a pretty lengthy dry spell in web3. It's fun to see Crypto Twitter rallying around something (and also VCs 👀)!
Let's get to hunting!
🩵 Friend Tech
About friend.tech
Friend.tech is an invite-only web3 social dApp native to Base that allows you to buy and sell "shares" of connected Twitter accounts. Owning someone's shares grants you access to a private chatroom with them and other share HODLers!
Why we're watching
Users who click on the button labeled "Airdrop" on the friend.tech frontend are informed that completing specific tasks will make them eligible to receive points. Protocols often look to identify their most active users for outsized token airdrops in the future; it appears that friend.tech may be following a similar route. While only points are set to be airdropped at the moment, it seems likely that a future drop will involve tokens.
How to boost your airdrop chances
Like we said, the best way to navigate our airdrop guides is by checking out Airdrop Hunter, here's a screenshot of the expanded view of the first of 3 Quests! You'll need an invite code to get started on friend.tech, so ask around or dive into the comments of Hunter where other Bankless paying subscribers are sharing them freely.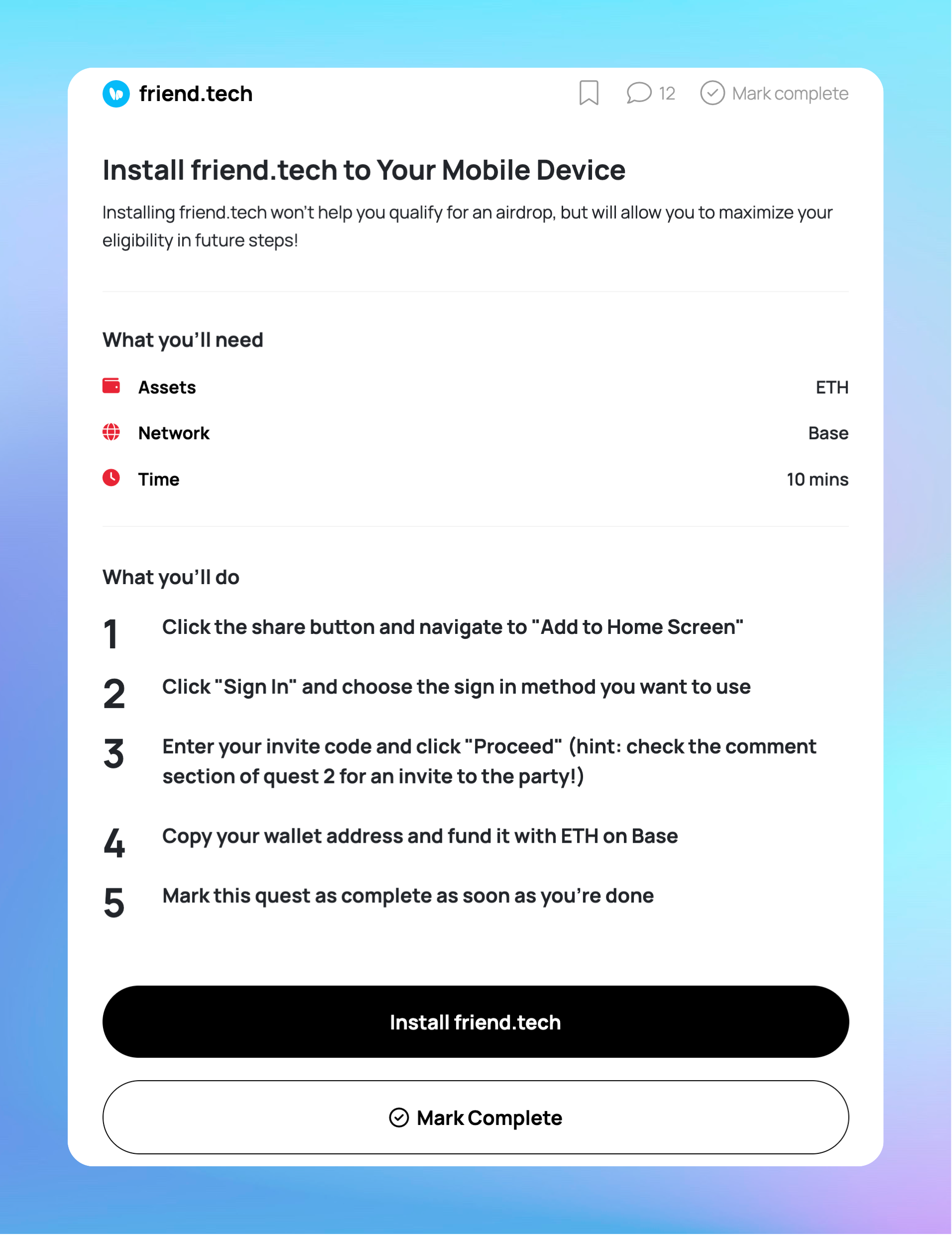 Alright, so now you've got some fresh ETH loaded into your friend.tech wallet, what do you do with it? Get started placing your bets and buying shares of accounts! You can dig into the 3 listed Quests by becoming a paying subscriber and checking out the full page on Airdrop Hunter 😎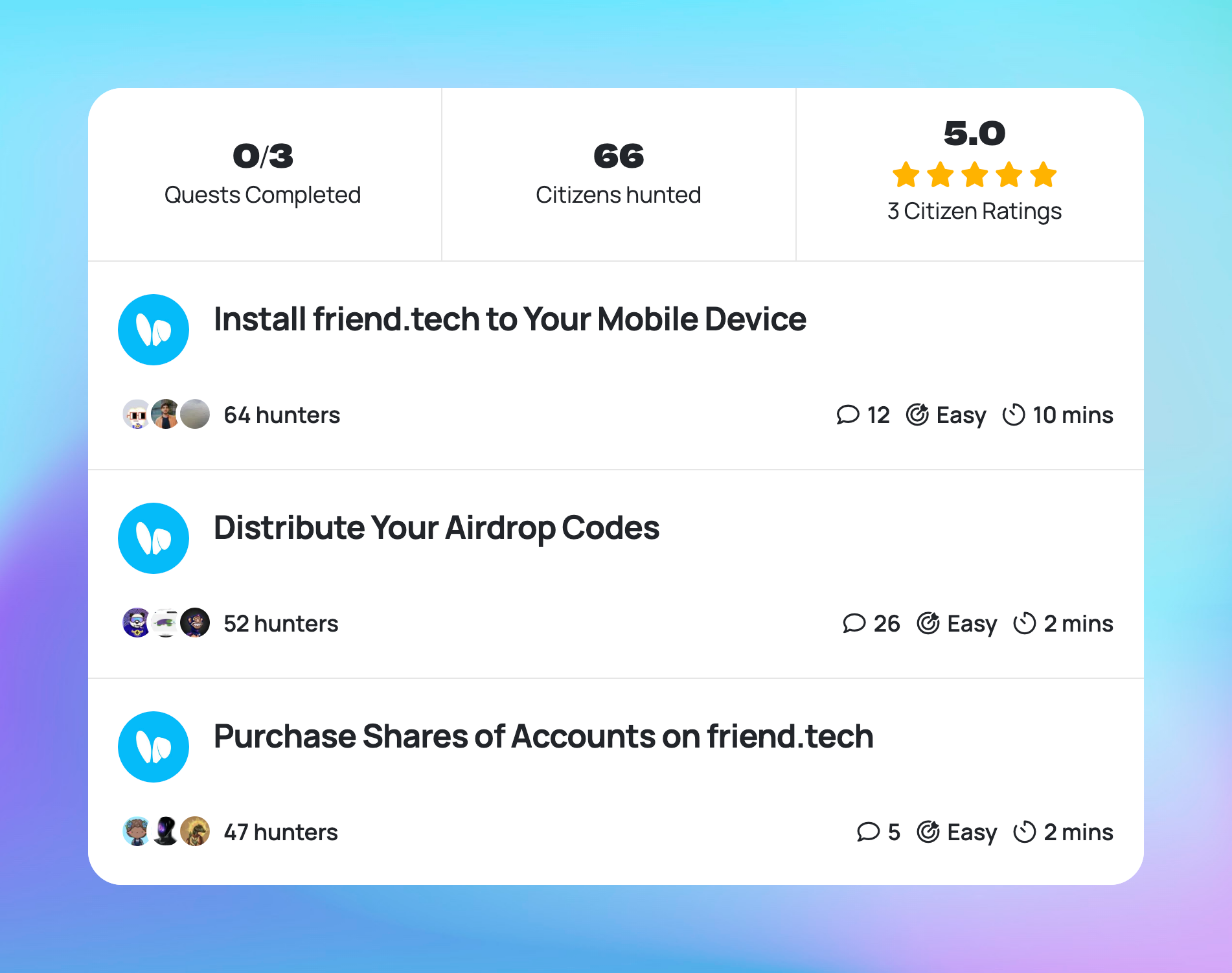 Action steps
No more waiting in line: the "Buy" feature in MetaMask Portfolio lets you instantly convert your money into crypto using top providers. Embrace the speed and convenience of our direct-to-wallet on-ramp and go from fiat to DeFi with ease.