News
What Happened in SBF's Trial This Week
Weekly recap: SBF trial special edition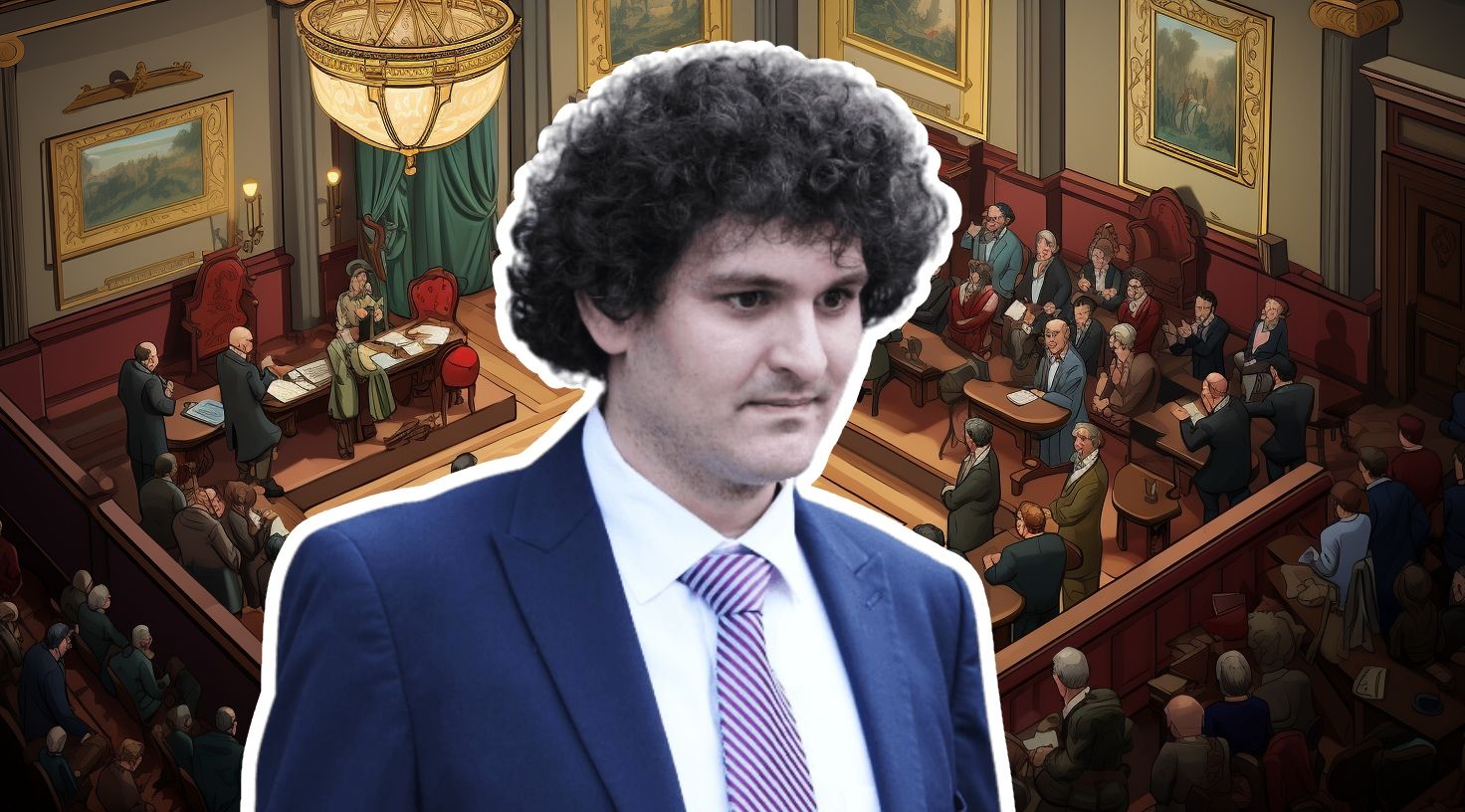 Friend & Sponsor
Kraken

- See What Crypto Can Be with Kraken
Dear Bankless Nation,
The six-week trial of Sam Bankman-Fried kicked off this week, and the SBF biography "Going Infinite" was published, which means we've got an awful lot to catch up on...
For our weekly recap, we dig into:
SBF's co-founder turns on him
Michael Lewis SBF book confounds crypto
SBF's fate hangs in jury's hands
Paradigm's head says VC firm was misled
SBF could lose private jets!
- Bankless team
---
📅 Weekly Recap
1. SBF's co-founder turns on him
It was a rough first week for SBF as government prosecutors carted out a number of high-profile witnesses who painted a damning portrait of Sam.
The prosecution's biggest claims were put on display when FTX co-founder Gary Wang took to the stand Thursday and testified that the crypto exchange had given special privileges to Alameda Research.
"We allowed Alameda to withdraw unlimited funds," Wang told the court. Unlike other accounts at FTX, Alameda was allowed to carry a negative balance and by the time of its collapse "had withdrawn $8 billion from the platform and had drawn $65 billion on its line of credit, Wang said during his testimony," according to reporting from Decrypt.
Wang testified that SBF had committed wire fraud, securities fraud, and commodities fraud. This is no surprise, given Wang, alongside Alameda's Caroline Ellison, pleaded guilty in December over conspiracy to commit commodities, wire and securities fraud.
2. Michael Lewis SBF book confounds crypto
Many in the crypto space were earnestly awaiting the release of famed finance author Michael Lewis's biography on SBF – titled "Going Infinite," but early reviews of the book, which chronicled the rise and fall of SBF, suggest that Lewis may have squandered the book opportunity of a lifetime by getting trapped by his sympathy for the young founder's claims of what went wrong.
Among the unreported details shared in the book were that SBF was losing a half-million dollars every day after Alameda had launched. Also, we got some details on why Kevin O'Leary was so effusive in his praise for SBF even after FTX collapsed – he was getting paid $15.7 million by the firm for "20 service hours, 20 social posts, one virtual lunch and 50 autographs." Sweet deal.
3. SBF's fate hangs in jury's hands
Before anyone took to the stands, legal teams from both the prosecution and defense agonized over the jury selection for the trial, which includes a librarian, a nurse, a special education teacher and a corrections officer.
At least three jurors recused themselves because they had lost money in crypto investing.
The selected dozen New Yorkers will have to come to a consensus that SBF should be convicted on each of the charges facing him. Across Twitter, amateur legal analysts were already placing bets on who were most likely targets for the defense to appeal to.
4. Paradigm's head says VC firm was misled
While Wang offered the most intimate details of SBF's misdeeds, another high-profile witness who took to the stands this week was Paradigm co-founder Matt Huang.
The elite venture capitalist testified that the firm was kept in the dark on a number of critical business decisions – including FTX's decision to use customer funds to keep Alameda Research afloat.
Huang, unsurprisingly, said that the firm has marked its $278 million investment in FTX "to zero."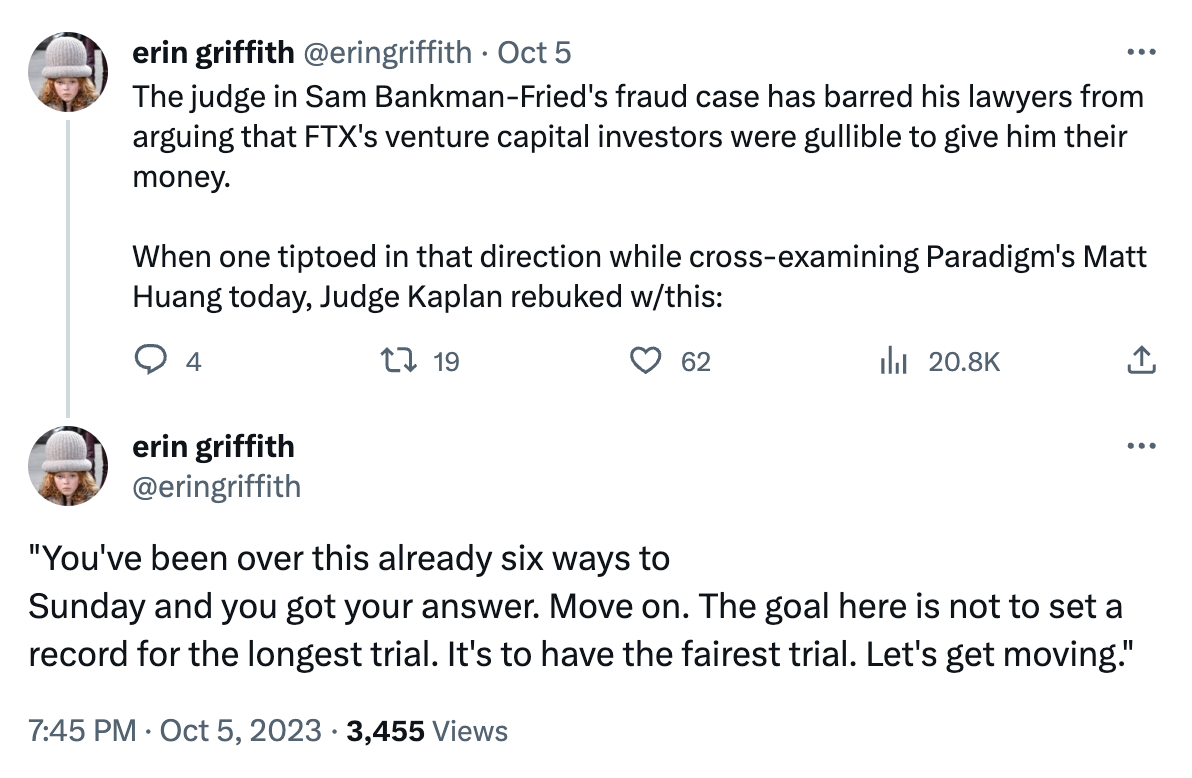 5. SBF could lose private jets!
SBF isn't just fighting for his freedom in his court case; he's fighting for his private jets.
U.S. prosecutors claim that two private jets owned by SBF could be forfeited in an effort to claw back assets. Interestingly, these jets appear to only be owned by the disgraced founder and aren't actually used by him.
---
📺 Bankless Weekly Roll-Up
Other news: