NFTs
The new oldest NFTs on Ethereum? 🧐
1k ETH MAYC loan, OpenSea gets Optimistic, Zora's Future Tape, & more!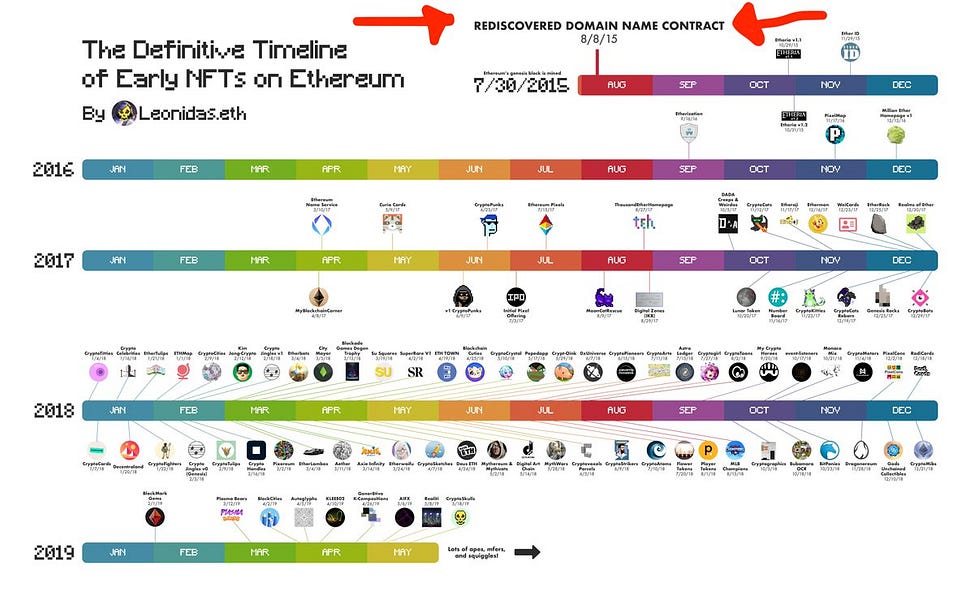 Dear Bankless Nation,
Ethereum officially began on July 30th, 2015.
Long time ago, right? Take note then, because yesterday people rediscovered and started minting from Name Registrar, a simple ENS-like project that was launched on August 8th, 2015 — just a week after Ethereum launched!
As you can imagine, many people are very excited about the find because it appears Name Registrar is now definitively the oldest NFT project on Ethereum by a couple of months.
In less than a day since the rediscovery, NFTers have already minted more than 100,000 of these names! The thread above highlights a community-made minting app, yet if you try it only mint with a burner wallet for now since the underlying smart contract remains unverified.
It's fascinating that NFT archaeology efforts are turning up these sorts of early pioneering efforts, and I'm expecting plenty more interesting rediscoveries in the years ahead. In the meantime have a great weekend everyone, thanks kindly for reading ✌️
-WMP
---
📣 General NFT News
Disney is looking to hire a transaction lawyer for its future NFT projects.
JPG, an NFT curation protocol I contribute to, just opened to everyone and launched a revamped curator tooling system.
MetaMask rolled out its new Portfolio Dapp, which includes support for NFTs across multiple chains.
OpenSea launched support for the Optimism L2.
Quix, an NFT marketplace on Optimism, now shows $OP "cash back" rewards in-cart:
🏆 Digital Collectibles
🎨 Cryptoart
Art Blocks is ending its Curated drops series designations — there will still be Art Blocks Curated releases but they will no longer come in numbered series, e.g. Series 1, Series 2, etc.
🎮 Decentralized Gaming
💽 Music NFTs
Future Tape, the first mobile music NFT app, is out via Zora:
Warner Music Group partnered with OpenSea to create web3 opportunities for WMG musicians.
🌐 Virtual Worlds
💎 DeFi x NFTs
fragment borrowed 1,000 ETH against two "mega" MAYC NFTs via NFT borrowing and lending protocol Arcade:
---
Action steps