Daily Brief
Bitcoin Blasts Back
Markets are surging, here's what's going on.
Dear Bankless Nation,
It's been one heck of a month, but things seem to be ending on a high note for the crypto markets. Bitcoin is back in a big way. Today, we unpack why.
- Bankless team
Bitcoin Blasts Back
Bankless Writer: Ben Giove | disclosures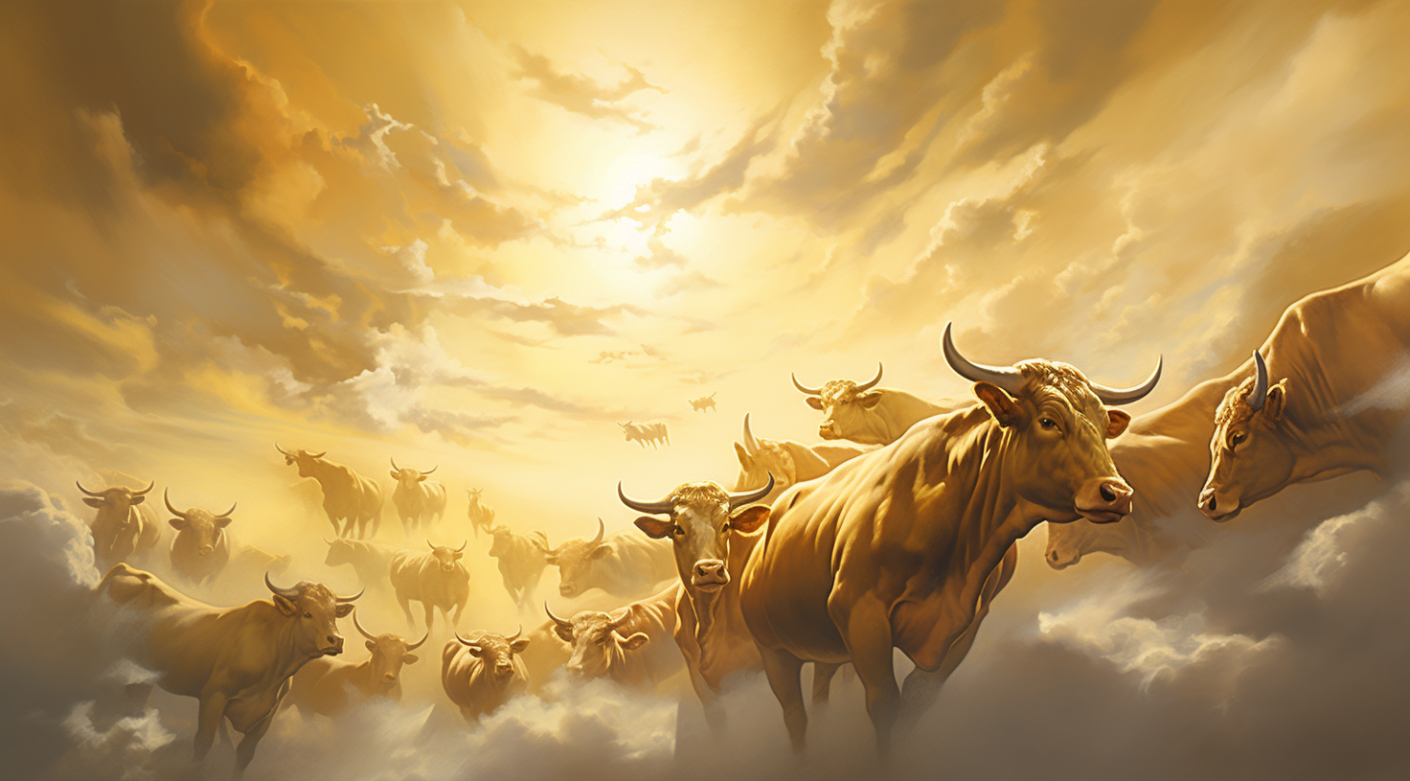 Is the bore market over? That's the question on everyone's minds after this past week's price action.
The crypto market has woken from its slumber, surging 10.8% since June 18 while adding more than $120 billion to its market cap. As has been the case throughout 2023, this move has been led by Bitcoin.
That largest crypto asset has rallied 15.2% over this period, hitting a 2023 high of more than $31,185 before retracing to its current price of around $30,500.
Bitcoin dominance also increased during this move, rising from 49.6% to 51.8%, its highest level since April 2021. This is a continuation of the metric's relentless uptrend to start 2023, when BTC's share of the total crypto market-cap sat at 42.6%.
This movement begs the question…why are we pumping? And does this rally have legs? Let's dive in and try to answer both:
The Institutions Are Coming
We've seen numerous positive developments over the past few weeks as it relates to the crypto adoption by U.S. financial institutions.  
The most noteworthy of these, of course, comes from BlackRock, with the world's largest asset manager filing for a spot Bitcoin ETF. BlackRock's filing is among the strongest indicators we've seen to date that the traditional financial world believes crypto is here to stay.
While there have been a litany of failed filings, BlackRock has a 575-1 record when it comes to ETF approvals, so history would suggest that the odds they receive approval here are strong. Their move seems to have inspired other institutions to shoot their shot, with WisdomTree, Valkyrie Investments, Invesco, Bitwise and others all filing for spot Bitcoin ETFs in the days following the BlackRock news.
It's not surprising that the markets are rallying as a result of this.
A spot Bitcoin ETF is likely to lead to a massive influx of capital into crypto, as retail investors and institutions alike will be able to get exposure to BTC through the comfy confines of a brokerage account. Furthermore, they will be able to do so while avoiding the funkiness and extreme premiums or discounts that closed-end products like GBTC, which still trades at a ~33% discount to its net-asset-value (NAV), have endured – as the Bitcoin in the spot ETF can be redeemed.
Short Liquidations
A more technical factor that's helped drive the move we've seen over the past week has been short-liquidations. While long positions being liquidated helped magnify downward moves in 2022, in 2023 the opposite has been the case.
Throughout the year, overly-bearish traders have gotten hosed, with short-liquidations providing fuel to the violent rallies we've seen throughout the year, such as the January melt-up from $16K-22K and the post-SVB rally from $20K-28K.
Bears have once again sacrificed themselves to the bullish cause during this move. These liquidations represent "forced buying" pressure and contribute to short-squeezes by forcing shorts to cover their positions.
Based on the volume of them that we've seen throughout the year, it seems that the historically bearish positioning we saw in the beginning of 2023 has yet to be fully unwound.
Unlock the future of gaming with Immutable. Experience Immutable's transformative power, where true digital ownership and web3 technology redefine gaming. Join a vibrant ecosystem backed by our leading web3 gaming platform, millions of players and a diverse lineup of 150+ games. Build, play and connect.
Are We Back?
The markets are rallying while regulatory FUD rages on and sentiment on crypto twitter remains bleak.
As we can see, despite the efforts of Operation Choke Point 2.0, the pipelines are being built for institutional money to re-enter the crypto markets, in particular through Bitcoin.
Markets are impossible to predict over the short-run. But with the halving less than a year away, the bullish stars are aligning for BTC.
---
MARKET MONDAY:
Scan this section and dig into anything interesting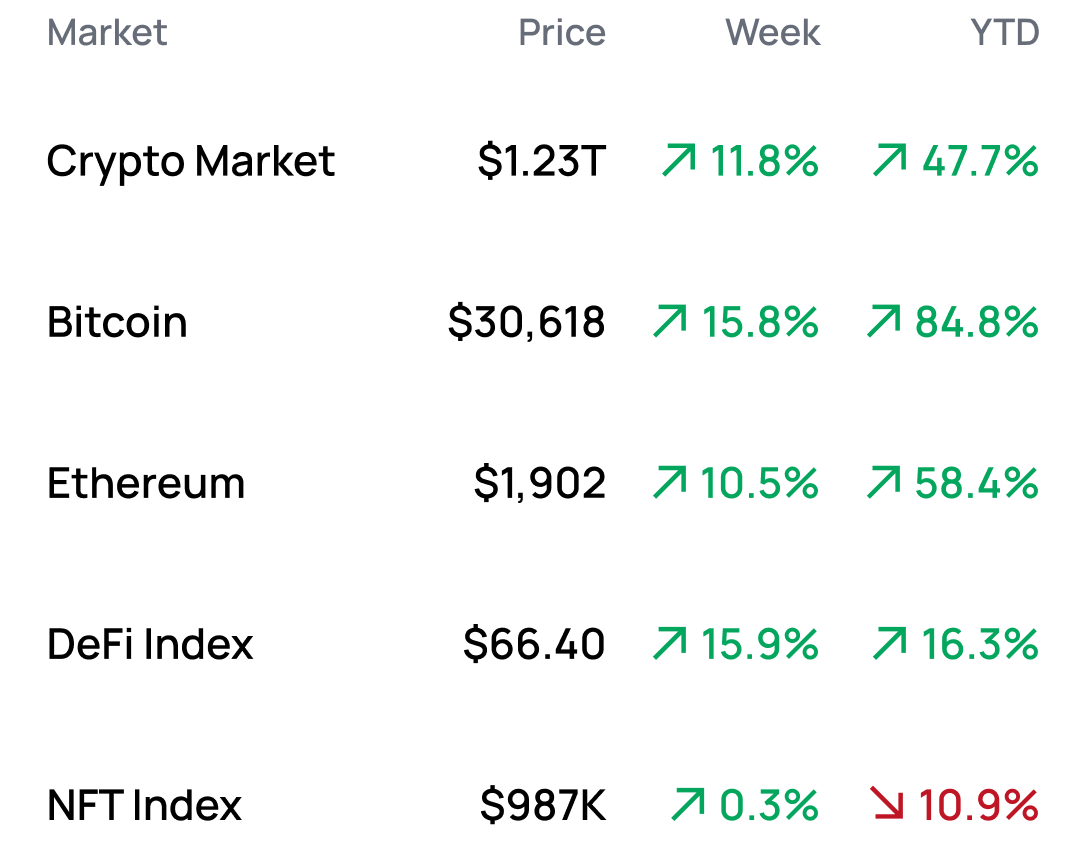 Market Opportunities 💰