Article
Trending Project: Lido (LDO) 📈
Tl;dr: The leading liquid staking protocol is center stage ahead of the merge.
Friend & Sponsor
MetaMask Portfolio

- Your web3 assets in one place, and much more
Name: Lido
Sector: DeFi - Liquid Staking
Network: Ethereum
FDV: $1.58B
Hotness Rating: 🔥🔥🔥🔥
Tl;dr: The leading liquid staking protocol is center stage ahead of the merge.
Lido is a non-custodial, liquid staking protocol where users can deposit ETH to receive stETH. stETH is a liquid staking derivative (LSD) which represents a claim on the underlying ETH staked with Lido and rebases to accrue rewards. Lido is the largest entity staking on the Beacon Chain, with 4.16M in ETH deposits—a 31.4% share.
The price of LDO has risen 248.8% since June 1. This is compared to a 45.7% increase in ETH over the same period. The outperformance of LDO, as well as other liquid staking tokens, is likely being driven by anticipation for The Merge, which is now tentatively expected to be implemented during the week of September 19. The clarity surrounding the timeline for The Merge, as well as broader relief in the market following June's deleveraging event, is likely helping fuel the rally.
Lido may also be benefiting from the stabilization in the price of stETH. The LSD is currently trading at $0.981 after dipping as low as $0.928 in June amidst concern surrounding Celsius's stETH position. Although there is no reason as to why stETH must trade at parity with ETH, the price rebound suggests that panic in the market has subsided and conditions have normalized.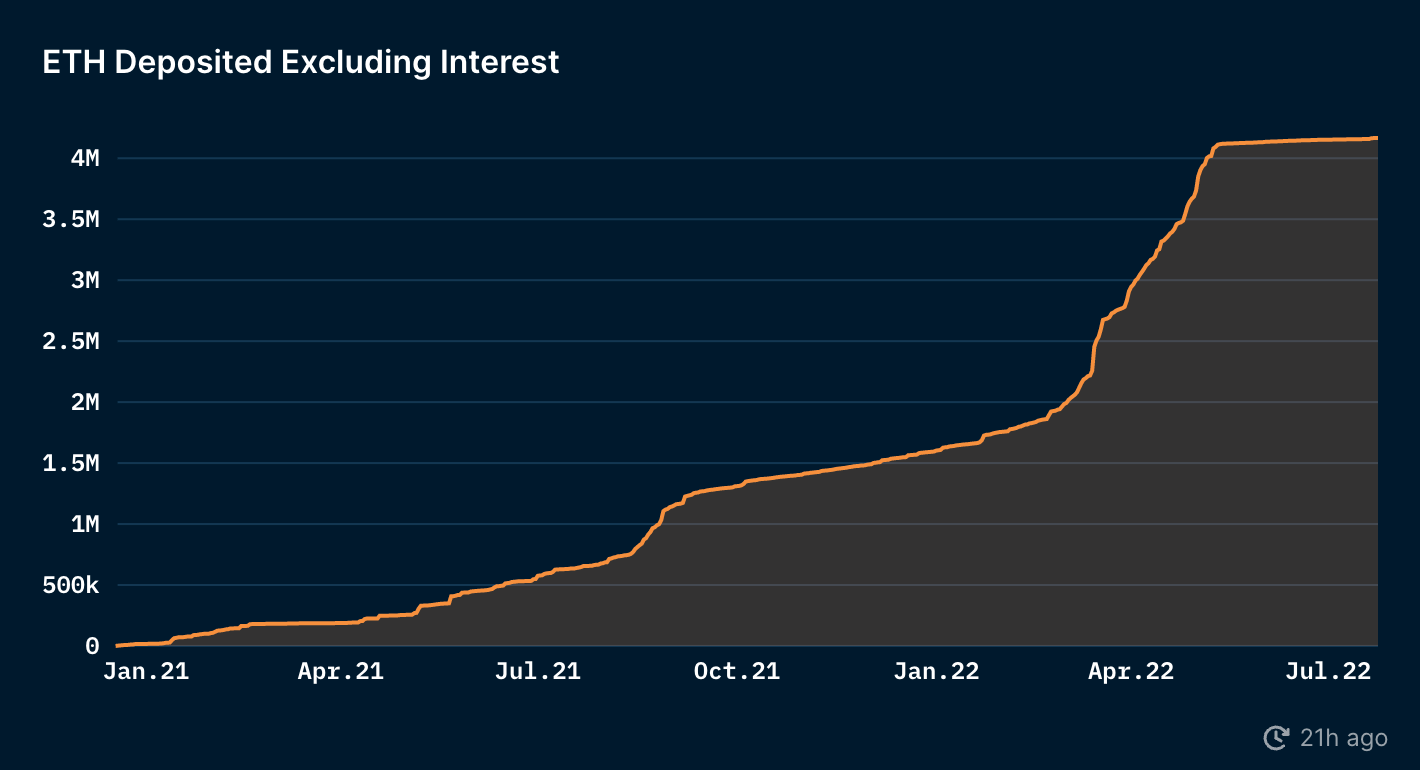 The continued strength in stETH, along with a concrete timeline for the merge following the Goerli Testnet merge on August 10, may catalyze the next leg of growth in ETH deposits into Lido, which has plateaued since the collapse of Terra on May 9. Deposits have grown just 2.1% from 4.08M to 4.16M during this seventy-seven-day period, compared to 119.2% growth over the previous seventy-seven days.
Hotness Rating (🔥🔥🔥🔥/5): LDO has outperformed ETH as excitement around the merge heats up and as concerns surrounding stETH has diminished. Although the token rose 217% in the five days between June 12 and June 17, LDO should remain one of the best ways to get exposure to the biggest catalyst in Ethereum's history.