Article
Trending Project: GMX (GMX) 📈
GMX is the top TVL protocol in Arbitrum, and big things are coming for Arbitrum.
Friend & Sponsor
Across

- Across.to is the bridge you deserve
Name: GMX
Sector: Exchange
Network: Arbitrum, Avalanche
FDV: $616M
Hotness Rating: 🔥🔥🔥🔥
Tldr: GMX is the top TVL protocol in Arbitrum, and big things are coming for Arbitrum.
GMX is a decentralized exchange (DEX) offering spot and perpetual trades. It first launched in September 2021 on Arbitrum, then on Avalanche in January 2022. The protocol has two primary tokens. The first is $GMX, a standard utility and governance token. GMX has seen an unprecedented price jump of 46% in the past 30 days.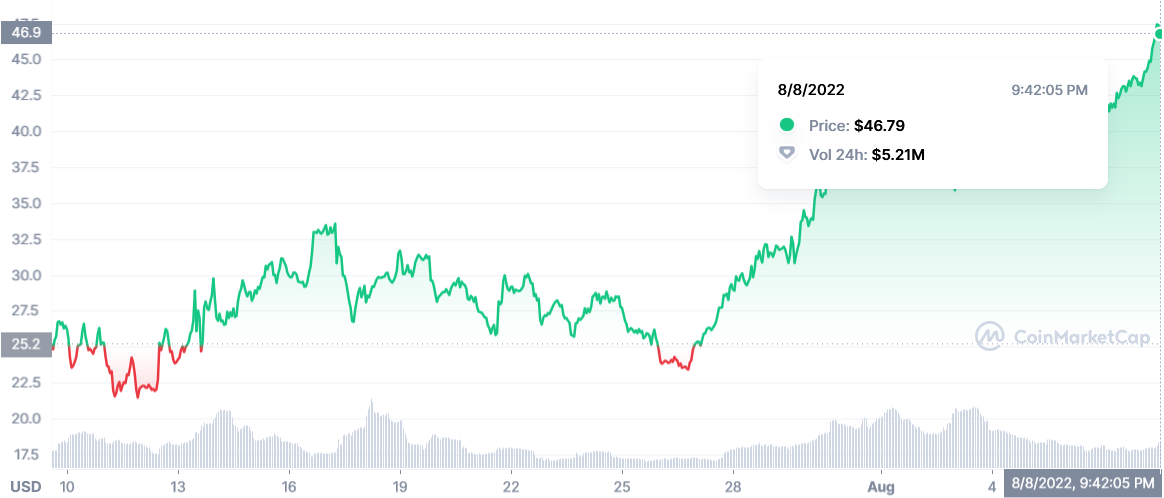 The second is $GLP, a token that liquidity providers can mint by depositing capital into the protocol. It also doubles as an index - $GLP represents a basket of tokens, with a mixed composition of established stablecoins like USDC, DAI, FRAX, USDT and established DeFi tokens like BTC, ETH, LINK, UNI and AVAX.
Both tokens can be staked to earn yield rewards ranging 21-31% as of today. Staking your $GLP lets users act as a "broker" by market-making for traders on GMX. In return, they earn 70% of platform fees in ETH/AVAX plus escrowed $esGMX rewards. The more traders lose, the more users earn (and vice versa), which is why GMX has been likened to as a "crypto casino" that lets you bet against gamblers i.e., leveraged traders.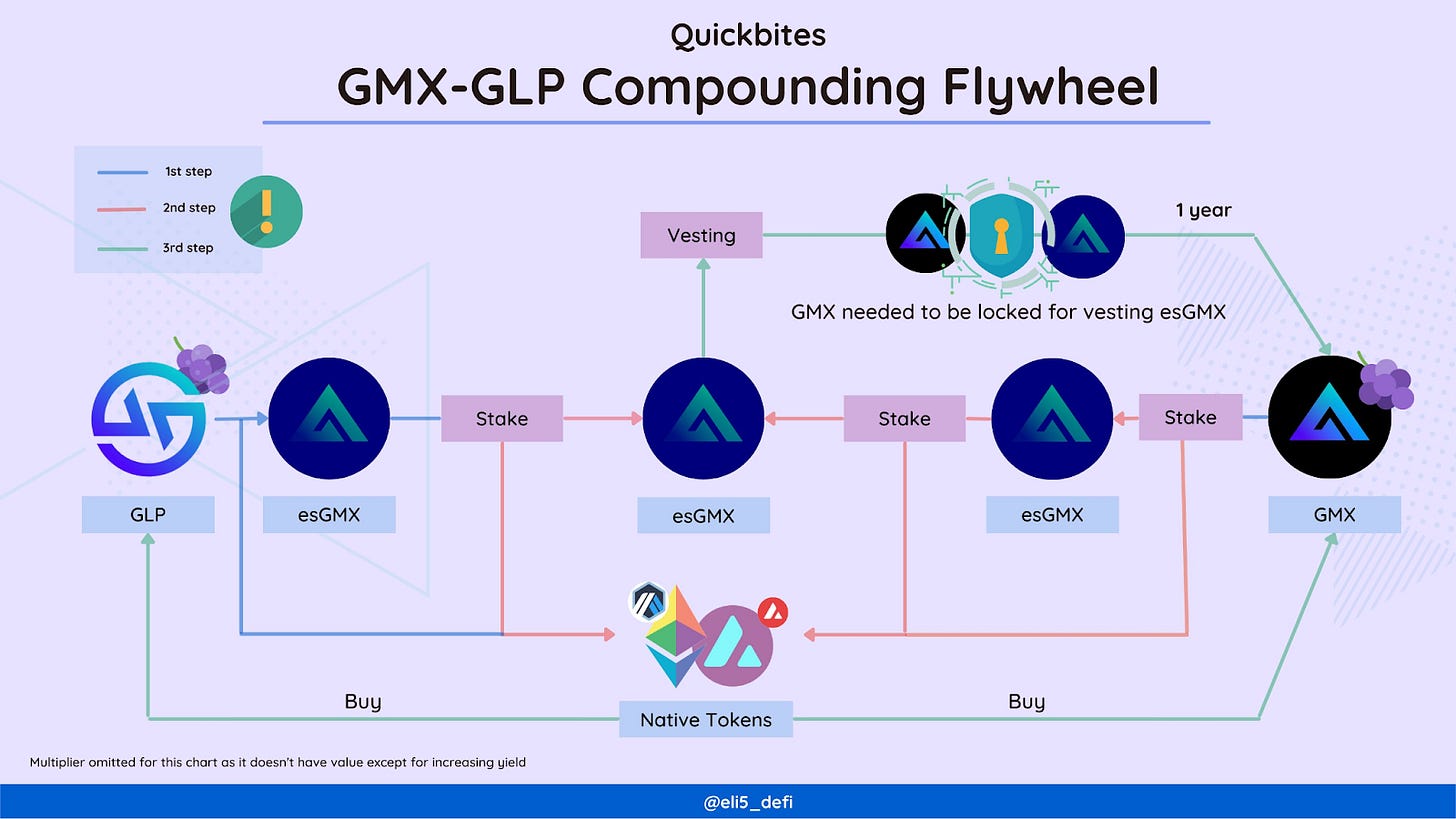 The innovative mechanism underlying GMX lies in how it provides sustainable yield to its users through trading fees and losses rather than an inflationary token model.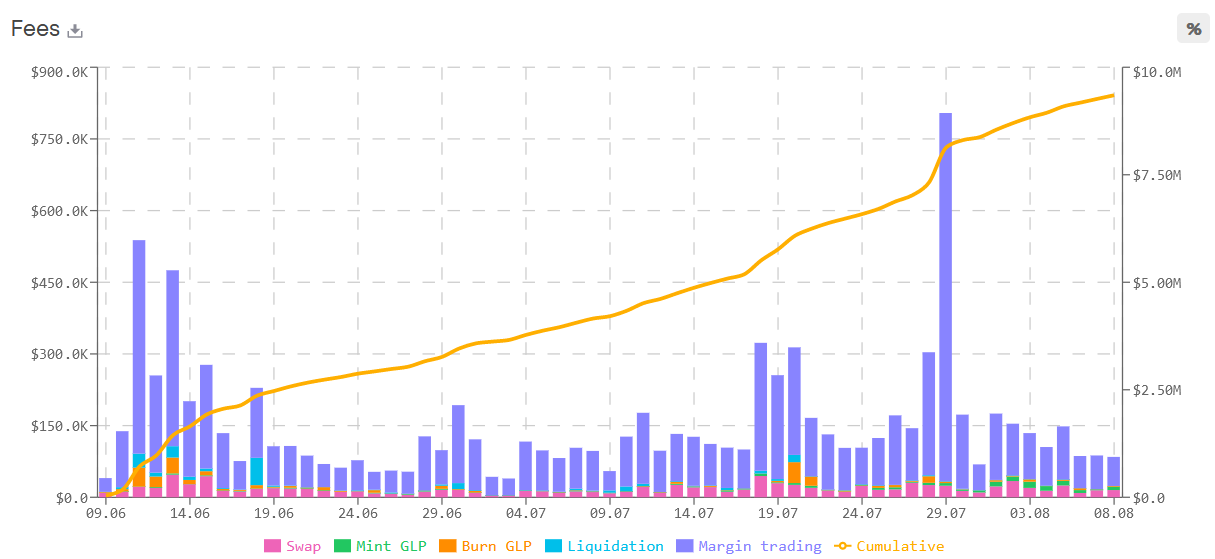 Over the past 60 days, the protocol has generated an impressive $9.8M in total revenue. According to its official dashboard, GMX's AUM sees a relatively even split with $559M on Arbitrum and $403M on Avalanche.
GMX's strength comes from its established position on Arbitrum as a core primitive. Based on DefiLlama, GMX is the top protocol by TVL at $255M on Arbitrum, and sixth on Avalanche at $93M. Additionally, other protocols like Umami Finance and Dopex are building on top of $GLP.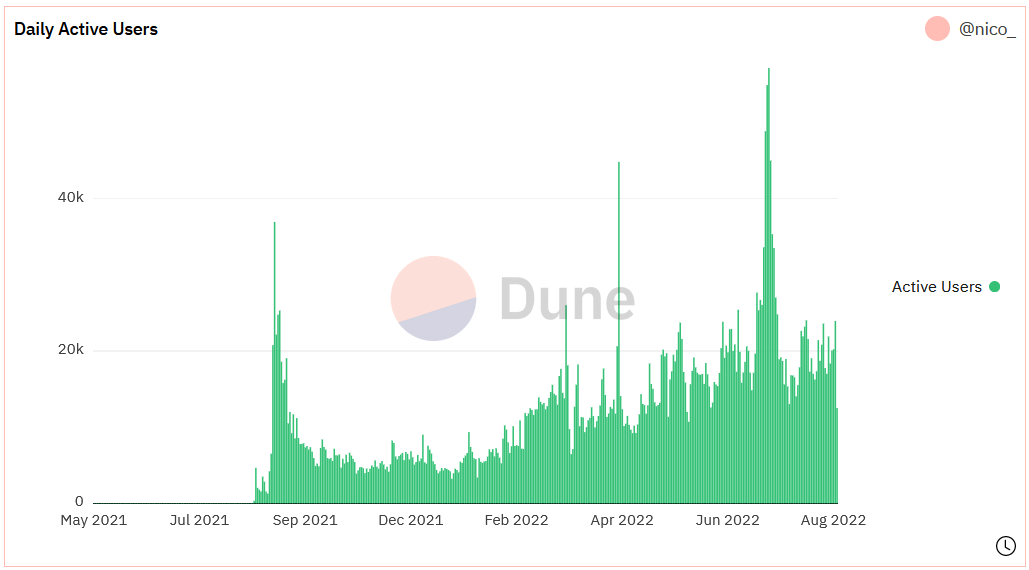 As Arbitrum's top protocol by TVL, GMX's performance is strongly correlated with the ecosystem's activity, which promises big things coming in the near future. Namely, the launch of Arbitrum Nitro at the end of August, a major technical upgrade to upgrade efficiency and reduce transaction costs, followed by a relaunch of Arbitrum Odyssey, a campaign aimed at driving user adoption. The campaign was arguably "too successful" due to network congestion, leading developers to pause it in late June.
Hotness Rating (🔥🔥🔥🔥/5)
As the reigning protocol by TVL in the leading Ethereum L2 ecosystem, GMX is well-positioned to rise to greater heights of success as evidenced by its recent market rally, even in this bear market. Investors, keep your eyes peeled for this one.