NFTs
The NFT Revolution Has Arrived
Meet Metapurse's tokenized B.20 bundle, Justin Roiland's 1st cryptoart drop, the Neon District Pizza Party, & more!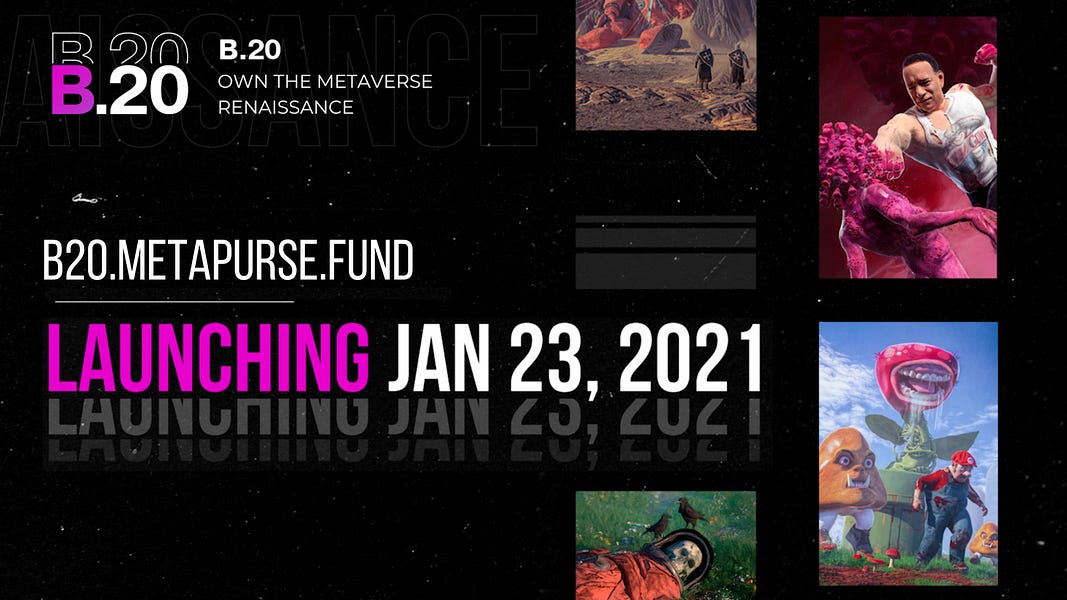 Dear Bankless Nation,
NFTs are starting to pull in new eyes from within and without the cryptoeconomy. That's no surprise with all the innovation currently taking place around these novel media legos!
Indeed, unprecedented experiments like Metapurse's tokenized B.20 bundle are trailblazing the way to new creative horizons for artists and collectors alike, and more people are taking notice accordingly.
We can't know exactly what the future holds, of course. But we've seen enough in short order to know that NFTs are going be at the heart of an absolute explosion of cultural innovations in the years ahead, and the fun has only just begun.
Get ready, then. We've arrived early to our front row seats of the 21st century's first great creative revolution, and it's time to make the most of it!
- WMP
---
🏆 Digital Collectibles
🎨 Cryptoart
Rick and Morty co-creator Justin Roiland is releasing his first cryptoart drop through Nifty Gateway on Tuesday, Jan. 19.
🕹️ Blockchain Games
Fantasy ⚽ game Sorare just welcomed popular Argentine football club River Plate to its ranks with a run of first-edition River Plate cards.
NFT-based RPG Neon District is launching its first game campaign, the Neon Pizza Party, on Jan. 19th. To commemorate the rollout, the Neon District team has released 50 NFT loot boxes via the new OpenSea Collection Manager system.
Even with acutely highly Ethereum gas prices recently, Axie Infinity has seen its battle app's daily active users (DAUs) stay steady near ~16,500. The game's soon-to-be released Ronin sidechain should help this number explode that much further.
🌐 Virtual Worlds
Metapurse is tokenizing a massive collection of NFTs, the B.20 bundle, which is centered around 20 signature 1/1 Beeple works the group collected for $2.2 million on Nifty Gateway last year. As part of the effort, Metapurse is building virtual museums for the B.20 pieces in Cryptovoxels, Decentraland, and Somnium Space.

This week's WIP Meetup in Cryptovoxels, which featured speakers from Layer1, Graph Protocol, and CryptoKitties, was followed up by a CryptoKitties-themed event in nft42's ongoing Metalympics games.
🛒 NFT Marketplaces
OpenSea co-founder and CEO Alex Atallah noted that more than 630,000 Ethereum wallets have created ERC-721 or ERC-1155 NFTs to date ...
💎 DeFi x NFTs
NFT index fund protocol NFTX saw its community vote to approve moving "current & future liquidity toward Sushiswap."
Cent.co maestro and WIP meetup founder matthew.cent.eth published his "2021 Crypto NFT Predictions." Therein, the seasoned NFT veteran predicted that a prominent crypto exchange like Coinbase or Binance would acquire a major NFT marketplace by the end of 2021.
---
Action Steps