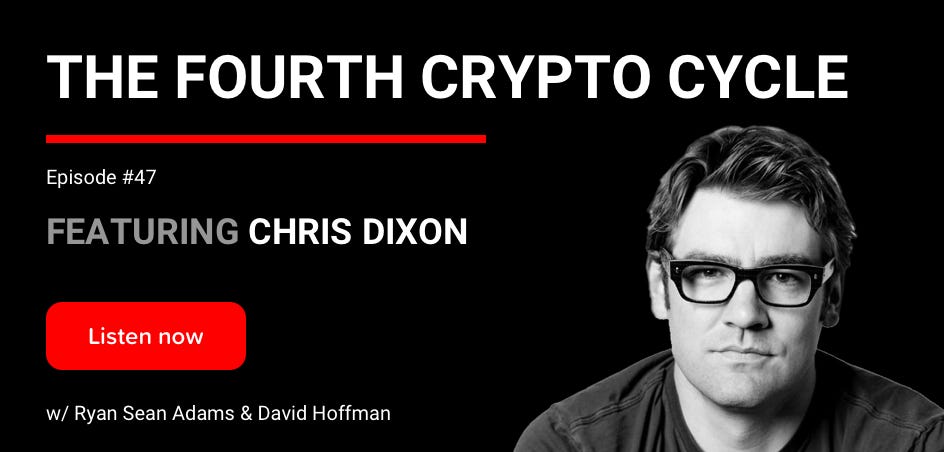 Investing
,
Macro
,
Regulation
🎙️ The Fourth Crypto Cycle | Chris Dixon
General partner of a16z discusses how blockchain technology can impact the world's 4 billion internet users
Inside the episode
Level up your open finance game five times a week. Subscribe to the Bankless program below.
---
🎙️ NEW PODCAST EPISODE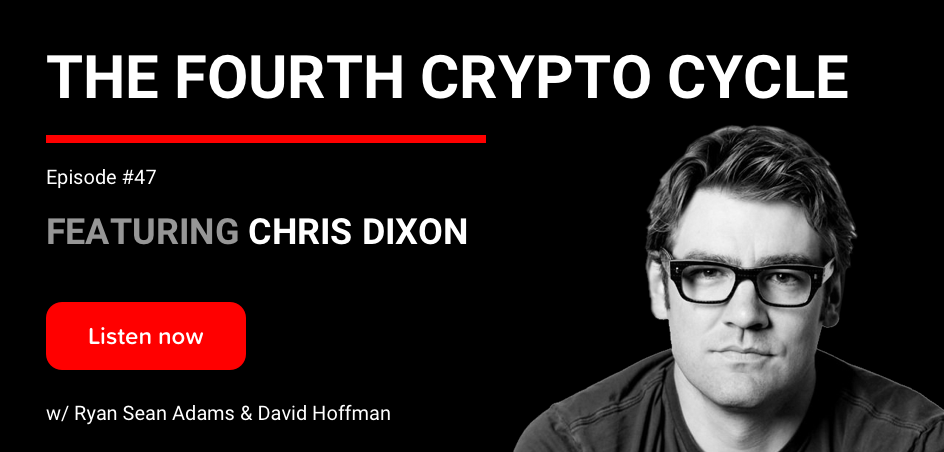 Listen to episode 47 | iTunes | Spotify | YouTube | RSS Feed
---
👀 Want to hear Ryan & David's after-the-podcast conversation? Full subscribers get access to the raw, unfiltered debrief conversation recorded directly after the episode.
---
Tools from our sponsors to go bankless:
⭐️ AAVE - BORROW OR LEND YOUR ASSETS
https://bankless.cc/aave
🚀 GEMINI - MOST TRUSTED EXCHANGE AND ONRAMP
https://bankless.cc/go-gemini
💳 MONOLITH - GET THE HOLY GRAIL OF BANKLESS VISA CARDS
https://bankless.cc/monolith
📈 KWENTA | DERIVATIVES TRADING WITH INFINITE LIQUIDITY
https://bankless.cc/kwenta
---
📺 The Fourth Crypto Cycle | Chris Dixon
January 11th, 2021
Chris Dixon is a general partner at a16z, a famous private American venture capital firm that has specialized in technologies related to the growth of the internet and computation.
Chris transcends the pre-internet, post-internet, pre-crypto-and post-crypto worlds of investing and venture capital, so his perspective is rich, deep, and consistent with the themes that transcend these revolutions.
Coming from a16z, Chris approaches this industry from a technological perspective, rather than a monetary one, and seems to be steering the a16z Crypto Fund ship in the direction that typical silicon valley venture capital investors focus on: how can blockchain technology meaningfully impact the 4 billion users of the internet.
This conversation with Chris was fast-paced and vibrant! Tune in to hear one of Tech's most experienced investors!
---
Resources mentioned in the podcast
Book Chris mentioned: "The Company"

Read these a16z resources on crypto:

Give Bankless 5 stars on the podcast! Let's get to the top of the charts 📈
Also...subscribe to Bankless YouTube to watch State of the Nation every Tuesday.
---
Subscribe to the podcast on iTunes | Spotify | YouTube | RSS Feed
Leave a review on iTunes
Share the episode with someone you know!
---
Don't stop at the podcast!
---
Go Bankless. $12 / mo. Includes archive access, Inner Circle & Deals—(pay w/ crypto)
---
Not financial or tax advice. This newsletter is strictly educational and is not investment advice or a solicitation to buy or sell any assets or to make any financial decisions. This newsletter is not tax advice. Talk to your accountant. Do your own research.
---
Disclosure. From time-to-time I may add links in this newsletter to products I use. I may receive a commission if you make a purchase through one of these links. I'll always disclose when this is the case
A huge thanks to our
Friends & Sponsors