News
Solana is in trouble
Weekly Recap: SOL sinks, VC returns stink.
Dear Bankless Nation,
There's never a dull week in crypto, even in the last week of the year.
For our very last newsletter of 2022 (we'll return to our Saturday delivery of Weekly Recap next week), we look at the turbulent fall of Solana, an SBF-ordained "Ethereum killer," which is gasping for breath as many in the space predict a complete collapse.
We break down other troubles from the week including:
1. Solana in Trouble?
2. VCs in Trouble?
3. Avi in Trouble?
4. Gemini in Trouble?
5. Opensea in Trouble?
- Bankless team
PS:  Tune into our new episode with Erik Voorhees which just dropped in Early Access for Premium Subscribers. "Why are we here? | Erik Voorhees"
---
📅 Weekly Recap
Here's a recap of the biggest crypto news from this past week.
1. RIP Solana?
The talk of the town this week is the predicament facing Solana, once known as the "ETH killer" chain. The knock-on effects of FTX's implosion continues to ripple through the Solana ecosystem.
Why? FTX was a significant investor in Solana.
Alameda bought ~58M SOL in 2020-2021, about 10.8% of SOL's total supply. DeFi projects on Solana like the Serum DEX, the brokerage network Oxygen and Maps.me – the so-called "Sam coins" that were lost in FTX – also enjoyed FTX's backing.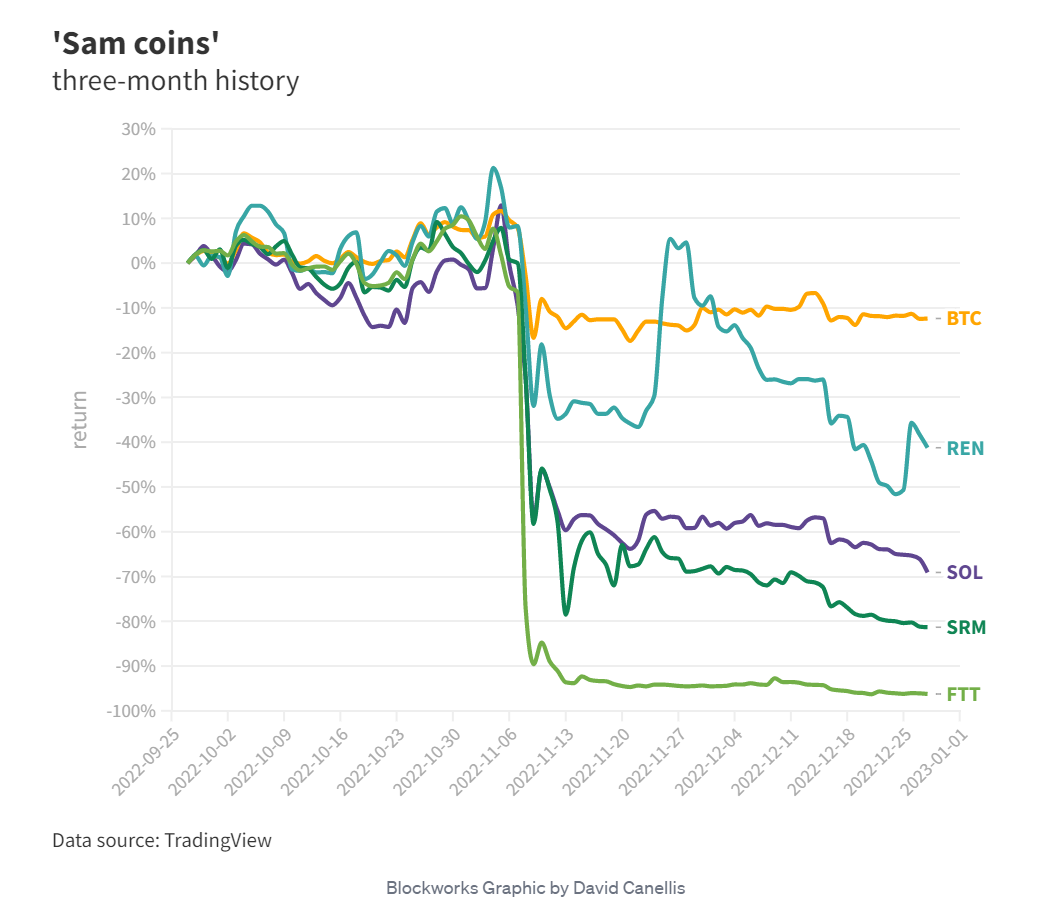 The ongoing storm around FTX is bad news for Solana as public perception around the company is in the gutter right now. SOL is down 23% in the past 7 days, and down 95% YTD. DeFi TVL on Solana is down 96.8% YTD from $11.2B to $364M today, putting Solana as the 10th largest chain just behind Fantom and Cronos.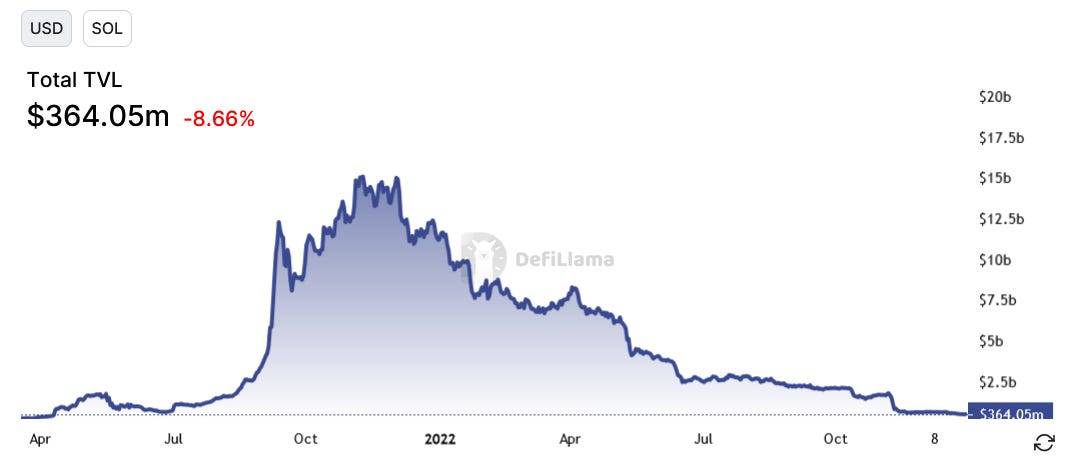 Meanwhile, two of Solana's top NFT projects – DeGods and y00ts – are also calling it quits on Solana this week, with planned migrations to Ethereum mainnet and Polygon respectively.
Can Solana bounce back? Vitalik is optimistic.
David has some qualms.
Plenty of others also seem ready to deliver Solana's eulogy.
Solana co-founder Raj Gokal is seeing this episode as a purge of Solana's "mercenaries and grifters". Ryan Shea of Solana Labs sees this as an opportunity to rebuild Solana's culture from the ground up.
Contrary to popular belief, there is recent survey evidence that Solana developers are not leaving in droves. Solana's exposure to FTX might also be overstated as 72% of Solana teams reported themselves not being directly impacted by FTX.
---
2. Misadventure Capital
VCs were geniuses during the bull run but as the bear market rears its head, professional investors aren't getting the same acclaim.
A leaked investor statement from Multicoin Capital is making the rounds on Twitter this week. In the letter, the fund's founders Kyle Samani and Tushar Jain disclosed the fund's impact from direct exposure on FTX and FTT, as well as indirect exposure from SOL (its largest position) and SRM.
It ain't pretty.
---
3. Cryptovillainy
We are almost at the end of the Sam Bankman-Fried saga. "How many years in prison will he get?" – is the question on everyone's minds.
Sam is soon to be arraigned on January 3 after a change in judges due to a conflict of interest with previous judge Ronnie Abrams whose husband had advised FTX in 2021. U.S. District Judge Lewis Kaplan will now be overseeing the biggest financial scandal since Bernie Madoff.
Meanwhile, Alameda-tagged wallets were noted Thursday trading ~$1.7M of CRV, ETH, USDC and DAI for USDT, before being converted to BTC through mixers like ChangeNOW and FixedFloat.
Elsewhere, Avraham "Avi" Eisenberg, the infamous figure behind the Mango Markets attack in October and the Curve/Aave attack in November was arrested in Puerto Rico this week and charged with market manipulation offenses.
---
4. Here Come the Lawsuits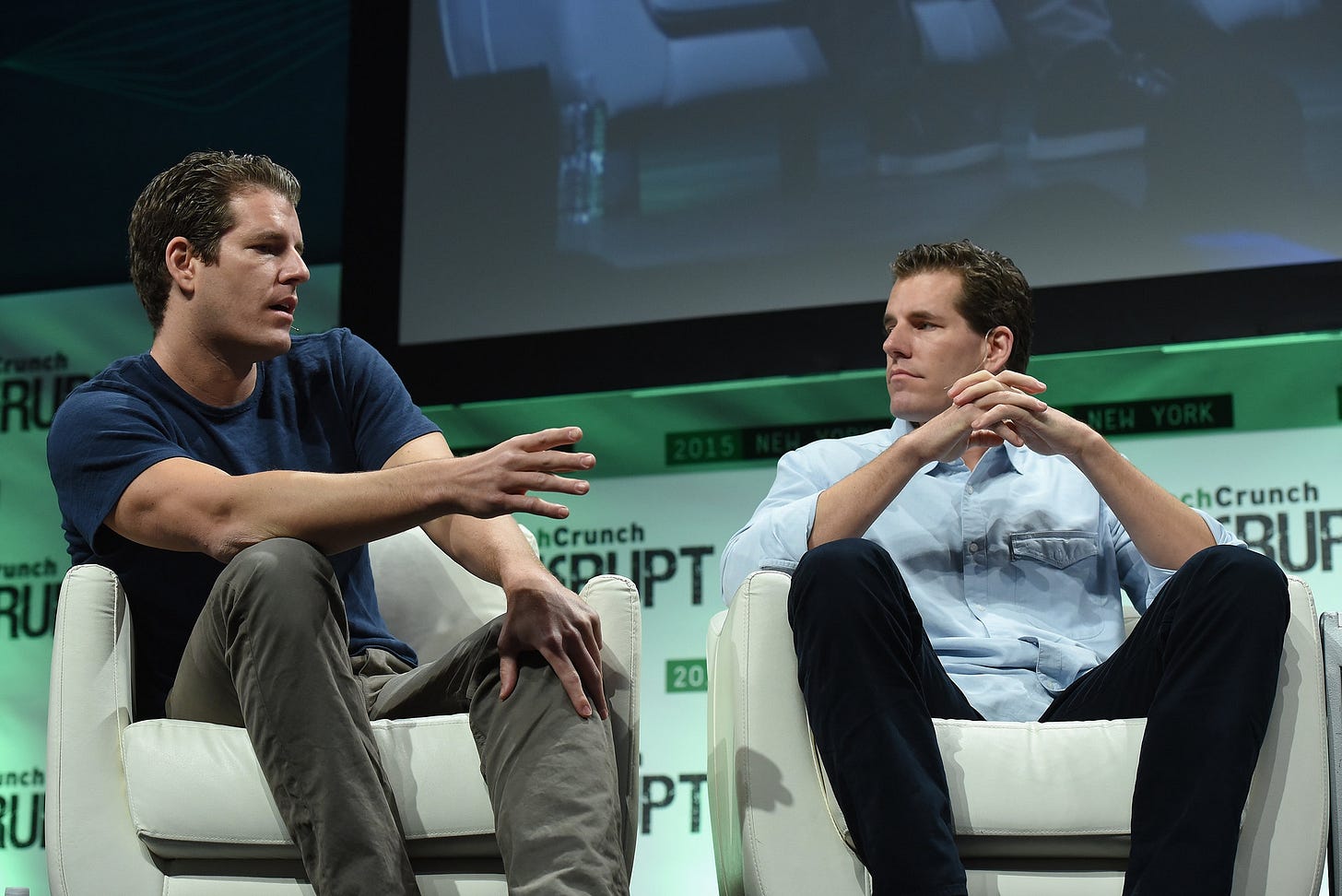 Gemini is being sued in a class-action lawsuit for its mid-November halt of the Gemini Earn program, an interest-earning product that offered 7.4% APYs for lending crypto. Troubled lender Genesis, which powered the program, still owes Gemini customers more than $900 million.
Impacted customers charge that Gemini failed to register their interest-bearing accounts as securities and didn't communicate risks to its customers.
---
5. China launches NFT marketplace
The People's Republic of China is launching a NFT marketplace on 1st January named the "China Digital Asset Trading Platform". Yes, you read that correctly.
The underlying Layer-1 will be a heavily regulated chain called the "China Cultural Protection Chain". The platform, run by state-owned entities and the private company Huban Digital Copyrights,  lets users trade intellectual property like digital copyrights on top of digital assets. We don't think OpenSea is losing any sleep over this.
Elsewhere in NFT land, Pudgy Penguins are mooning.
Other news: