Daily Brief
🏴 Podcast NFTs.
An update on Bankless Collectibles and our journey to web3 media.
Dear Bankless Nation,
Back in November, we launched Bankless Collectibles.
These were meant to act as limited edition content collectibles for our biggest fans.
It began with the Genesis Collection — 5 legendary episodes from our archive.
Then in January, we introduced Monday Mints, a weekly mint for our flagship Bankless podcast in 2023.
In total, we're now 10 podcast NFTs deep with our 11th planned for Monday (listen to early access here. Spoiler: It put Ryan in an existential crisis 🥶).
Given the milestone, we wanted to give a quick update on where Collectibles are at.
Stats Board 📊
After 10 episodes:
1,000 NFTs minted 🌱
394 addresses hold at least 1 of the 10 drops 💎
26 addresses are Gauntlet Holders (all 5 Genesis NFTs) ✊
7 addresses hold all 10 episodes 👀
8.2 ETH donated to various organizations.
Not too bad for a brand new sector in NFTs.
Special thanks to DidierKrux for uncovering the data.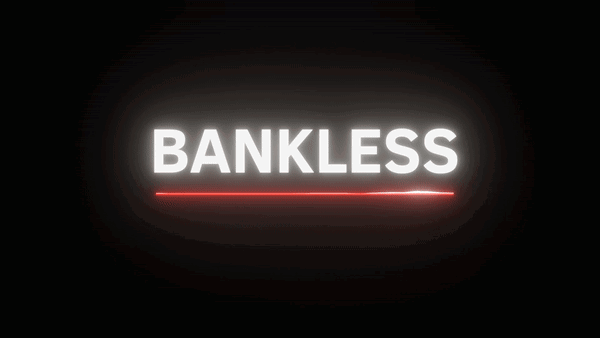 ---
Salute to the Top 5 Collectors 🫡
With over 1000 podcast collectibles out there, a handful of collectors have gone above and beyond our expectations…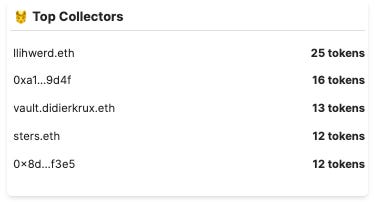 We salute you 🫡
Thank you for helping us pioneer web3 media.
Feel free follow these legendary (public) Bankless Citizens on Twitter:
---
On-Chain Effective Altruism 🤲
One thing we do with Bankless Collectibles is that we give every guest the option to receive or donate 10% of the proceeds from their episode, including mint and royalties.
This funding mechanism was an instantiation of bankless values in SBF's infamous mantra of effective altruism.
But rather than fake promises, we embed it in the code.
Trustless, transparent, on-chain effective altruism. The Bankless way.
In total — we've donated 8.4 ETH (~$14K) to a range of different organizations like:
You can view all of the proceeds and splits on 0xsplits.
---
Last Friday, we updated The Ultimate Guide to Airdrops — your one-stop-shop for our team's predictions on the next dApps to have an airdrop. The first prediction is free for everyone. The rest are available exclusively to ✨ Bankless Citizens✨.
---
Collector Perks 👑
Some of you reading this might be wondering, why the hell would I collect a podcast?
Punk6529 said it in our podcast earlier this week.
NFTs will represent every non-fungible digital object in our economy.
Podcasts are no exception.
Here's what you get when you collect:
An 1 of 100 NFT featuring a full, ad-free recording of the episode.
Oddly satisfying artwork from CryptoBushi
A chance to win the Golden Egg, a special 1/1 edition within each drop.
Genesis Collectors: Access to the secret Telegram chat.
We're also in the process of adding new benefits to power users…
Gauntlet Fridays
Gauntlet Fridays are a a new perk that we're testing out for users who hold all 5 Genesis episodes.
On the first Friday of the month, for the next few months, these holders will receive free mints of unreleased episodes and other digital items.
There are currently 26 wallets eligible, with an absolute maximum of 100.
We're excited to see who enters the prestigious club of Bankless's 100 true fans.
Next Gauntlet Friday mint is planned for March 3rd.
What's Next for Web3 Bankless 👀
We're just getting started on our web3 journey.
The next milestone is launching our website (coming very soon).
This will be our foundation — our beacon chain for Bankless 2.0.
Once we have that built, we have a laundry list of web3 features that we're going to add.
As our podcast this week was titled…
You're not bullish enough.
See you on Monday 🫡
---
🙏 Together with ⚡️ACROSS⚡️
Across is the bridge you deserve: fast speeds, low fees, great support, no hacks, and we love our users. Try it once and you'll understand why Across users love us back and have bridged $billions with it.
Yield farmers will also find attractive yields for providing bridge liquidity! 👀