NFTs
NFTs down, ETH up 🔄
The Merge trade, GOO, ENS volume booms, & more!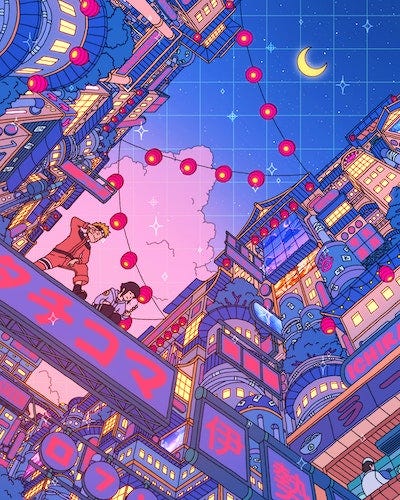 Friend & Sponsor
NEAR DA

- DA for Ethereum rollups at a fraction of the cost.
Dear Bankless Nation,
Next week, Ethereum migrates to Proof of Stake via the Merge, but at that time a group of miners are going to fork off a Proof of Work version they can dominate.
This fork, informally known as ETHPoW, will lead to ETH holders being given ETHPoW tokens on a 1:1 basis with their ETH holdings.
Many people already see the writing on the wall: this spinoff doesn't have a serious future. As such, these ETHPoW tokens will likely face major sell pressure starting on September 15th as most everyone who can heads for the exits at once.
The idea? Grow your real ETH stack by selling as much ETHPoW as you can. But this is an ETH-on-Ethereum play.
You won't receive ETHPoW for any ETH you have on L2s, nor for your DeFi tokens or NFTs, which will only have value on the new Ethereum PoS chain. This is why over the past week a lot of NFT collections have seen strong sell pressure, as people have been selling what they can to temporarily load up on as much ETH as possible pre-Merge.
All that said, I just wanted to put this market activity into perspective! The tl;dr is ETH's in the limelight and more than a few people are going long. I'll have a Tactic Tuesday out next week on the risks and basics of trying to navigate the ETHPoW fork, but for now let's talk this past week in NFTs — have a great weekend everyone ✌️
-WMP
---
📣 General NFT News
ENS domains were the most traded NFT collection on Ethereum this week:

GOO: Paradigm researchers unveiled Gradual Ownership Optimization, a system designed to incentivize harmony between a community's fungible token and NFTs.
Syndicate released Collectives, a new way to launch on-chain social networks via NFTs.
🏆 Digital Collectibles
MoonCats announced plans for an IP sale:
🎨 Cryptoart
🎮 Decentralized Gaming
Axie Infinity kicked off AxieCon in Barcelona.
Sorare partnered with the NBA in an effort to launch the first NFT-based fantasy basketball game.
Tessera released a new smart contract for its Parallel Parasets Binder system:
💽 Music NFTs
Jonathan Mann released Song a Day #5000. See this explainer thread by the artist:
🌐 Virtual Worlds
💎 DeFi x NFTs
sudoswap founder 0xmons published a thread on the sudoAMM's design:
---
Action steps