News
Monthly Summary (Sept 2019)
5 tactics, 5 strategies, 5 market mondays, 1 framework, 2 goals, and 1 commitment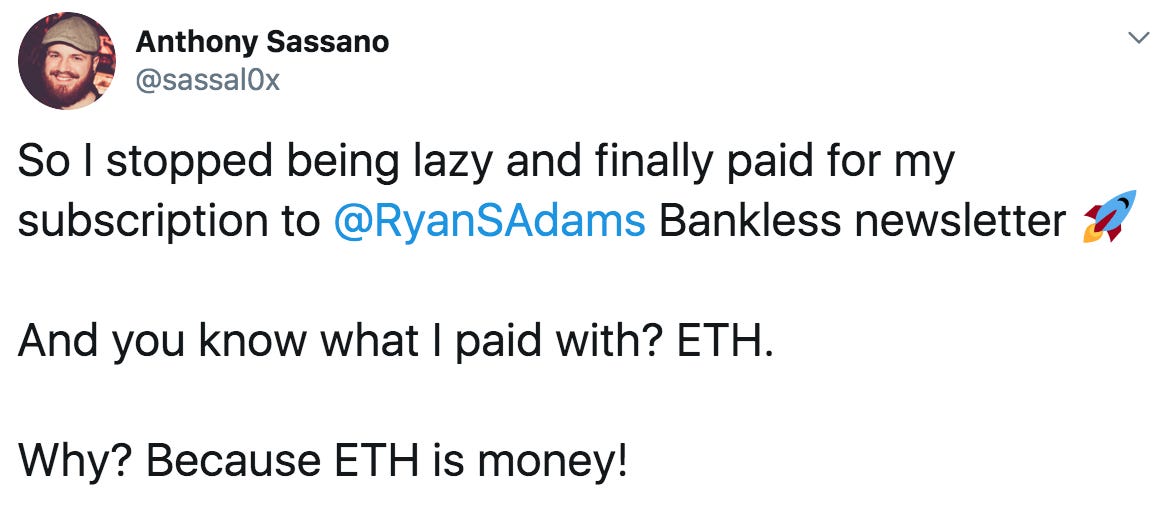 Friend & Sponsor
Across

- Across.to is the bridge you deserve
Level up your open finance game three times a week. I'm releasing this Free for Everyone until November 1. Get the Bankless program by subscribing below.
---
Dear Crypto Natives,
We made massive progress in the first month on the program. Here's the summary.
- RSA

p.s. shout-out Mike Chan—I complied this to help you get caught up Mike😀
---
IMPORTANT NOTE:
if you've been delaying a subscription to Bankless you're running out of time—limited slots for Early Believers. See details below.
---
Recap for the month of September and up to October 4
---
THE PROGRAM:
Here's what you did in the program last month

1 foundational framework:
Learned the Bankless Skill Cube—goals: build your crypto wealth & level up

5 new tactics implemented:
5 new strategy calibrations:

5 weekly market scans for opportunities:
And every week I provided a recap to keep you on track with actions & assignments like:
---
Plus I rolled out 3 resources for Full Subscribers
Inner Circle resource to help your level-up at warp speed— complements the program through a community meeting place hosted on Discord.

Deals sheet to give you instant ROI—a list of crypto deals continuously updated & only available to Bankless members.

Bonus Content to keep you ahead of the curve—like this AMA with a one of the coolest new money protocols in the space.
---
All that in 30 days. The program I wish I had when starting out. Leveling up yet? 😉
---
LIMITED SLOTS FOR EARLY BELIEVERS
It's easy to put off subscribing but you're running out of time. I've rolled out a program for Early Believer that gets you:
Everything above for less than couple coffees a month plus Early Believer status.
But here's the thing—if you don't commit you won't get this deal.
Because there are only 500 Early Believer slots
It's not fair to have thousands of Early Believers. Those contributing earliest to the program deserve greater rewards & status. So the Early Believer deal will only last until one of two things happen:
1) All 500 slots are full

or;

2) November 1st arrives
Whichever comes first. After that the opportunity is gone. If you miss out, you can still subscribe. But never again at 20% off forever—never again as an Early Believer.
---
Lock in your Early Believer Status (only 500 slots)
No program interruption. 20% off forever. Inner Circle, Deals Sheet, Bonus content. Costs less than a coffee per week. Limited slots available.
Note: You can also pay using ETH, BTC, or USDC.
---
My hero Anthony stopped procrastinating and finally made the commit yesterday…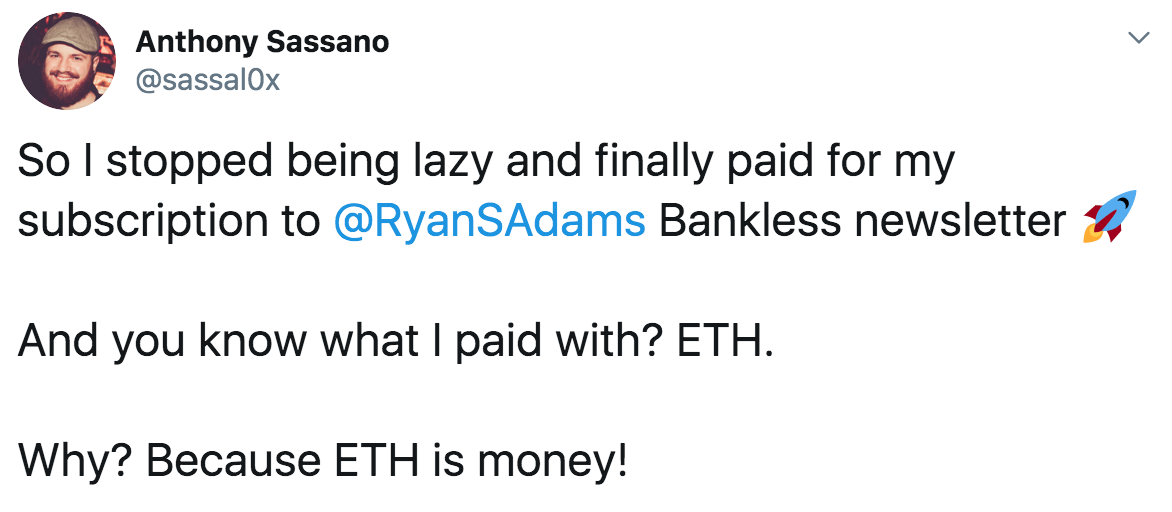 And if you had to pick just one newsletter program to commit to….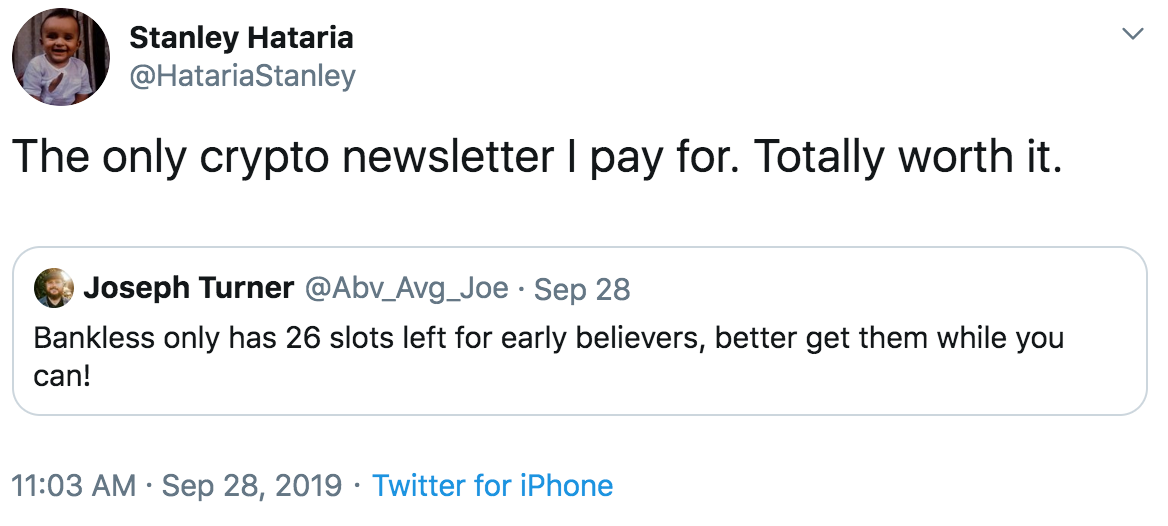 Pick the one with the obvious ROI like Sean did.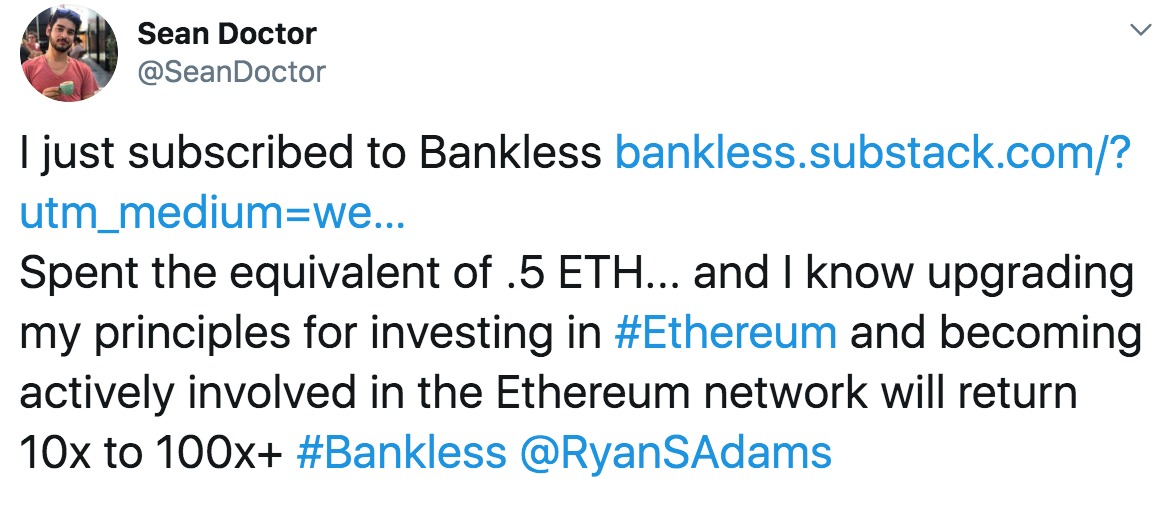 No other program quite like it…people sayin' Bankless is worth every wei…


Tag me on twitter when you subscribe & I'll deliver 3 x 🔥.
We have 1 billion people to onboard.
Let's get going!
---
Not financial or tax advice. This newsletter is strictly educational and is not investment advice or a solicitation to buy or sell any assets or to make any financial decisions. This newsletter is not tax advice. Talk to your accountant. Do your own research.
---
Disclosure. From time-to-time I may add links in this newsletter to products I use. I may receive commission if you make a purchase through one of these links. I'll always disclose when this is the case