Analysis
Is CZ Too Powerful?
Binance's post-FTX market dominance is impressive -- and concerning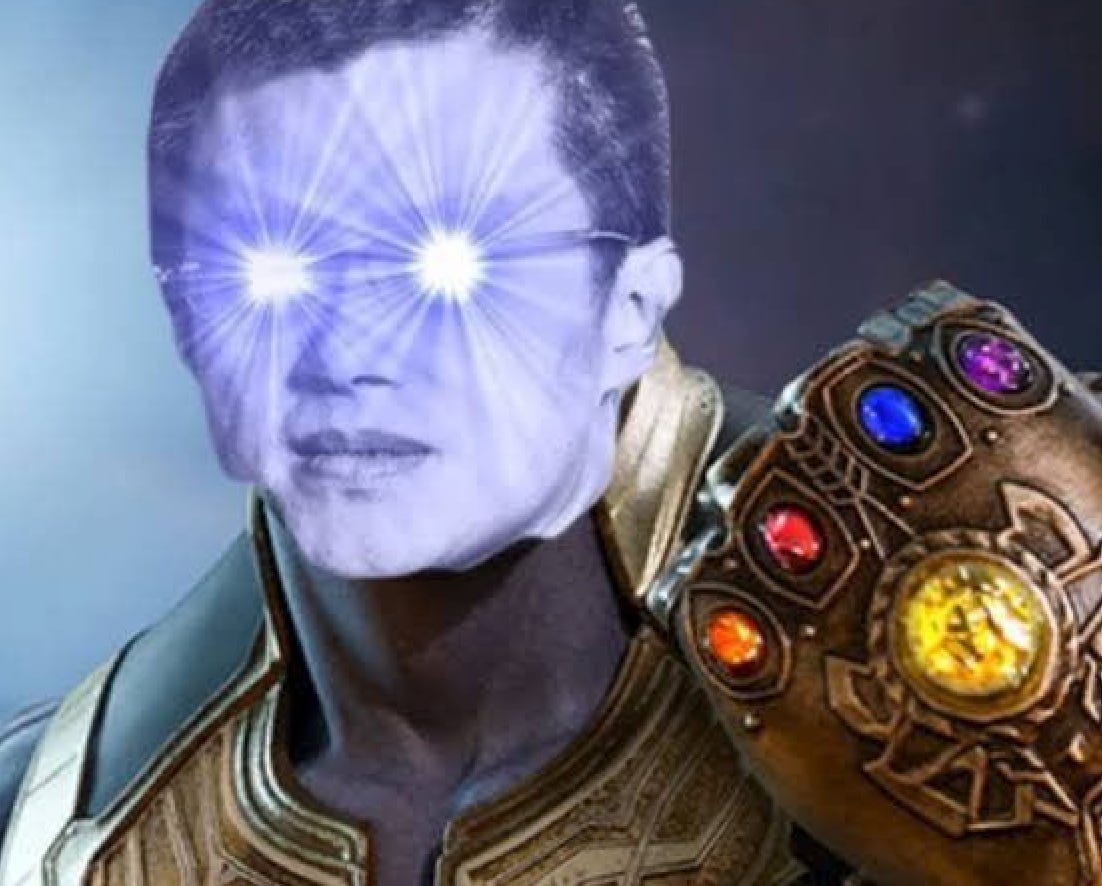 Friend & Sponsor
Fuel

- Explore Fuel - The Fastest Modular Execution Layer ⚡️
Dear Bankless Nation,
When Terra mayhem took out 3AC and a slew of other firms earlier this year, SBF came to the rescue, bailing out Voyager and BlockFi. Soon, a CNBC video heralded the eccentric young billionaire as "crypto's white knight". Then, Fortune Magazine put him on the cover next to the headline, "The Next Warren Buffett?"
Fast forward several weeks and FTX is dead, its users are screwed, and SBF is stuck in the Bahamas getting harassed by crypto YouTubers while assumedly racking his brain for a next move that doesn't leave him in prison.
All the while, Binance CEO Changpeng Zhao (CZ) has been watching.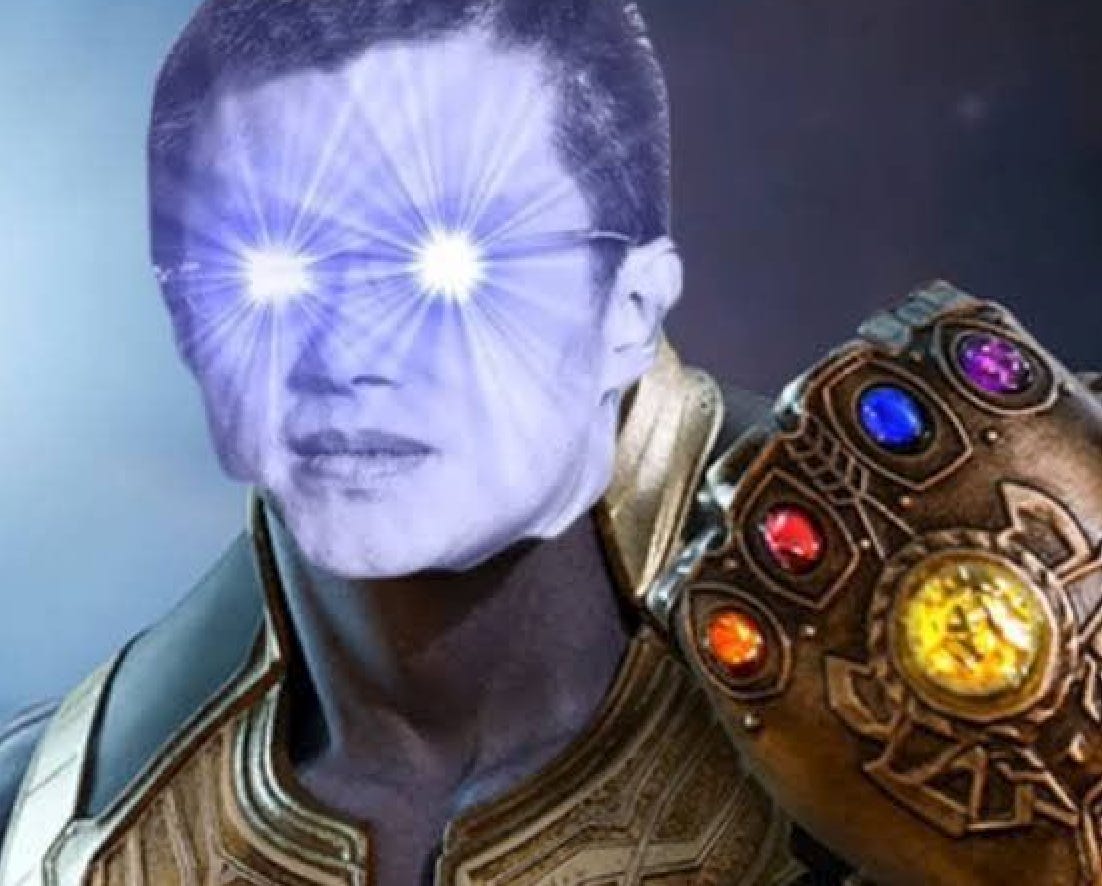 Can anyone catch CZ?
Before FTX's downfall, CZ's company was already by-far the top crypto exchange by trading volume. Now, CZ is positioned for even more industry power with one of his top rivals destroyed and his own firm poised to increase market share even further.
CZ's own role in FTX's downfall has led to some misplaced scrutiny from regulators, but the besting of a top competitor has only seemed to further endear the crypto community to CZ, who appears even more poised for a future of wins.
It's likely too soon to gleam where FTX's crypto traders will flock following the exchange's shutdown, but Binance's already-outsized market share certainly suggests an industry leader poised to win the lion's share of whatever spoils remain.
Over the past day, Binance's volumes were nearly 9x higher than its closest competitor, Coinbase.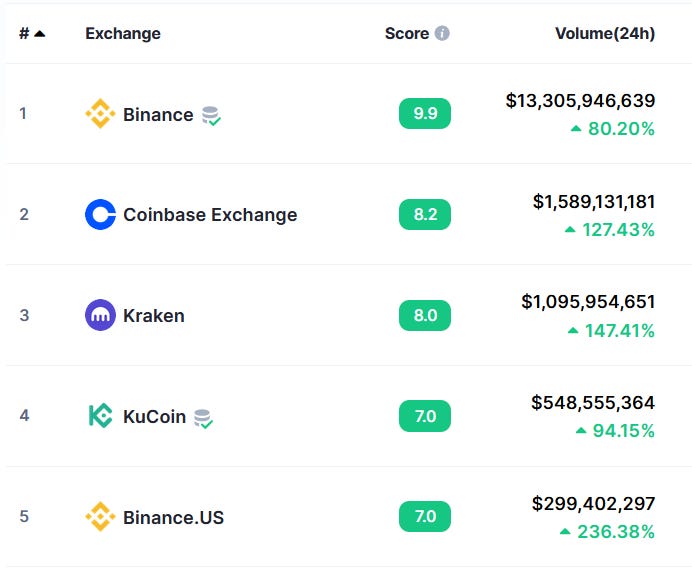 With power consolidating as the industry matures, could Binance's bright future be a dire centralization risk for the crypto industry?
Crypto certainly has plenty of pressing near-term issues, which may leave community members reluctant to prioritize long-term centralization qualms, especially when Binance is racking up more good will (and also more power) through efforts like the Industry Recovery Fund, which the firm had already committed $1 billion to before adding another $1 billion to it this weekend.
SBF's former "white knight" moniker may be up-for-grabs, but CZ has presently appeared to proceed more cautiously with his own efforts. Binance flirted with the idea of bailing out FTX, but quickly backed out. Genesis reportedly approached Binance for help, but was rebuffed.
More than 150 companies have already applied for bailout funds, Binance says.
Centralizing risks
The fact is that Binance has won the bear market — and congrats to CZ! Where we go from here is confronting the monumental task of ensuring the industry matures without turning Binance into a concentrated point of failure for all of crypto.
If Binance goes down, does crypto fall apart? The company has proven a certain level of stability, but as the company's recent BNB attack proved, no one is invincible.
Furthermore, as regulators lick their chops, could an even more powerful Binance leave the industry more exposed to regulation targeting precise jurisdictions?
"People now think we are the biggest and will attack us more," CZ told staffers in the midst of FTX's implosion.
CZ has achieved near god-like status among crypto investors for building the industry's most powerful exchange and creating an awful lot of value for crypto. But, after SBF's reckoning, what can we learn from the cult of personality that industry acolytes build around him? What do we risk by bestowing that on certain figures?
These are the tough questions crypto needs to consider.
While it's obviously (largely) in Binance and CZ's best interest to build a version of the company that promotes the richest crypto industry possible, leaving so much up to one person's (or company's) best interests is the real problem, not CZ personally.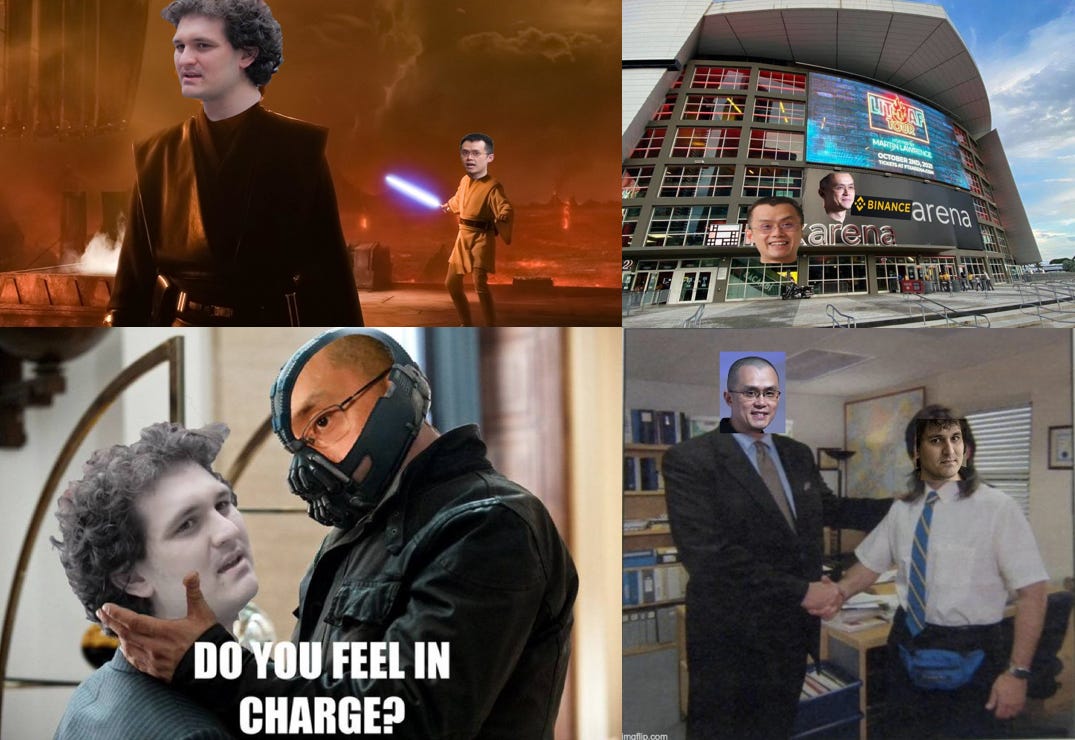 Smart contracts > smart people
Ideally, as the industry matures, more users would move to DeFi, and smart contracts would eventually replace the need for centralized crypto companies. Unfortunately, it's clear that centralized exchanges are here to stay.
TradFi isn't going away, and dishonest actors will emerge. The question is if we can get better at spotting them ahead of time or can take certain steps to minimize the damage that one person can do.
Cult personalities inevitably cloud judgment — propping somebody up as a "savior" encourages people to think uncritically about these figures or the institutions they represent. This thinking goes against the very ethos of crypto to verify, not trust.
When people in crypto idolize individuals and their success so strongly, they contribute to massive industry blindspots that give undue space for the 3ACs and Terras and FTXs of the world to materialize and leave us shocked when things go south.
What also makes the industry safer is taking your first steps towards self-custody. Use decentralized exchanges so their centralized counterparts control less liquidity. Stake your yields in DeFi so there isn't another lender blow-up. Take control of your own finances and help the rest of the industry to do the same.
It's not easy, but setting reasonable limits to the faith you place in individuals and institutions in crypto makes everyone safer.