DeFi
,
How Tos
5 Steps to Starting Your Crypto Career
It's a build market, so build something — yourself!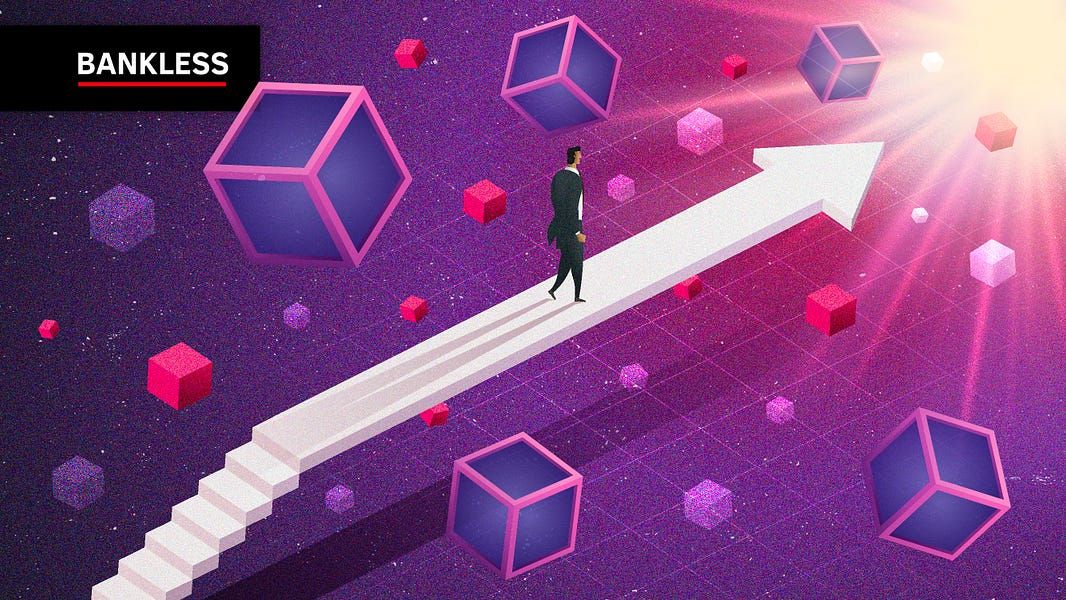 ---
With MetaMask, you can now buy your crypto in one step on the browser extension and mobile app across 6 different chains!
---
Dear Bankless Nation,
When we call it a build market, we don't just mean just for cryptocurrencies and Web3 protocols. Now's the time to build yourself as well.
Crypto markets are unrelentingly bleak right now, but Web3 isn't going anywhere. The sector is more well-funded and resilient than ever.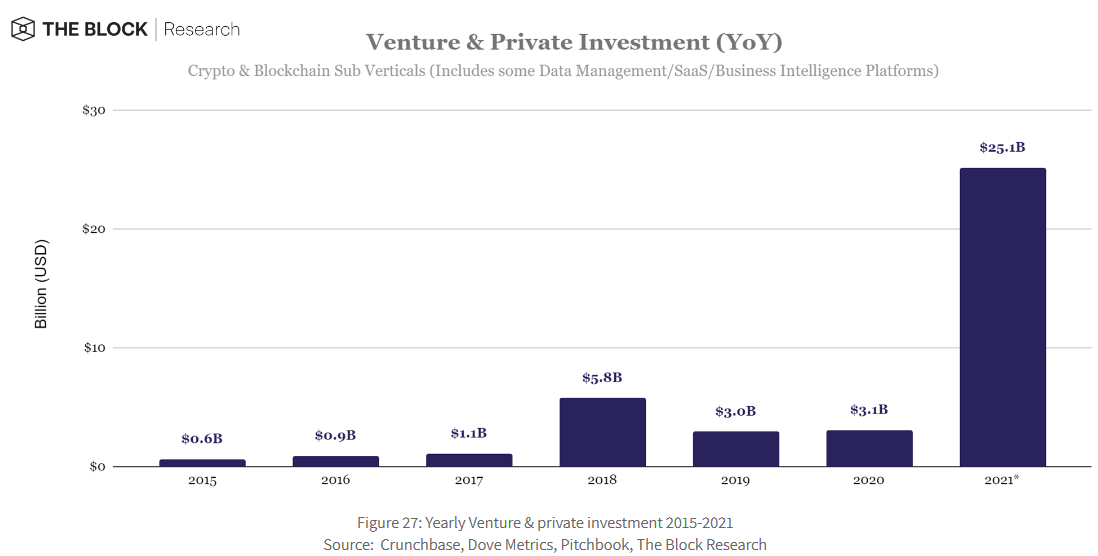 So while market prices are down, the industry itself is positioned to continue building. That means it's good time to lean in on your budding crypto career.
Now is your chance to develop and transition skills, hone your value proposition, and build your community.
Today, William lays out five golden tips to kickstart your crypto career, so you can take the next bull market by the horns.
— Bankless Team
And if you're already an industry veteran: check out the Bankless Jobs Board!
---
🙏 Sponsor: Polygon Studios—Fostering culture across Gaming, NFTs, and the Metaverse✨
---
Listen to podcast episode | Apple | Spotify | YouTube | RSS Feed
---
5 Steps to Starting Your Crypto Career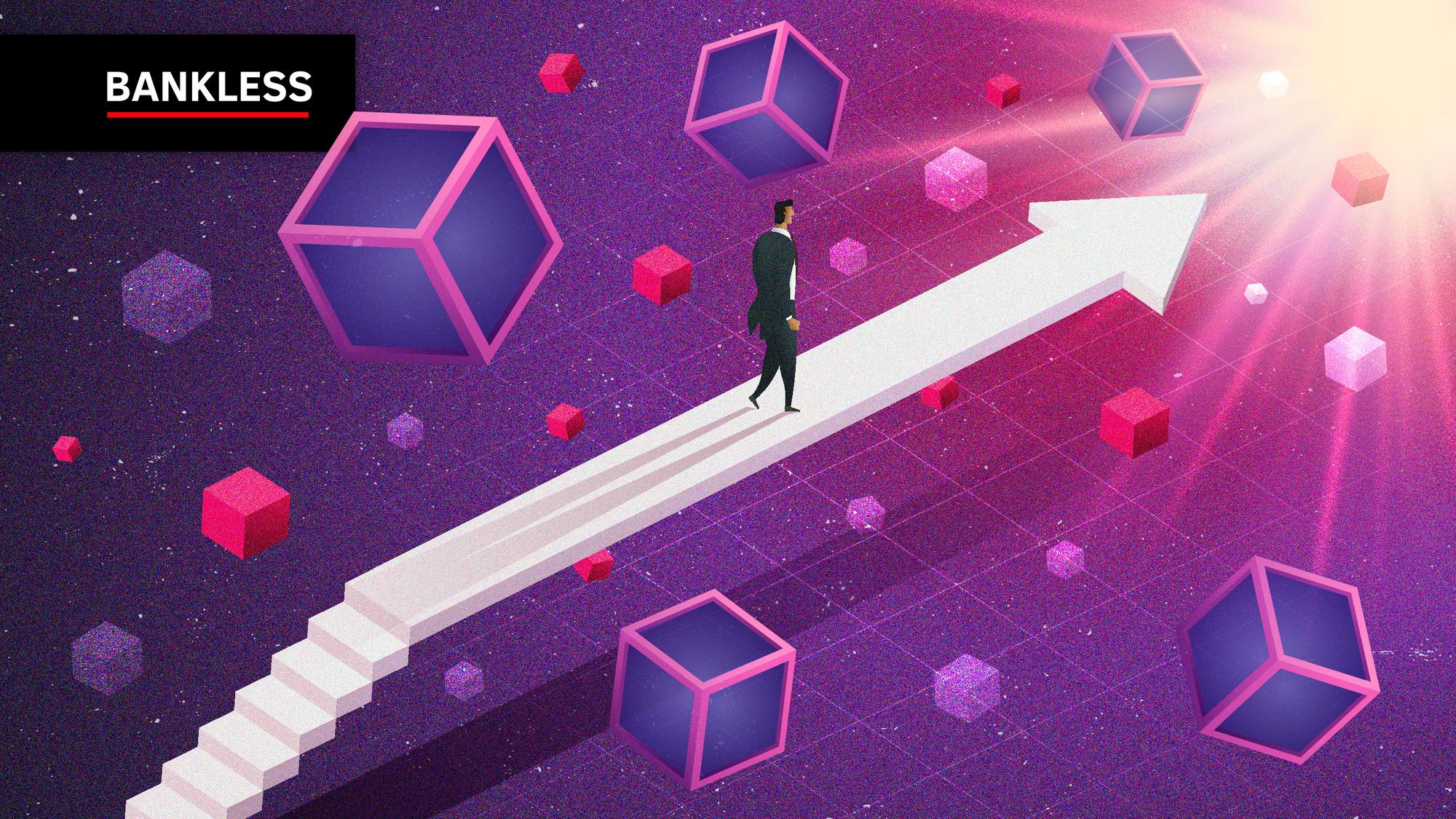 Tactic Tuesday // William M. Peaster, Bankless contributor and Metaversal writer
So you're a crypto obsessive with some useful skills, but you're not sure how to leap into gainful 'work-to-earn' employment in Web3. This Bankless tactic will walk you through 5 basic steps for finally kickstarting your crypto career.
Goal: Begin your crypto career
Skill: Intermediate
Effort: Ongoing
ROI: Making a good living in a super interesting field!
---
How to start your crypto career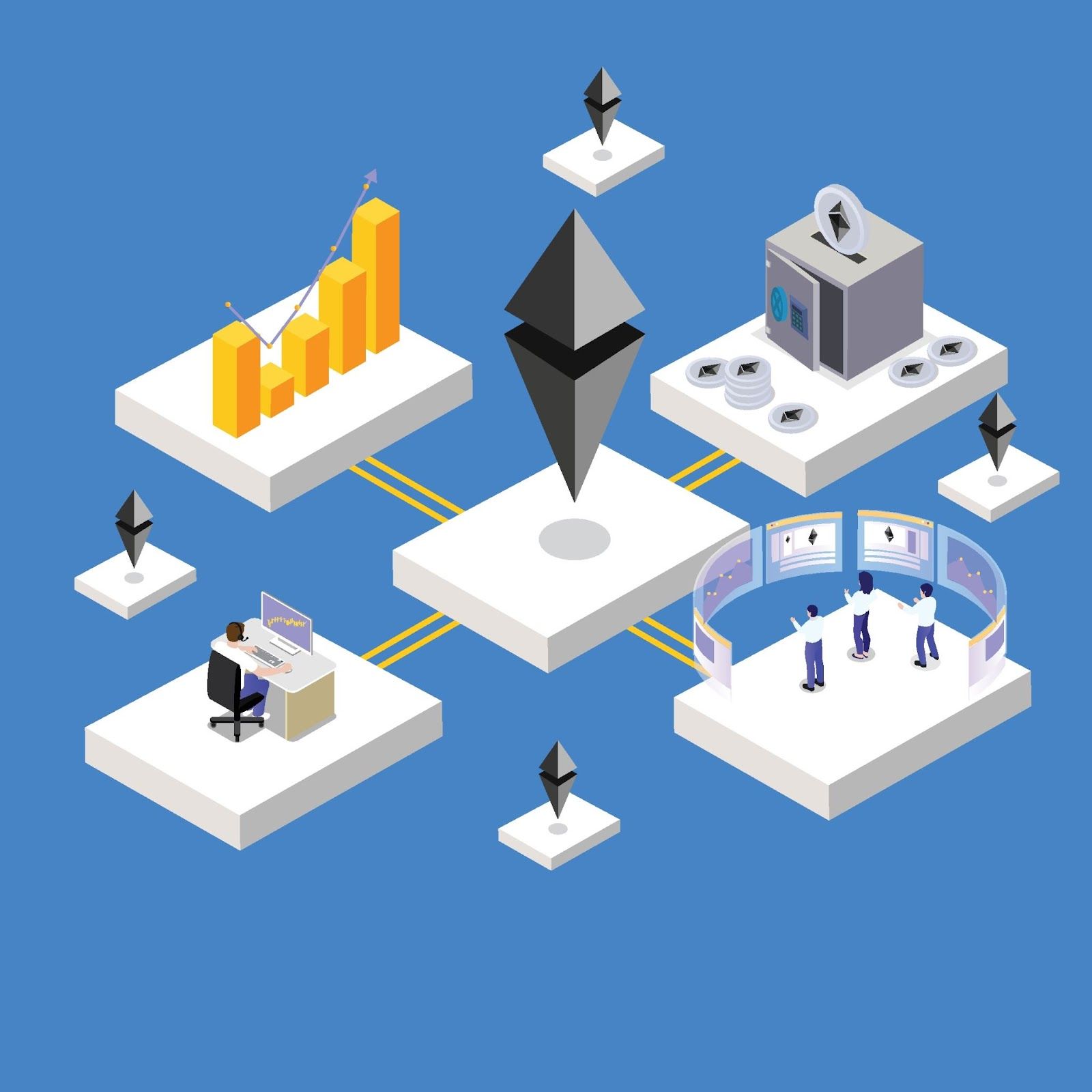 So you're interested in kickstarting your crypto career, but you aren't sure where to start. You've got questions, the most common of which include variations of:
Can I make a real living in crypto?
Do I have to be a crypto expert to start?
What types of jobs are available?
Yes, you can make a living working in crypto!
Generally speaking, both non-technical and technical crypto-economy positions demand higher rates than their "normie" job equivalents.
Right out of college, my first writing gig was for a paltry $0.03 USD per word. Nowadays, my crypto writing — on averaged — routinely fetches upwards of 20 times that. Part of this is down to my veteran status and undeniable talent (That you're still reading is proof, right?!).
Another major contributing factor is that writing chops in demand throughout the crypto-economy. That means: copywriting, journalism, technical writing, researching, translations, the list goes on. Crypto needs it all.
As for the second question: do you have to be a crypto expert to start a crypto career? No, you certainly do not. I came to the ecosystem as a general technical writer, and then learned the ins-and-outs of crypto over the summer of 2017.
More than a few of my colleagues similarly learned Web3 on the job, and many are now well-respected experts in their field. You can be too! Everyone in this industry was a neophyte once — and probably more recently than you'd think.
Lastly, as for what types of jobs are available in crypto, the simple answer is all of them. Devs and engineers are top of the demand pile, but all kinds of non-technical jobs are also being recruited for right now.
These include:
Community managers + moderators (Discord, Twitter, etc.)
Content creators (graphic designers, newswriters, podcasters, etc.)
Data analysts
Economists (tokenomics)
Editors
Marketers (partnerships, social media, storytelling, etc.)
Product managers
Project managers
Translators
& more!
Even accounting for the bear market, crypto employment opportunities abound. How you make the jump is a personal journey, but I've developed a simple program that I can recommend to anyone.
Here are my 5 steps for kickstarting your crypto career — quickly!
---
1. Identify your goals
If you have a decent job right now, you might be okay with taking your time to transition to the full-time web3 position of your cryptographic dreams.
If you're looking to get your foot through the door as soon as possible, you may be considering just about anything: part-time gigs, bounties, contracts, handshakes, airdrops, etc.
As you're starting out, consider your immediate needs and strategize from there. Take some time to write down exactly what your crypto career goals are, why you're making the move, and where you may provide value.
Do you put a premium on chill company vibes? On pay? On creative NFT projects? A stable work environment? All of the above? And what type of work would you like to do? I've talked to technical professionals who wanted to pivot to non-technical careers in crypto and non-technical professionals who wanted to shift to technical work, etc.
Crypto is less rigid in its rules of engagement. So: what do you want?
If you sit down and set basic goals, desires, and boundaries, you'll clear your path going forward. It'll help you avoid settling on a project that's not the right fit for you, wasting time on dead ends, or getting waylaid by sidequests.
---
2. Organize your (other) portfolio
Once you've identified what you want out of your crypto career, it's time to highlight for others what skills you can bring to the table. Toward that end, an easy way to showcase and publish a basic portfolio is to create your own website.
For instance, back in 2019 — in the throes of the previous bear market — I was looking to take my crypto career to the next level. At the time, I remember seeing Spencer Noon recommend creating a personal website.
So I did!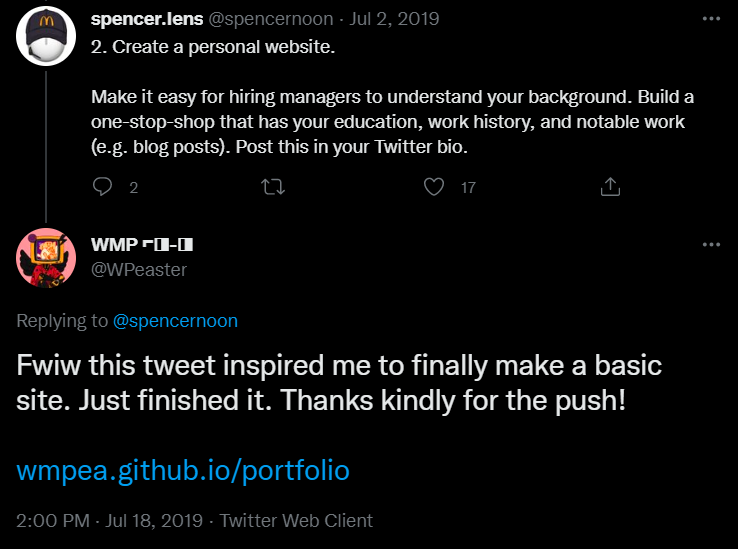 I've used that site, wmpea.github.io/portfolio, as my portfolio ever since, and it's led to more than a few awesome work opportunities in its time. I definitely recommend creating a portfolio website with your basic background info. How you ultimately do so is up to you. I created and still maintain mine for free through GitHub Pages, so if that route's of any interest to you, I recommend checking out this helpful Quickstart for GitHub Pages guide.
If you're trying to build out your website's "notable work" section but don't have many (or any) bylines in big crypto publications yet, no worries! Consider creating a post or two on topics you're passionate about via web3 publishing project Mirror, and then link back to these posts on your site to highlight how you're a thinker and a doer.
---
3. Immerse yourself in the culture
"My biggest suggestion for standing out in applying for web3 careers is to always be 'making your case,' on and off chain. Participate in chats, get started with a DAO, chip in where you can, retweet things that interest you, collect POAP NFTs —all while you size up the crypto job market and find roles suited for you" — Michael Wong, Bankless Culture Lead
Getting and maintaining a meaningful crypto career will entail going crypto-native over time. That means becoming an expert in the ecosystem's nuances and its projects.
To be sure, this can all be a lot to take in at first. I recently came across an article by Jackie Zhang — a data scientist with Dune Analytics — that was called "How to Learn Crypto as a New Language." It's a wonderful piece about how making the leap into a crypto career is like learning a new culture and a new language.
I think that framing is totally accurate and can prepare you for what lies ahead. You'll need to learn new words, new concepts, new customs, and new tools. And the best way to do these studies is to simply immerse yourself in the space. Do as the Romans do.
Start with the simple stuff and move on from there. Before you know it, your crypto skill tree will quickly blossom. You'll automatically level up by dogfooding, networking, and becoming a builder yourself.
---
4. Build your brand
You could also call this step "Become an authority" or "Practice and publish." This phase of the process is about applying your skills and learnings to productive means by creating content for the public — on at least a semi-routine basis.
This step can come in many forms. Maybe it's creating topical crypto explainer content for YouTube. Maybe it's taking notes during Twitter Spaces or podcasts and publishing them to your blog. Maybe it's writing a newsletter about a niche web3 topic you feel deserves attention.
The reasons for this step are manifold:
Teaching others is one of the best ways to deeply teach yourself material
Providing a helpful service to others is a fast-track way to build your credibility, network, and hire-ability.
Creating content for the public gives you a stream of material to expand and improve your personal portfolio.
In January 2020, I launched the DeFi Arts Intelligencer newsletter to learn more about NFTs, provide a public service, and bolster my portfolio all at once. My efforts there later earned me an offer from Bankless to create the Metaversal newsletter.
I write Metaversal to this day. I love it! That opportunity came from me publicly building up my personal brand as an NFT analyst. As you build up your brand, your career will similarly come into focus.
---
5. Take your shots
So you've identified your goals, polished your portfolio, dove into crypto culture, and started publishing content. Now what?
On the one hand, you could sit back, create content, and wait and see if any teams eventually reach out that are interested in hiring you for your services. That definitely happens!
Yet if you want to be more proactive, you can actively go on the hunt for positions that you feel would be ideal for yourself. So that entails looking around and applying for interesting positions that you come across.
Bankless runs a Pallet jobs board where you can find and apply to some of the ecosystem's best job opportunities at any given time.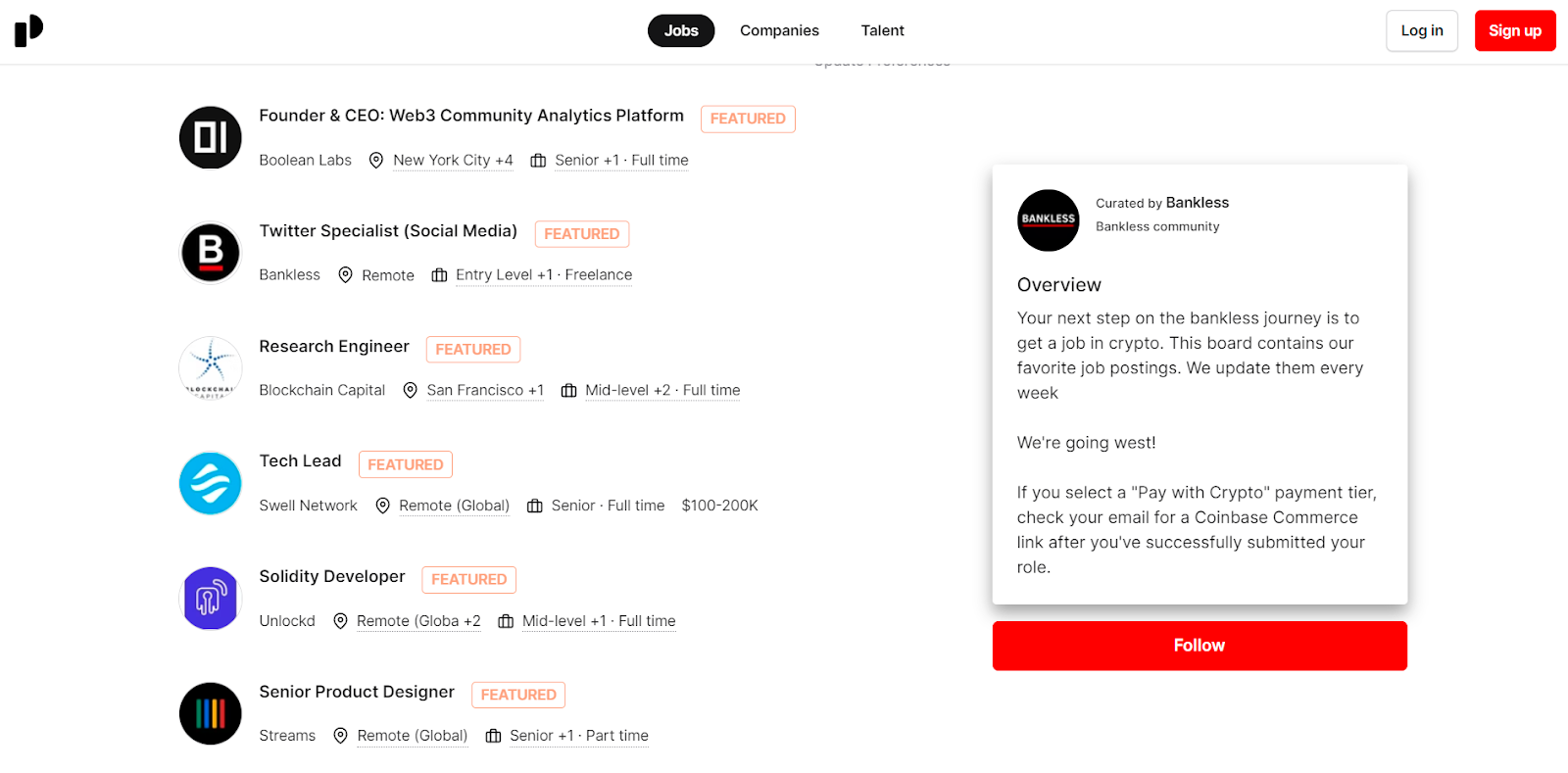 Another avenue is to follow projects you love on social media, and then track if their teams ever announce that they're hiring. A recent example is PartyDAO — an NFT group bidding project — which just declared it's looking for protocol engineers.
Follow your favorite projects, their team-members, and then make personal connections with them — even before a particular opportunity arises.
---
Action Steps
---
Author Bio
William M. Peaster is a professional writer and creator of Metaversal—a new Bankless newsletter focused on the emergence of NFTs in the cryptoeconomy. He's also recently been contributing content to Bankless, JPG, and beyond!
---
Subscribe to Bankless. $22 per mo. Includes archive access, Inner Circle & Badge.
---
🙏Thanks to our sponsor
Polygon Studios is on a mission to help build digital culture, play-to-earn gaming, NFTs, and the Metaverse ecosystem on Polygon. Some of the key projects supported by Polygon Studios include The Sandbox, Skyweaver, Big Time, Crypto Unicorns, and Decentraland—among others. Polygon Studios also helps fundraising & onboarding. Check it out here.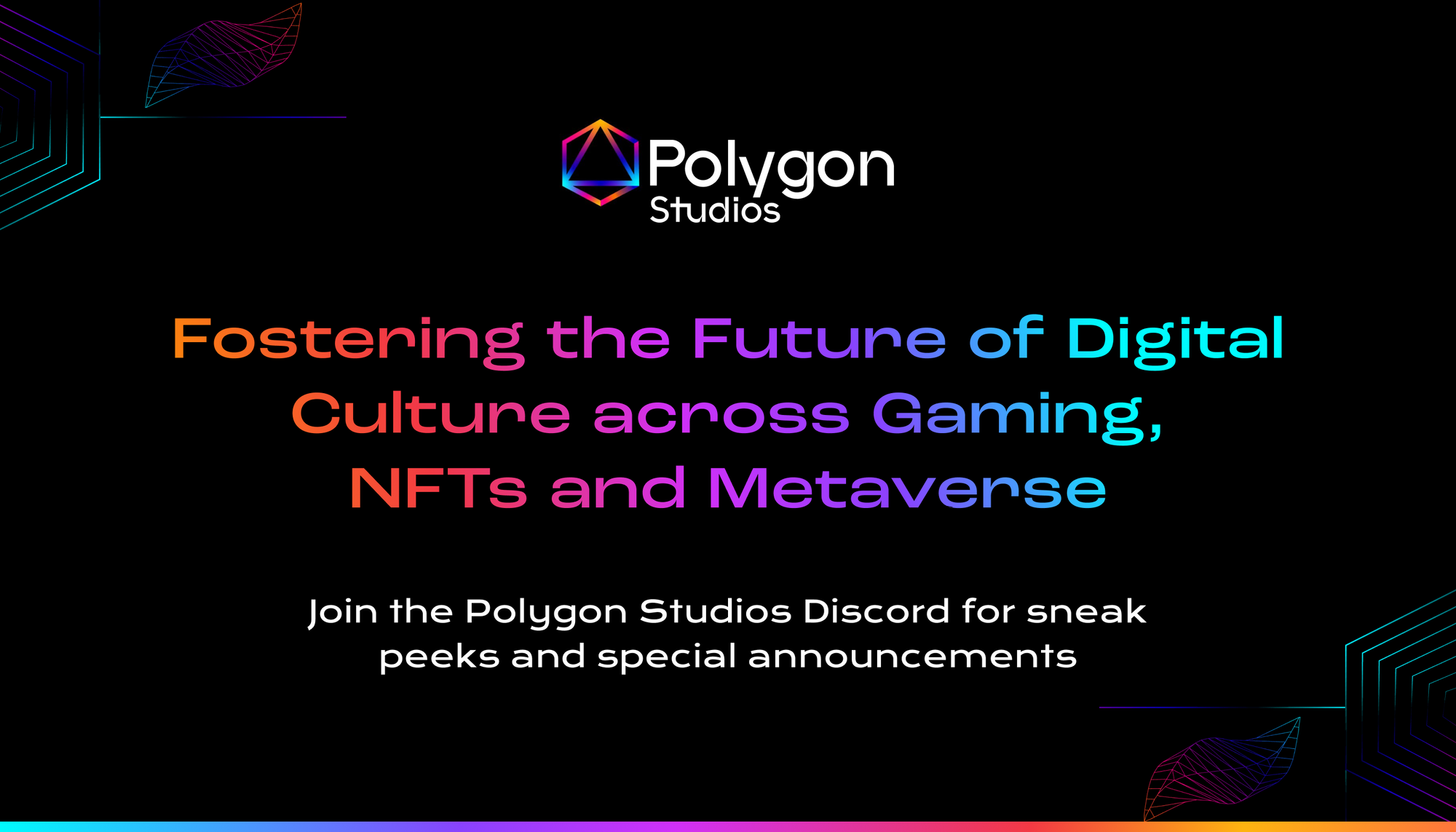 Stay updated on the latest amazing gaming, NFT, and metaverse projects:
👉 Join the Polygon Studios Discord
👉 Follow Polygon Studios on Twitter
---
Want to get featured on Bankless? Send your article to [email protected]
---
Not financial or tax advice. This newsletter is strictly educational and is not investment advice or a solicitation to buy or sell any assets or to make any financial decisions. This newsletter is not tax advice. Talk to your accountant. Do your own research.
---
Disclosure. From time-to-time I may add links in this newsletter to products I use. I may receive commission if you make a purchase through one of these links. Additionally, the Bankless writers hold crypto assets. See our investment disclosures here.