---
We just opened up early access to our interview with Punk6529 - a pseudonymous leader in the crypto space. If you're a member of Bankless Premium, you can listen to the whole episode right now.
---
Dear Bankless Nation,
The buzziest rising project of the past few weeks has undoubtedly been Canto — an EVM-compatible blockchain with a DEX, lending market and stablecoin built-in.
Here's everything you need to know about Canto, where to get started and why you should take a look at this burgeoning ecosystem.
- Bankless team
---
🙏 Thanks to our sponsor KRAKEN
👉 Kraken has been on the forefront of the blockchain revolution since 2011 ✨
---
Getting Started with Canto
Bankless Writer: William M. Peaster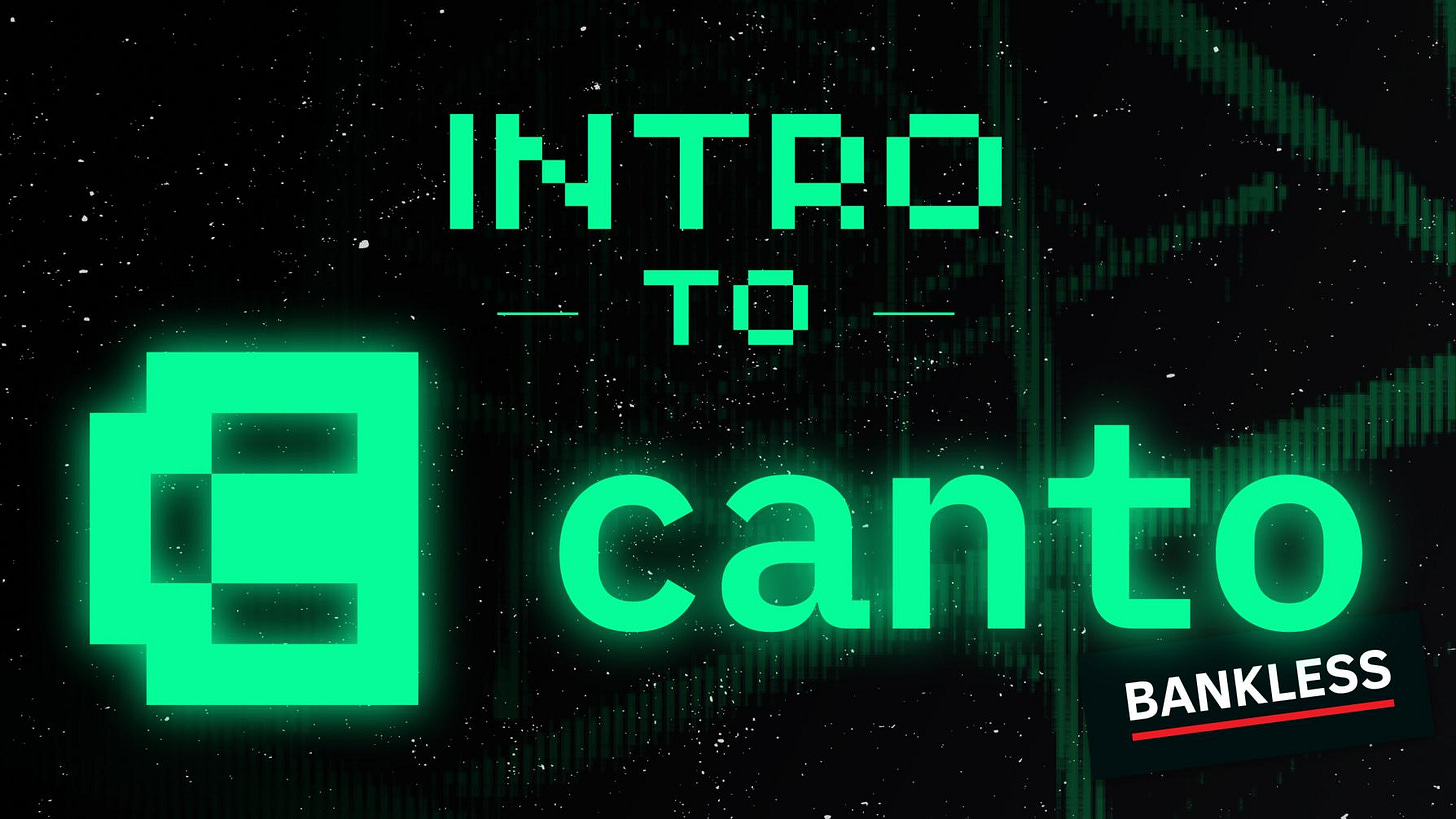 Canto is an up-and-coming blockchain founded on Cosmos that's capturing a lot of attention in both the DeFi and NFT spaces right now. This Bankless tactic will show you how to get started as a newcomer in the Canto ecosystem
Goal: Learn how to use Canto
Skill: Intermediate
Effort: Less than one hour
ROI: Early opps on the hottest Alt L1
---
What is Canto?
Launched in August 2022, Canto is a relatively new Cosmos-based blockchain that is compatible with the Ethereum Virtual Machine (EVM).
Canto's unique feature is that DeFi's most important primitives — decentralized exchanges, decentralized lending, and decentralized units of account — are natively built into its chain as free public goods. They are the Canto DEX, the Canto Lending Market, and the $NOTE cryptodollar, respectively.
Another innovation Canto offers is Contract Shared Revenue (CSR), through which the creators of Canto smart contracts can receive a cut of all the transaction fees generated from users interacting with their projects.
Why Canto matters
At a time when many other Alt L1s are stalling or struggling, Canto is providing new and fertile ground for web3 experimenters, like DeFi builders and NFT creators, who are interested in the possibilities of contract-level revenue sharing.
Canto's DeFi ecosystem is currently the 16th-largest in the cryptoeconomy with a $178M TVL. With only a handful of apps live on Canto today, there's plenty of room for Canto's DeFi scene to grow from here.
Similarly, Canto's NFT sector is quite early at the moment, though it's been picking up steam lately as its NFT trade volume stats have started to match those seen on some Ethereum-based NFT marketplaces.
What you need to try Canto
👛 A wallet — since Canto is EVM-compatible, your regular Ethereum wallet will do
🌐 Network support — use the Chainlist tool to add the Canto network to your wallet, the network ID is 7700
🪙 Starter CANTO — just as you need ETH for gas on Ethereum, you need CANTO to pay for transactions on Canto; in these pioneering days where CANTO isn't tradable far and wide, you can get your first tokens via the "social faucet" channel in the Canto Discord or via the CANTO Gas Station (or try Synapse, more on this below)
---
🙏 Together with ⚡️KRAKEN⚡️
Kraken, the secure, transparent, reliable digital asset exchange, makes it easy to instantly buy 200+ cryptocurrencies with fast, flexible funding options. Your account is covered with industry-leading security and award-winning Client Engagement, available 24/7.

👉 Visit Kraken.com to learn more and start your experience today.
---
How to bridge to Canto
You can transfer USDC, USDT, or WETH from Ethereum to the Canto blockchain using the "double bridge" system of the Alt L1's native Canto Bridge ledger.
If you've never used Canto before, you'll first be asked to generate a Canto public key prior to bridging. Keep in mind that it will take 96 Ethereum blocks, or roughly 20 minutes, for your tokens to show up in the bridge after you've deposited them.
Once your tokens do appear in the bridge, you will need to click Step 2 in the Canto Bridge UI to complete your second bridging leap to the Canto EVM, which is where Canto's free public goods and third-party community apps can be interacted with. If you get stuck at any point here, use this excellent visual walkthrough to push forward.
If you prefer a quicker and more traditional bridging experience, note that the Synapse Bridge offers support for transfers/swaps of USDC and USDT to Canto. Right now Synapse is even dispensing 1 CANTO per Canto bridging so you'll have gas for your first transactions on the other side.
Canto DeFi spotlight: Slingshot
Slingshot is a decentralized exchange that supports trades on a range of L1s and L2s, including Arbitrum, BNB Chain, and Canto.
Slingshot's slick UI + UX makes it an easy avenue to trade into CANTO as needed, e.g. if you've transferred USDC to Canto via Synapse and then want to swap that USDC to CANTO for an upcoming NFT drop.
The project also remains token-less and thus a potential ongoing airdrop opp according to the Bankless Ultimate Guide to Airdrops.
Additionally, Slingshot is currently running a Canto swap promo that can net users of the DEX's mobile apps up to 100 CANTO tokens.
Canto NFT spotlight: Alto
Alto is a zero fee and jazz-themed NFT marketplace that's become the epicenter of NFT activity on the young Canto chain.
You can use the platform to search through top and trending collections, buy or sell NFTs, and mint your own NFTs (only 1/1s supported for now).
Note that Canto Longnecks are the most prized NFTs on Canto right now, as they are Canto's flagship collection; the floor price of a Longneck was 4,450 CANTO (~$3k USD) at the time of this post's writing.
One simple way to find new Canto NFT projects lately is to periodically scan the "Recent Sales" section of the Alto homepage. Here you could've found an iconic collection like Cantographs right as it was minting.
The Canto experiment is just beginning
Canto is an interesting experiment in the blockchain ecosystem that's bringing new ideas to the table.
Canto's revenue sharing system for smart contract creators will be one to watch, as it can incentivize the development of high-quality decentralized apps. Additionally, Canto's commitment to fostering financial infra as public goods is applaudable and certainly a step in the direction of a more equitable financial system.
Getting in on the ground floor of Canto today may pay dividends later if this experimental blockchain can keep gaining serious traction. In the very least, keep this Alt L1 on your radar going forward.
---
Action steps
---