Investing
5 Market Insights From Institutional Investors
Is the state of the crypto sector in recovery mode post-Terra and 3AC?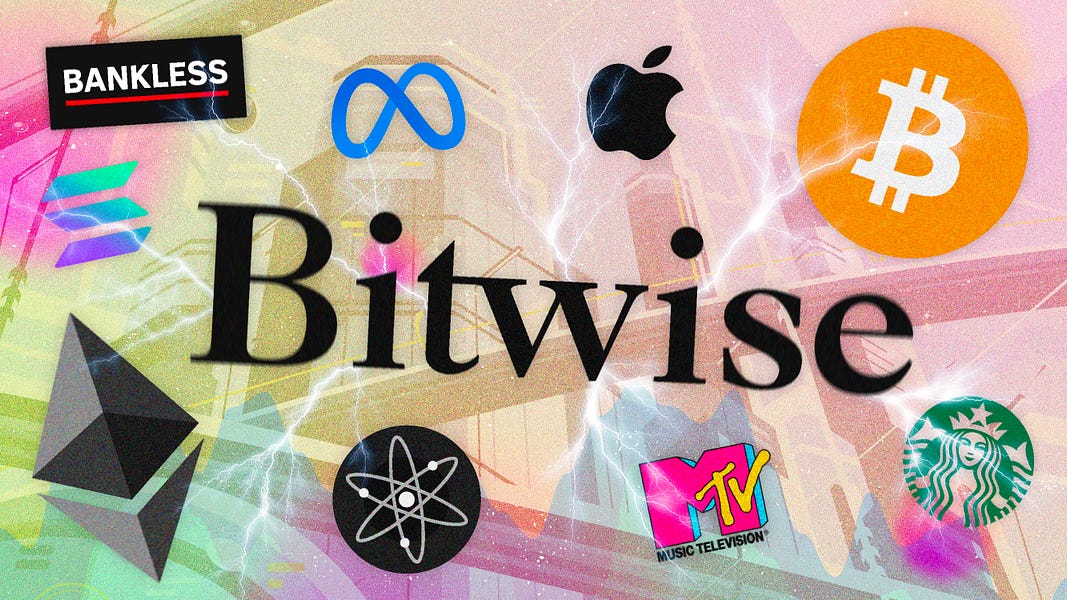 Dear Bankless Nation,
Here's a fun hypothetical: what would be the state of crypto without the downfall of Terra, Three Arrows Capital and so many crypto banks?
Obviously…it would be a lot better.
Unfortunately, the damage is done.
We're now left wondering how fast can the industry recover?
And what does the fallout look like in Q3 2022?
Bitwise — an institutional crypto asset manager — publishes a quarterly crypto report that captures the key trends across different crypto sectors.
Today's newsletter is a summary of this report.
Despite a brutal second quarter, there's more good news then you think.
Crypto is recovering.
See for yourself. ⬇️
- Bankless team
---
Guest Writers: Bitwise Research Team
An In-Depth Analysis of Q3 2022: The Crypto Market Quarterly Review by Bitwise
Q3 2022 was, very quietly, a decent quarter for crypto.
Broadly speaking, the sector rose 10%, with many individual assets posting substantially higher gains.
Ethereum, for example, rose 31%, powered by the success of the Merge—a technological upgrade to the Ethereum blockchain that cut its carbon footprint by more than 99% (among other things). Meanwhile, Lido, a popular DeFi asset, jumped 260% as users flocked to its "liquid staking" service.
These moves were all the more impressive given the rough macro environment, which sent the S&P 500 skittering down more than 5%.
Crypto's positive price trends were backed by a generally positive news flow. On the regulatory front, the White House issued its first-ever "comprehensive framework" on crypto, while Congress took important steps toward developing thoughtful stablecoin rules.
Meanwhile, venture capital continued to flow into the space (albeit at a reduced rate), and multiple blockchains passed important technological milestones.
All this progress, however, couldn't overshadow the damage caused by the implosion of Terra and 3AC, and the resulting crypto credit crisis in Q2.
Q2 was the worst quarter for crypto in 10 years, with the leading large-cap assets falling nearly 63%. With that framing, Q3's recovery was modest at best.
And to be fair: Q3 wasn't without its bumps in the road. We saw threats of aggressive enforcement actions from the U.S. SEC, and continued declines in user activity across DeFi, NFTs, and other areas.
Still, zooming out, we're excited about the strength we're seeing in developer activity, one of the most fundamental gauges of growth in the space. Ethereum, for example, saw a 143% increase YoY in crypto application deployments in Q3, with deployments increasing a remarkable 14% in the two weeks following The Merge.
As we forge ahead into Q4, investors are uncertain about what to expect.
Will crypto continue the modest recovery it started in Q3, or will negative macro news overwhelm the fundamentals and send prices to new lows?
And with crypto becoming an increasingly discussed—and hotly debated —topic among regulators and lawmakers, what role if any will it play in the upcoming U.S. midterm elections?
This report is a good place to start answering those questions. Examining both fundamental data and qualitative news, it looks at the key trends developing in multiple areas of the crypto market: Bitcoin, Ethereum and Emerging Layer 1 Blockchains, DeFi, NFTs, and Crypto Equities.
We hope you enjoy it.
---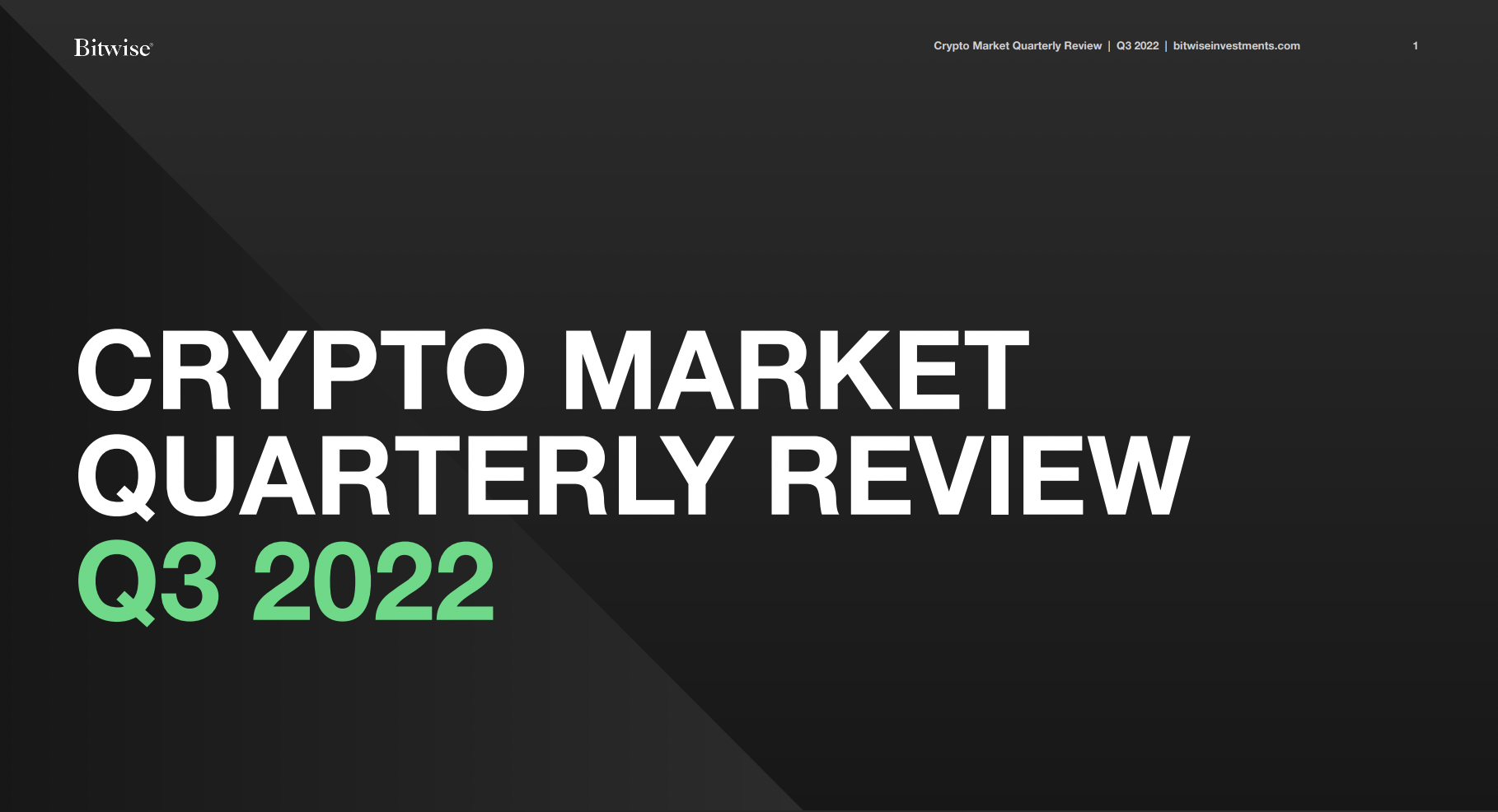 ---
5 need to know highlights from the Q3 Report
1. Bitcoin weathers turmoil in global currencies 💴
The rising U.S. dollar was a dominant global force in Q3, crushing all other currencies. Viewed through this lens, bitcoin held up remarkably well.
Q3 was tough for major global currencies and gold. The top global currencies (EUR, GBP, JPY, CHF) and the Chinese Yuan all fell 3-8% against the mighty U.S. dollar. Gold also declined 8% in USD terms.
Meanwhile, Bitcoin bucked the trend, rising 3.1%.
The move was so surprising The New York Times ran an article with the headline: "Currencies around the world are tumbling. Except Bitcoin."
Performance of Select Global Currencies, Gold, and Bitcoin, June 30 to September 30, 2022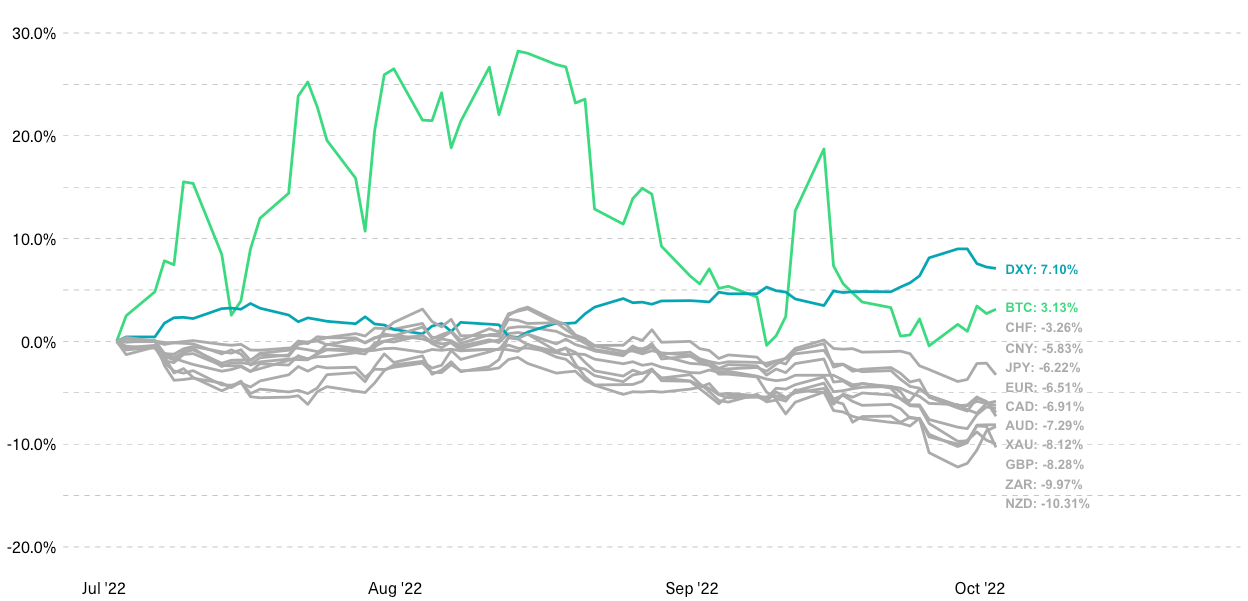 2. Major network upgrades drove an increase in Ethereum & other Layer 1s 📈
Layer 1 blockchains gained 27% in Q3 as positive news about the Merge and other network upgrades overcame macro headwinds.
Ethereum's inflation fell by over 90% and its energy consumption dropped by over 99% after The Merge (the network now consumes less energy than Paypal, YouTube, or Bitcoin).
The transition to proof-of-stake, a consensus mechanism that many doubted could power a major blockchain, was seamless.
But it's not just Ethereum—other blockchains are undergoing significant upgrades. The shared vision is more functionality, lower costs, and more mainstream applications.
Key blockchain infrastructure improvements announced or deployed June 30 to September 30, 2022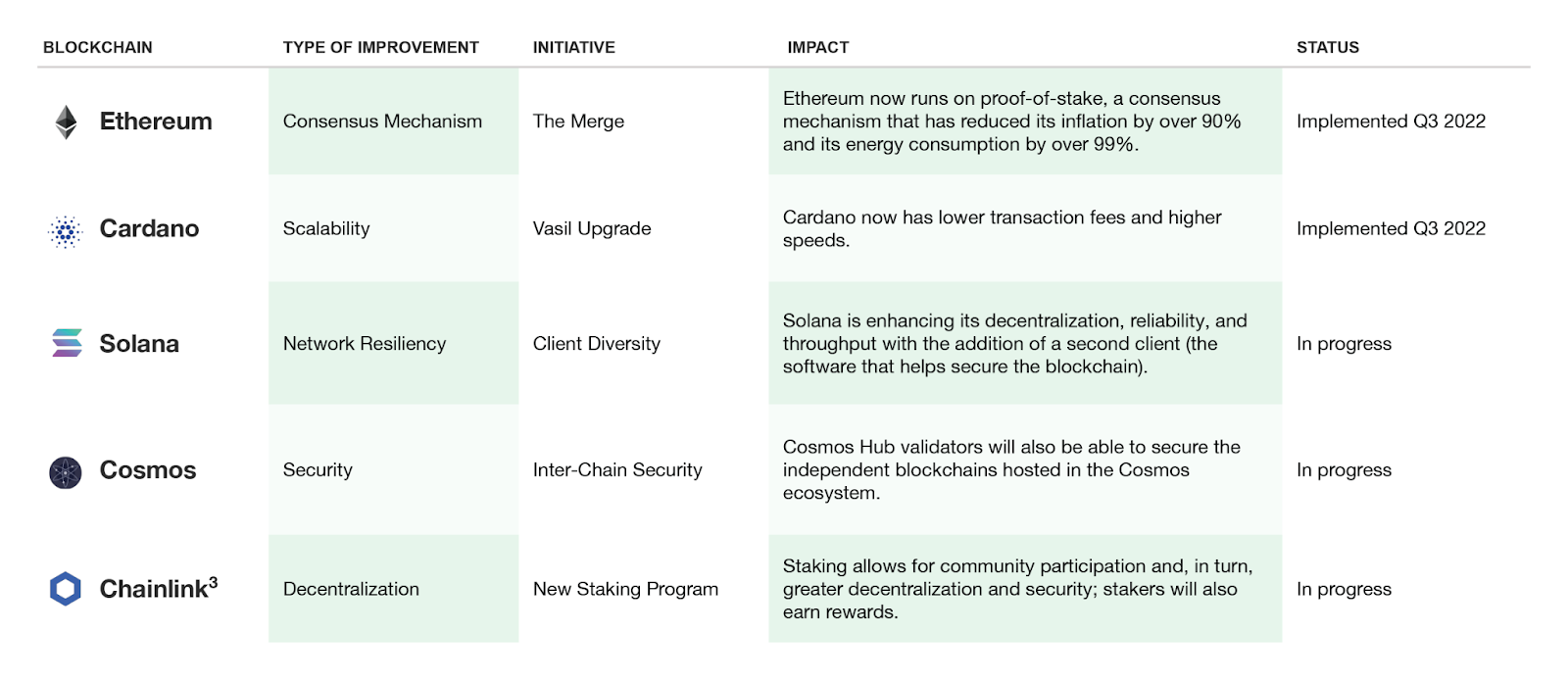 3. Lido dominates liquid staking market 😤
Liquid staking cemented its position as a significant new DeFi primitive post-Merge, with DeFi staking deposits hitting an all-time high in Q3.
Staking is one of the first financial services where a DeFi protocol is beating out centralized financial service providers: Lido, the leading decentralized staking service, has a larger market share in staking than Coinbase, having established a dominant position with 31.0% of market share of all staked ETH.
Lido has generated more than $375 million in cumulative revenue, almost all of which was prior to The Merge.
Liquid Staking as a % of total DeFi TVL January 2020 to September 2022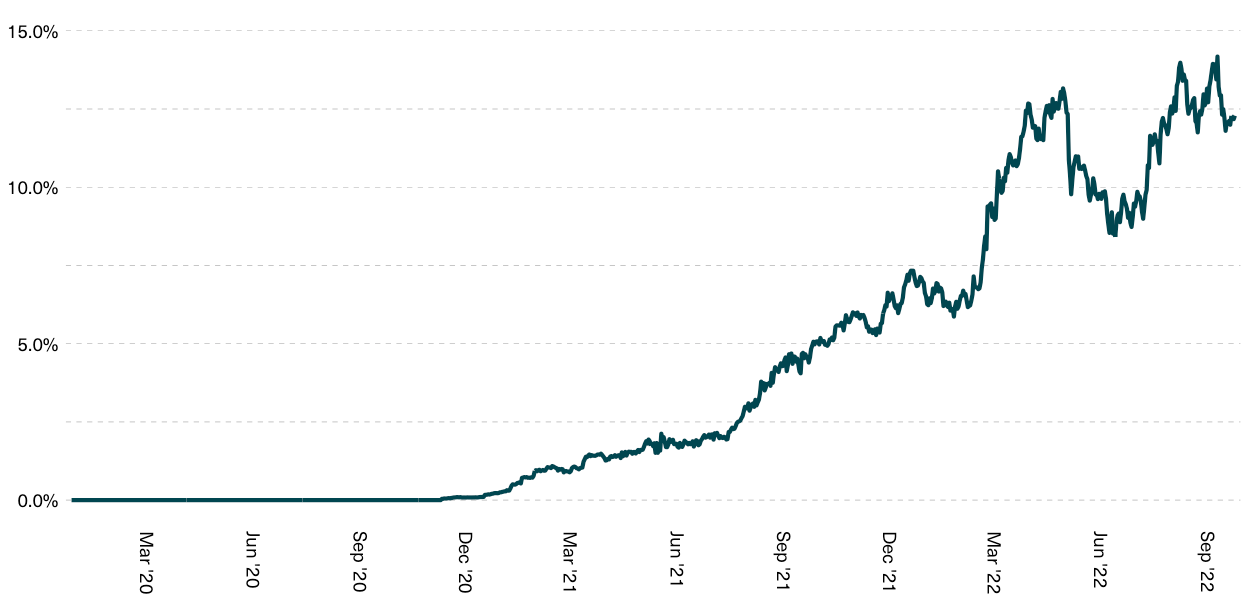 4. Venture Capital pours into NFTs & Web3 Gaming 💰
Venture funding and major brand partnerships were bright spots in an otherwise difficult quarter for NFTs.
Venture funding for NFT and Web3 gaming jumped 66% in August over July, the last months we have data for.
This is notable, given the general decline in blockchain/crypto venture activity. Collectively, the new deals point to an evolution in the usage of NFTs—from digital art and collectibles to gaming, Metaverse applications, and more utility-focused applications. Another major area of growth for the NFT sector in Q3: Big brands, sports, and media companies announced new partnerships to launch NFT strategies.
Major NFT partnership announcements, June to September 2022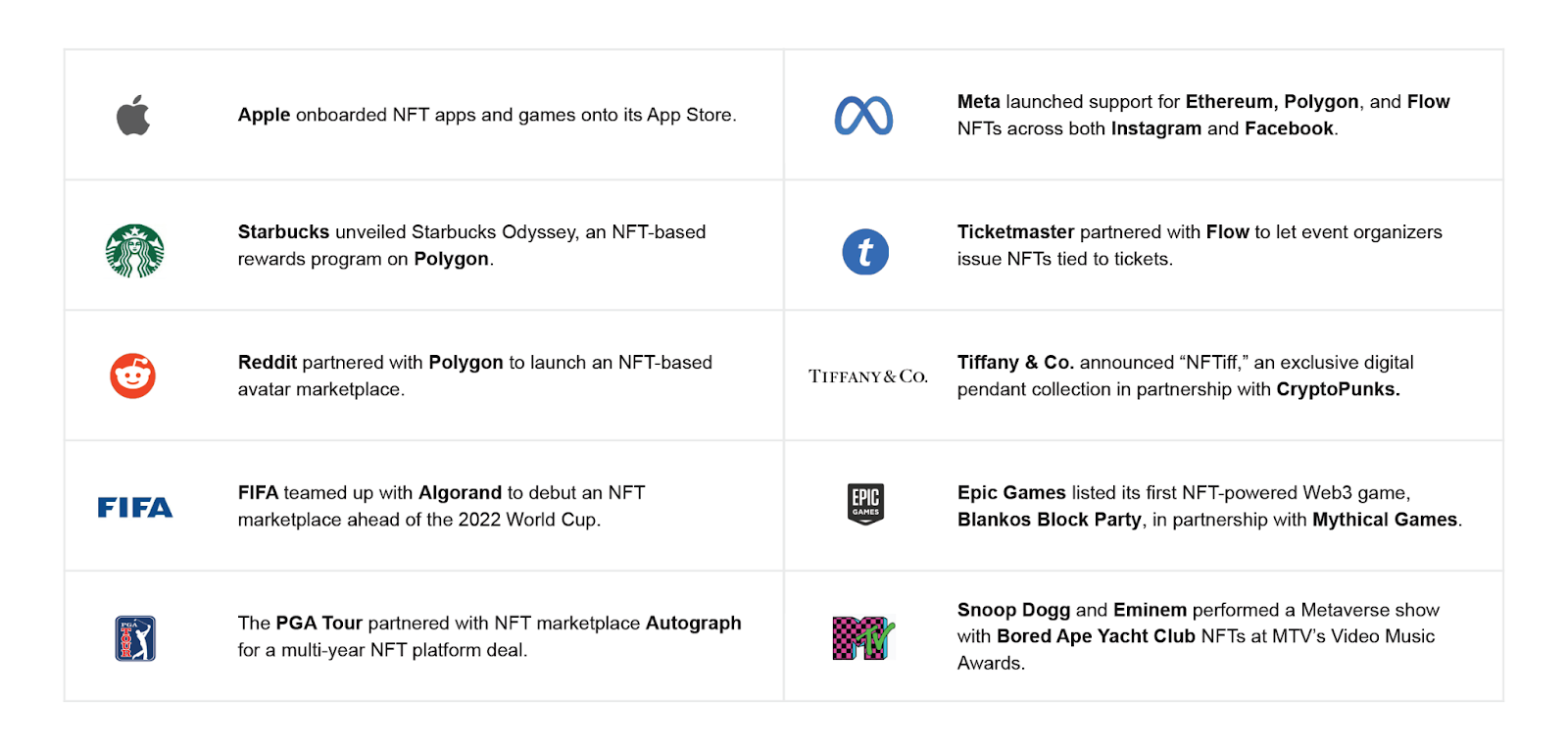 5. Circle prepares for public markets 🚀
Circle's SPAC is expected to close in Q4 2022, providing public access to the emerging leader of the stablecoin boom.
Circle, the co-creater of USDC, is scheduled to go public between Q4 2022 and early 2023 through a SPAC merger with Concord Acquisition Group valued at $9 billion.
USDC is one of the fastest-growing stablecoins in the world: USDC issuance is up 85% YoY as of Q2 2022, and there is now more than $55 billion in USDC in circulation.
Meanwhile, Circle's business model is leveraged to rising rates—the company earns income on the collateral backing its stablecoin. As rates rise, the revenue opportunity is significant: Circle has $43.5 billion of reserves in U.S. Treasuries Securities, which at current yields would earn $722 million in annual revenue.
Total USDC assets under management, September 2018 to September 2022 (USD billions)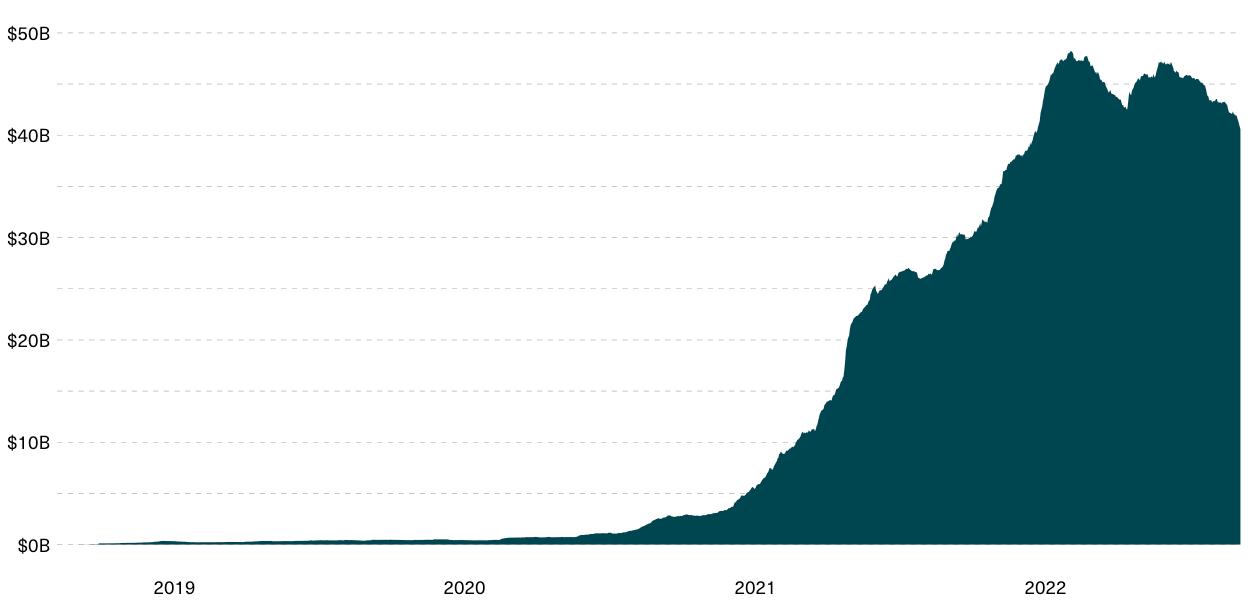 You can access the full Bitwise report here.
Disclosure: Investments in crypto assets are inherently risky and include the possible loss of principal. Nothing in this article is or should be construed as a recommendation to buy or sell any securities. Past performance is not an indicator of future performance.
---
Action steps
---
Author Bio
The Q3 2022 report was produced by the following members of Bitwise's research team: Alyssa Choo (@alyssachoo_), Anais Rachel (@Anais_Rchl), David Lawant (@dlawant), Gayatri Choudhury (@GayatriPC_), Juan Leon (@singularity7x), Matthew Hougan (@Matt_Hougan), and Ryan Rasmussen (@RasterlyRock).