How Tos
,
Investing
5 analytics tools to make you a better investor
The best tools for analyzing blockchain data and getting alpha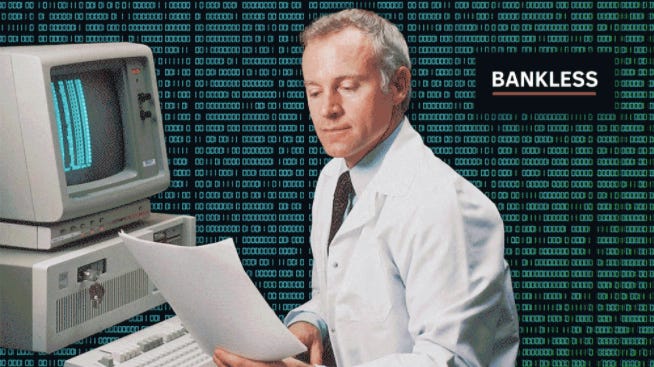 Dear Bankless Nation,
Being able to analyze on-chain data is a powerful skill for the next decade.
Use it to derive important insights about protocols, tokens, and the crypto economy.
Since so few actually do the work to look at the data…
On-chain data is alpha.
While analyzing on-chain data used to be difficult and opaque, today it's easier than ever. There are a number of amazing tools at our disposal, especially on Ethereum.
Etherscan has built a suite of features invaluable for parsing ETH transactions.
Analytic dashboards like Nansen have been tailored to identify the most alpha-driven insights while Dune Analytics allows analysts to build their own unique dashboards for whatever they need.
We also have tools like Token Terminal which have been a key tool for Bankless in identifying the rise in DeFi.
Here's your guide on how to use on-chain data to find the gems.
- RSA
---
A blockchain is a fully public record-keeping system for 21st-century transactions.
The information blockchains store is known as "on-chain data." Ethereum, which is home to most DeFi and NFT activity, has a growing abundance of on-chain data people can openly inspect.
Analyzing this crypto-centric data is a great way to gain deeper insights into contemporary or historical blockchain happenings. For example, investors use these analyses to find new alpha, NFT archaeologists use them for finding long-lost collections, and citizen sleuths use them for holding scammers to account.
Good stuff right?
Well, you can be doing the same sorts of things in no time! First, though, you'll need the right tools for the work at hand. Accordingly, this Bankless tactic will walk you through some of the best resources available today when it comes to analyzing on-chain data and how to glean important insights from them.
Goal: How to analyze on-chain data
Skill: Intermediate
Effort: Varies
ROI: Increased competency in one of crypto's most useful skills
---
The best tools for on-chain data analysis
The aim of on-chain analysis depends on the analyst. An investor who's considering acquiring a DeFi token could analyze data pertaining to the health of the underlying dapp. Are key metrics trending upward over time? Or is usage steadily going down?
Yet performing on-chain analysis doesn't have to be complicated or involved. It can be as simple as reviewing your previous Ethereum transaction to see if it's completed or still pending, or checking to see what NFTs your friends have been collecting lately.
Whatever your aim, the tools below considerably streamline the process of on-chain analytics and are go-to resources for beginner and veteran crypto analysts alike.
---
1. Etherscan (and its contemporaries)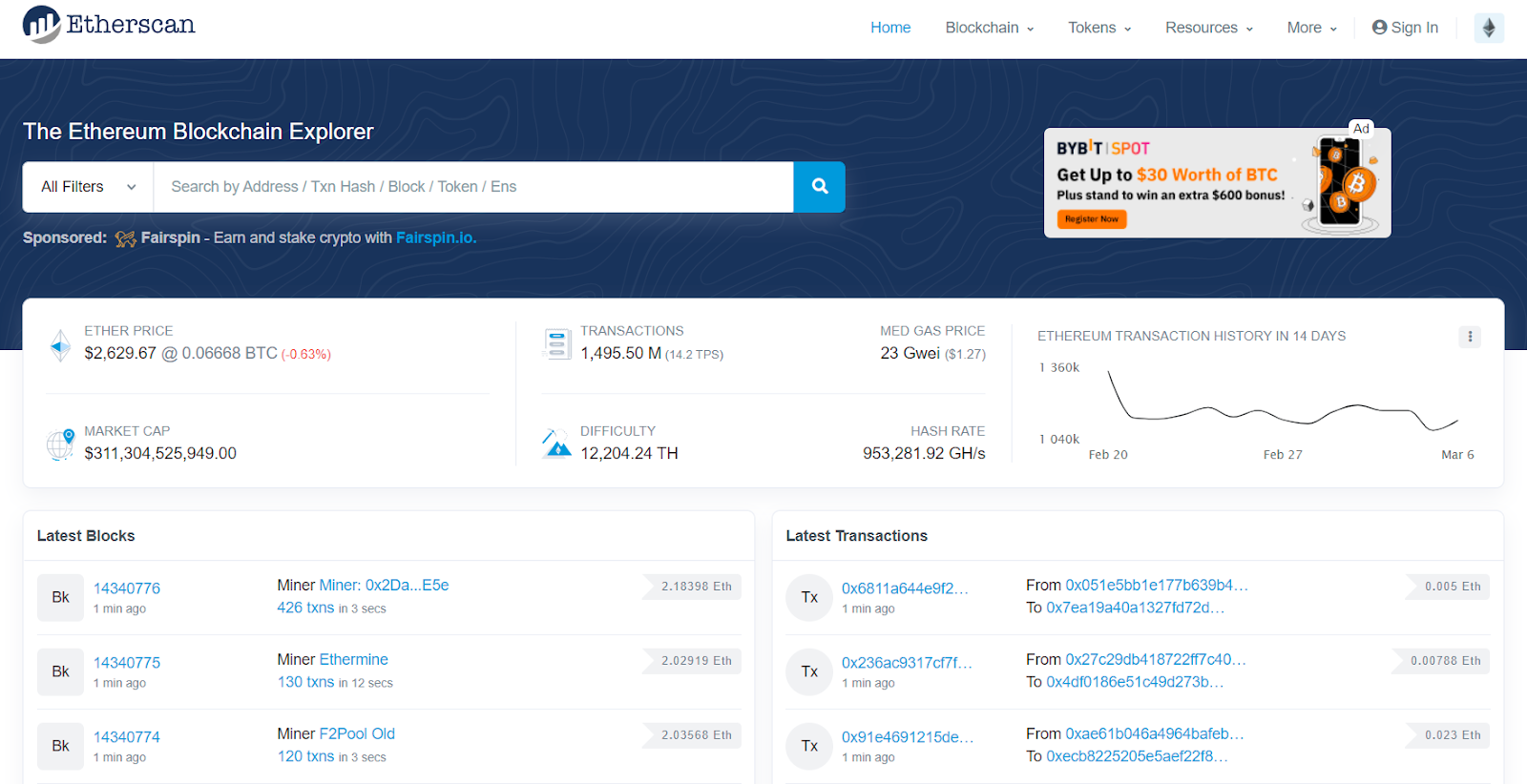 The 101
Etherscan is a block explorer, a special browser platform for reviewing and analyzing all the data stored on Ethereum.

The service lets users search for and inspect historical info via address (alphanumeric or ENS style), transaction hash, block number, token name, etc.

Etherscan offers additional resources like an ETH unit converter, a Label Word Cloud (for searching activity by theme, like "Charity"), a Verify Contract tool, and beyond.

Keep in mind that other networks, like Ethereum scaling solutions, have their own bespoke block explorers. Also, check out:
Using Etherscan for on-chain analysis
Etherscan is a foundational resource for any crypto analyst because the block explorer makes it simple to parse all the basic details of an Ethereum transaction.
Then you can piece together the bigger picture by looking at and understanding transaction flows. As such, you'll want to learn how to "read" transactions on Etherscan if you haven't already.
For instance, let's take a quick look at Ethereum creator Vitalik Buterin's main address. I searched for his public ENS vitalik.eth on Etherscan, which brought me to his address page and recent transactions.
In the first transaction visible below, we can see Buterin sent a test transaction of 0.1 ETH to an address as a precaution before sending a much larger sum, 199.9 ETH, to the same address immediately thereafter.

If we click on the Txn Hash of the test send we can review all of the transaction's main details, like its precise timestamp, its transaction fee, the value of ETH at the time of the transaction, and more.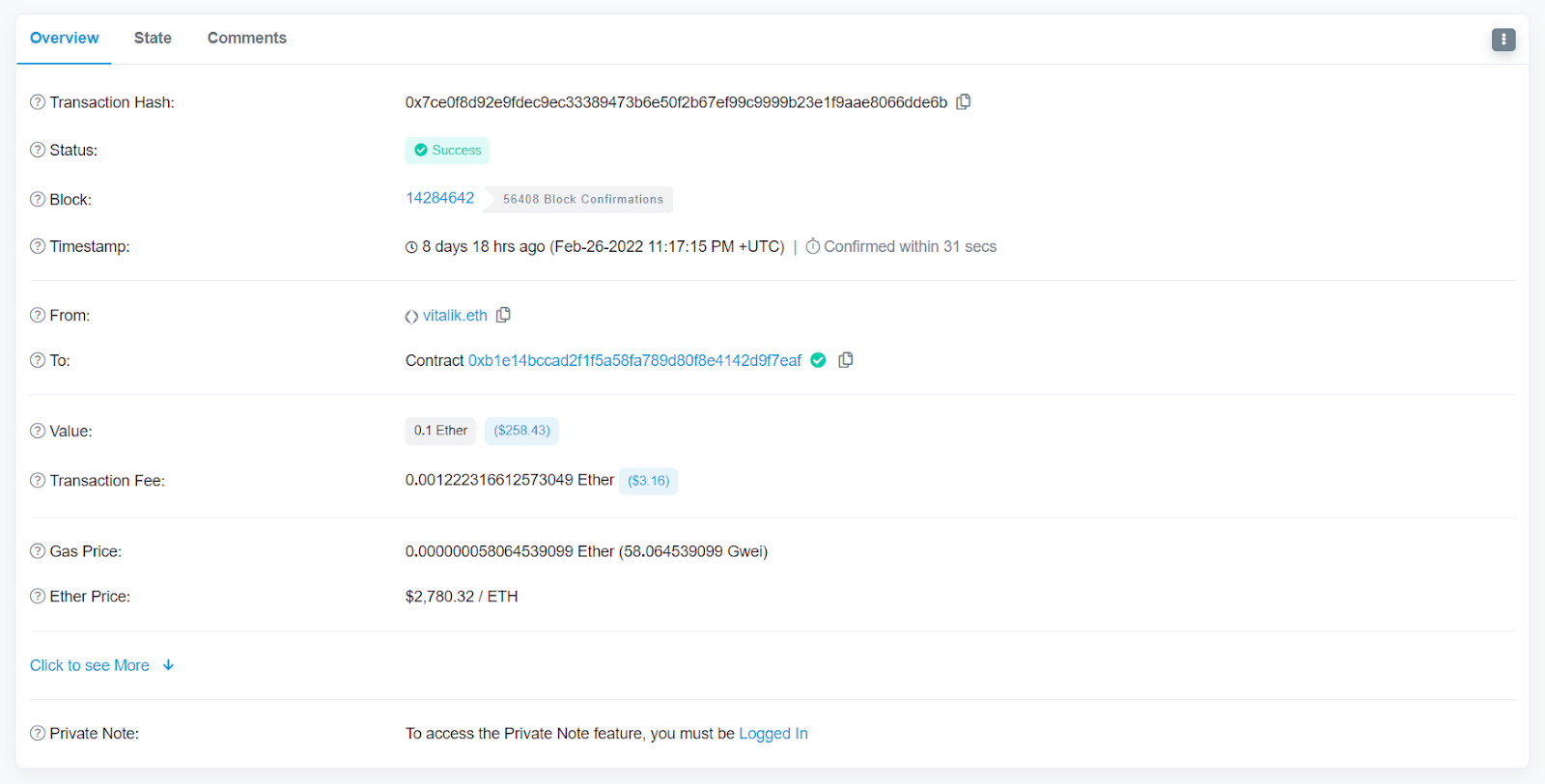 Check out this helpful glossary of Etherscan-centric terms by Binance Academy to further familiarize yourself with the fundamentals: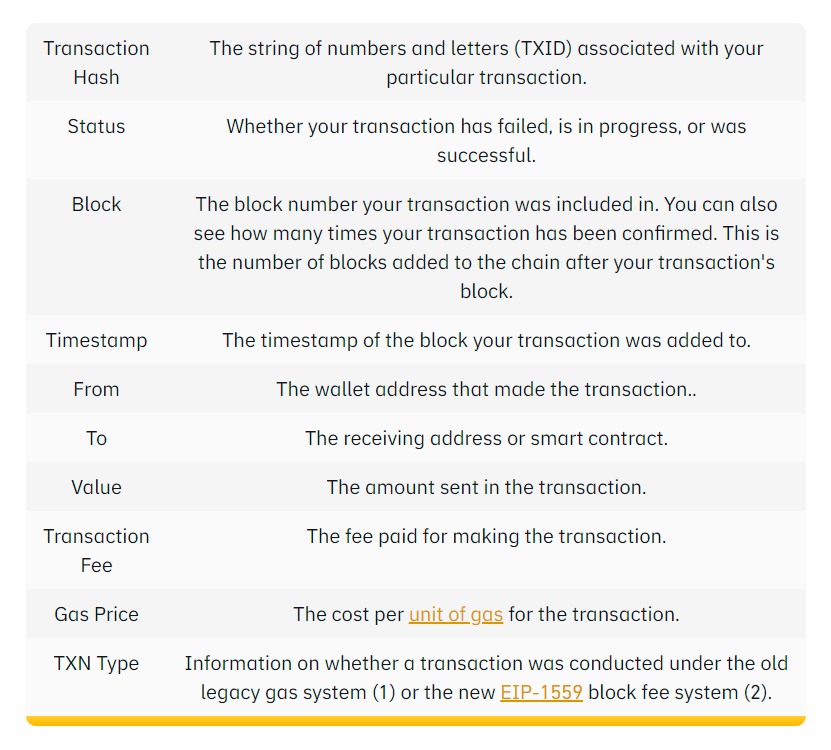 ---
2. Dune Analytics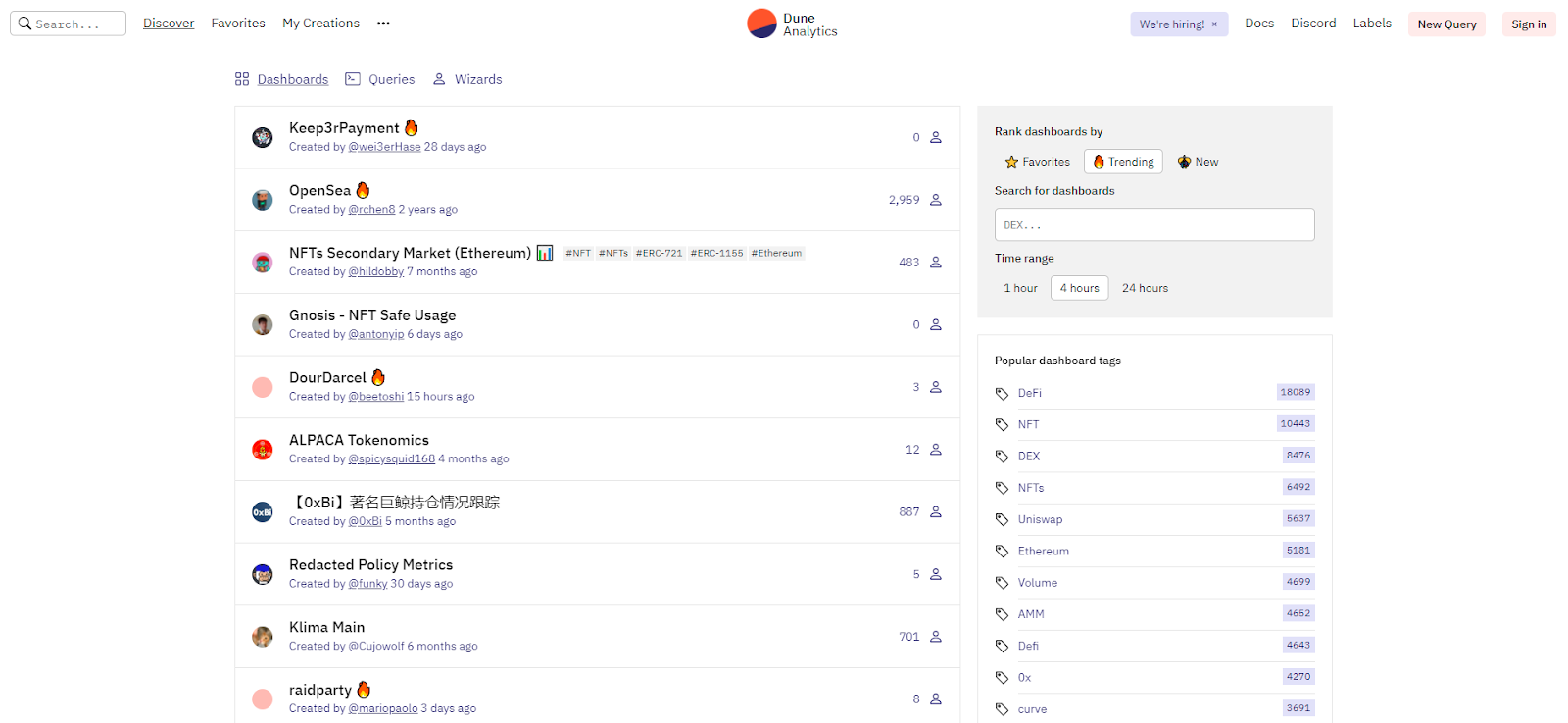 The 101
Dune Analytics is a blockchain research platform for querying and organizing Ethereum data via SQL queries. Note, SQL is the most popular programming language for managing data.
SQL developers can use the platform to create new Dune Dashboards, which track key data around a given project or topic. For instance, in the image above you can see dashboards tracking activity around OpenSea, Gnosis Safe NFT usage, and so forth.
However, Dune Analytics is just as useful for non-technical users, too. You don't have to be a developer to inspect the platform's public dashboards and analyze the insights therein!
Using Dune Analytics for on-chain analysis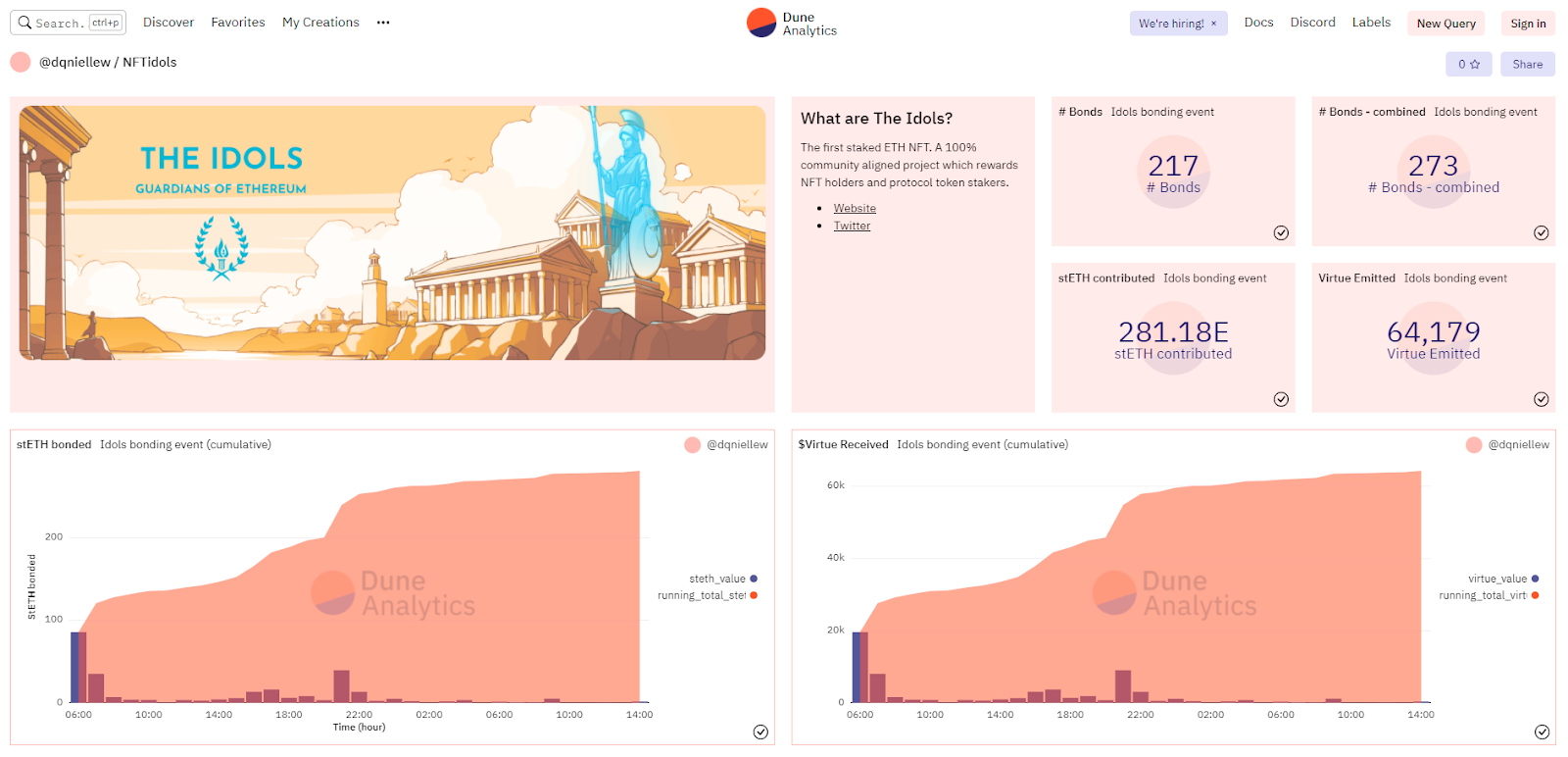 As a non-dev, using Dune Analytics is straightforward: identify a project or topic you want to analyze, search for it on the platform, and then inspect any available dashboards as you please!
For example, Dune user @dqniellew recently created a new Dune Dashboard for tracking info about The Idols, an NFT project whose NFTs are imbued with Lido staked ETH (stETH). This dashboard's useful for visualizing the early activity around the collection.
If you're looking to get more advanced with Dune and dig deeper into SQL querying strategies, Dune Analytics aggregated some excellent tutorials earlier this year:
---
3. Token Terminal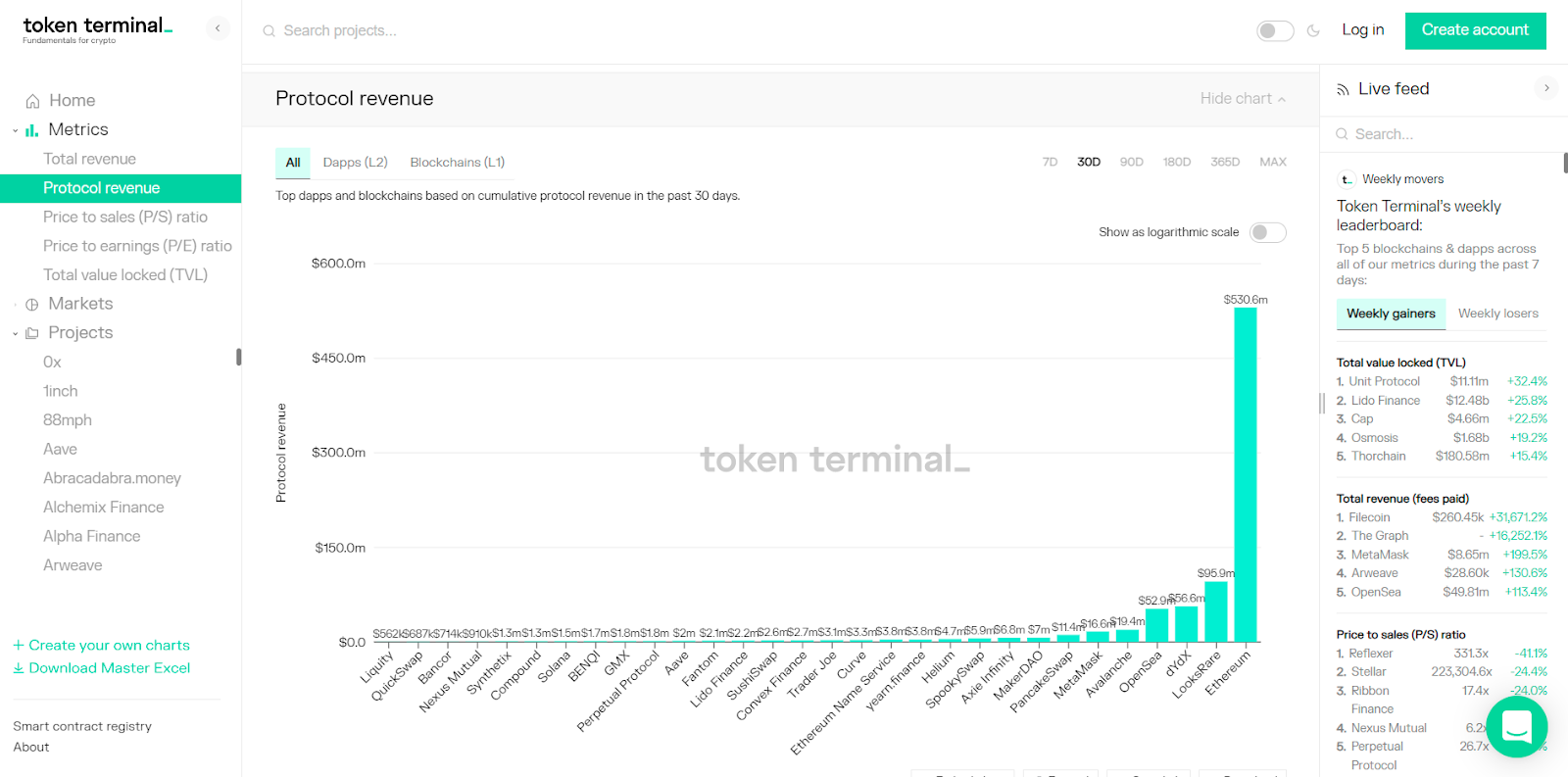 The 101
Token Terminal is a cryptoeconomy analytics platform that aggregates and tracks financial data from blockchains and dapps.
"Our aim is to provide access to standardized metrics that enable users to easily quantify and compare the performance of different blockchains and decentralized applications," the Token Terminal team notes.
The platform offers a free dashboard where analysts can review projects' and networks' revenue metrics, price-to-sales ratios, and beyond. Token Terminal explains how they define and calculate all their metrics in their docs.
The site's Weekly gainers and Weekly losers (seen on the right side of the image above) is also helpful for tracking momentum trends.
Using Token Terminal for on-chain analysis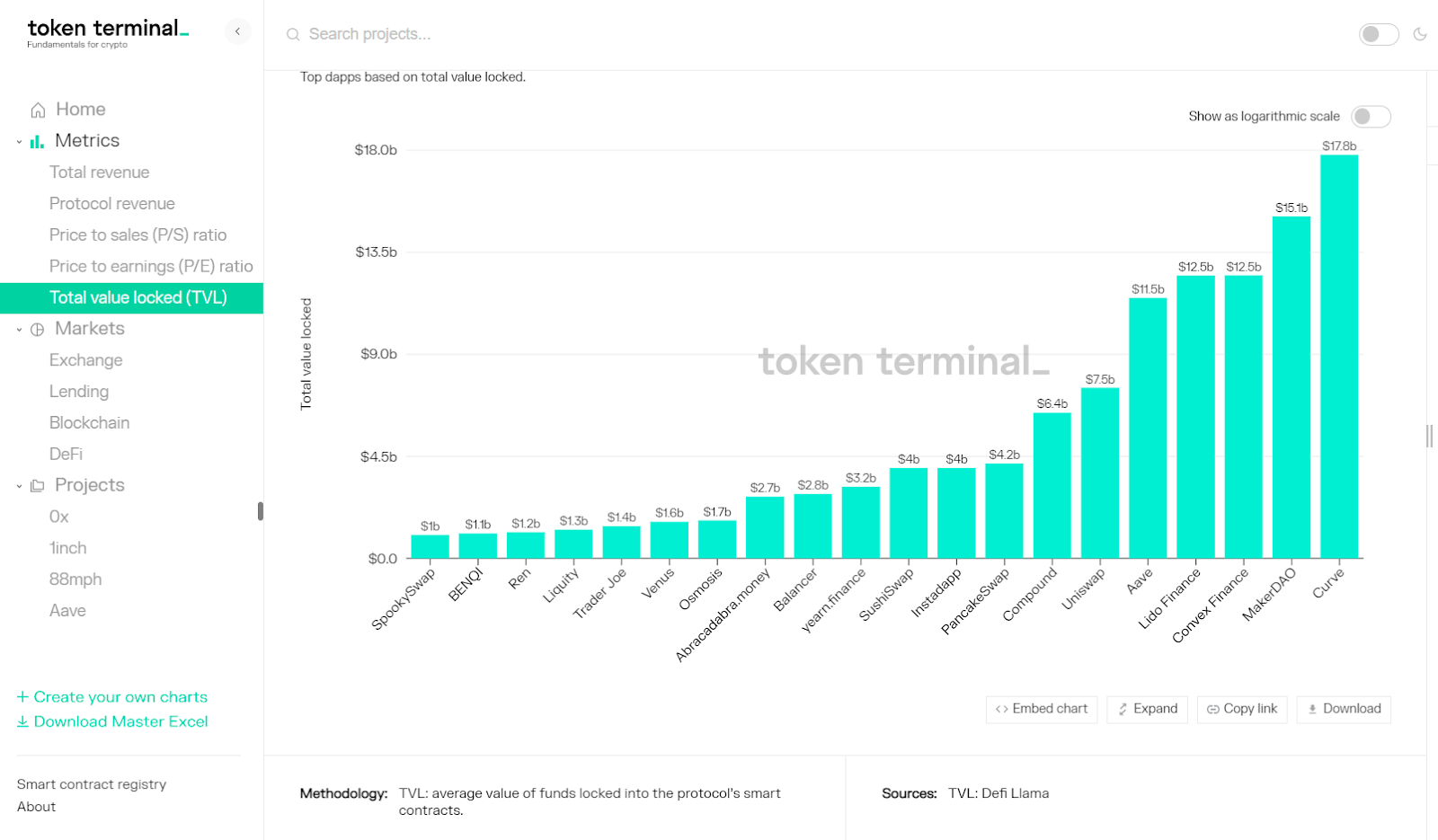 Token Terminal can be particularly useful for visualizing the total value locked (TVL) in top dapps across all chains, e.g. Ethereum, alt-L1s, L2s, etc.
You can also use the site's "Markets" section to explore activity across specific categories, like lending protocols in general, or of specific projects, like Aave.
Users who upgrade to Token Terminal's Pro plan are able to create and download their own charts.
---
4. Nansen
The 101
As Nansen data journalist Martin Lee recently explained: "Ethereum ETL is an open-source project that allows users to convert blockchain data into convenient formats such as CSV. Nansen, whose core team members are the main contributors to Ethereum ETL, leverages it to get on-chain data and displays the data in easily digestible dashboards."
Nansen also makes use of a wallet labeling system that makes it very simple to parse transaction flows. For instance, legendary NFT collector Pranksy has his main wallet labeled as depicted below.
Nansen's premium plans start at $399 a quarter, after which you can review the platform's most popular dashboards like Hot Contracts (big 24-hr volume movements), NFT God Mode (NFT project analytics), Smart Token Holdings (tracks changes in major wallets' holdings), and more. However, Nansen also has a free trial offering and a series of public dashboards you can check out.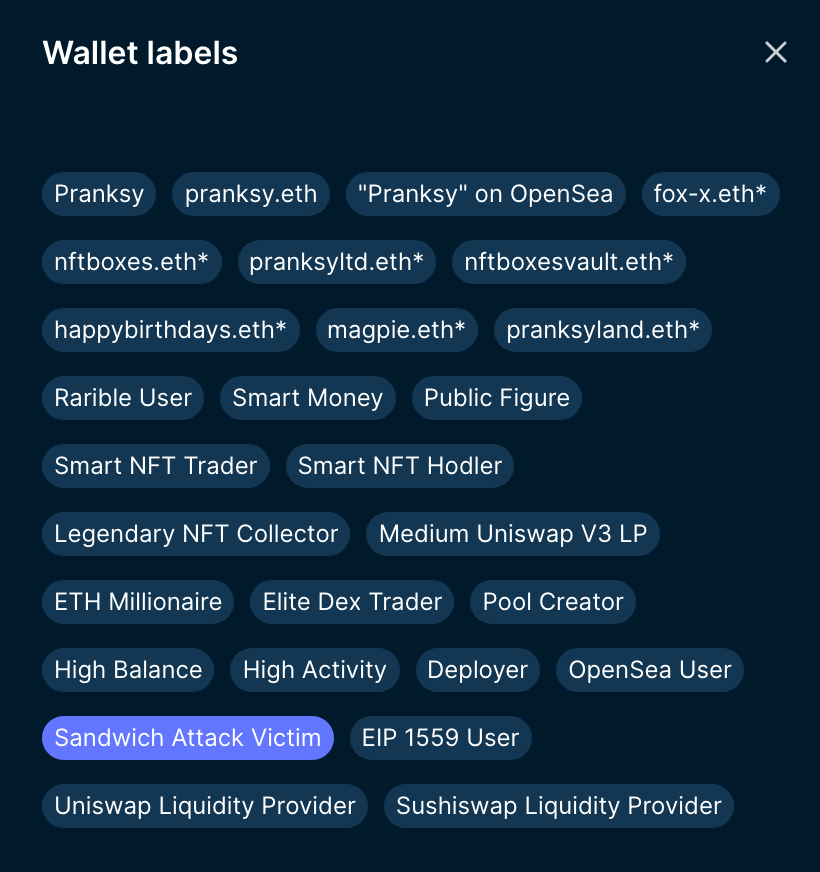 Using Nansen for on-chain analysis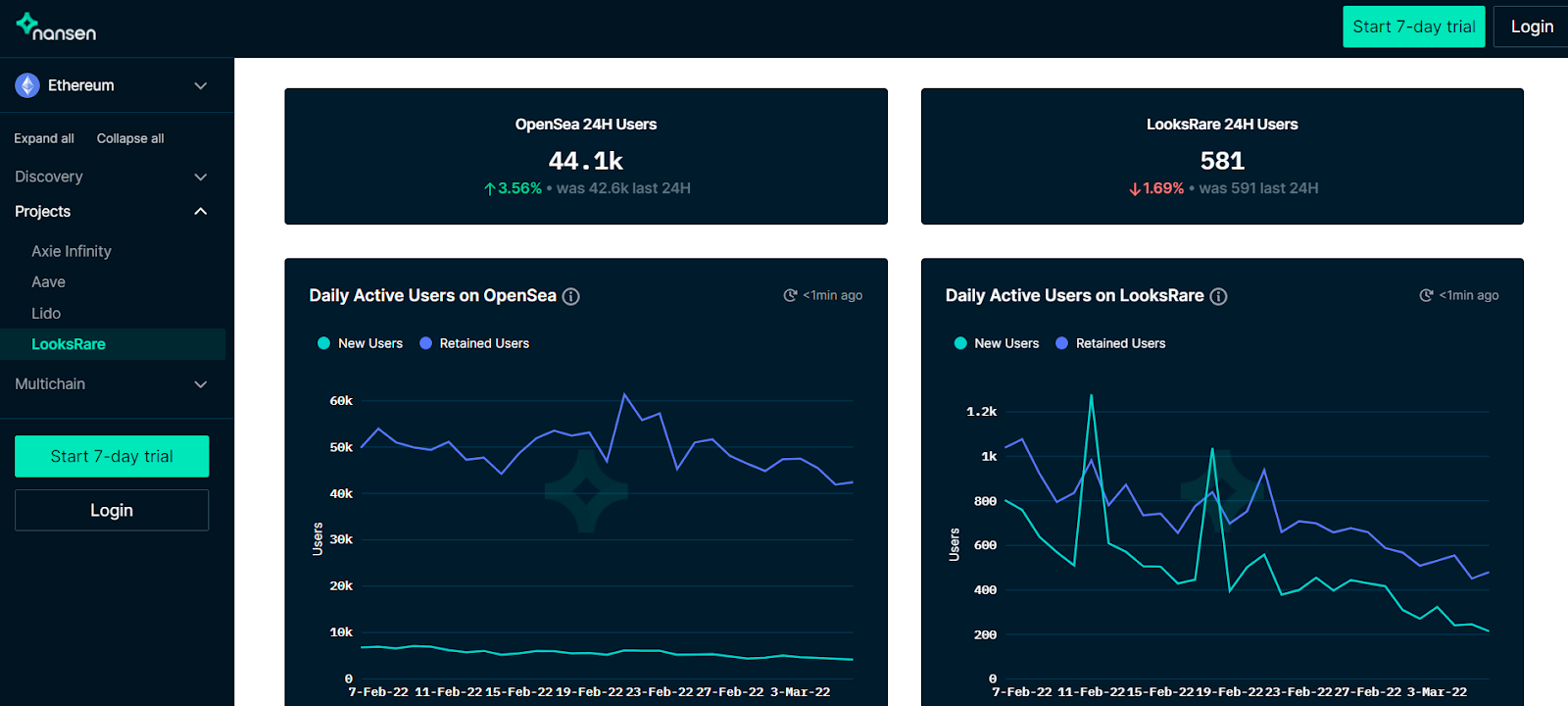 Let's say you're thinking about investing in the LOOKS token of the LooksRare NFT marketplace, but you want to see how its stats are holding up against OpenSea lately before you make a final decision.
You could head over to Nansen's public LooksRare dashboard and compare the two marketplaces on 24-hr users, daily active users, and so forth. In the image above you can see LooksRare's DAUs have been trending down in Feb. 2022, so that might affect your choice.
For some more ideas on how to use Nansen, I recommend reading the aforementioned Martin Lee's "Blockchain Analytics" piece.
---
5. Context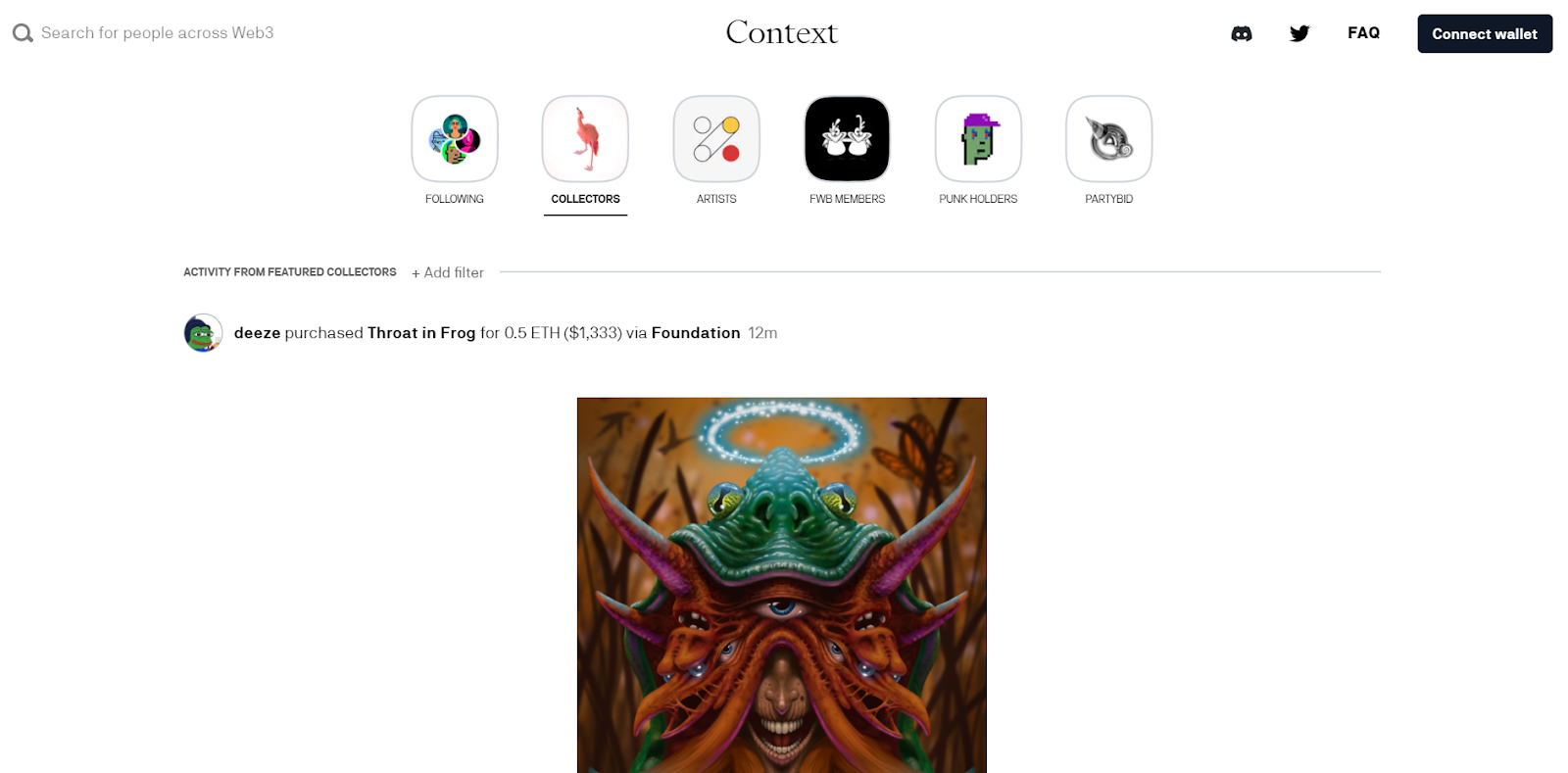 The 101
Context is a real-time feed for tracking notable NFT activity.
You can use the site to follow happenings according to pre-made categories like what CryptoPunk holders, FWB members, or notable cryptoartists are minting.
Additionally, you can connect your wallet to start personalizing your feed by following specific accounts of interest to you.
Using Context for on-chain analysis
Maybe you've found a person or two on Twitter who seems to always find the next big NFT project before everyone else.
See if they have a public ENS or an Ethereum address displayed anywhere. If so, go to Context and add the address to the accounts you follow.
Then whenever that person or people mint new projects, you'll be able to track and act upon the happenings in your real-time Context feed!
Conclusion
If you haven't already, start routinely using and getting a feel for the tools described above.
They're powerful by themselves and can help you produce actionable insights individually, yet when you use them in tandem your ability to understand on-chain data and act upon it increases exponentially.
As the crypto-economy grows in importance in the world, being able to analyze on-chain data in even basic ways will also be increasingly useful. Learning these skills and tools now will give you a head start before the rest of the world really starts catching up.
---
Action steps