News
Web3 Bends the Knee to Apple
Weekly recap: Apple's Web3 lite, Binance's alleged sloppiness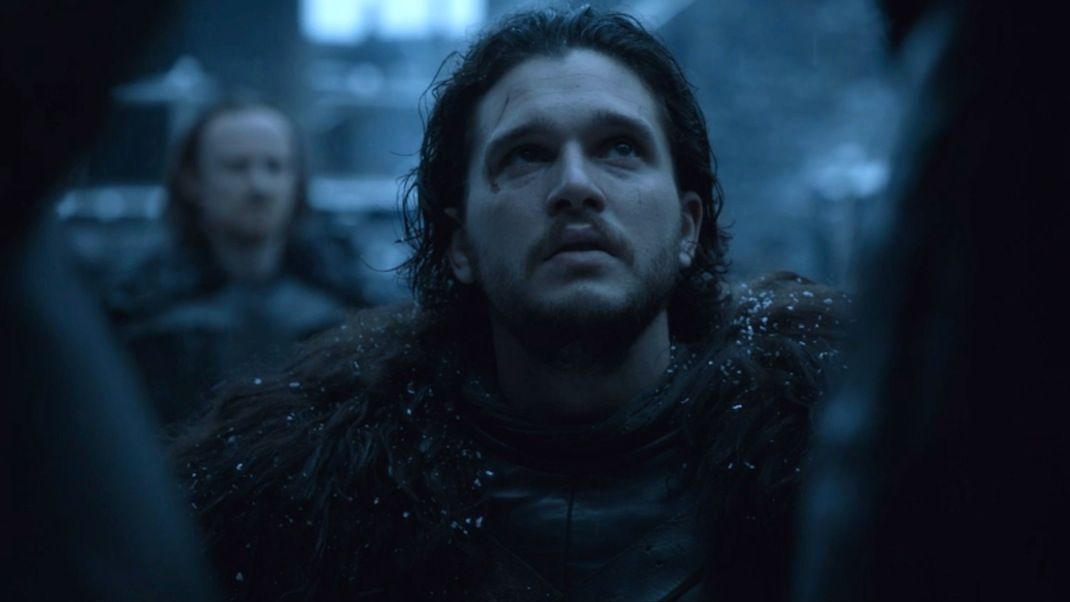 Dear Bankless Nation,
Apps from Web3 companies are finally landing on Apple's App Store, the only thing missing? Crypto...
For our weekly recap, we dig into:
Web3 apps bend the knee
Yes, Americans are using crypto
Tornado Cash hacker cashes out
Binance commingling funds?
DCG misses a payment
- Bankless team
📅 Weekly Recap
1. Web3 apps bend the knee
Apple is increasingly showing a green light to Web3 apps, as long as they drop the Web3 features and get ready to pay the Apple Tax...
Axie Infinity launched its mobile game on the App Store last week for eight countries across LATAM and Asia . Users will not be able to buy NFTs in-app.
This week, "move-to-earn" game STEPN announced an integration with Apple Pay which will allow users to purchase in-app non-crypto tokens that can be used to buy NFTs. Users that go this route will be paying a massive premium to transact outside of the crypto payment rails.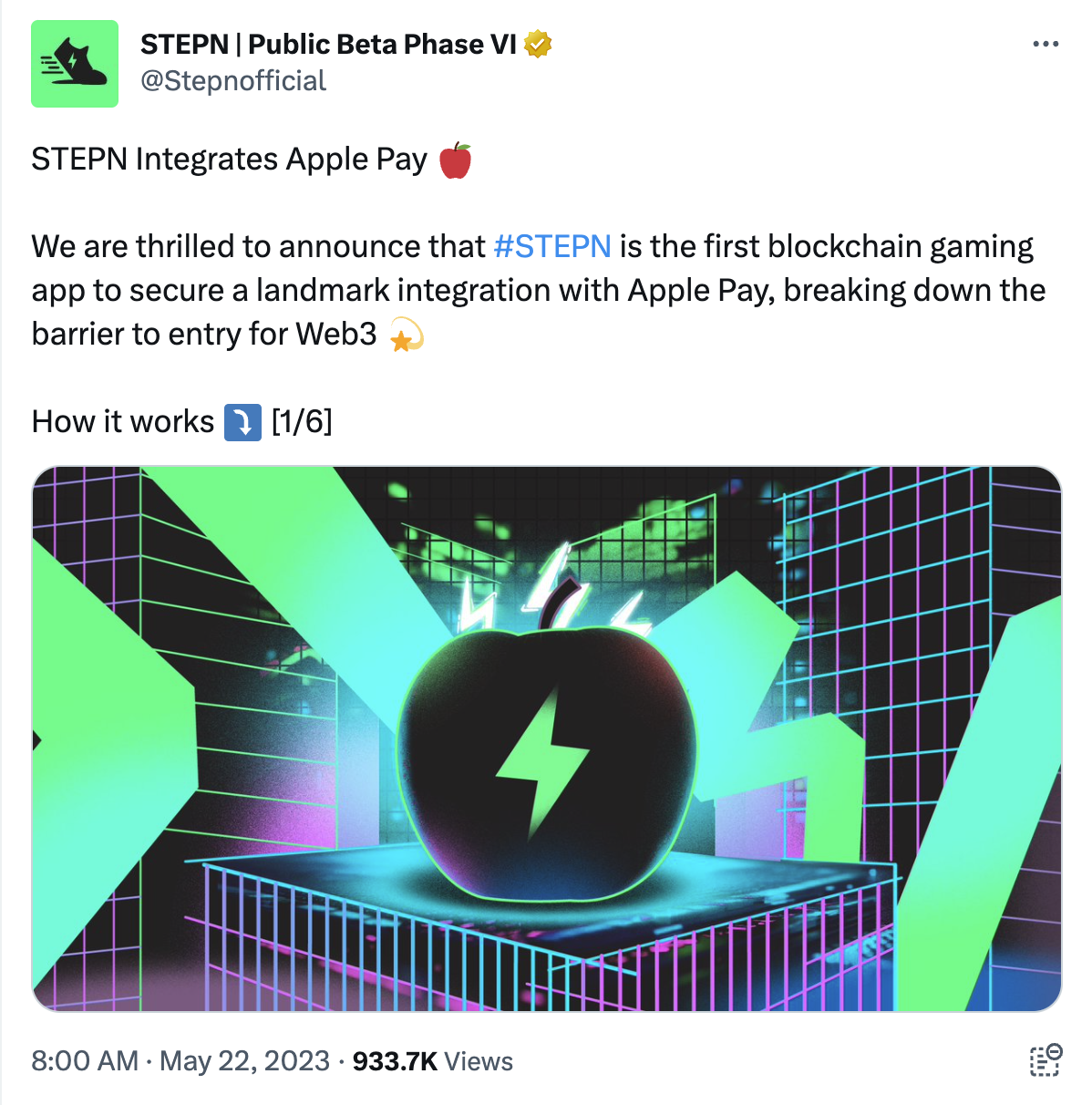 As the bear market trudges on, more apps are finding that their "non-negotiable" qualms with App Store rules are indeed up for debate. Apple's stranglehold on mobile has left Web3 startups forced to reposition and realign their strategies and incentives to build their audiences.
2. Yes, Americans are using crypto
About 1 in 10 Americans use cryptocurrencies, according to data coming from the Federal Reserve.
In its "Economic Well-Being of U.S. Households in 2022" report, researchers note holders of crypto were more likely to be adults with income of $100,000 or more, who bought crypto for "investment" reasons.
On the other hand, Americans with income below $25,000 "were more likely than those with higher incomes to use cryptocurrency for financial transactions" i.e., non-speculative use. Crypto use for transactions were more common among unbanked Americans (5%) compared to those that were banked (3%).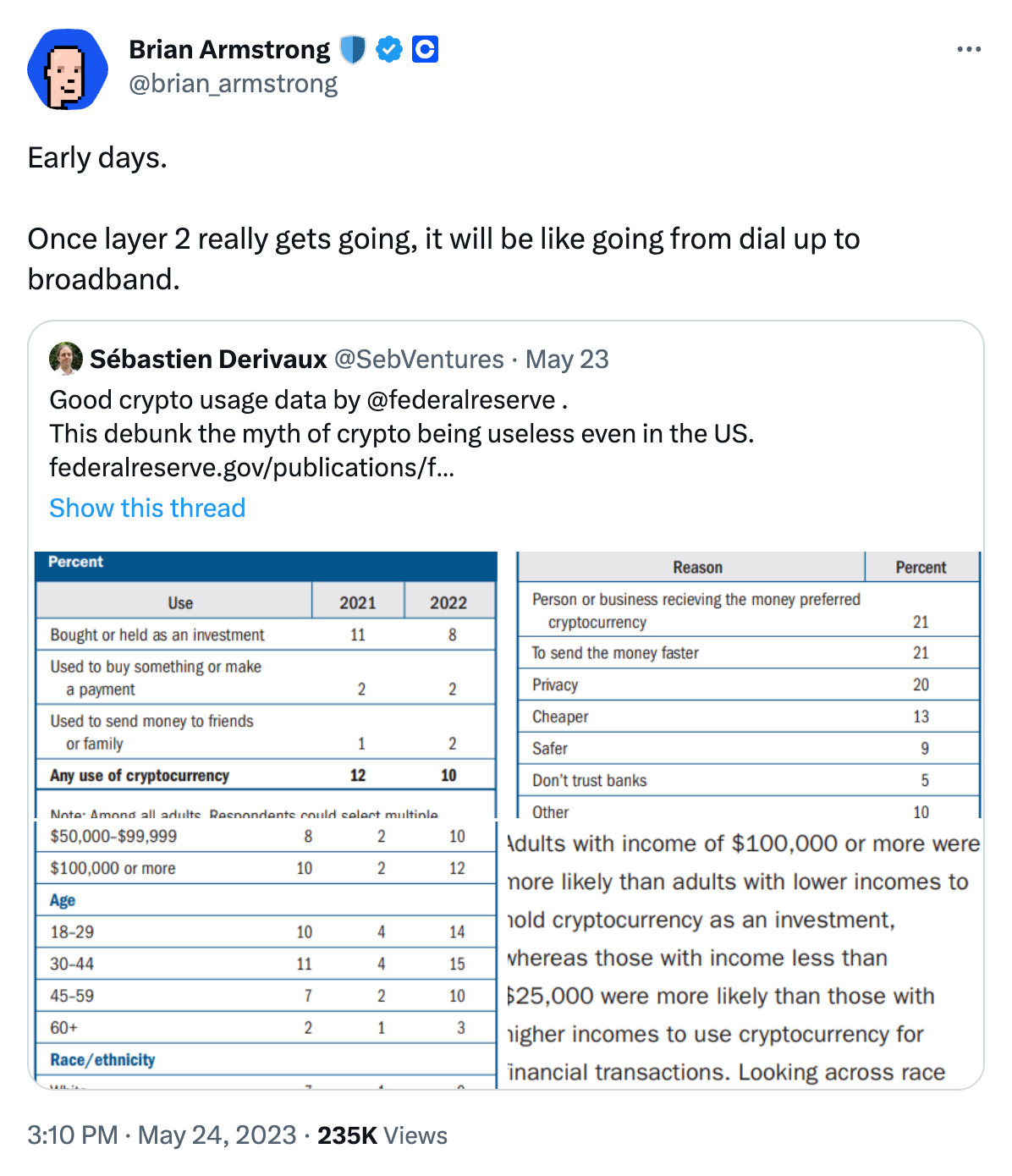 3. Tornado Cash hacker cashes out
A sophisticated hacker is causing lots of turmoil in the Tornado Cash DAO this week. One week ago, the attacker snuck a slightly edited malicious governance proposal past the community that allowed them to amass a controlling share of governance votes.
With them, the attacker gained access to the DAO's treasury and drained 10,000 votes in the form of TORN tokens from the governance contract, selling them for $25,600. On Wednesday night, the attacker continued to move 100 ETH and 38,000 TORN by sending it through Tornado Cash.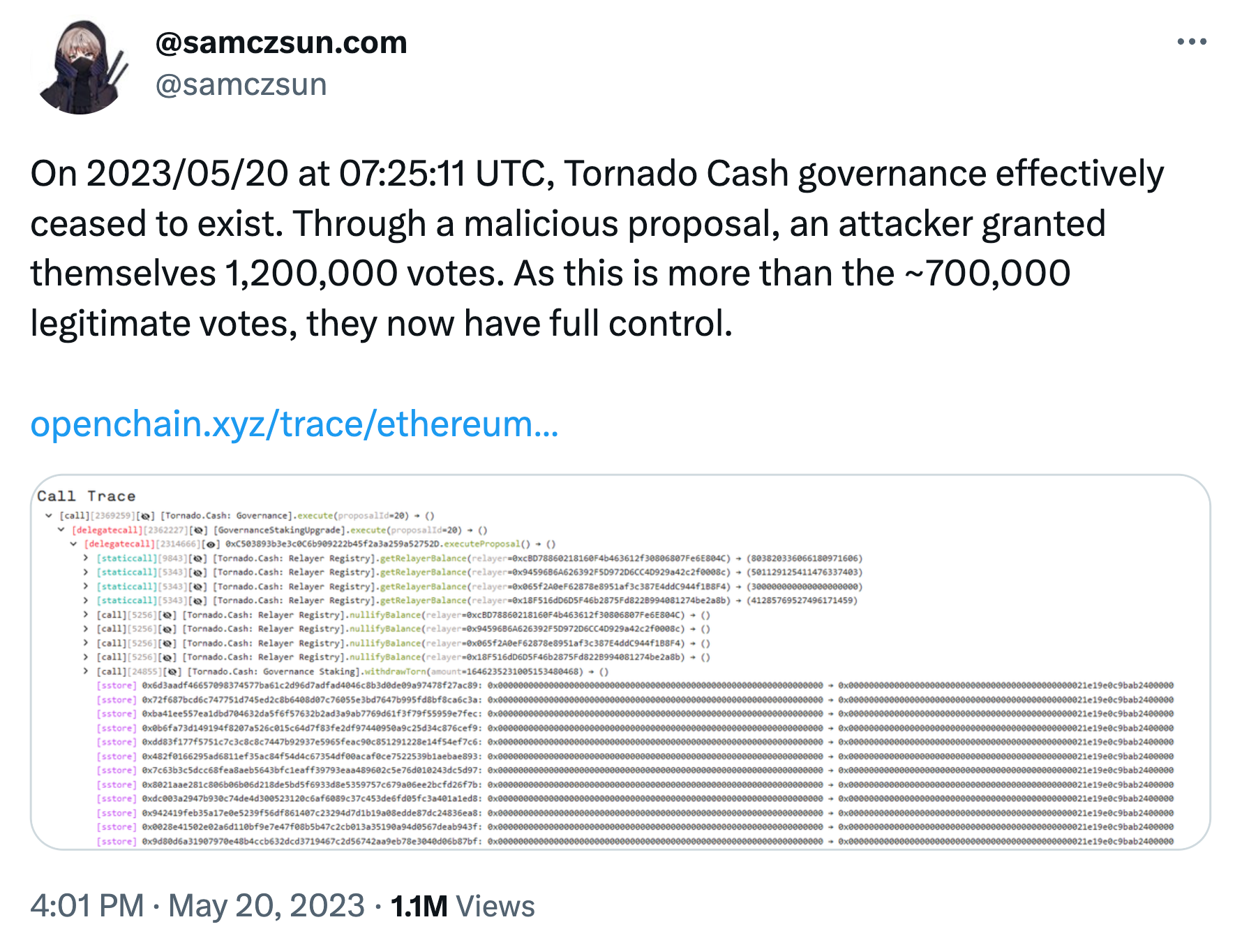 Binance responded by pausing deposits/withdrawals of TORN. Only funds locked in Tornado Cash's governance are impacted, while funds from individual pools are intact.
4. Binance commingling funds?
Binance is catching some flack after a Reuters article this week reported the exchange had commingled customer deposits and its own revenues. The report did not suggest that Binance customer funds had been stolen or lost.
According to Reuters, one bank record from February 2021 suggested that Binance commingled $20 million of its own company funds with $15 million from an account receiving customer money.
Binance's Comms Chief denied that customer deposits and funds were mixed, claiming that the monies were entirely corporate funds and that customers sending money to the account in question were not making deposits, but buying its BUSD stablecoin.
U.S. regulators reject this explanation, citing that Binance's website categorically states that customer dollar transfers were in fact deposits that would be credited to their trading accounts in BUSD for trading, and would be available for withdrawal as dollars. Binance responded by claiming "the term 'deposit' is a communication term, it's not an indication of the technical treatment of the funds." 🤔
5. DCG misses a payment
The now-bankrupt lender Genesis owes Gemini exchange $630 million. Gemini confirmed that Genesis missed that payment which was due the week of May 9.
To avoid a default, Gemini is considering issuing a forbearance (a delay of payment) to Digital Currency Group (DCG) who owns Genesis.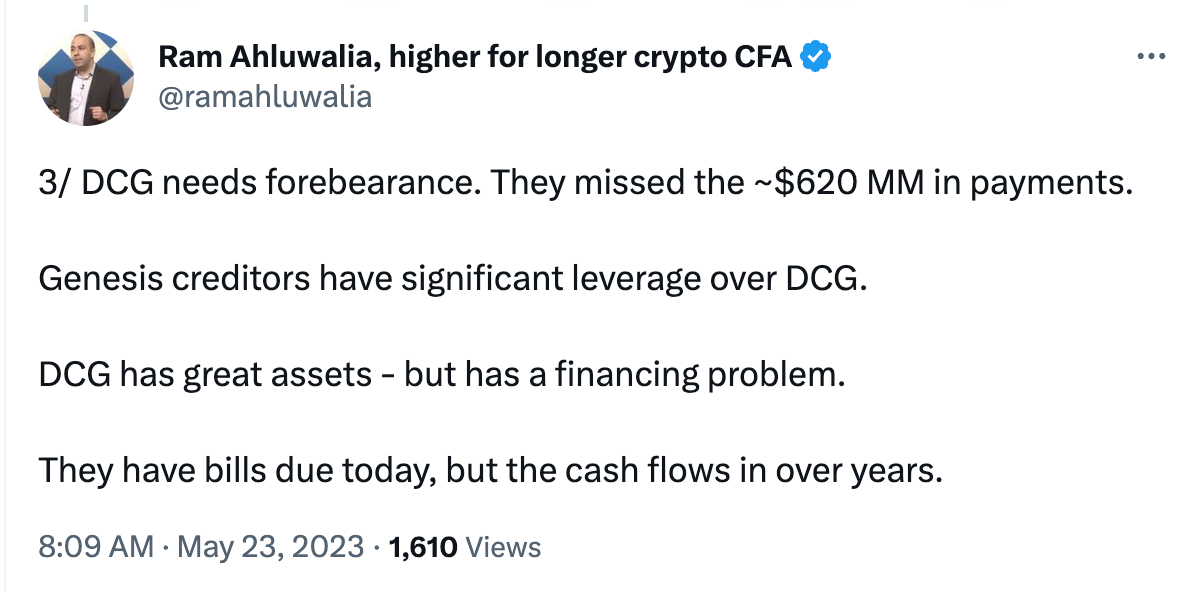 If the deal cannot be reached, Gemini will then "suggest terms for an amended plan of reorganization that could be advanced without DCG's consensual participation".
Genesis first filed for bankruptcy in January 2023 after suffering heavy losses from the fall of Three Arrows Capital and FTX. Gemini, owned by the Winklevoss brothers, became entangled in the Genesis insolvency due to the "Gemini Earn" yield product.
---
📺 Bankless Weekly Roll-Up
Other news: