News
Trending Project: Frax Finance
TL;DR: DeFi's largest fractional-algorithmic stablecoin is withstanding a significant stress test.
Analyst: Ben Giove
Ticker: FXS
Sector: DeFi - Stablecoin
Network: Ethereum
Fully-Diluted Valuation: $826 million
Hotness Rating: 🔥🔥🔥🔥
How it works: Frax Finance is the issuer of the decentralized stablecoin FRAX. FRAX is a "fractional-algorithmic" stablecoin, meaning a portion of its supply is both collateralized and algorithmic. The collateral ratio (CR), determined by the supply and demand for FRAX on the open market, is currently 89.00%. This means that to mint new FRAX, a user must deposit $0.89 of USDC collateral, and burn $0.11 of FXS, the protocol's seigniorage and governance token, while the stablecoin can be redeemed for both assets in the same proportion.
FRAX has undergone a significant stress-test over the past several days following the collapse of Terra's UST, a fully-algorithmic stablecoin. FRAX has seen its supply contract 43% from $2.61 billion to $1.48 billion since May 9, while the price of FXS has fallen 62.5% during that same period, with the sell-off likely exacerbated as a result of redemptions. In addition, more than $1.14 billion of liquidity has been withdrawn from the FRAX-3CRV pool on decentralized exchange Curve, which represents the single largest source of liquidity for the stablecoin.
Despite the market volatility, FRAX has largely managed to defend its peg. Per Chainlink, the oracle network which aggregates price feeds from a variety of different trading venues, FRAX traded no lower than $0.992 over the past week. In addition, admist the significant withdrawals, the protocol still owns 62% of the liquidity in the FRAX-3CRV pool, controlling $873 million of the more than $1.4 billion in deposits through its Curve AMO, a mechanism employed to help keep the stablecoin at peg. FRAX's stability over the past week, and continued majority ownership over its liquidity, suggests that the system has been and should continue to be successful at defending its peg.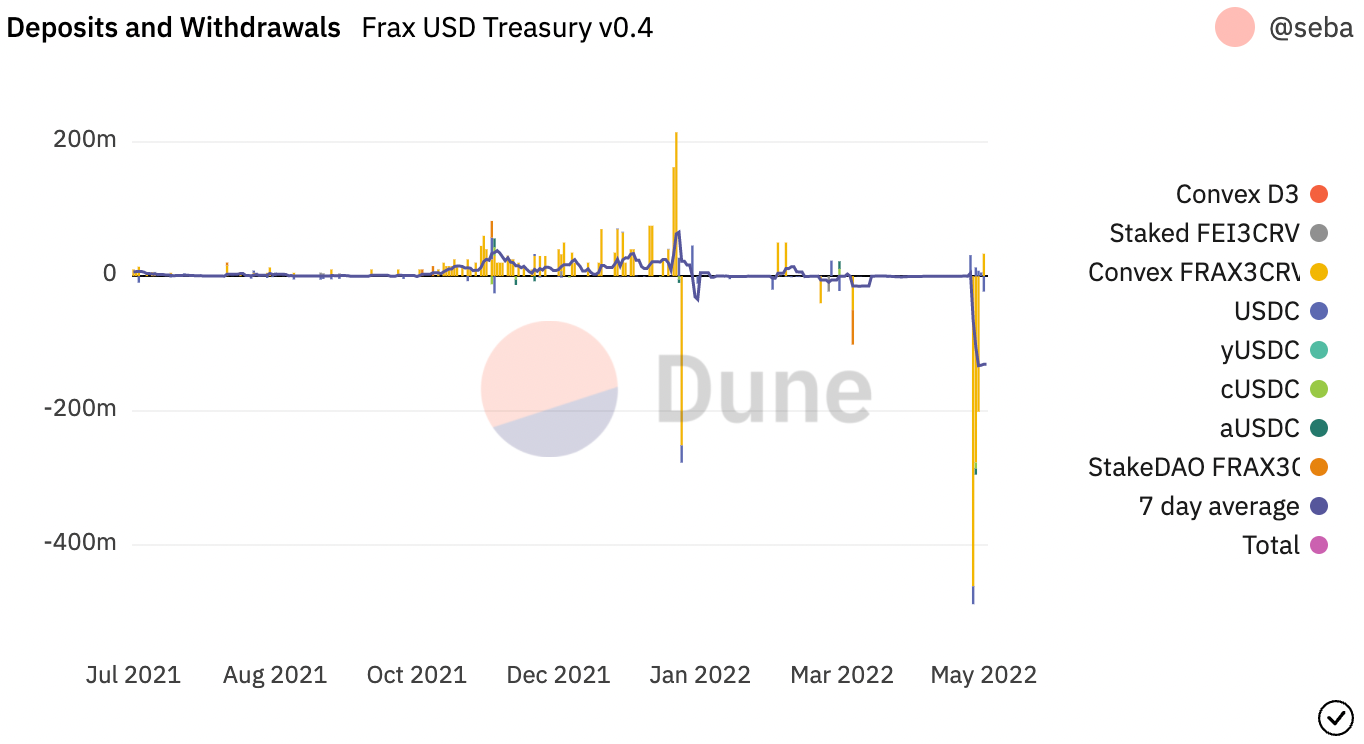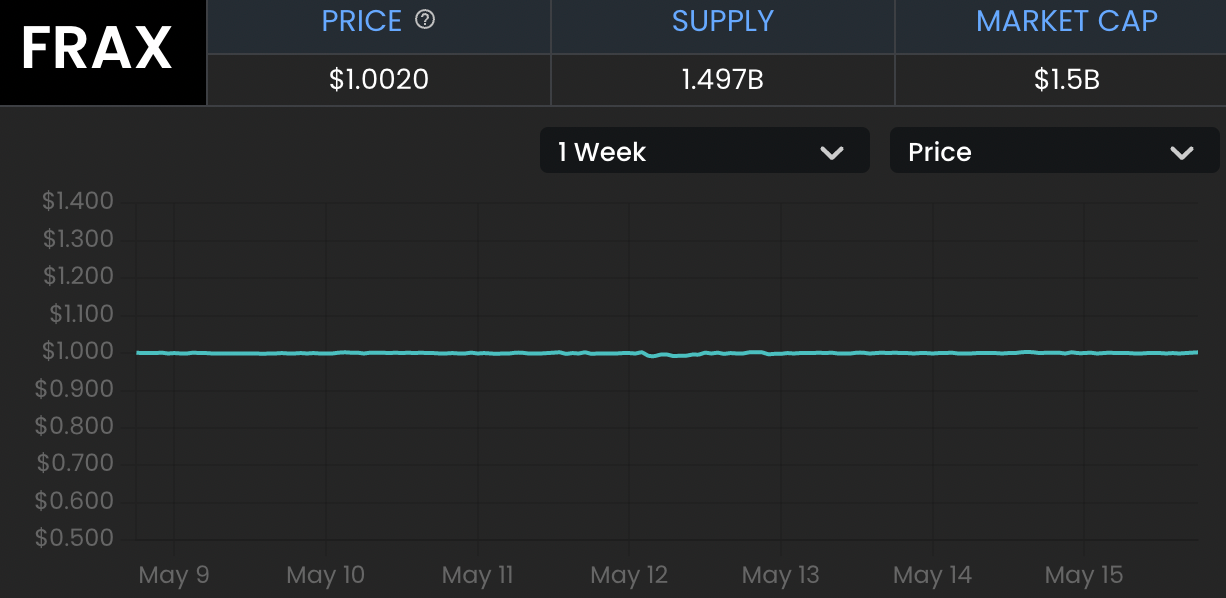 To read more about AMOs, check out the Frax documentation!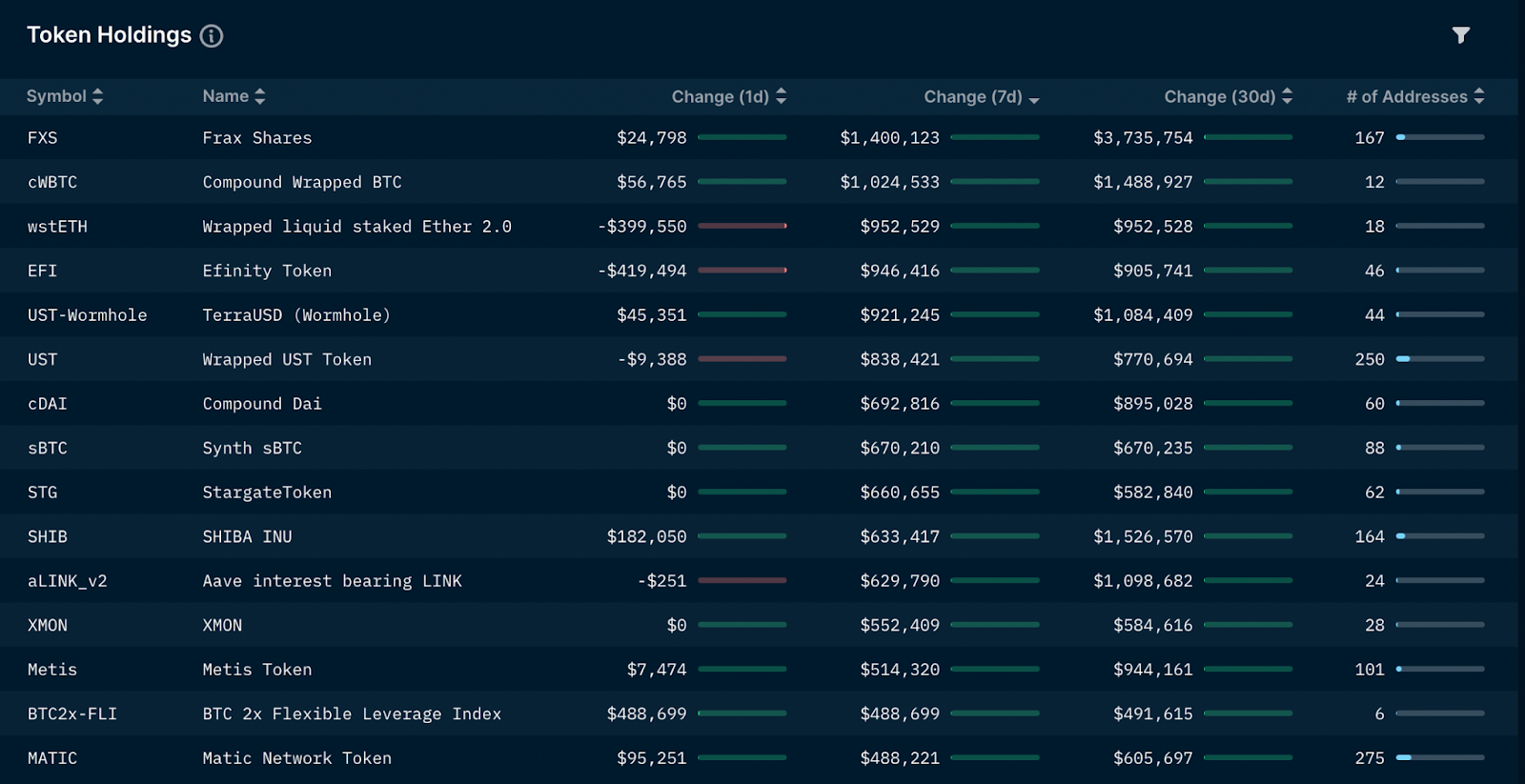 While the system has proven to be resilient, there seems to be interest among the community in changing the design of FRAX, as there have been two governance proposals since May 11 proposing transitions to a fully-collateralized model. Although it may temporarily reduce demand for FXS, as one proposal would entail removal of the seigniorage component, this has not deterred savvy traders from buying the FXS dip, as Nansen Smart Money balances have increased by $1.4 million over the past seven days.
Hotness Rating (🔥🔥🔥🔥/5): FXS has been under significant pressure as FRAX undergoes its greatest test yet. As the system has proven resilient, and given the massive addressable market of stablecoins, investors may want to consider a spot for FXS within their bear market shopping cart.