NFTs
The NFT Bear Market Is 🔥
Huge CryptoPunk sale, the Ronin wallet goes 📈, OpenSea fights scammers, & more!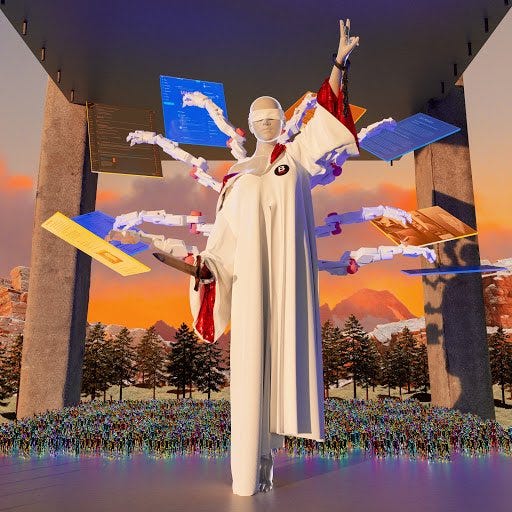 Dear Bankless Nation,
There's so much activity happening in this latest NFT bear market that it can be exhausting trying to keep up!
To be sure, I'm kidding about the "bear market" label — but certainly not about all the developments occurring around us right now.
Beyond the simplicity of the 🐻 or 🐂 framing, I think a better way to describe our ecosystem is that it's primed. This can mean a lot of things, and play out in uneven ways, but ultimately what I'm getting at is NFTs have progressed past a sort of event horizon from which there's no going back.
Like those who used the early internet, then, we too are seemingly at the start of one very long adoption ramp. That's my two gwei, make of it what you will! And as always thanks for reading everyone, have a great weekend!
-WMP
---
🏆 Digital Collectibles
Alien CryptoPunk sales are a rare occurrence, so the NFT ecosystem was excited this week by CryptoPunk 7523 selling for $11.75 million amid Sotheby's "Natively Digital" curated NFT auctions 👽

Over 4,000 unique addresses now own Bored Ape Yacht Club (BAYC) NFTs 🦍

Ponderware, the team behind MoonCats Rescue, is selling two 2017 MoonCats via Dutch Auctions on NFT20 next week 😸
🎨 Cryptoart
Fidenza, the latest curated drop on generative art platform Art Blocks, was a smashing success. Artist Tyler Hobbs sold out the series's 999 pieces in 20 minutes for 170 ETH!

Fidenza #1

Speaking of Art Blocks, Lot 4 from Sotheby's "Natively Digital" sale, a group of 19 first-gen Art Blocks pieces, sold for $81,900 at auction.

"The New Octahedron," an iconic Ethereum-centric artwork that was famously featured on ethereum.org, was listed on Foundation by its creators, THE LOL INK DAO.

Artist Carlos Marcial and collector Rudy Adler are teaming up to exhibit Marcial's iconic "Here Comes Fiat" in Austria's first-ever cryptoart museum exhibition ...
🕹️ NFT Games
🌐 Virtual Worlds
The latest slate of Cryptovoxels updates were released.
🛒 NFT Platforms
OpenSea is fighting deceptive NFT offers by more prominently displaying the value and ticker symbol of bids.
Rarible launched a new feature that allows you to hide NFTs you own but don't want to display from your profile page.
💎 DeFi x NFTs
Due soon, NFTX v2 will have sleek new token ticker designs.
---
Action steps