Dear Bankless Nation,
When I first wrote about the Nouns NFTs in Sept. 2021, the project had been live on the Ethereum mainnet for just over a month.
Fast forward to today, and the Nouns effort is no longer some zany curiosity.
Well, sure, it's still a zany avatar experiment. But the project's also climbed to the forefront of the NFT ecosystem's CC0 movement, amassed a major treasury, and inspired creative endeavors left and right, the second- and third-order effects of which are now materializing.
All that said, there's tons of interesting stuff happening around the Nouns community lately, so let's catch you up on all the action for today's Metaversal.
-WMP
---
What's new with Nouns DAO
State of the Nouns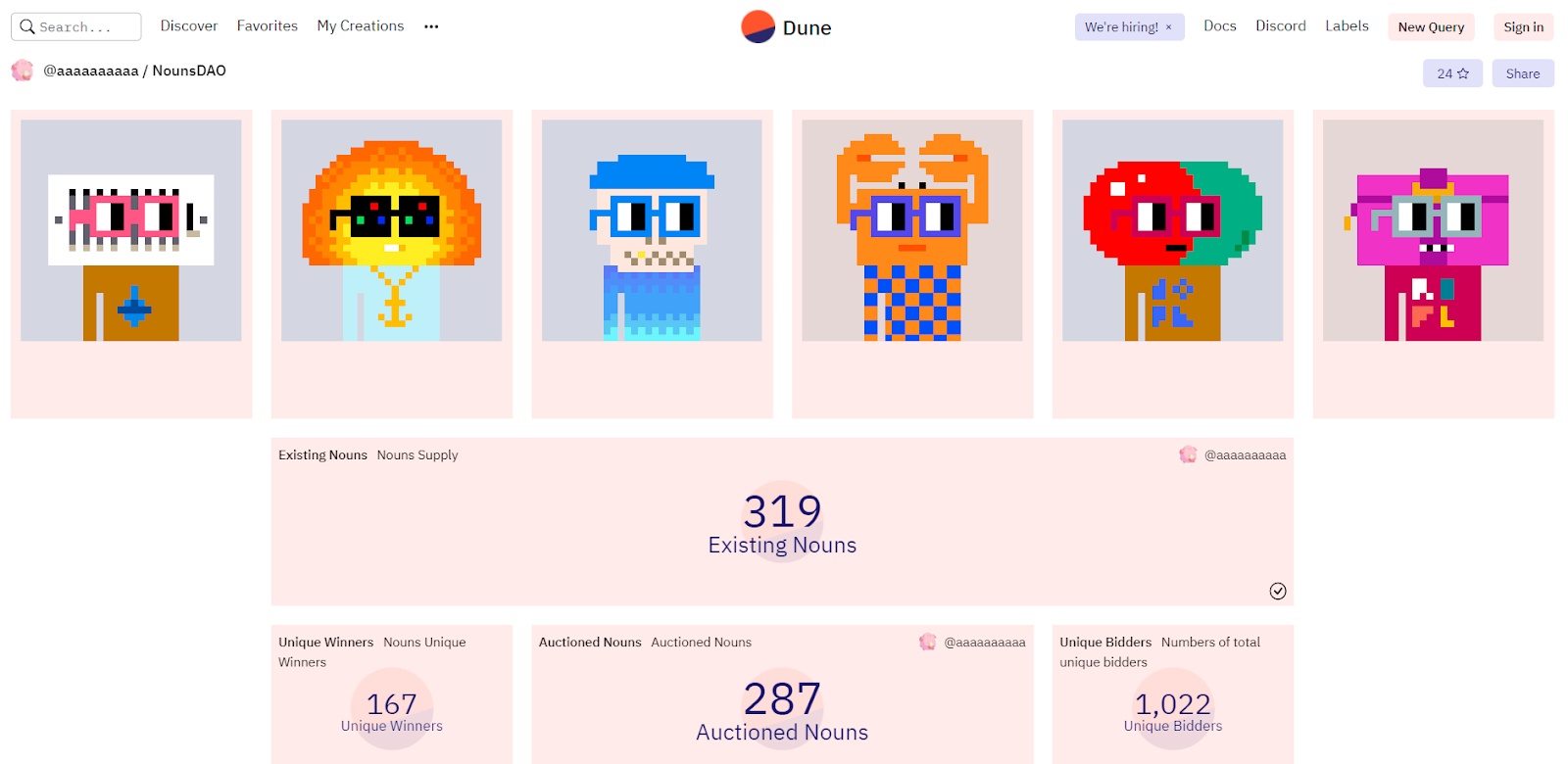 Key Noun stats circa May 26th, 2022:
Nouns generated: 321
Nouns auctioned: 288 (every 10th Noun goes to the Nounders for the first five years)
Unique winners: 168
Treasury balance: 24,201 ETH (~$45M USD)
Treasury allocated: 8,155 ETH (~$15M USD)
Net asset value per Noun: ~75.4 ETH (24,201 treasury ÷ 321 Nouns)
DAO proposals accepted: 67
DAO proposals rejected: 16
Secondary Nouns sales: 68
Median secondary sale price: 76 ETH
Current secondary floor price: 105 ETH
---
Prop House advances
In March 2022, the Nounder seneca introduced Prop House V1.
A means for Nouns DAO to put its treasury to quicker and more decentralized use, this Prop House mechanism lets anyone with an Ethereum address submit "nounish" proposals in bids to receive small ETH grants.
Nouns DAO members vote on these proposals, but the system also notably paved the way for holders of Nouns derivative projects to vote alongside Noun holders. The first extension project to be welcomed into the Prop House fold was NounPunks.
Yet seneca also notably just unveiled Prop House V2 last week, and the new format introduced independent houses. Accordingly, NFT communities (current invitees depicted below) can now enjoy their own Prop House-style funding auctions through these houses.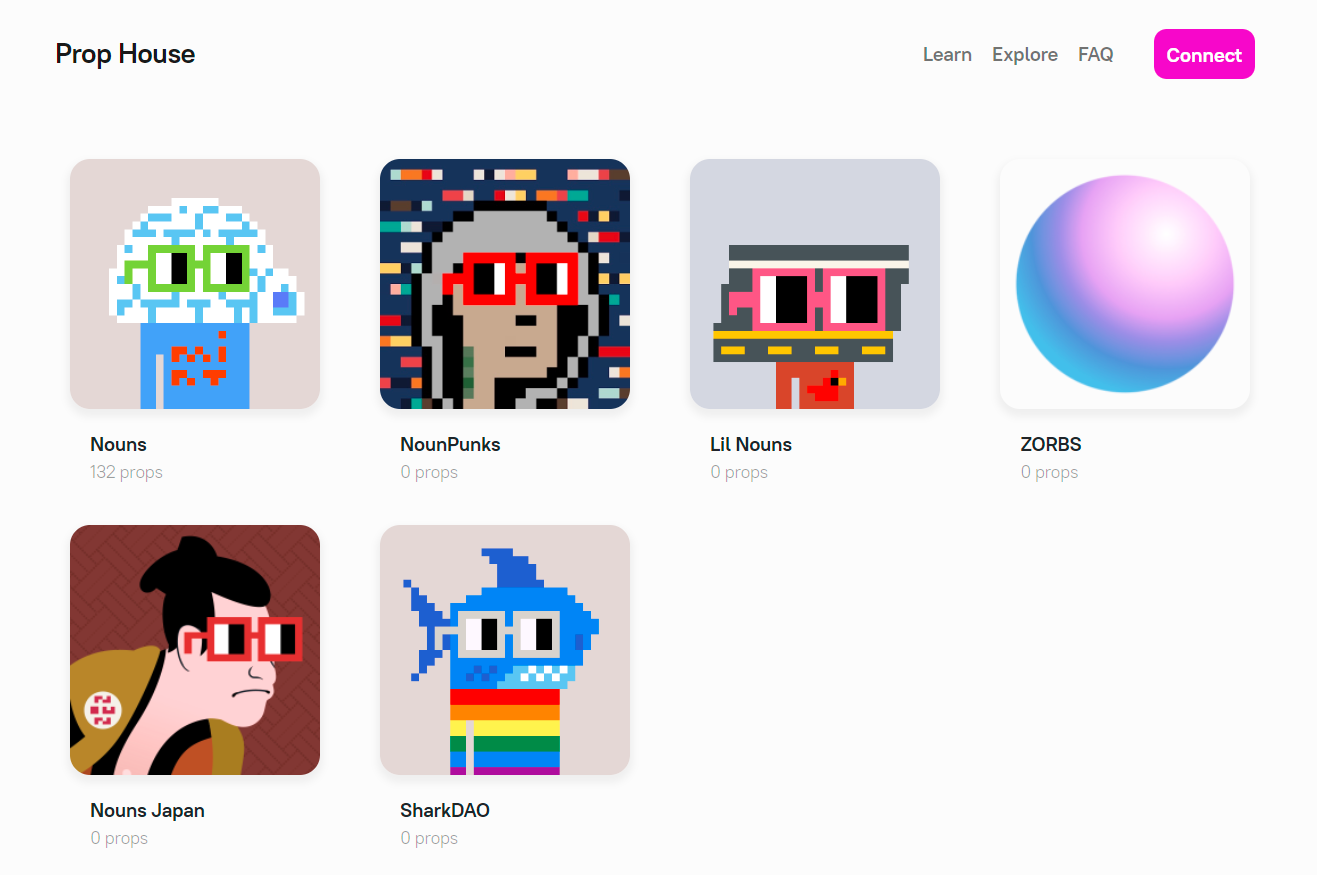 In an announcement post, the V2 creators said:
"Through independent houses, Nouns DAO is now able to fund external nounish communities houses (and their corresponding funding rounds). In this manner, we can scale our efforts atop of the Nouns Prop House and onwards to a thriving ecosystem of independent prop houses.

Beyond funding, this is a new way for communities to gather around and create. If the ERC-721 standard is thought of as the social graph, Prop House may be looked at as the permissionless power source that communities gather around. Akin to reddit, I believe we will see NFT communities for every niche imaginable. But unlike reddit, these communities will live on the blockchain. Imagine a world where all subreddits could be funded — how much faster would we be able to empower the people that can change the world? Prop House aims to capture the energy of these communities to unleash their creative potential."
---
The POAP plotline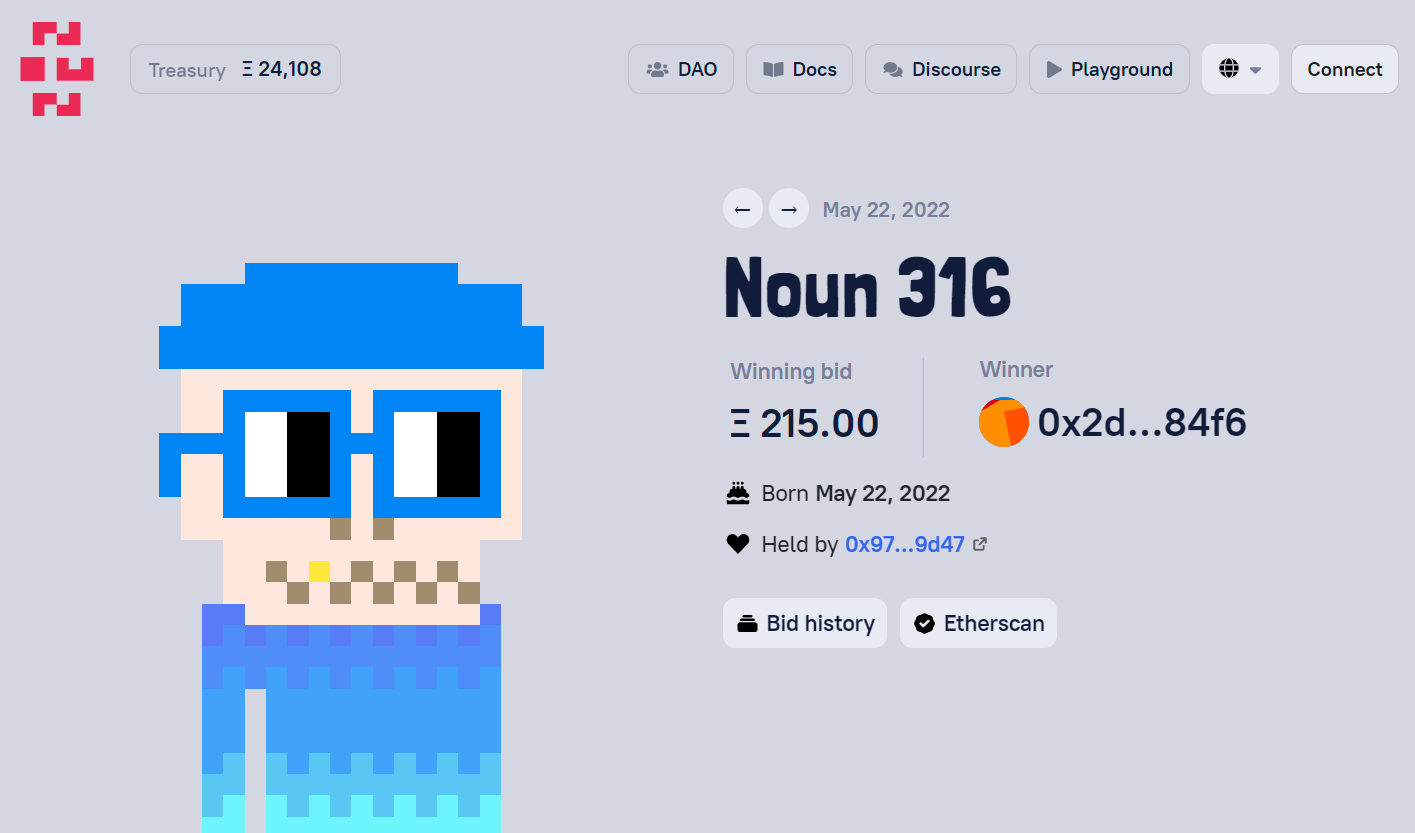 The Noun 316 auction was won by Bharat Krymo for 215 ETH, which was enough to edge out a 210 ETH bid from poap.eth and a 190 ETH bid from patriciopoaphastoomanynounsfortheculture.eth.
That latter pointed ENS domain is a reference to the holder of poap.eth, Patricio Worthalter, a longtime crypto veteran and founder of the popular Proof of Attendance Protocol, or POAP, project.
Worthalter's reputation certainly precedes him in our ecosystem when it comes to his generosity and leadership, and it's also no secret that he has quite a sizable personal ETH warchest. In recent months, he's been putting some of that warchest to use in buying more than a few Nouns.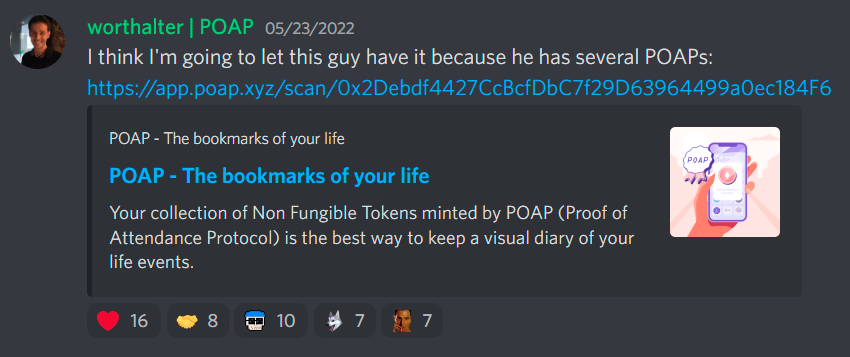 Against this backdrop, on Monday, May 23rd, discussions around Worthalter's influence in the project rose to the fore in the Nouns community. Some expressed concerns that Worthalter was becoming a de facto gatekeeper of the Nouns, while some others worried the POAP founder had personal designs for the project.
For his part, Worthalter has noted:
Additionally, Worthalter has already delegated some of his Nouns to others with no mandate and said he could consider not going over a certain number of Nouns ownership-wise.
Zooming out, the Nouns community grappling with the topic of influence is definitely understandable. Governance is an attack vector for Nouns DAO, as an attacker could theoretically amass enough Nouns to pass malicious proposals. It's why the Nounders have a temporary veto power.
Fortunately, the person that's been amassing lately during this formative period has been Worthalter, someone who 1) sincerely likes the Nouns project, 2) has a strong reputation, and 3) has shown a willingness to accommodate critics. At the end of the day, though, the Nouns protocol is permissionless, so goodwill around it does go a long way right now. Can the project's community self-correct against darker possibilities going forward? Only time will tell, but Nouns DAO will meet those challenges head on if they come.
---
Rise of the Lil Nouns
Launched on May 11th, Lil Nouns DAO is the hottest Nouns derivative project at the moment.
As the project's name suggests, the third-party fork collection generates mini versions of Noun avatars, with the big difference being that Lil Nouns are auctioned off every 15 minutes instead of once per day like Nouns proper.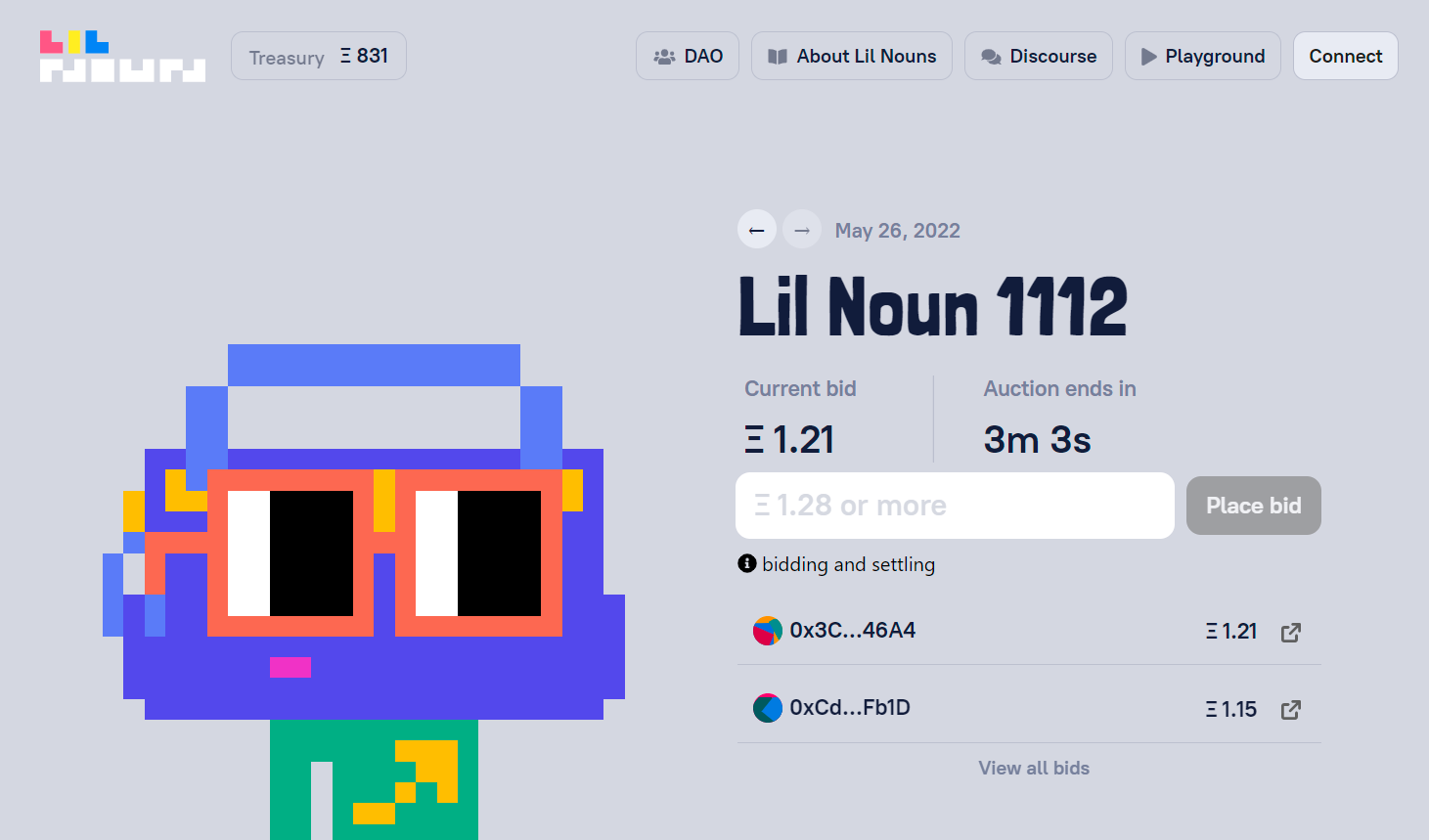 The faster pace and more affordable auctions have led to an explosion of interest around Lil Nouns, as evidenced by the fact that the project's treasury has already accrued nearly 1k ETH and is currently outraising Nouns DAO on a daily basis.
Where Lil Nouns evolves from here remains to be seen, but some people are obviously piling into the project as a means for gaining a stake in the wider Nouns ecosystem. For example, consider how Lil Nouns now are an independent house and holders can vote on their community's own funding auctions. Moreover, Nouns DAO has passed a proposal to sell Noun 253 to Lil Nouns DAO, which will give the latter group a direct say in the former group's governance matters.
---
What to watch
If you're interested in keeping up with all things Nounish, I recommend reading the Nouns DAO Newsletter, which goes out multiple times a month and has updates packed with community happenings.
Another place that's insightful to track is the Nouns DAO governance portal, where you can readily see what proposals the community is reviewing and voting on. For instance, Nouners have approved all sorts of interesting efforts lately, including the development of Nouniverse CC0 story bibles, a children's book, and a documentary by the creators of Robot Chicken.
---
Action steps