Friend & Sponsor
NEAR DA

- DA for Ethereum rollups at a fraction of the cost.
Dear Bankless Nation,
At the start of 2021, the NFT ecosystem entered its first major bull market.
Now, the space is seemingly entering its first major bear market a year and a half later. Recently we've seen:
Anticipation of a recession grow in the U.S.
Wall Street officially tumble into a bear market
Plunging prices push large overleveraged crypto firms like Celsius Network and 3AC up to or past the brink of insolvency, leading to further contagion fears
People de-risking in general by selling their most "risk-on" assets like crypto and NFTs
On the one hand, NFT infrastructure and cultural possibilities are more robust than ever, yet NFTs are also tied to these larger market forces. That said, is the ecosystem currently facing a prolonged bear market, months of sideways chop, or a bottoming out in the near future?
Only time will tell, but for now let's take a look at some key NFT stats via Nansen to take a pulse of the space as things stand.
-WMP
---
What to watch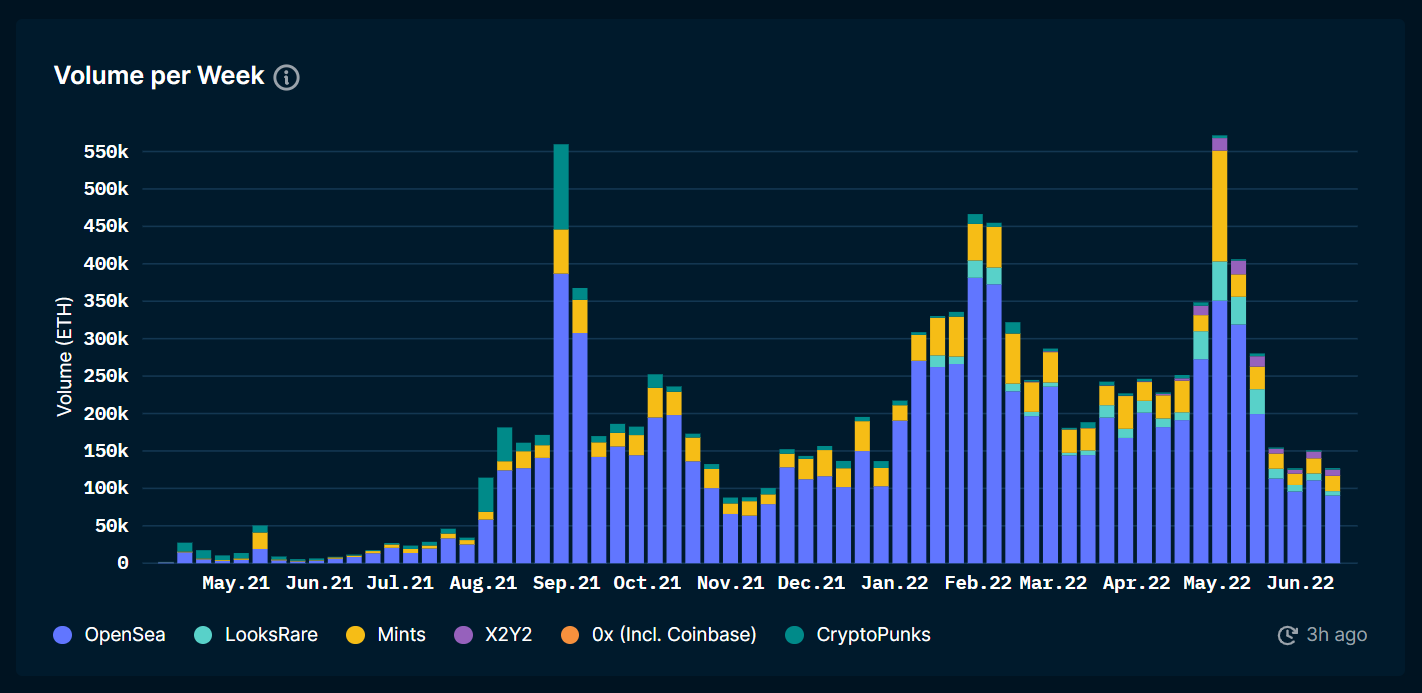 30-day volume
Ethereum's NFT markets have facilitated +616k ETH of trading volume over the past month (May 17th-June 16th 2022). That sum, while still considerable, is down 63% from the 1.68M ETH facilitated over the previous 30-day period. Simply put, there's been a major drop in NFT trading activity in recent weeks.
Volume per week
Since the start of June 2022, Ethereum's NFT markets have facilitated in the ballpark of 125-150k ETH of trading volume per week. That level of NFT trading activity is comparable to levels last seen in November 2021, when top cryptocurrencies like BTC and ETH notched their most recent all-time price highs. So while crypto prices may be way down from their local tops, weekly NFT trading volume stats remain nothing to sneeze at — at least for now.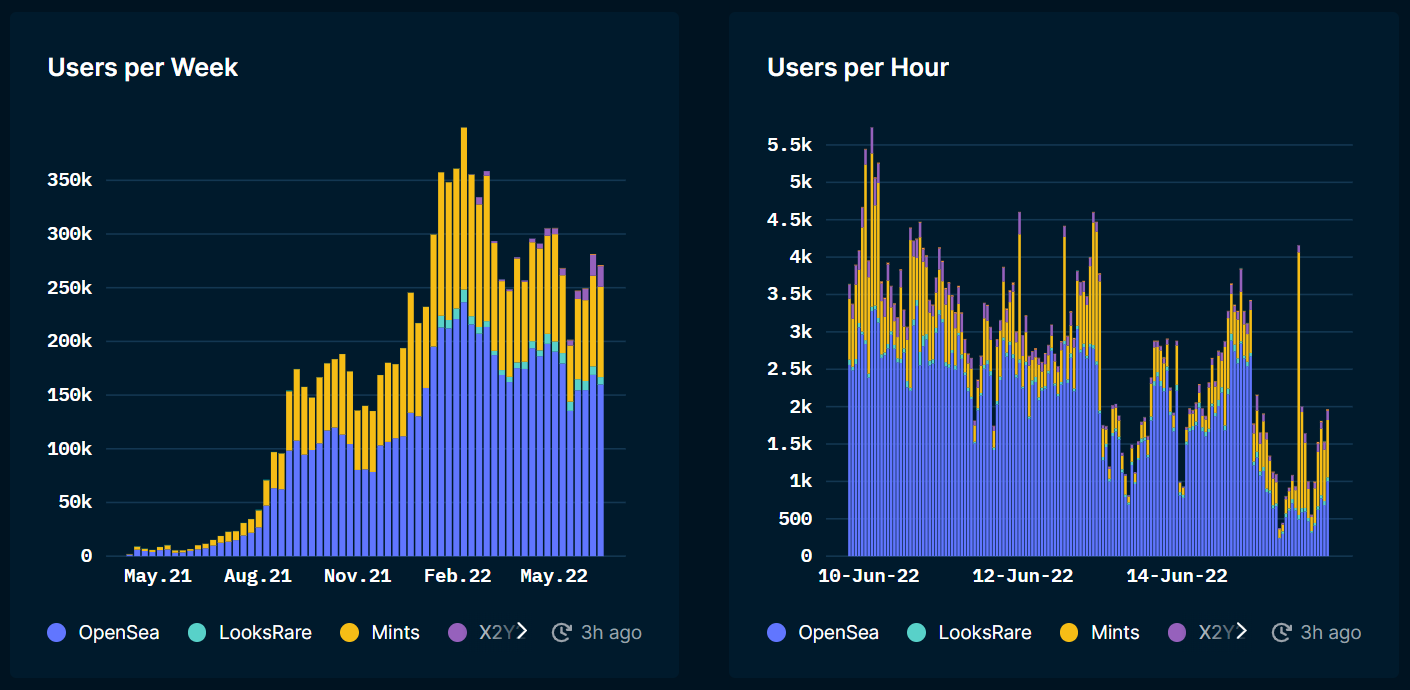 Users per week
As of June 13th, 2022, there were still ~275k weekly NFT users on Ethereum. This sum is higher than what was seen at any point in 2021, which was notably the NFT ecosystem's first big boom year. However, the current ~275k weekly users stat still marks a drop off of nearly 30% from the standing all-time high, ~390k weekly users, which was notched in February 2022.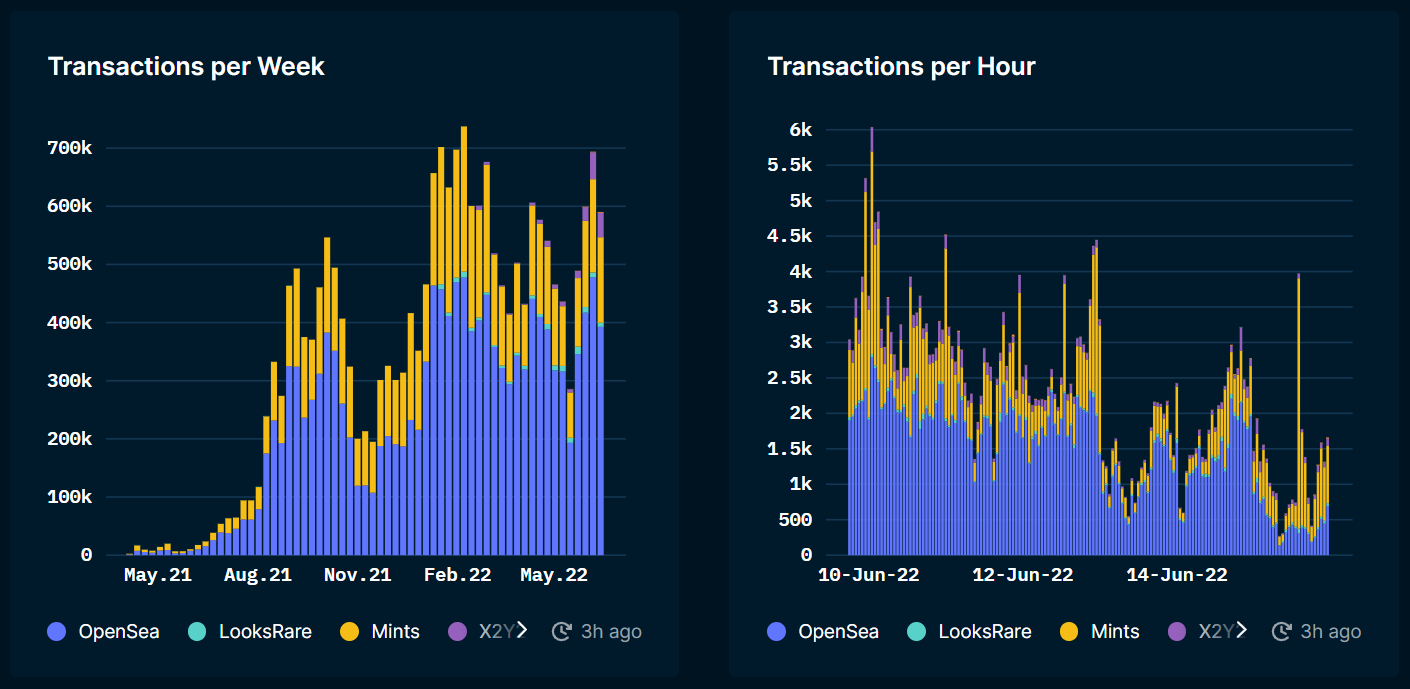 Transactions per week
Last week, Ethereum facilitated nearly 600k unique NFT transactions. This sum is higher than what was seen at any point last year, though it is down from the standing all-time high, ~750k weekly transactions, which was also notched in February 2022.
NFT indexes
Nansen has created a series of NFT indexes that NFT users can use to readily track the market cap performance of major NFT market segments. These indexes are as follows:
NFT-500 — tracks the performance of the top 500 NFT collections
Blue Chip-10 — tracks the performance of 10 major NFT collections, including Bored Ape Yacht Club, Mutant Apes, CryptoPunks, Doodles, VeeFriends, and beyond
Social-100 — tracks the performance of 100 notable profile picture (PFP) projects, membership NFTs, and DAO NFTs
Gaming-50 — tracks the performance of the top 50 NFT gaming projects
Art-20 — tracks the performance of 20 major art NFT series, e.g. Chromie Squiggles via Art Blocks
Metaverse-20 — tracks the performance of 20 notable NFT-based virtual world projects
Notably, as of today the NFT-500 is only down by 16% year-to-date (YTD). In contrast, BTC is down by ~55% and ETH is down by ~70% in the same span, so broadly speaking elements of the NFT ecosystem have been holding up fairly well lately, although the NFT-500 is certainly "top heavy," so to speak.
In that vein, holding up the best so far have been the big collections tracked in the Blue Chip-10, which is down by only 3.67% YTD. On the flip side, the market segment that's been hardest hit in the current downturn is the NFT gaming sector, as the Game-50 index is down by 69% YTD. Lastly, the Social-100, Art-20, and Metaverse-20 indexes are down by 6%, 25%, and 14% respectively.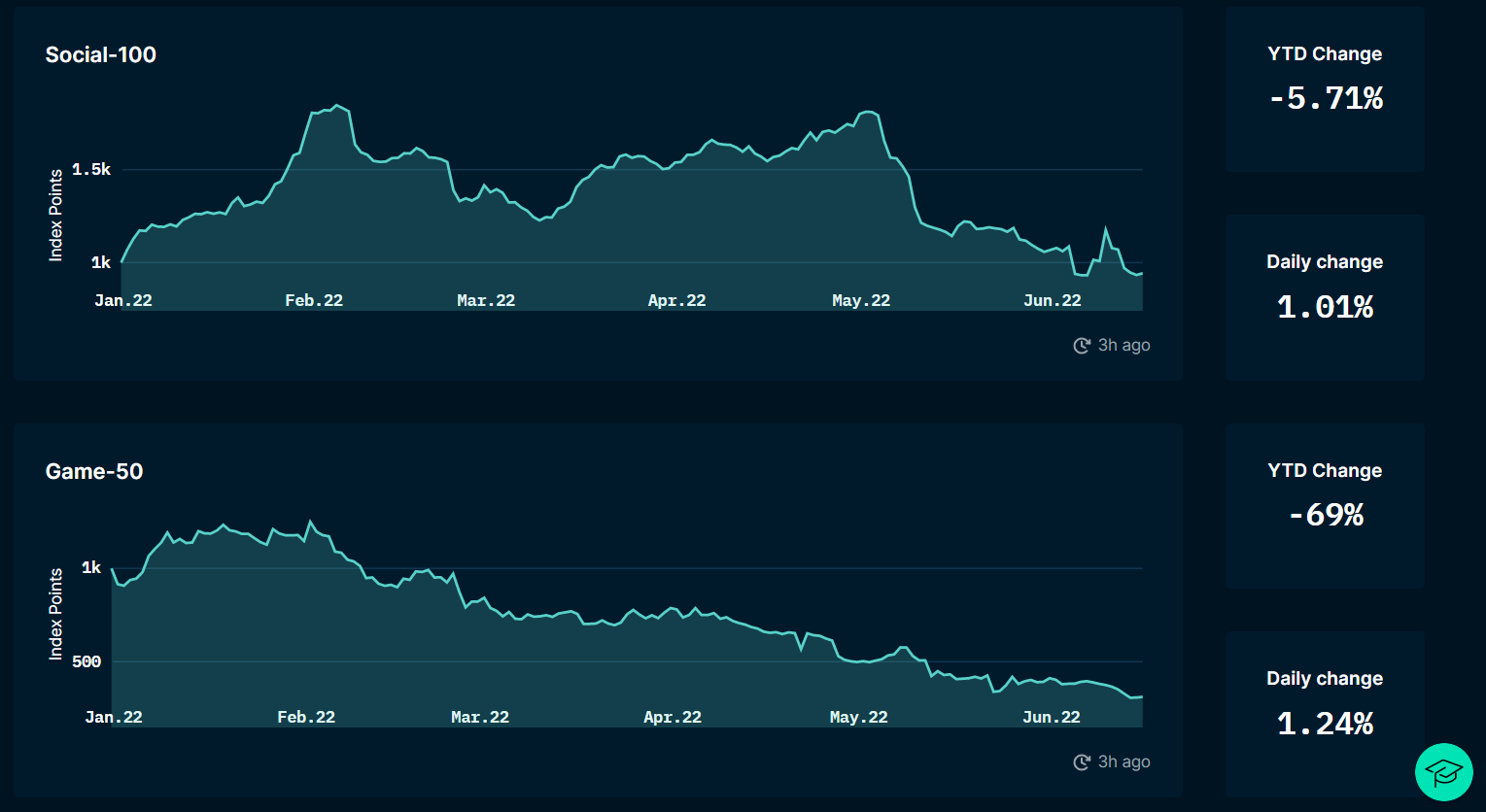 The bottom line
The NFT ecosystem is still facilitating considerable amounts of activity, although trading volume is down across the board in recent weeks as mainstream and crypto markets have turned bearish. The downturn is unsurprising considering the headwinds that are now in play, and if insolvency contagion in the cryptoeconomy spreads, things could get worse before they get better. Yet amid all this churn, nothing has fundamentally changed about the promise of NFTs and their endless cultural possibilities. As such, there's still much to remain bullish about going forward.
---
Action steps
🔎 Keep an eye on key NFT ecosystem stats in the weeks ahead
💊 Check out my previous write-up Welcome to Chainspace if you missed it!