Dear Bankless Nation,
The arrival of the Moonbirds NFT collection has been unlike anything the NFT ecosystem has experienced before.
Indeed, as far as immediate acclaim goes the Moonbirds launch has proven to be the most successful NFT drop the space has seen yet. The activity the project has generated in mere days means it has tons of runway from here, too.
So what's the collection all about, then? Let's break down the basics and big ideas for today's Metaversal.
-WMP
---
The Magic Moonbirds
What it is
Moonbirds is a collection of 10,000 pixelated owl PFP NFTs.
It's the official NFT project of, and the first NFT project created by, the PROOF Collective, a private NFT community spearheaded by Digg co-founder and True Ventures partner Kevin Rose among others.
On Saturday, April 16th, holders of the PROOF Collective Pass NFT kicked off the first 1,000 Moonbirds mints. After these inaugural hatchings, allowlist raffle winners and then waitlisters rapidly minted out the collection at 2.5 ETH each.
The perks of being a Moonbird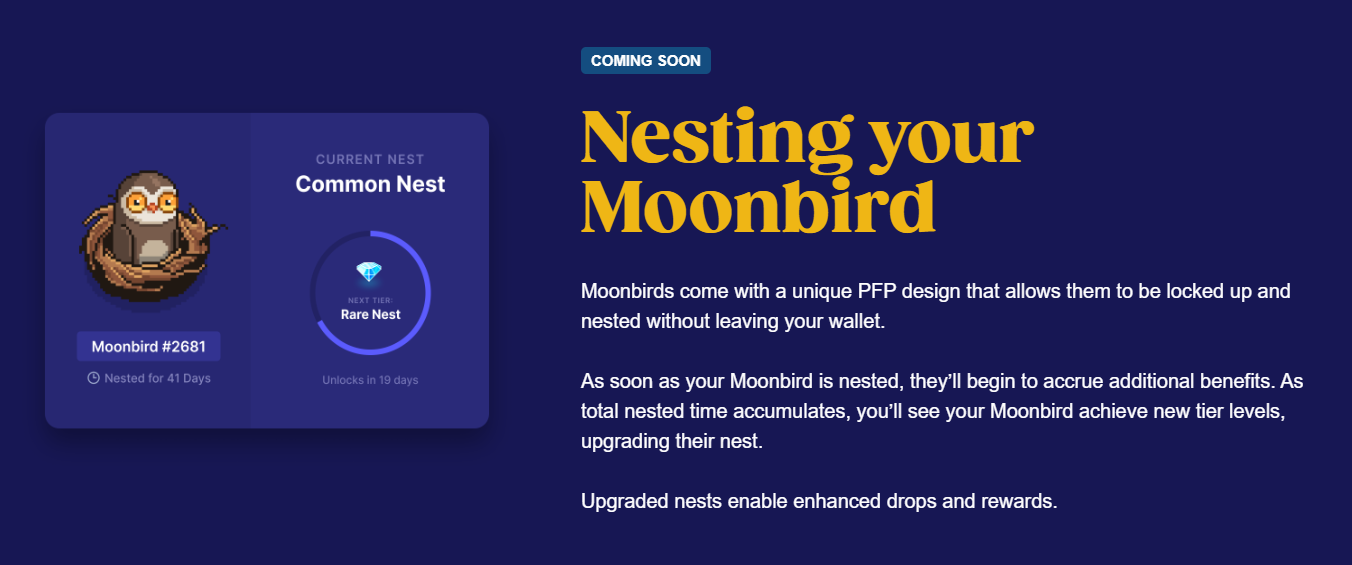 Doubling as membership tokens, Moonbirds offer holders access to the PROOF Discord and upcoming PROOF drops, events, and projects, e.g. an in-progress virtual world currently dubbed Project Highrise.
Additionally, holders will soon be able to participate in "nesting," a mechanic in which Moonbirds can be locked in users' wallets to generate additional rewards.
A debut like no other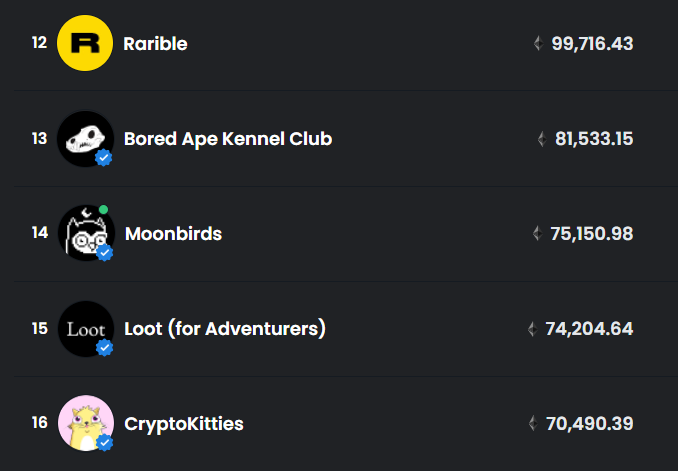 Since launching this weekend the Moonbirds collection has accounted for a whopping +75k ETH worth of trading volume. At the time of this post's writing, demand had pushed the collection's floor price to ~19 ETH (a 660% ETH gain from the 2.5 ETH mint cost).
According to OpenSea, the trading surge has already slotted Moonbirds as the 14th most-traded NFT collection of all time. For example, Moonbirds has generated more volume in less than four days than CryptoKitties has generated in over four years.
Why it matters
Within one day of launching the Moonbirds mint raised ~$60M in capital for PROOF Holdings, the web3 media company that will build new products for the PROOF Collective community.
Moonbirds obviously wasn't the first nontraditional capital raise, though the project's historically explosive arrival in the NFT ecosystem has led to a bloom of attention around NFTs and NFT royalties as novel means for raising funds.
The big picture
The Moonbirds launch has already earned a spot among the most defining NFT events of 2022. The upstart project's gusting — i.e. the attention and interest it's rapidly generated — blows into the bullish tailwinds that are currently propelling the NFT ecosystem through a multi-year bull market. Alas, the show goes on.
Keep an eye on
The Moonbirds nesting mechanic is slated to launch later this month. Expect to see more and more NFT projects experiment with this sort of rewards system going forward, as it incentives collectors to hold their NFTs.
Be on guard: there's a wave of scammers trying to capitalize on Moonbirds buzz by using commandeered verified Twitter accounts to steer NFT collectors to Moonbirds-centric scam sites. If you're ever in doubt about anything, always cross check any happenings with official project comms.
Going deeper
Learn more about the background and vision of PROOF and Moonbirds by checking out Carly Reilly's awesome interview with Kevin Rose, Ryan Carson, and Justin Mezzell for Overpriced JPEGS earlier this month!
---
Action steps