Article
It's time for Bankless DAO
Let's tap into the energy of the bankless movement and coordinate around a DAO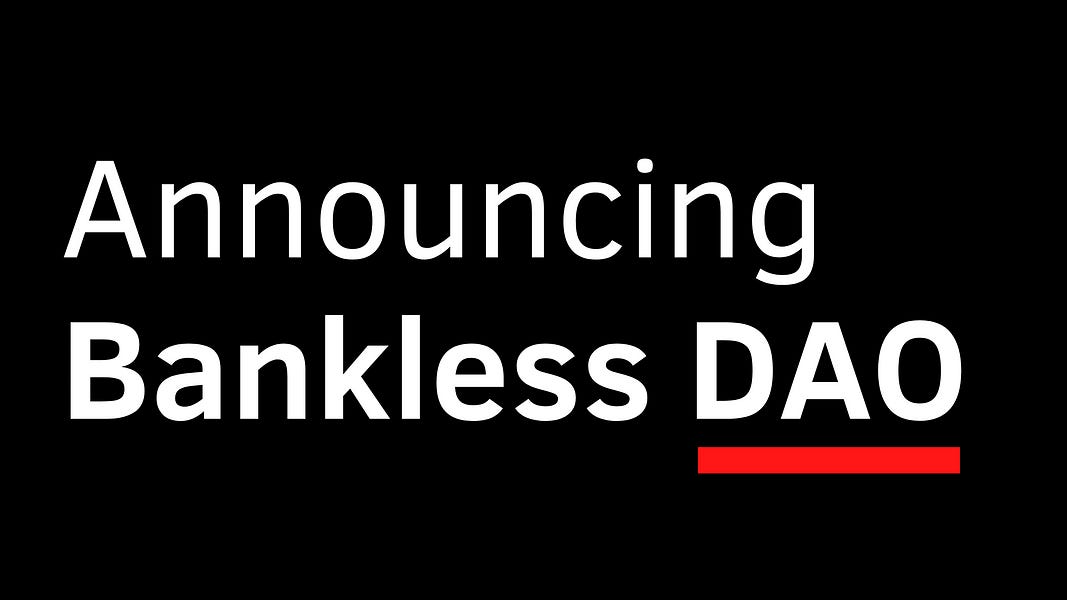 Friend & Sponsor
NEAR DA

- DA for Ethereum rollups at a fraction of the cost.
Dear Bankless Nation,
I started this newsletter to help onboard 1 billion people to open money systems. I had no idea how to accomplish the goal, but I knew I could never do it alone.
Fast forward to today—there's 50,000 people on the journey. Bankless has become a global movement built on crypto's core values of decentralization, coordination, and self-sovereignty.
We now have thousands of DeFi veterans with savvy, skills, and talent.
The bankless community is strong. 💪
It's time to tap into this energy. It's time to coordinate.
It's time for a Bankless DAO.
Today, David and I are officially throwing our support behind the announcement and genesis of a Bankless DAO to harness the full potential of the bankless movement. 🚀
This going to be awesome.
Two things you can do now:
This isn't our DAO—it's yours…both requested, governed, and launched by the bankless community. You vote. You decide how to scale the movement.
This is the world's first media DAO and it's been 100% seeded to the community. 🤯
We truly have no idea how this experiment will turn out.
And that's the best part.
Bankless isn't a newsletter, podcast, or company. Bankless is a movement. 🏴
Bankless doesn't belong to any individual or company.
Bankless belongs to all of us.
This is internet-scale coordination for an internet-scale movement.
This is how we get to 1 billion people.
Join the Bankless DAO….let's help the world go bankless.
- RSA and David
P.S. Since it's Tuesday how about a tactic to get you started?
---
Tactic Tuesday
Guest Writer: Bankless DAO Genesis Team
How to Join the Bankless DAO
Bankless DAO is a decentralized community to coordinate and propagate bankless media, culture, and education. Its goal is to drive adoption and awareness of truly bankless money systems like Ethereum, DeFi, and Bitcoin. It achieves this goal through the collective participation of its community.
You can begin participating in Bankless DAO today if you have a Bankless Badge.
Goal: Participate in the Bankless DAO
Skill: Beginner
Effort: You decide. (careful—this may consume you) ⚠️
ROI: TBD
---
How to Join the Bankless DAO
If you have a Bankless Badge from 2020 or 2021, you can join the Bankless DAO today. Those who've owned BAPs or given to Bankless Gitcoin grants in the past may also have the ability to join now. (See full eligibility at the bottom of this post)
Here's how to join and participate in this initial season of the Bankless DAO.
There it is! Just five steps to join and get started…if you have any issues drop by the Bankless DAO discord public #support channel and ask for help.
Where does the DAO go from here?
Will the DAO get involved in protocol politics?
Will it produce culture NFTs?
Will it launch new media outlets?
No idea. That's up to the community.
Communities create history.
Not able to join yet?
If you don't have a badge or didn't meet the eligibility criteria for genesis participation don't despair! There will be future seasons to participate.
The genesis distribution has seeded governance responsibilities to the core Bankless community and the DAO's next job will be to expand itself to more participants. As an immediate example, if the Genesis proposal passes, the DAO should have a way to later distribute to those who were Bankless Premium members as of May 4, 2021 at 7am UTC time.
The best thing you can do is plug into the community and start participating in the Bankless movement now—write a post, create some content, do something cool, get noticed!
The Bankless DAO is just getting started. 🏴
---
Action steps
---
Author Bio
Bankless DAO Genesis team including Lucas Campbell, Michael Wong, Mariano Conti, James Montgomery, David Mihal, Nate Welch, Reuben Bramanathan, Ryan Sean Adams and David Hoffman.