DeFi
,
How Tos
How to swap DeFi tokens with Matcha
How to invest in DeFi coins using 0x Lab's new DEX aggregator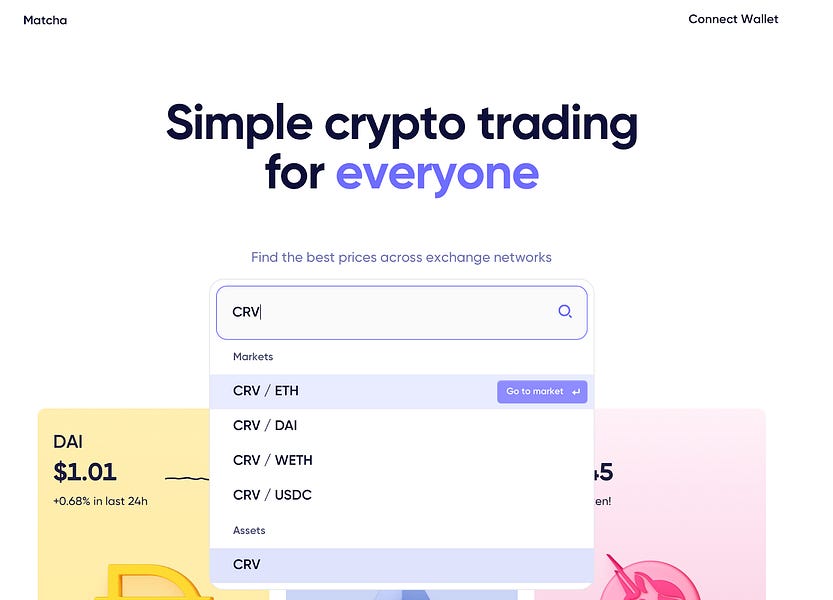 Friend & Sponsor
NEAR DA

- DA for Ethereum rollups at a fraction of the cost.
Level up your open finance game five times a week. Subscribe to the Bankless program below.
---
Dear Bankless Nation,
Why use Uniswap if you can get a better price on Balancer or Kyber?
Because it's time-consuming to search dozens of liquidity sources to find the best price! So you end up defaulting to your go-to DEX and eat the price difference.
But there's a better way!
DEX Aggregators like Matcha search all the big DeFi liquidity pools and present back the best price through a clean, intuitive interface (like really clean).
And… Matcha supports limit orders too. So if you don't like the market price of an asset, you can post a limit order and wait it out, allowing you to scoop up more tokens if it dumps or maximize your profits if it pumps.
An essential tactic for anyone new to DeFi.
Here's how to trade tokens using Matcha.
- RSA
P.S. Special request. We just released the Bankless 2020 Survey—fill it out so you can help us level up! Takes 5 mins.
---
🙏Sponsor: Zerion – Invest in DeFi from one place. 🚀 (I use this app daily - RSA)
---
We just released episode 16 of State of the Nation!
📺 Watch State of the Nation #16: EXPLORING w/ @DanRobinson (ETHEREUM'S DARK FOREST, OPTIMISTIC ROLLUPS, $FEW AND $EMN)
We're now live streaming State of the Nation—join us at 2pm EST every Tuesday!
---
TACTICS TUESDAY
Tactic #57: How to trade DeFi tokens on Matcha
Guest Writer: Clay Robbins, Head of Growth at Matcha & 0x Labs
Whether you've been yield farming for months or are just starting to seed your first DeFi farm, you need to have a strategy to lock in returns or rotate to greener pastures.
Matcha, a DEX aggregator from 0x Labs, is an easy way to accomplish this without the hassle of price hunting and wasting money on transaction fees. This tactic will cover how to trade DeFi tokens on Matcha in order to get the best prices on every trade along with how to place limit orders on the exchange!
Goal: Lock in returns for your hard work as a yield farmer.
Skill: Beginner / Intermediate
Effort: Low
ROI: Variable, but the savings are guaranteed.
---
Background
Matcha offers DeFi users the best prices on every token trade, as they aggregate liquidity and scan across decentralized exchanges so traders don't lose money on slippage or rising gas fees. Farmers can securely trade on Matcha within seconds as there's no sign-up required and token swaps are executed in a completely peer-to-peer fashion.
Matcha is simply the best place for yield farmers to quickly trade tokens, as they offer all of the most popular DeFi tokens including LEND, BAL, UNI, YFI, AMPL, UMA, COMP, SNX, CRV, BZRX, BASED along with others.
Under the hood, Matcha splits trades across 0x Mesh, Kyber, Uniswap, Curve, Oasis, to find the best prices for traders. So no matter where the token is traded, Matcha aggregates liquidity across the leading sources in DeFi to get you the best price.
Here's how you can leverage Matcha's capabilities in just a few steps:
Trading tokens on Matcha: Where to buy DeFi crypto at the best prices across DEXs.
Navigate to matcha.xyz and connect your wallet. Matcha currently supports MetaMask, WalletConnect, CoinbaseWallet, and Bitski.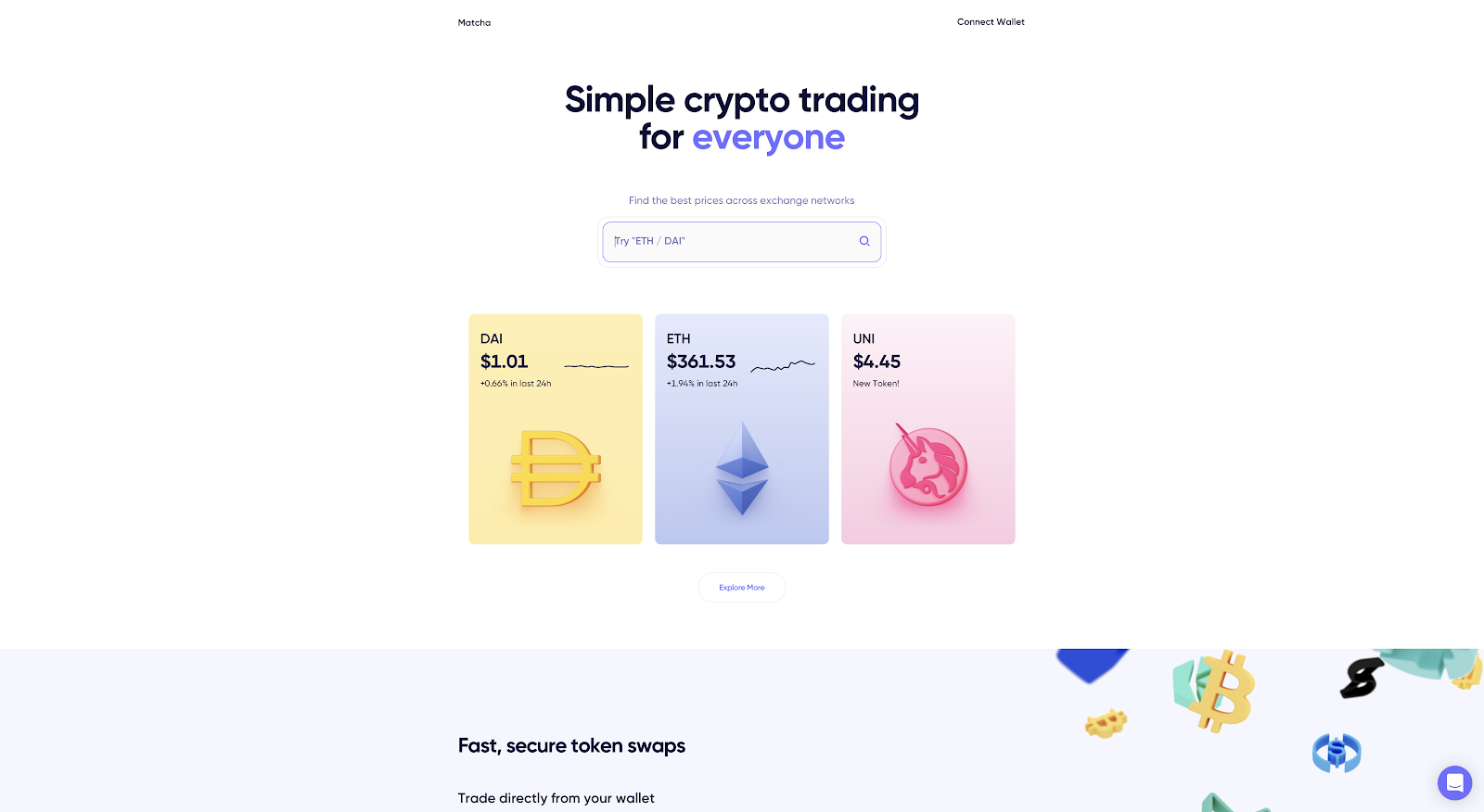 Once connected, you can search for the token you're interested in buying or selling. The DEX currently supports over 40+ assets with most tokens featuring ETH, DAI, and USDC pairs.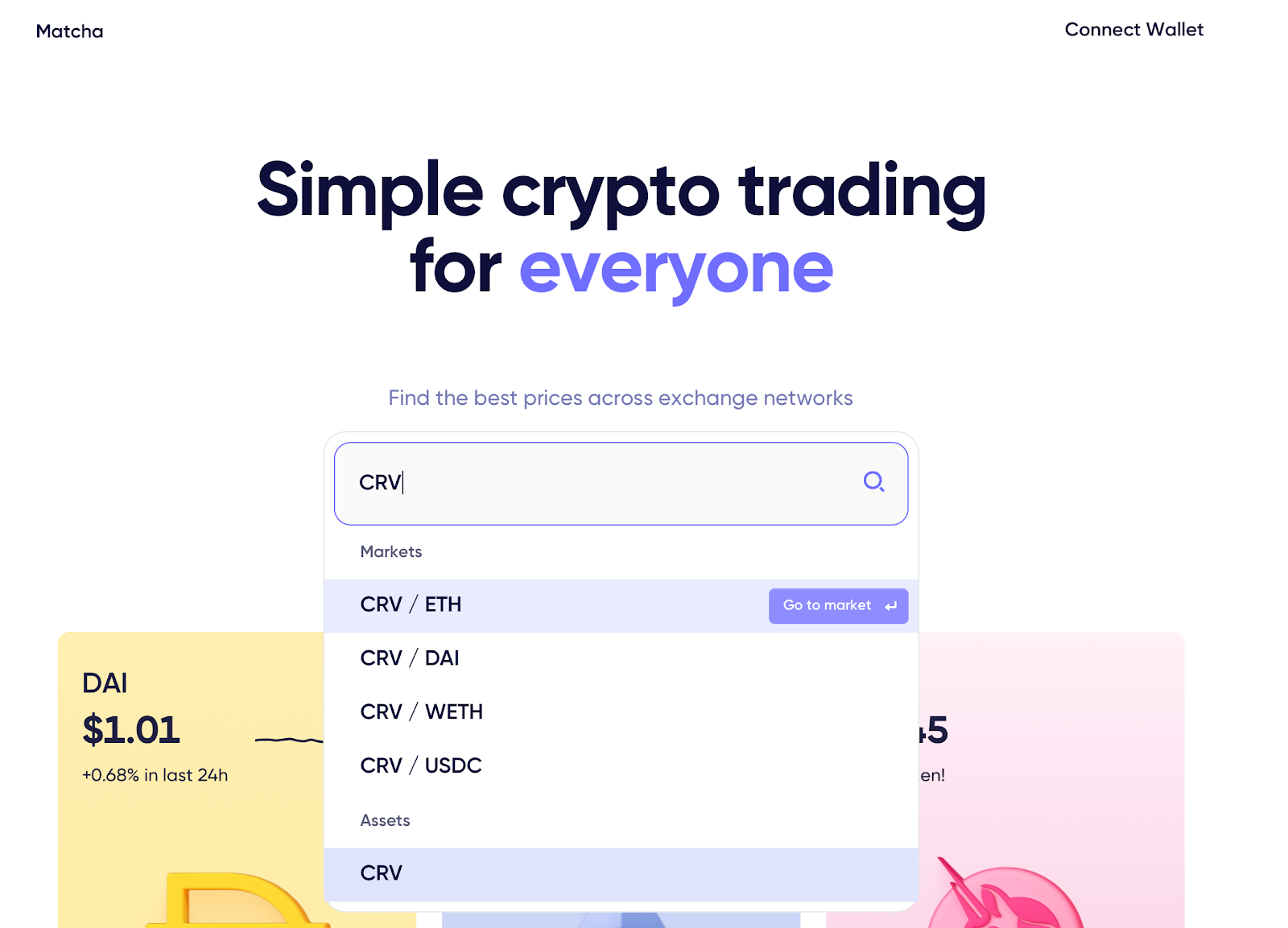 One of the innovative features with Matcha is the depth x-ray charts, giving anyone the ability to review the depth chart from each respective liquidity sources. As shown below, there's nearly 155,000 CRV in depth at 1.15 USDC per CRV — the majority comes from SushiSwap.

Once you've found the token you're looking to trade, you can review your order and slippage parameters and then submit your order.

Confirm the transactions via your Ethereum wallet. Once verified, you can celebrate the fact that you farmed responsibly and locked in your yield!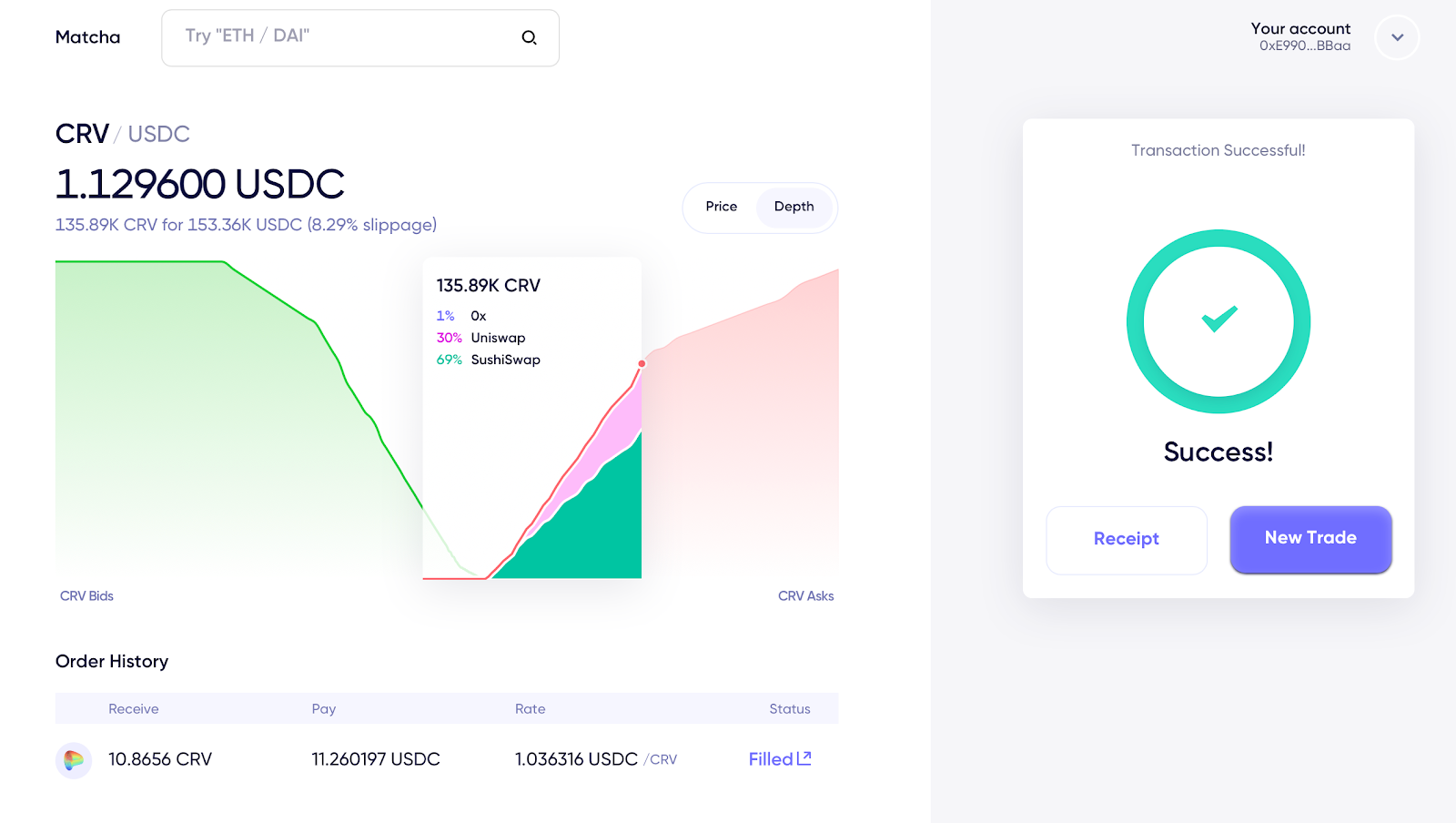 How to invest in DeFi by creating limit orders
One of the benefits of Matcha is the ability to set limit orders. Generally speaking, limit orders are not supported by popular AMMs like Uniswap and Balancer. But these order types can be extremely valuable for traders. For those unfamiliar, a limit order is used when a trader wants to buy or sell a token at a specific price.
When gas costs are high, traders can ensure that they receive the exact amount of tokens at their desired price without having to spend money on fees.
On Matcha, all traders can set limit orders for free and can sleep soundly while they wait for their orders to be filled at their target price!
Here's how to execute a limit order:
Select your desired market (we'll use CRV/USDC for this example)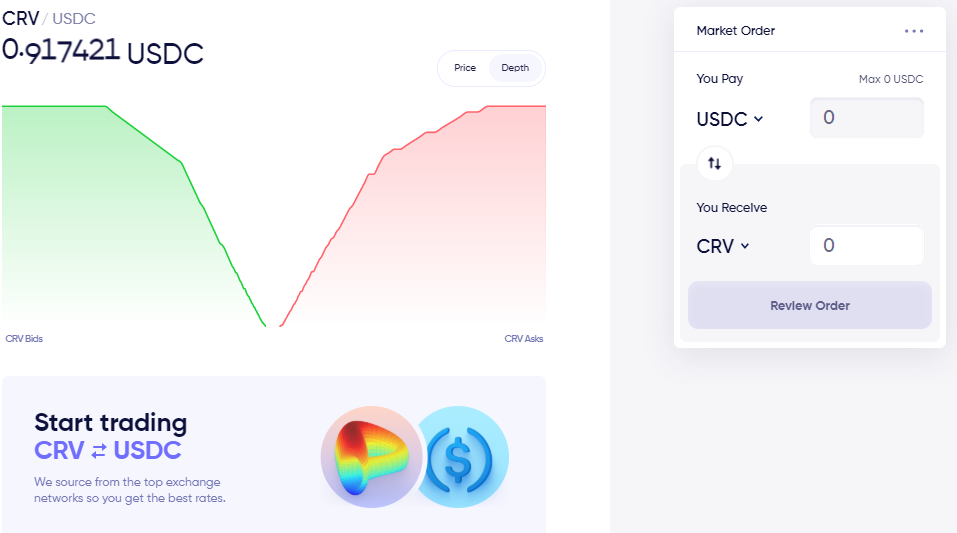 In the box where you fill out your order, click on the three dots in the top right. Then select "Limit Order" as an option.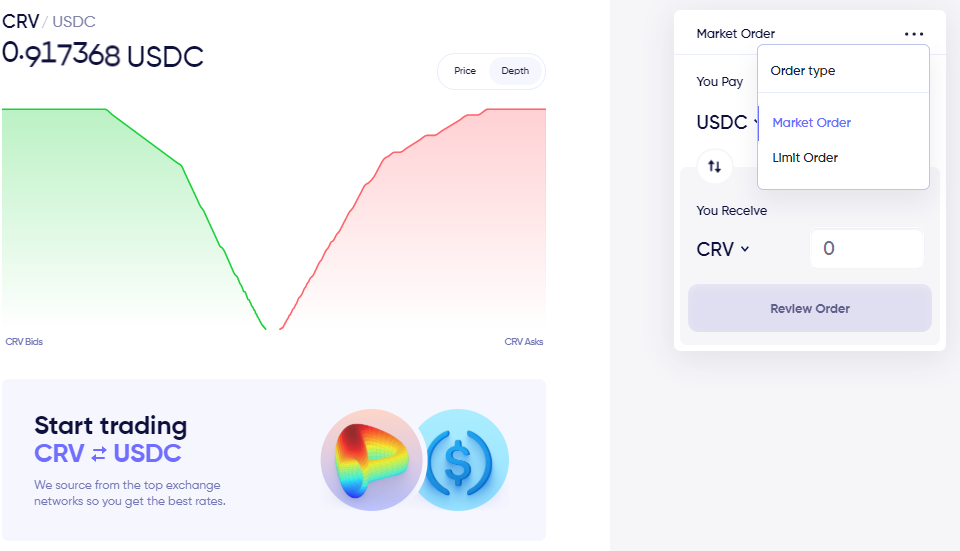 Once selected, you'll be prompted to fill out the info as desired. For Curve, I want to buy the token if it incurs another drawdown, so I'll set a price of $0.80 (currently trading at $0.92). I also want as much time as possible on this trade, so I'll set the order's expiration to 7 days.
Once confirmed, you can sit back, relax, and let Matcha handle the rest. If the price drops to your desired price, Matcha will automatically execute the transaction.
And there you have it. You can now trade a range of DeFi tokens with Matcha! The best part is that you can rest assured that you'll get the best prices no matter what as the aggregator sources liquidity from the leading protocols in DeFi like Uniswap and Kyber.
If you'd like to learn more about Matcha, you can check out this video from DeFi Dad:
---
Action steps:
Trade your favorite DeFi tokens on Matcha
Place a buy or sell limit order to get your desired price
Fill out the Bankless Survey!
---
Author Bio
Clay Robbins is Head of Growth at Matcha and co-founder of Free Company Ventures, an operator angel collective investing at the intersection of FinTech and Web 3.
---
Go Bankless. $12 / mo. Includes archive access, Inner Circle & Deals—(pay w/ crypto)
---
🙏Thanks to our sponsor
Zerion is the easiest way to manage your DeFi portfolio. Explore market trends, invest in 170+ tokens, view returns across wallets and see your full transaction history on one sleek interface. They're also fully bankless, which means they don't own your private keys and can't ever access your funds. I use this app daily! Start exploring DeFi with Zerion on web, iOS or Android. 🔥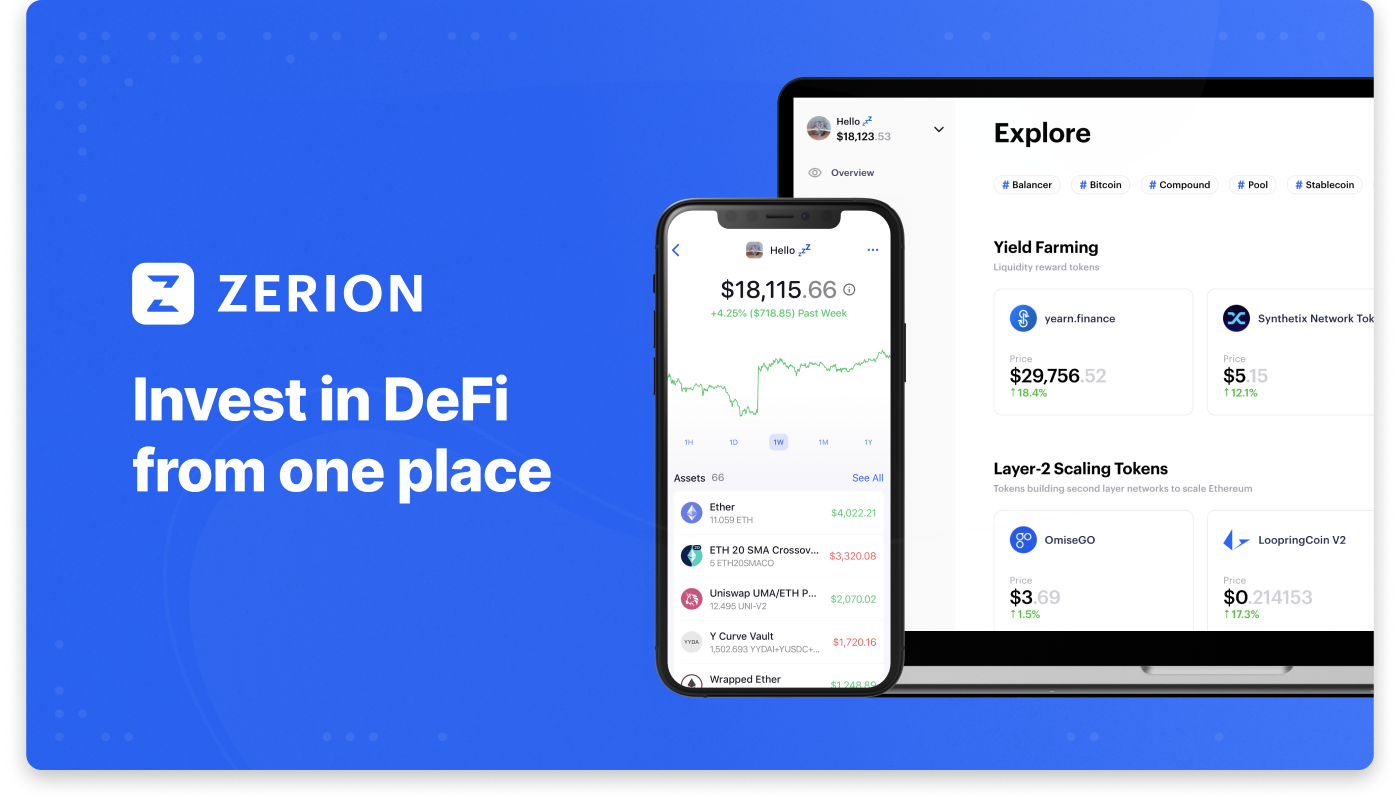 - RSA

P.S. Don't forget to get check out Zerion's new Uniswap integration. 🦄
---
Not financial or tax advice. This newsletter is strictly educational and is not investment advice or a solicitation to buy or sell any assets or to make any financial decisions. This newsletter is not tax advice. Talk to your accountant. Do your own research.
---
Disclosure. From time-to-time I may add links in this newsletter to products I use. I may receive commission if you make a purchase through one of these links. I'll always disclose when this is the case.