How Tos
,
Investing
How to maximize your ETH staking yields
Here's 3 ways to optimize your gains on ETH.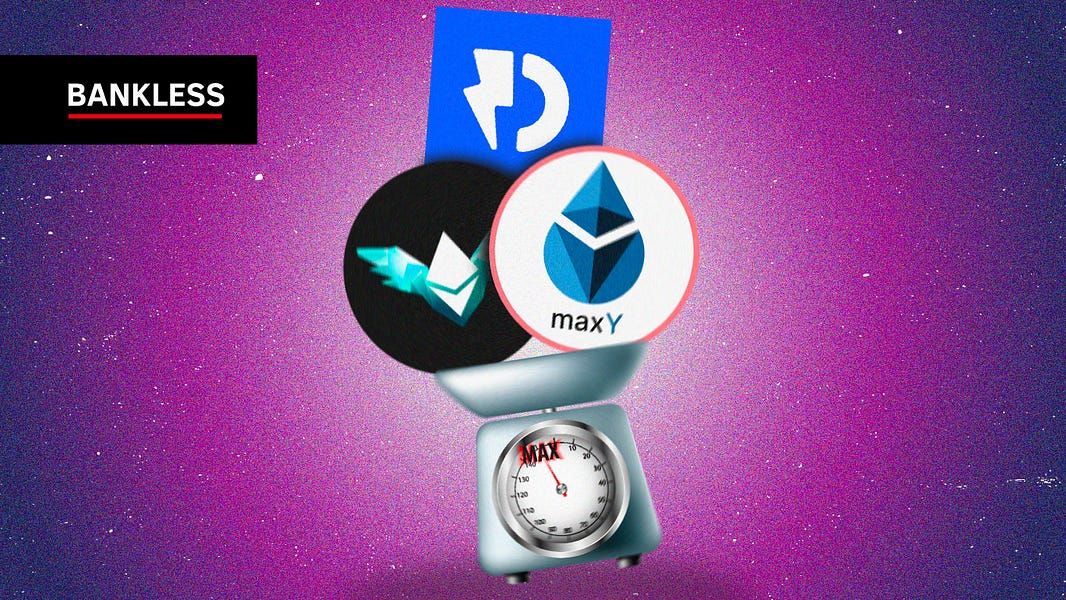 Dear Bankless Nation,
We love ETH. We've called it a triple-point-asset.
Like Bitcoin, ETH is a great store of value. But unlike Bitcoin, it's a capital asset and powers a vibrant DeFi ecosystem, making it an even more valuable consumable asset.
If you're bullish ETH too, you're likely hodling your ETH through this week's bear market.
And if you're hodling ETH, letting it sit idle in your Metamask wallet is a waste.
Why not stake it in DeFi for a nice 7% APY?
William shows us today some handy tactics in DeFi to maximize your ETH staking yields.
- RSA
---
How to maximize your ETH staking yields
The most popular ETH staking approaches, e.g. exchange staking and staking pools, are yielding around 4% APR right now. Yet there is a new wave of DeFi products that are aimed at helping users amplify their exposure to ETH staking returns as much as possible.
Accordingly, this Bankless tactic will show you how to use three different staking optimizer products.
Goal: Learn about icETH, ETHMAXY, and Instadapp Lite
Skill: Beginner
Effort: 30 minutes
ROI: Enhanced staking yields of ~7% APR at current rates
---
An intro to optimizing ETH staking yields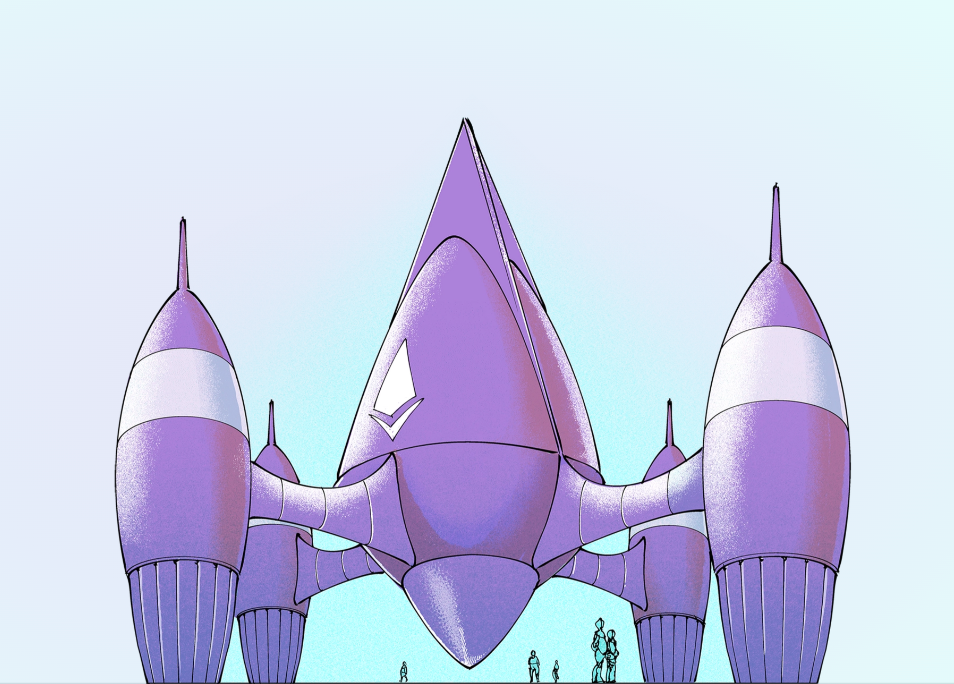 This evolution, the biggest in Ethereum's history to date, will see the leading smart contract blockchain fully transition from mining to validating via Proof-of-Stake (PoS) consensus.
When this shift happens, the Ethereum chain we use today will be merged into the PoS Beacon Chain that launched on Dec. 1st, 2020. And while staking returns are expected to increase post-Merge since Ethereum transaction fees will start going to stakers instead of miners, the ~4% APR that pre-Merge stakers are already earning is quite attractive.

However, that ~4% APR isn't the end-all and be-all when it comes to ETH staking returns. That's because there's a rising wave of innovative DeFi products that are aimed at helping ETH stakers take their returns to the next level. Below, I'll walk you through three of the hottest of these staking optimizer products 🔥
---
1. icETH
📌 ~6.91% APY right now
The icETH 101
Created by Index Coop atop Aave and Set Protocol, Interest Compounding ETH Index (icETH) is a token product that offers holders ETH spot exposure plus enhanced ETH staking yields.
To accomplish these enhanced returns, icETH uses a leveraged liquid staking strategy. Under the hood, this strategy entails deploying Lido Staked ETH (stETH) to Aave and then borrowing against the collateral to buy more stETH, over and over again as needed. The on-chain maneuvering allows icETH to amplify staking yields by up to 2x and sometimes more!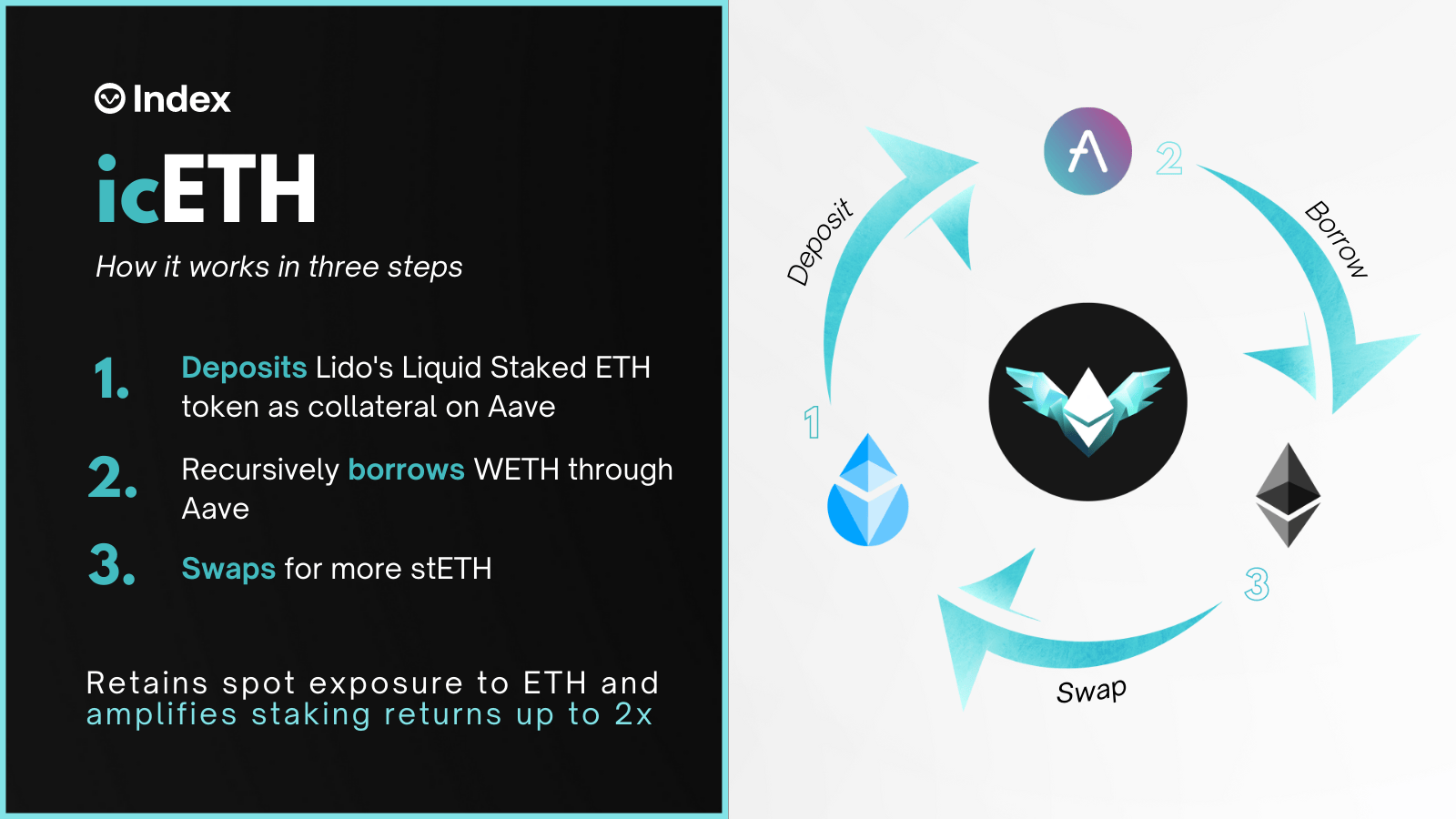 The product does have various risks, like liquidation risk (if the underlying Aave position gets undercollateralized) and interest rate risk (if the ETH staking rate falls too low). Yet if you're willing to take these risks in stride, icETH is a very streamlined way to earn from ETH staking in optimized fashion. Best of all? You can save on gas too because icETH is now available on L2 thanks to Argent + zkSync.
How to use icETH
Interested in trying icETH? You would first go to app.indexcoop.com/iceth and connect your wallet.
In the trading interface, input how much icETH you would like to purchase. ETH, DAI, and USDC are accepted through this particular frontend.
Press "Trade" and complete the purchase with your wallet. Once the transaction is confirmed on Ethereum, your new icETH holdings will arrive in your wallet.
If you ever want to close your position, you could simply return to this same trading interface, use the double-arrow button to switch to trading "from" icETH, and then swap back into ETH, DAI, or USDC.
---
2. ETHMAXY
📌 ~7.14% APY right now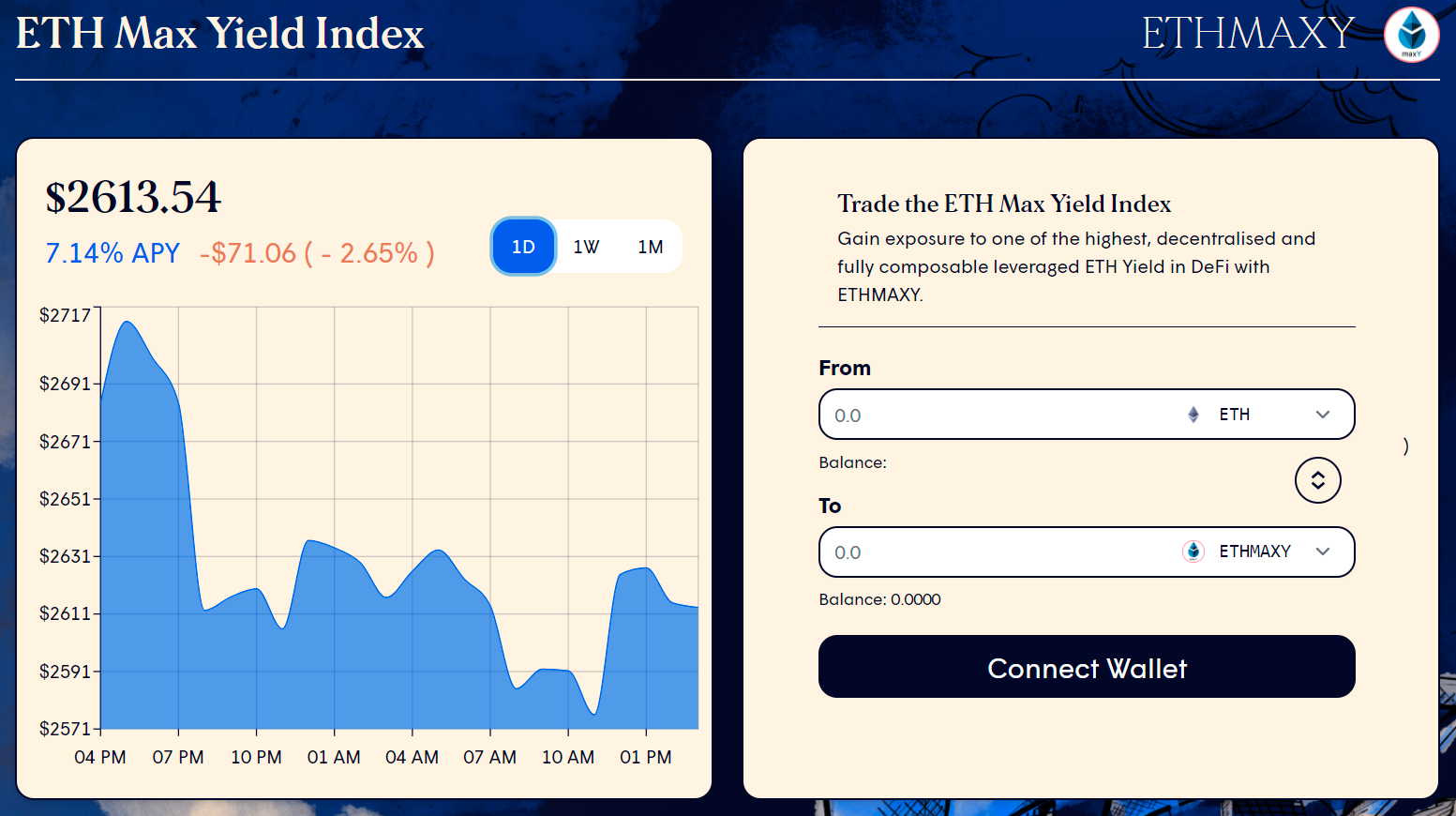 The ETHMAXY 101
Created by Galleon DAO and Beverage Finance, the ETH Max Yield Index (ETHMAXY) is a token product that uses Aave to provide up to 3x leveraged stETH yield exposure. As Beverage Finance's documentation explains:
"The ETH Max Yield Index was built as a partnership product aiming to give DeFi natives the most yield possible on their staked ETH in addition to acting as a best-in-class treasury diversification asset for DAOs looking to maximize the productivity of their idle ETH."
To be sure, ETHMAXY faces the same risks that icETH does, yet the product also shares that fundamental advantage of being a single token that people can readily swap into and out of for optimized ETH staking yields.
How to use ETHMAXY
Head to app.galleon.community/ethmaxy and connect your wallet.
Use the trading interface to input how much ETHMAXY you would like to purchase.
Once you have your desired swap set up, press the "Trade" button and complete the transaction with your wallet. After this, your ETHMAXY will appear in your wallet.
If you ever want to exit your position, use this same trading UI to swap from ETHMAXY to ETH or another token, e.g. USDC.
---
3. Instadapp Lite
📌 ~7.01% APR right now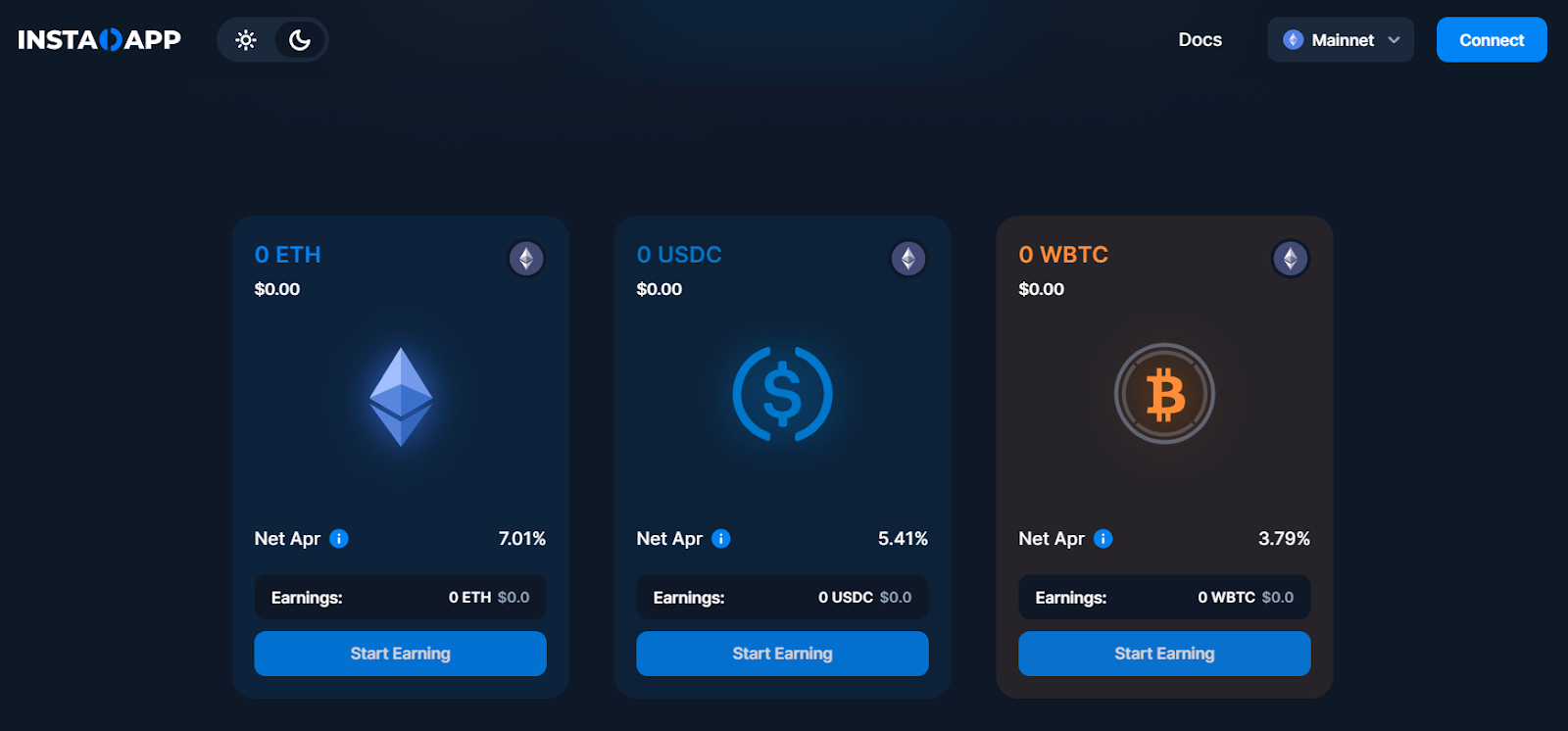 The Instadapp Lite 101
Instadapp Lite is a DeFi yield app created by smart wallet project Instadapp. The idea is that users can join and earn from the platform's streamlined Strategy Vaults with just a couple of clicks.
Instadapp Lite's flagship ETH Vault isn't a tokenized product like icETH and ETHMAXY are, though the offering does rely on similar leveraging processes using Aave and stETH.
How to use Instadapp Lite

Go to lite.instadapp.io and connect your wallet.
Scroll to the ETH Vault on the left side of the page and click "Start Earning."
Input how much ETH or stETH you want to deposit and press "Deposit."
Use your wallet to complete the deposit transaction, and once it confirms you'll have entered the vault and will start earning from there.
When you're ready to exit your position you can use the "Withdraw" button of the vault UI. Just keep in mind that when you withdraw you may receive ETH or stETH as availability allows.
---
Conclusion
As ETH continues to become the next Internet Bond, more people, more groups, and more institutions are going to turn to ETH staking as a new "risk-free rate" baseline. Some will stake their ETH directly, while many will use streamlined staking services like Coinbase's ETH2 offering for the sake of ease.
Yet for those who are fine with facing some more complexity in exchange for higher yields, DeFi innovations like icETH, ETHMaxy, and Instadapp Lite provide new, compelling ways to make the most of your ETH staking plans!
---
Action steps
💸 Explore icETH, ETHMAXY, and Instadapp Lite
💡 Check out other Bankless ETH Staking Resources: