Guides
The Bankless Guide to BNB Chain
Updated: August 2023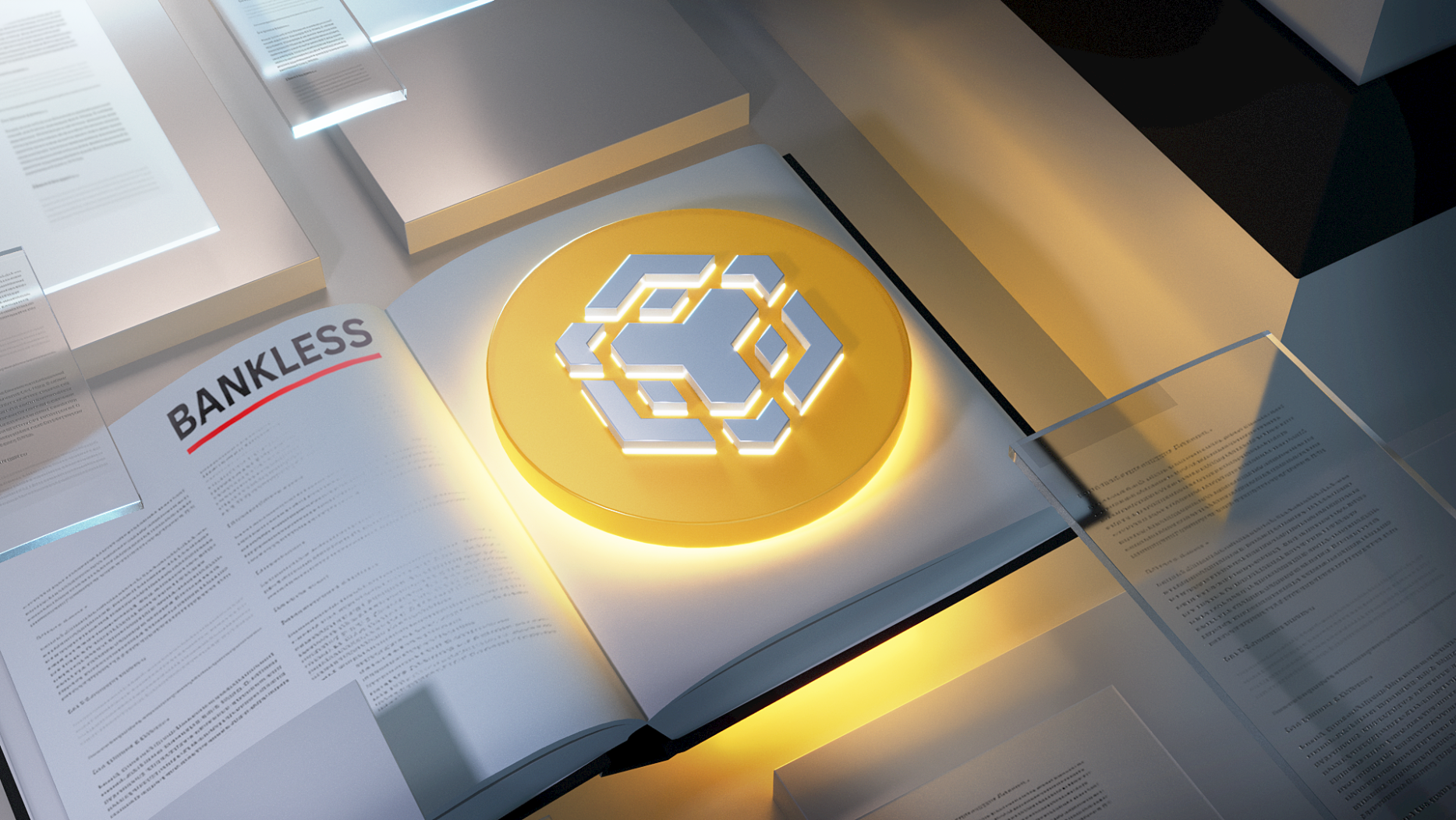 Developed by cryptocurrency exchange giant Binance, BNB Chain — a.k.a. "Build N Build Chain" — is a blockchain for facilitating apps powered by smart contracts. Binance has fostered the network to function as a gateway between centralized finance (CeFi) and decentralized finance (DeFi) for its global user base.
As for its fundamental parts, BNB Chain consists of two interconnected blockchains: the BNB Beacon Chain (BC) and BNB Smart Chain (BSC). The former facilitates staking and governance processes, while the latter is compatible with the Ethereum Virtual Machine (EVM) and supports the smart contracts that underpin Binance's DeFi scene.
While the development around BNB Chain has been fairly centralized to date, that hasn't stopped the network from taking on a life of its own and becoming one of the most popular blockchains in the world.
The history of BNB Chain
The roots of BNB Chain can be traced back to Binance Chain, Binance's original blockchain that the company launched in 2019.
That first chain was released to underpin two flagship offerings, namely the BNB token and Binance DEX, a decentralized exchange. It was focused on high-speed trading and wasn't designed to support smart contracts, a dynamic that led to the launch of BNB Chain in 2020 and the blossoming of Binance's DeFi scene thereafter.
---
The pulse of BNB Chain
At the time of writing, the total value locked (TVL) in the BNB Chain DeFi ecosystem was worth approximately $2.81 billion USD according to DefiLlama.
That stat currently makes BNB Chain the third-largest DeFi network by size, although it's down significantly from its May 2021 all-time high TVL of ~$22B. With regard to its number of protocols, though, it currently boasts the most in all of DeFi (648) after Ethereum (912).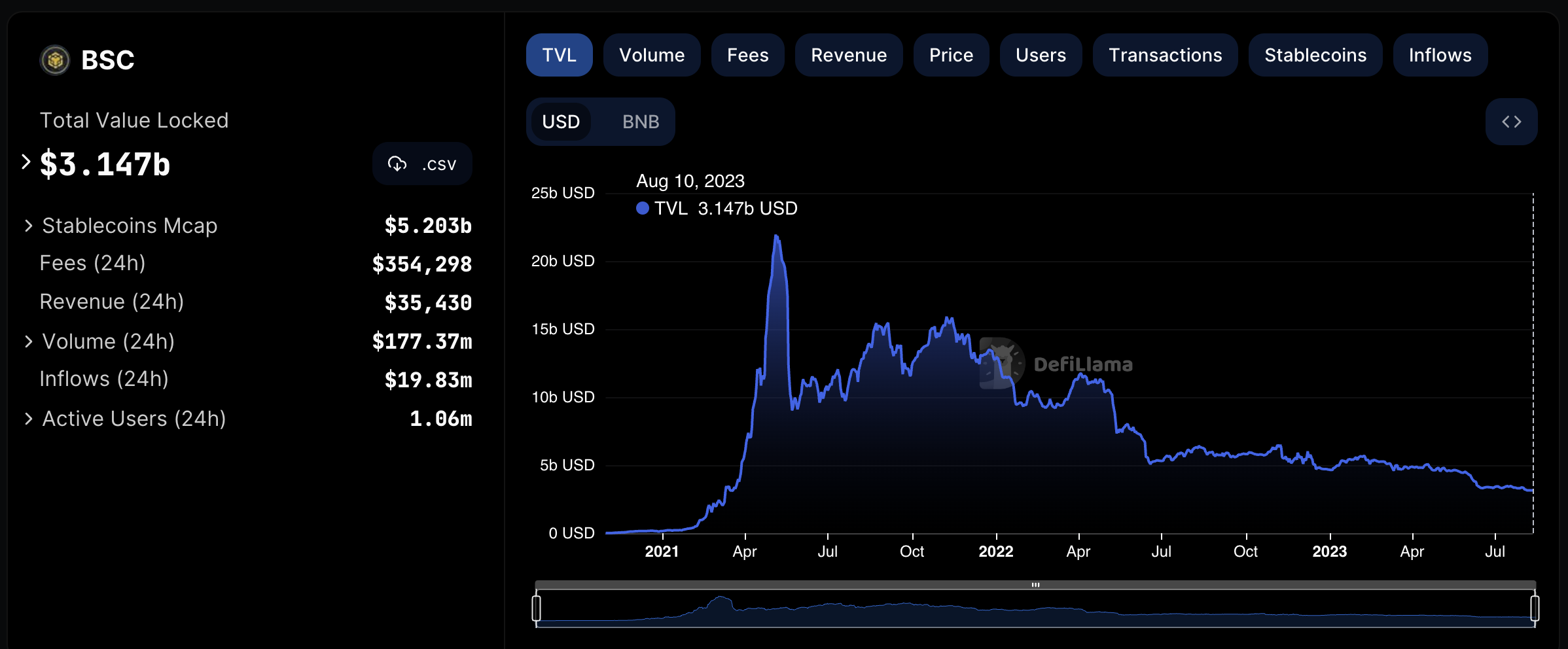 As for BNB Chain's NFT ecosystem, the network has facilitated over $264M worth of all-time NFT sales and attracted over 800k buyers to date per CryptoSlam.
---
The BNB token
BNB is the native utility token of the BNB Chain network, serving purposes like paying for transaction fees and offering access to participating in the blockchain's on-chain governance system. BNB is also used for trading pairs on Binance and other platforms within the BNB Chain ecosystem.
At the time of writing, BNB was trading around the $239.08 USD mark with a $36.8B market capitalization, making it the fourth-largest crypto in the cryptoeconomy at the time. Its circulating supply was just over 153.8k out of a 200k max supply.
---
What you need to use BNB Chain
👛 A wallet — since BNB Chain is EVM-compatible, you can use any Ethereum wallet (MetaMask, Coinbase Wallet, WalletConnect, etc.) to create a BNB address
🌐 Network support — use the Chainlist tool to add the BNB Chain network to your wallet, the network ID is 56
🪙 Starter BNB — like you need ETH for gas on Ethereum, you need BNB tokens to pay for transactions on BNB Chain; e.g. if you acquire BNB on Ethereum you can then bridge the tokens over to use on the network
How to bridge to BNB Chain
To bridge crypto to BNB Chain, the most popular methods are Binance's native exchange-based bridging services on Binance.com and Binance.US. You can learn more on the basics of these processes by visiting www.bnbchain.org/en/bridge.
For people who aren't Binance users, there are third-party bridging solutions like the Celer cBridge that can be used for migrating funds.
---
What to do on BNB Chain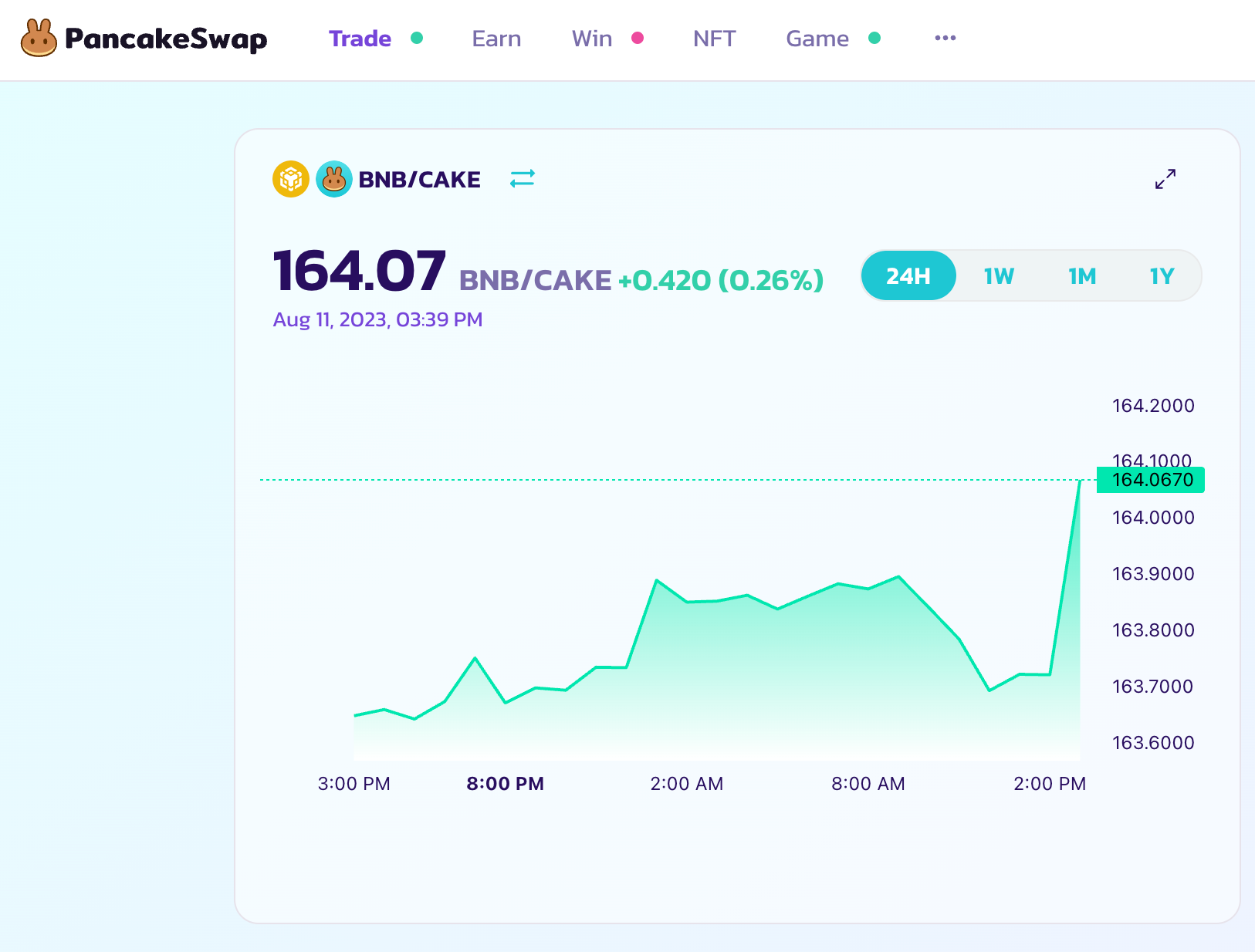 PancakeSwap is the biggest app and decentralized exchange on BNB Chain. Users can quickly swap crypto tokens without registering an account on the platform, while earning opportunities include staking CAKE tokens in "Syrup Pools" and staking liquidity provider (LP) tokens through the "Farms" dashboard.
PancakeSwap also offers other interesting features like trading competitions, lotto-style games, NFT collectibles, and beyond.
A de facto blend of Compound and Maker's designs, Venus is currently the leading borrowing and lending protocol active on BNB Chain. Users can mint the platform's native synthetic stablecoin (VAI) via setting up over-collateralized positions, while the interest rates for lending and borrowing are set by the protocol and can be influenced by the community through the project's native governance token, XVS.
---
Additional BNB Chain apps
Eager to discover more about the BNB Chain app ecosystem? If you're prepared to dive in, consider exploring some of the other projects on BNB Chain that have gained popularity:
🦙 Alpaca Finance — Lending
🔄 BiSwap — DEX
🌟 Radiant — Lending
---
Additional BNB Chain resources
If you want to dive deeper into the world of BNB Chain, there's an array of additional resources at your disposal. Here are a few options to help you immerse yourself:
---
Zooming out
BNB Chain has emerged as a teeming network in the DeFi and NFT spaces, boasting a large number of protocols and facilitating significant trading volume. Despite its relatively centralized development so far, the platform continues to have considerable traction in the cryptoeconomy. The L1's team also just launched its first layer-two (L2) scaling solution, opBNB, which can enhance BNB's transaction capabilities considerably. Love it or hate it, Binance's chain ecosystem is here to stay for now.