News
Genesis Exodus
Weekly recap: Genesis declares bankruptcy, 3AC boys are back.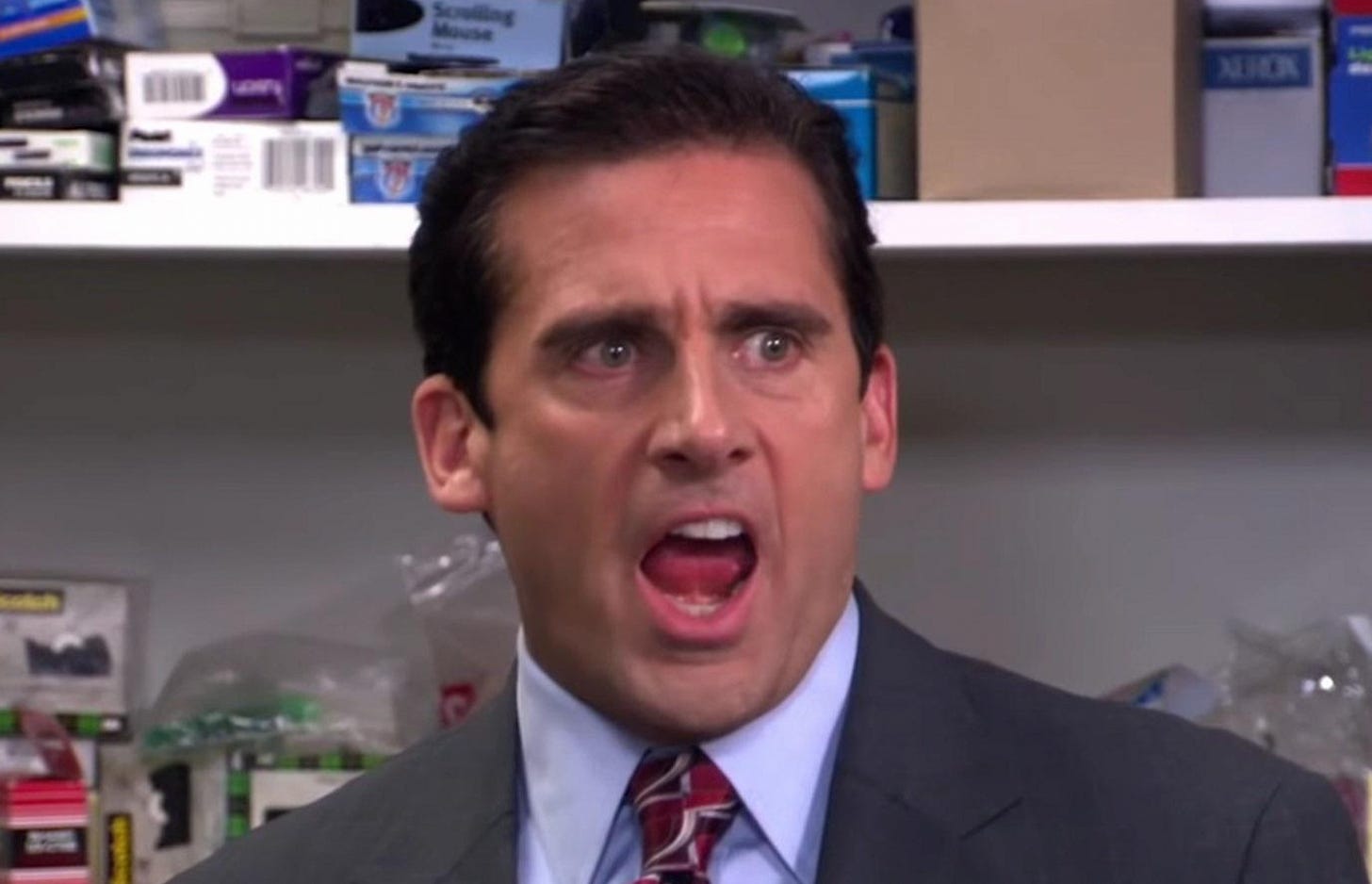 Dear Bankless Nation,
This week, Genesis finally succumbed to the inevitable and filed for bankruptcy.
The CeFi actor has quite a few unpaid debts and it remains to be seen whether sacrificing Genesis will be enough to save DCG… Things might only get messier from here.
For our weekly recap, we dig into:
Genesis bankruptcy
The DOJ's move against Bitzlato
FTX and GTX
Ethereum's growing decentralization
- Bankless Team
---
📅 Weekly Recap
Here's a recap of the biggest crypto news from the third week of January.
1. Genesis is bankrupt
Genesis finally filed Chapter 11 bankruptcy this past Friday.
Its bankruptcy filing shows that Genesis owes an estimated $3.5B to its top 50 creditors. The top creditors include Gemini, as well as crypto trading firm Cumberland DRW, MoonAlpha Finance (AKA Babel Finance), crypto hedge fund Mirana, VanEck's New Finance Income Fund, and many more.
Cameron Winklevoss — who has been involved with a public dispute with Barry Silbert, the CEO of Digital Currency Group which also owns Genesis — tweets that:
The good news is that, by seeking the protection of the bankruptcy court, Genesis will be subject to judicial oversight and be required to provide discovery into the machinations that brought us to this point… We have been preparing to take direct legal action against Barry, DCG, and others who share responsibility for the fraud that has caused harm to the 340,000+ Earn users and others duped by Genesis and its accomplices.
---
Just seven days prior, the SEC announced that it was charging Genesis and Gemini for "the unregistered offer & sale of crypto asset securities through Gemini Earn".
SEC officials said that Gemini's Earn program, whose yields were derived from lending to Genesis, fell under its definition of a security product by including an investment contract and a note.
Meanwhile, Crypto Twitter is roundly criticizing the SEC's actions as unhelpful to retail users and just a way to score political clout.
CoinDesk, owned by DCG, is also apparently now up for sale.
DCG acquired CoinDesk in 2016 for $500,000. Cardano founder Charles Hoskinson speculates that the price of CoinDesk would be ~$200M and that "I could afford it if he wanted to – I'm still one of the richest guys in the space". Okay Charles.
CNBC reports that CoinDesk has also engaged investment bank Lazard for a potential sale.
2. DOJ goes after Bitzlato
After a much overhyped lead up from the US Justice Department, which teased a major "international crypto enforcement action" that left Crypto Twitter sweating, the DOJ announced this week that it is formally going after Bitzlato, a Hong Kong-based crypto exchange.
Its Russian founder Anatoly Legkodymov was arrested Tuesday night in Miami under alleged crimes of money laundering in ~$700M worth of illicit funds on Bitzlato through the dark net market Hydra.
Thank you for leaving last week's bull market intact, I guess.
---
3. FTX and GTX
In an interview with the Wall Street Journal, FTX CEO John Ray has stated that he has "set up a task force to explore restarting FTX.com".
FTT's token pumped ~22% since the news broke.
If FTX 2.0 doesn't work out, not to worry, Three Arrows Capital founders Zhu Su and Kyle Davies are here to rescue us.
Su and Davies have apparently reached the end of their redemption arc and are now pitching to raise $25M for a new crypto exchange known as… GTX.
Not just any ol' crypto exchange, but an exchange targeted at crypto claims. If you have money stuck in FTX or <insert insolvent crypto bank that went bust in 2022> and can't wait for the highly inefficient legal system to resolve the case, GTX lets you sell your claims to the big boys on Wall Street who can afford to wait it out.
How will an exchange like GTX verify the claimable assets of stuck creditors? Will this actually work? No one knows.
Wen 4AC?
---
4. Ethereum big picture
As we creep closer to Beacon chain withdrawals in March (no delays please), the risks associated with Ethereum staking are getting lower, and validators are coming in in throngs.
Beaconscan shows that validators crossed the 500K mark this past week, demonstrating Ethereum's reputation as the most decentralized network yet.
MetaMask is also opening up ETH liquid staking directly from the wallet with Lido and Rocket Pool.
---
On the developer front, the 2022 Electric Capital Developer Report finds that new Ethereum devs reached an all-time-high in 2022, despite the bear market.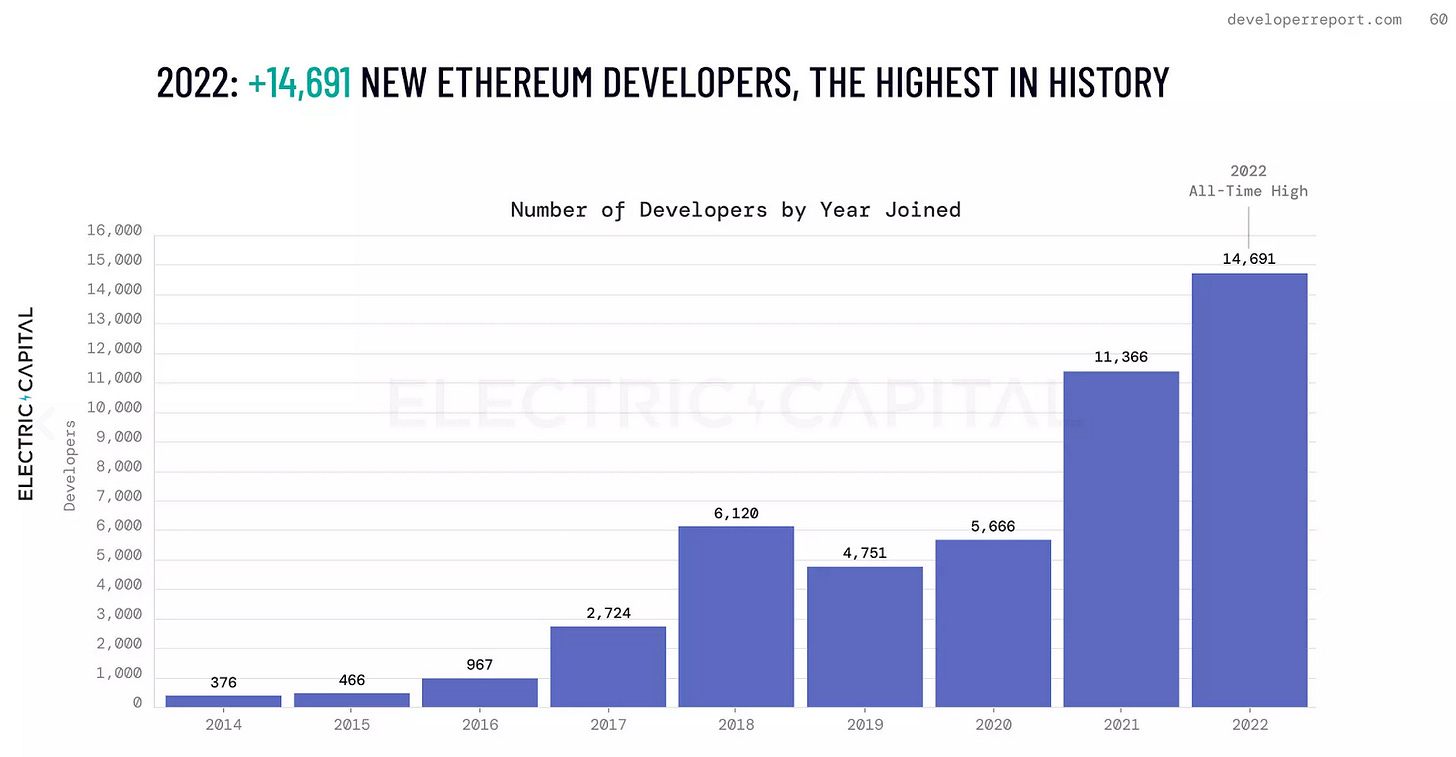 Despite layoffs from some big players last year, total crypto developers remain close to its highs with 23,343 monthly active devs according to the report.
See also the Ethereum Foundation's blog on a 2022 recap.
---
Other news this week: