Dear Bankless Nation,
Gary can't help himself. He sees blockchain; he thinks security. It doesn't matter what the actual asset is. This became all the more clear this week...
For our weekly recap, we dig into:
Gary Gensler thinks this email is a security
3AC's Su Zhu gets arrested
Kraken to offer trading of U.S. stocks
SEC delays spot BTC ETF decisions
Meta digs into the metaverse
- Bankless team
📅 Weekly Recap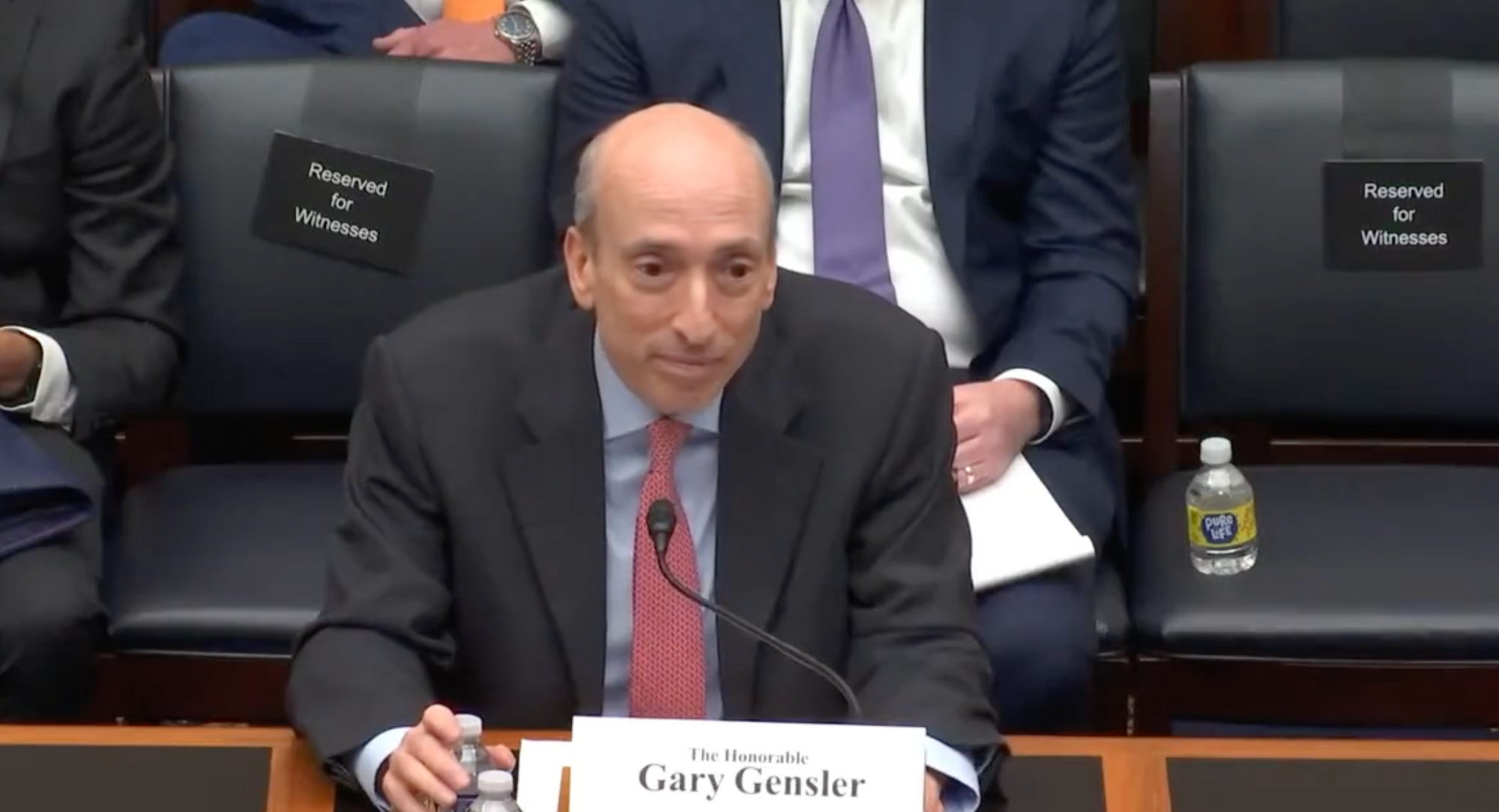 1. Gary Gensler thinks this email is a security
It's been an exhausting year to listen to Gary Gensler try to justify his baseless attacks on various elements of the crypto sector.
This week, a number of elected officials in the House Financial Services Committee took Gensler to task for his spree of regulatory enforcement against the crypto industry.
Coinbase supporters were there watching.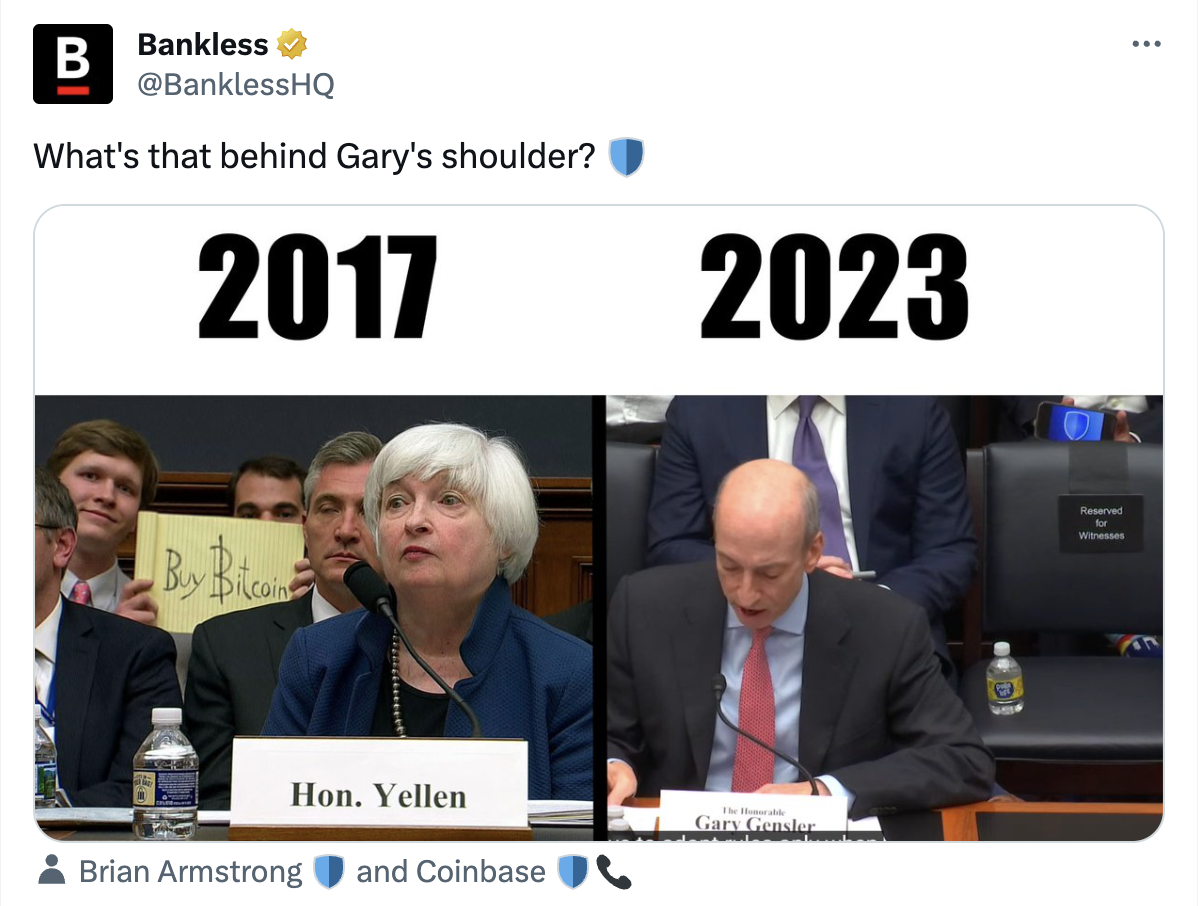 Perhaps the most memorable part of the questioning? Gensler talking in circles about why a Pokémon card in the physical world wasn't a security, but a Pokémon card on the blockchain might be a different story.
The line of questioning from New York Representative Ritchie Torres had us reeling.
2. 3AC's Su Zhu gets arrested
Su Zhu is behind bars in Singapore, getting arrested by authorities there for attempting to leave the country after being ordered to stay put.
Zhu, alongside Kyle Davies, infamously founded the Three Arrows Capital hedge fund which exploded last summer following the Terra collapse. While liquidators attempt to make the most of their mess, the pair had already moved on to crafting an exchange for FTX bankruptcy shares.
Davies is also reportedly facing jail time as well, but authorities can't seem to find him.
While Zhu is only set to be behind bars for four months, like Do Kwon, it's likely this could be the beginning of more legal troubles for the embattled founder. As for Davies, we'll see how long he can successfully lam it.
3. Kraken to offer trading of U.S. stocks
Kraken is diversifying its crypto trading business with a plan to jump into the U.S. stock trading game, according to a report in Bloomberg. Kraken has spun up a new division called Kraken Securities which will handle stock trading in both the U.S. and UK.
It's a big shift for the 12-year-old crypto company and comes as regulators are making life hellish for exchanges, with SEC suits against both Coinbase and Binance.
Though the U.S.-based Kraken has already weathered one bout of enforcement which left it shutting down its U.S. staking services and paying up a fine, its next play will likely be an easier push, assuming its efforts to "come in and register" are a little easier for this task.
4. SEC delays spot BTC ETF decisions
The SEC was busy this week, kicking its decisions further down the road ahead of a potential government shutdown.
The SEC punted decisions on four spot Bitcoin ETF applications from BlackRock, Bitwise, Invesco Galaxy Digital and Valkyrie. This was their second delay on these decisions.
The SEC already suffered an embarrassing court loss tied to their faulty reasoning for denying various crypto ETFs, that said they could still find different reasons to deny these applications.
Analysts expect approvals, but these delays keep coming...
Go direct to DeFi with the Uniswap mobile wallet. Buy crypto on any available chain with your debit card. Seamlessly swap on Mainnet and L2s. Explore tokens, wallets and NFTs. Safe, simple self-custody from the most trusted team in DeFi.
5. Meta digs into the metaverse
Meta may be taking a break from the crypto game, but their efforts to build their own metaverse ecosystem is still something plenty in the crypto/NFT world are tracking.
If they can't make some traction with nearly infinite R&D dollars to burn, who can?
This week, Meta debuted their latest mixed reality headset – the Quest 3. They also showed off a few new AI chatbot products and a pair of Ray-Ban glasses with deep AI intelligence. But the craziest release of the event wasn't even shared at the conference and was instead showcased in a podcast interview with Lex Fridman.
---
📺 Bankless Weekly Roll-Up
Other news: