NFTs
Forgotten Runes Wizard's Rise
The Forgotten Runes Wizard's Cult is gaining traction!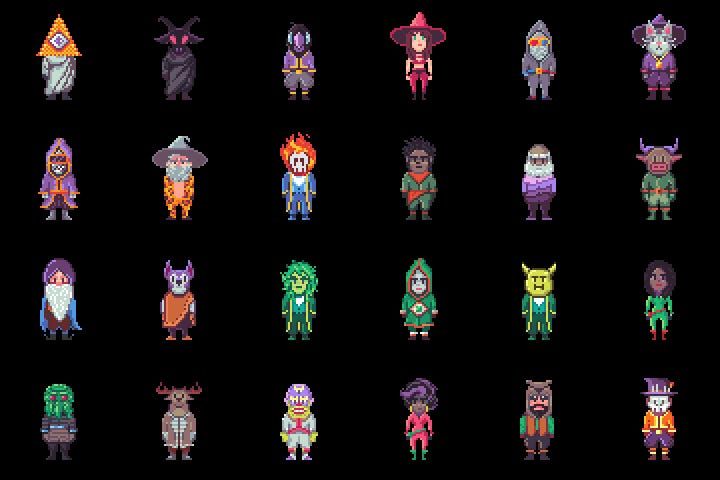 Dear Bankless Nation,
It's not a levitation spell that has Forgotten Runes Wizard's Cult on the rise!
Indeed, lately by the numbers it's just plain ol' interest. In recent days the wizards-themed NFT collection's been experiencing a bloom, with holders, sales, and floor prices acutely climbing to new heights.
Driving this growth? I think in no small part it's from the reflexiveness of a passionate community developing a potent culture via lorebuilding, and lorebuilding leading to an increasingly passionate, and in recent times increasingly sizable, community.
Thus as these NFT magicians are entering the new year with newfound momentum, let's catch up by zooming in on what the project's all about and what it currently has on its slate!
-WMP
---
Intro to Forgotten Runes Wizard's Cult NFTs

What is Forgotten Runes?
Forgotten Runes Wizard's Cult is a "collaborative legendarium" project founded upon ~9.4k pixellated wizard NFT collectibles. The on-chain, Ethereum-based collection started with 10k wizards, though approximately 600 have been burned in exchange for Forgotten Souls since last year's Great Burning began.
Who created it?
The artist Elf J Trul and developer dotta.
A brief history of the Wizards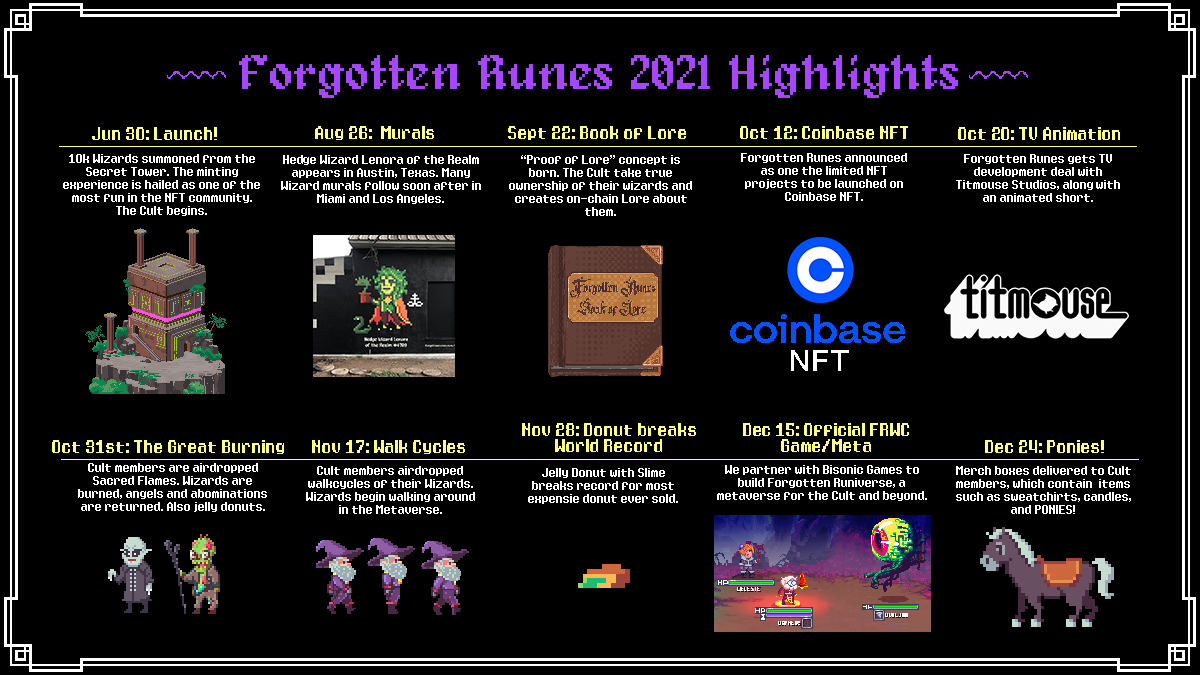 Jun. 2021 — The Summoning, the collection's minting event, takes place and mints out within 30 minutes. The NFTs' primary sales price = 0.07 ETH each, plus gas.
Sept. 2021 — The Wizards team introduces the Forgotten Runes Book of Lore, which allows Wizard holders to create and record stories around their characters (video tutorial here). So began the project's "Lore not floor" culture.
Oct. 2021 — The then newly-announced Coinbase NFT platform unveils Forgotten Runes Wizard's Cult as among its first wave of supported NFT collections.
Oct. 2021 — The Wizards team partners with Emmy Award-winning animation studio Titmouse in a joint effort to produce a TV show that's to be eponymously named Forgotten Runes Wizard's Cult. The idea? Pitch it to Netflix!
Oct. 2021 — On Halloween the Great Burning starts, after which community members who had been airdropped one of 1,112 Sacred Flame NFTs could burn their original wizard NFTs in exchange for a Forgotten Soul, a character from a special spinoff collection.
Nov. 2021 — Wizard holders receive their characters' walk cycles, which allow collectors to go metaversal and start taking their avatars into pixel-friendly virtual world projects.
Dec. 2021 — The Wizards team partners with Bisonic Games to create Forgotten Runiverse, a play-to-earn game that is set to have land ownership elements similar to Axie Infinity.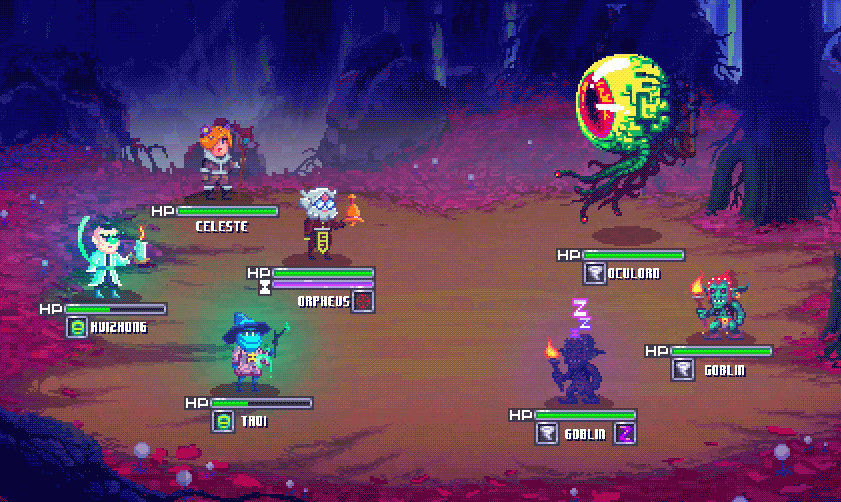 State of the Cult
FRWC has facilitated ~$30M worth of trading volume to date. A whopping ~$7M of that came over the last week!
Unique FRWC owners have risen to an all-time high of 2.68k.
The collection's three highest sales days so far have all occurred in 2022, namely on Jan. 1st (428 ETH), Jan. 5th (476 ETH), and Jan. 6th (+430 ETH).
The largest FRWC sale yet came on Dec. 31st, 2021, when the iconic Merlin character was acquired for 69 ETH.
How to think about the Wizards
Generally speaking, the Wizard's Cult is in the same genre as projects like Loot and Nouns in being bottom-up decentralized "Web3 Disney" efforts. As the mysterious Merlin persona noted in a recent post:
"In Web 2, Stan Lee creates and sells Marvel to Disney, then comics and movies are made, then they sell it all to you for crazy profits, then sue you for making fan fiction. With Forgotten Runes, the wizards are the building blocks, then lore, then fan fiction, then comics, tv, movies, video games and more with profits going to the fans."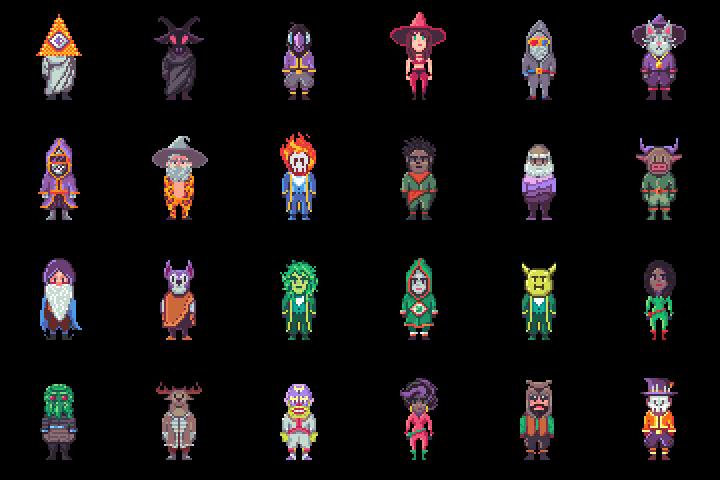 What comes next
Keep an eye out for the release of the upcoming FRWC expansion collection, the Forgotten Runes Warrior's Guild, which will further widen the project's ecosystem and community. The Wizards team explained in their 2.0 roadmap:
"When the time is right, and only then, we intend a companion Warrior drop to the Wizards. But why Warriors?

Every good book, film, and video game in the Fantasy genre needs this power balance of the brains (Wizards) and the brawn (Warriors). Indeed, it is an established trope: Wizards & Warriors, Swords & Sorcery, Might & Magic.

We believe this dynamic will be crucial in our own books, animations, and games. If we have a large metaverse of 10k Wizards, we will need other power dynamics to cooperate with or to challenge them! Though Warriors will arrive much later, we see Wizards as the emissaries to our universe."
---
Action steps