NFTs
Electric NFT Vibes ⚡
New Nouns arise, cryptoart platforms level up, OpenSea hits +$1B volume in August, & more!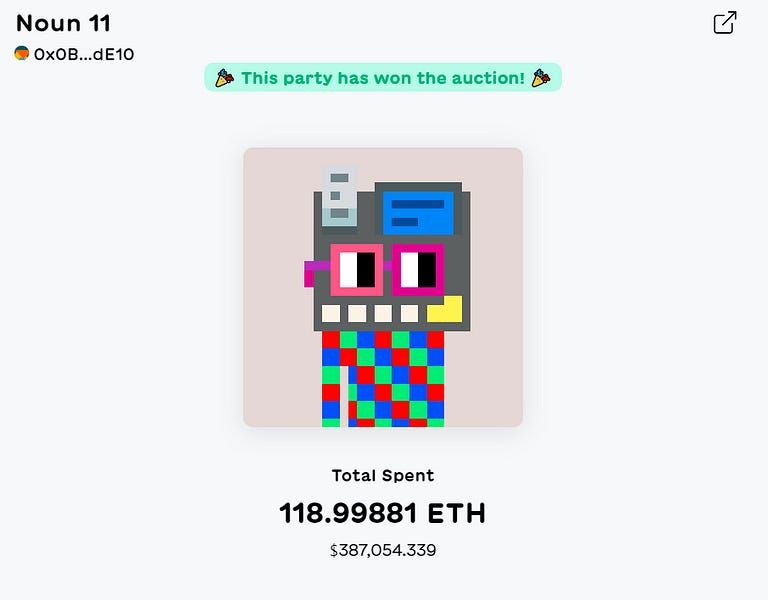 Friend & Sponsor
NEAR DA

- DA for Ethereum rollups at a fraction of the cost.
Dear Bankless Nation,
An electric feeling has been building up across the NFT ecosystem all year, and with so many NFT milestones and achievements reached lately that sense of excitement and possibility is now seemingly at fever pitch.

Many of us are excited because we know we're playing our roles in changing the future of culture for the better, and we're largely doing it on our own terms, too. Can't beat that, can you?
So part of the reason we're vibing currently is because work can now readily be play and purposeful courtesy of NFTs. That's truly a magical thing when you think about it!
But forget about thinking too hard this evening. Kick back, relax, and enjoy the latest Metaversal recap. Have a great weekend everyone ✌️
-WMP
---
🏆 Digital Collectibles
Nouns, an experimental on-chain avatar project releasing one "Noun" a day forever, saw major sales around Noun 7 (125 ETH), Noun 8 (95 ETH), Noun 9 (155 ETH), Noun 11 (113.33 ETH), Noun 12 (126.48 ETH), and Noun 13 (128.13 ETH) this week.

Notably, users of the PartyBid dapp have collectively acquired and fractionalized Noun 11 so far!

Ponderware, the creators of MoonCats, have released a new dev roadmap for the rejuvenated NFT collectibles projects.

"Robot" Cool Cat #3330 just sold for 110 ETH.
🎨 Cryptoart
Meet SuperRare 2.0! This week the leading cryptoart platform unveiled its $RARE curation token and the SuperRare DAO.
Programmable art platform Async Art open-sourced its "Unstoppable Auction" NFT smart contract 👏
Cryptoart platform Foundation released a private sales feature.
Generative artist Takawo Shunsuke just launched his first generative cryptoart project, Generativemasks.
A "full set" of Series 1-5 NFTs created by artist 0xDEAFBEEF just sold for 2,275 ETH!
🎮 NFT Games
Axie Infinity activated its dedicated Axie Esports server and in doing so ushered in an initial wave of +30 Esports tournaments offering +5,500 $AXS in prizes.
The first Aavegotchi WHAC-A-ROFL competition saw over 2,000 Aavegotchis participate!
🌐 Virtual Worlds
Cryptovoxels is hosting a Scripting Contest centered around games to "make the world more interactive and more fun."
The Mark Zuckerberg metaverse invasion has begun ...
🛒 NFT News & Platforms
Since the start of August, NFT marketplace OpenSea has surpassed $1.2 billion worth of volume 🌊

Dune Analytics dashboard by Richard Chen

Publishing protocol Mirror airdropped 302 $WRITE tokens distributed across its most active users.

Rarible Protocol introduced App Mining, a program to incentivize projects building atop Rarible's new decentralized infrastructure via $RARI token rewards.
💎 DeFi x NFTs
P2P NFT trading dapp swap.kiwi now lets users add ETH to their NFT swaps 🥝
OpenSea now supports buying and selling NFTs with Bancor's native $BNT token.
---
Action steps