NFTs
Don't Ignore, I Mean Buy, MEME 2.0!
NFT farming project Meme Protocol is new & improved 🍍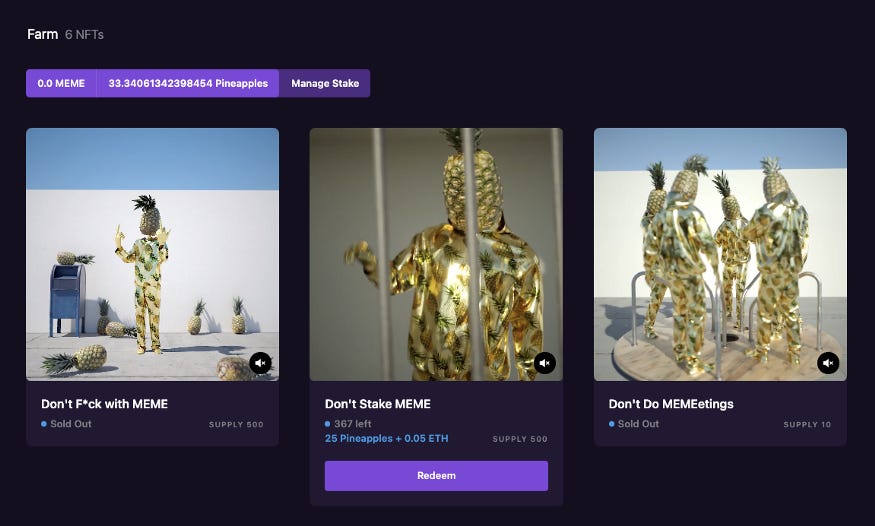 Friend & Sponsor
NEAR DA

- DA for Ethereum rollups at a fraction of the cost.
Dear Bankless Nation,
Meme Protocol is one of the most interesting stories in the NFT ecosystem right now.
If you're unfamiliar with Meme, just know for starters that it's doing some big things at the intersection of DeFi and NFTs and becoming a popular distribution channel for creators. There's an upcoming Beeple x Meme drop, for example!
My hunch, then? Meme will be increasingly influential in a variety of different ways going forward.
Accordingly, I say it's time to start paying closer attention to Meme in general. The project's new v2 upgrade is certainly juicy enough to warrant that for anyone interested in NFTs!
-WMP
---
The Power of the MEME
Originally started as a joke last fall, 🍍-themed Meme Protocol has evolved, and continues to evolve, into a fun and bustling NFT farming project with a growing community of users and partner creators.
That's amazing, especially considering things have moved so quickly for Meme since starting less than a year ago. In that span, the Meme team has already seen:
The project's native $MEME token, currently trading around $2,160 USD, go from being an airdrop to now the ~500th largest asset in the cryptoeconomy ($MEME was also just included in the new Metaverse Index).
Art drops from some of the NFT ecosystem's most beloved artists, like FEWOCiOUS, Trippyogi, Vans Design, and more.
Meme Protocol become trailblazing infrastructure at the crossroads of DeFi x NFTs and an inspiration for a wave of NFT farming projects that have sprouted up in its wake.
But Meme's builders are only just getting started when it comes to trailblazing, at least if their new MEME v2 system is any indication.
MEME Gets a Big Upgrade
As a farming project, the gist of Meme Protocol is that its farmers stake $MEME tokens in order to earn "pineapples," and these pineapple points can be racked up and thereafter exchanged for NFTs during Meme's limited-edition NFT drops.
This is already fun and an interesting new distribution channel for creators, of course, but the whole project's now been further optimized courtesy of the new MEME v2 upgrade!
Rolled out this week, MEME v2 offers a slew of improvements over the protocol's v1 flow, as now the project's streamlined its UI and drop processes, bolstered its back-end infrastructure, and set the stage for additional v2 possibilities in the coming months, namely integrations with layer-two (L2) scaling solutions, novel drop styles, curation boosted liquidity provider (LP) incentivizes, and beyond.
In other words? Meme Protocol's doubling down on becoming a major innovative community hub for DeFi x NFT users, so that's good news for cryptoeconomy creatives and entrepreneurs.
A MEMEcosystem Is Brewing
Last month Meme Protocol's co-founders notably unveiled Nifty's, a new social NFT platform to be equipped with user-friendly minting and gallery tools.
The reveal made waves because Nifty's stormed out of the gate with major backers like Joe Lubin and Mark Cuban. Yet the move also made waves because Nifty's made an immediate treasury move of buying up a small trove of $MEME!
Take note, as it's a major early inkling that the Meme ecosystem may eventually be an economy unto itself, replete with a range of stakeholders. That's really interesting, and it's all made possible through NFTs 🍍🍍🍍
---
Action steps