NFTs
DeFi Arts Intelligencer - Oct. 24th, 2020
Welcome to the 40th issue of the DeFi Arts Intelligencer, your weekly source for key happenings around Ethereum art, collectibles, games, finance, and more. Subscribe here. 🔶🔷🔶🔷🔶🔷🔶🔷🔶🔷🔶🔷🔶🔷🔶🔷🔶🔷🔶🔷🔶🔷🔶🔷🔶🔷🔶 The DeFi Arts Intelligencer has its first sponsor! It's your boy Digital. Digital is an extremely talented creator that tokenizes his art and music. He's an early legend in Ethereum's culture scene, so be sure to check out his website Danky.Art and sign up for his newsl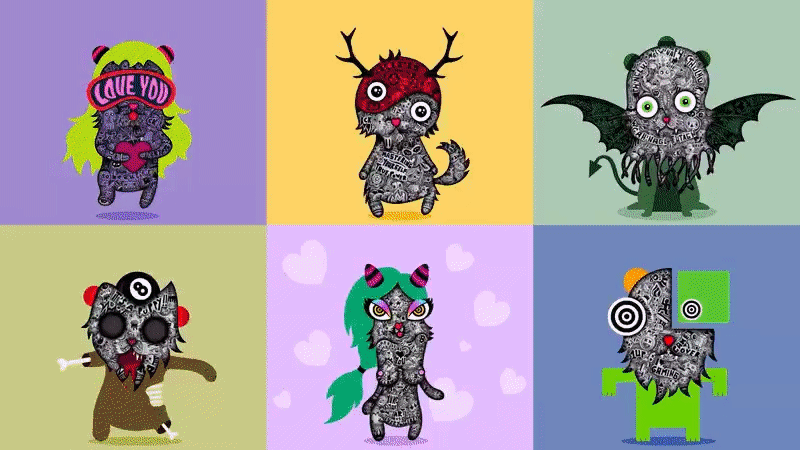 Friend & Sponsor
Across

- Across.to is the bridge you deserve
Welcome to the 40th issue of the DeFi Arts Intelligencer, your weekly source for key happenings around Ethereum art, collectibles, games, finance, and more. Subscribe here.
🔶🔷🔶🔷🔶🔷🔶🔷🔶🔷🔶🔷🔶🔷🔶🔷🔶🔷🔶🔷🔶🔷🔶🔷🔶🔷🔶
---
The DeFi Arts Intelligencer has its first sponsor! It's your boy Digital. Digital is an extremely talented creator that tokenizes his art and music. He's an early legend in Ethereum's culture scene, so be sure to check out his website Danky.Art and sign up for his newsletter where he gives updates on his journey of being a digital artist leveraging Ethereum. Sign up here — Digital Newsletter.
---
For this dispatch:
🎨 Digital Art & Collectibles
A collaborative meld among Italian artist duo Hackatao, CryptoKittes, and programmable art platform Async Art? Yes please! And that's what we got this week in HaCKittieZ. The piece's master token sold for 50 ETH today …

Artist Osinachi released their $OSINA social token. To commemorate the launch, Osinachi is gifting 100,000 $OSINA tokens to whoever collects his "A Portrait of the Artist at 29" NFT on SuperRare.

Ethereum data project Dune Analytics has a new stats dashboard out for NFT marketplace Rarible (be sure to sign up/login to view).

NFT marketplace OpenSea added support for audio NFTs.

SSX3LAU, a collab between 3LAU and Slimesunday, released their first SuperRare piece this week in "яєƒℓє¢тισηѕ." At the time of writing, the standing high bid was 22 ETH.

This week's WIP Meetup was held in both Cryptovoxels and Decentraland. If you're not attending, you're missing out big time! Learn more here.

The Cryptovoxels specialists at VoxelArchitects are making some stunning builds lately. Check out the new 💯xARt art gallery they just completed.

Foundation, "culture's stock exchange," is going layer-two (L2) with its move to xDai Chain.
🕹️ Blockchain Games
Oracle project Chainlink launched Chainlink VRF, a decentralized randomness generator that's particularly useful for blockchain games. For example, no loss-savings game PoolTogether just rolled out its v3 system, which relies on Chainlink VRF to randomly select prize winners.

Speaking of PoolTogether, its new system supports NFT rewards. Axie Infinity co-founder Jeffrey Zirlin demonstrated the new mechanic by donating an Axie to the project's prize pool contract …

Axie Infinity is booming: according to DappRadar the game's monthly active users (MAUs) and monthly volume are up 97% and 953% respectively over the last 30 days.
♦️♦️ DeFi News
Decentralized music streaming platform Audius launched its $AUDIO community token …

As of this week, Ethereum is powering double the daily transaction volume that Bitcoin is.

The rumor on the street is that PayPal, which just announced new crypto services, might be interested in acquiring BitGo, the builders of the popular tokenized bitcoin project WBTC.
📰Fresh Content
Thanks for reading, and stay creative on- and off-chain!
Keep an 👁️ out for the 41st issue of the DeFi Arts Intelligencer this time next week, too. Cheers ✌️
🔶🔷🔶🔷🔶🔷🔶🔷🔶🔷🔶🔷🔶🔷🔶🔷🔶🔷🔶🔷🔶🔷🔶🔷🔶🔷🔶
---
About DeFi Arts Intelligencer
The DeFi Arts Intelligencer is curated by me, William M. Peaster, a professional writer and editor who's been tracking the Ethereum and DeFi beats in recent years.
I'm passionate about art and a DeFi/NFT optimist, so putting together this newsletter is both fun and informative for me. I hope others may find the content helpful, too. But be mindful, the information herein should not be construed as investment advice. I'm not a financial adviser, and these are my opinions. Always take care to seriously consider the various layers of risk you face in participating in the still-maturing cryptoeconomy.
If you have a DeFi tip or lead, questions or comments, or would be interested in commissioning me for a writing gig, you can ping me at [email protected] or on Telegram at @wmpeaster.
If you enjoy this newsletter and want to support it, feel free to subscribe or have a like-minded friend subscribe as well. I have collected NFTs open for offers, too, as well as my own art NFTs available. Tips also accepted at wmpeaster.eth. Thanks kindly!