NFTs
DeFi Arts Intelligencer - Aug. 8th, 2020
Welcome to the 29th issue of the DeFi Arts Intelligencer, your weekly source for key happenings around Ethereum art, collectibles, games, finance, and more. Subscribe here. 🔶🔷🔶🔷🔶🔷🔶🔷🔶🔷🔶🔷🔶🔷🔶🔷🔶🔷🔶🔷🔶🔷🔶🔷🔶🔷🔶 For this dispatch: 🎨 Digital Art & Collectibles * Artist Coldie sold "Warren Buffet - Decentral Eyes - Variant 02" to collector Basileus for 8 ETH on SuperRare. Coldie also has his first solo piece on programmable art platform Async Art coming soon … * Sp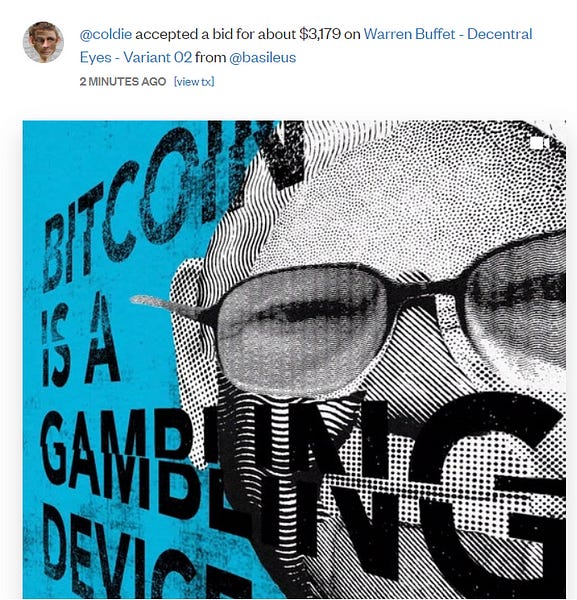 Welcome to the 29th issue of the DeFi Arts Intelligencer, your weekly source for key happenings around Ethereum art, collectibles, games, finance, and more. Subscribe here.
🔶🔷🔶🔷🔶🔷🔶🔷🔶🔷🔶🔷🔶🔷🔶🔷🔶🔷🔶🔷🔶🔷🔶🔷🔶🔷🔶
---
For this dispatch:
🎨 Digital Art & Collectibles
Artist Coldie sold "Warren Buffet - Decentral Eyes - Variant 02" to collector Basileus for 8 ETH on SuperRare. Coldie also has his first solo piece on programmable art platform Async Art coming soon …

Speaking of SuperRare, Messari highlighted how the art platform's sales volume quadrupled between January 2020 and the end of July 2020.

Artist Olive Allen had her first MadToy Junction drops on OpenSea …

Artist Matt Kane released "Nocturne Blue and Gold Southampton After Whistler" on SuperRare. The piece promptly sold to collector TokenAngels for 4 ETH.

Artist Bryan Brinkman has an excellent new installation up in Cryptovoxels. Be sure not to miss this one! Also, Bryan has a new piece out on SuperRare, "Gas" …

Collector WhaleShark bought Hackatao's "THE archetype" for 20 ETH.

Renowned illustrator Jose Delbo, who recently had his cryptoart debut on MakersPlace, has a new art gallery open in Decentraland.

Collector Sats Moon bought Robbie Barrat's "AI Generated Nude Portrait #7 Frame #149" for 35 ETH in a SuperRare secondary sale.

Nifty Gateway has its first-ever Tuesday Drop coming on August 11th, with pieces from artists Goldweard, Pi-Slices, and Hackatao on the slate.

Gold-backed digital collectibles play Bullionix will use the Chainlink VRF solution for provable randomness around the NFT project's "coin flip" NFT-minting feature.

One of the interesting aspects of the Avastars project is its Digital Asset Ownership License, which confers Avastars holders with "a license to the copyright and commercial use" of each Avastar owned. This week, the artist Legendary put this license to creative use with their new piece "Sic parvis magna" out on Rarible …
🕹️ Blockchain Games
Ethereum trading card game Gods Unchained is getting ready to introduce Direct Challenge mode, which will let players create their own esports tournaments and more.

Axie Infinity PvP matches are on the rise, as a new daily record of +12,000 matches was set this week. Also, Axie community member Seuchenhund just released the Axie Builder, which lets users visually create Axies with whatever trait combos they want.

Ethereum gaming world The Sandbox is holding its $SAND token sale on the Binance Launchpad "IEO" platform.

Aavegotchi, a gamified DeFi-NFT meld powered by Aave, is coming along nicely per the project's 4th community update.
♦️♦️ DeFi News
Decentralized exchanges collectively notched nearly $4.3 billion worth of trade volume in July 2020, a new record for monthly DEX volume.
Automated asset management project Set Protocol unveiled its V2 infrastructure, which will open up further customization and yield farming opportunities for users.
📰Fresh Content
🖌️Extra, Extra
I'm holding a giveaway this week for my Intelligencer readers. 4 folks have a chance to win 200 $WHALE each. Contest info is available here and the submission form is here. All you have to do is supply your name/pseudonym, your ETH address, and a link to one of your main social media accounts. The submission form will be open until end-of-day Friday, August 14th. The next day, winners will be announced in the 30th issue of the Intelligencer. Good luck!
Thanks for reading, and stay creative on- and off-chain!
Keep an 👁️ out for the 30th issue of the DeFi Arts Intelligencer this time next week, too. Cheers ✌️
🔶🔷🔶🔷🔶🔷🔶🔷🔶🔷🔶🔷🔶🔷🔶🔷🔶🔷🔶🔷🔶🔷🔶🔷🔶🔷🔶
---
About DeFi Arts Intelligencer
The DeFi Arts Intelligencer is curated by me, William M. Peaster, a professional writer and editor who's been tracking the Ethereum and DeFi beats in recent years.
I'm passionate about art and a DeFi/NFT optimist, so putting together this newsletter is both fun and informative for me. I hope others may find the content helpful, too. But be mindful, the information herein should not be construed as investment advice. I'm not a financial adviser, and these are my opinions. Always take care to seriously consider the various layers of risk you face in participating in the still-maturing cryptoeconomy.
If you have a DeFi tip or lead, questions or comments, or would be interested in commissioning me for a writing gig, you can ping me at [email protected] or on Telegram at @wmpeaster.
If you enjoy this newsletter and want to support it, feel free to subscribe or have a like-minded friend subscribe as well. I have collected NFTs open for offers, too, as well as my own art NFTs available on OpenSea. Tips also accepted at wmpeaster.eth. Thanks kindly!