NFTs
Curating NFTs with JPG
JPG is an NFT curation protocol anyone can use to create on-chain exhbitions!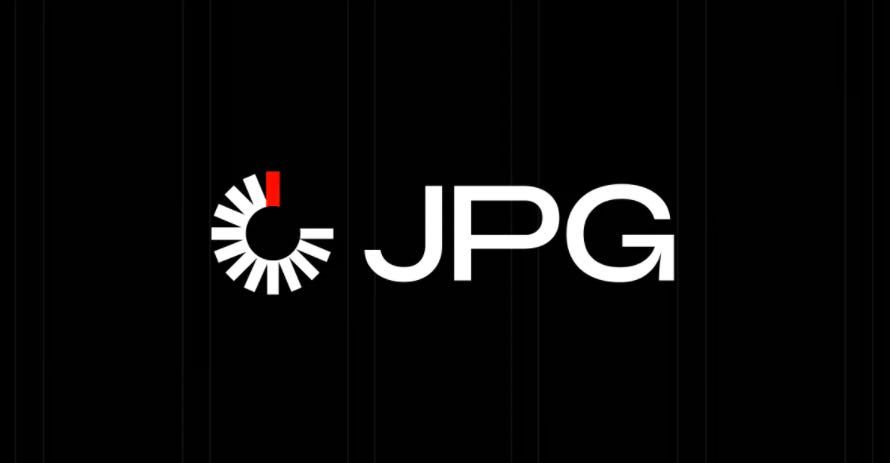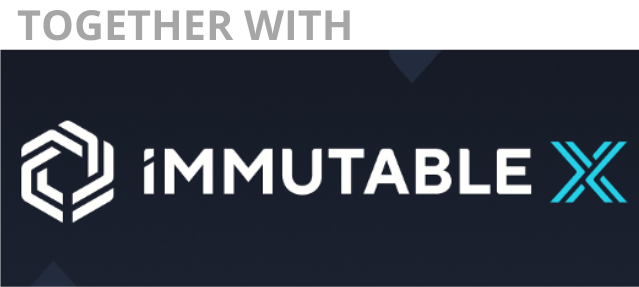 Metaversal is a Bankless newsletter for weekly level-ups on NFTs, virtual worlds, & collectibles
---
Dear Bankless Nation,
Back in March, Yam Finance co-creator Trent Elmore reached out to me wanting to chat about an NFT project he was ideating. He told me about a gallery-like protocol he was brainstorming that would allow anyone, anywhere, anytime to create NFT exhibitions that would exist on-chain.
Trent created a Discord channel later that day and I jumped in and have been tracking the project from then on. This vantage gave me an opportunity I've never had before, to watch an open-source Ethereum protocol — now called JPG, for "Juried Protocol Galleries" — go from whiteboard to the world up close.
Accordingly, I've seen Trent build a team suited for this challenge, bringing on the likes of María Paula and Sam Spike. María's since asked me if I wanted to help out at JPG, too, and I accepted.
Why JPG? The protocol puts permissionless, on-chain NFT curation in the hands of anyone who wants it. This marks a new cultural primitive, or "lego," for NFTs — one that will live as long as Ethereum lives and one that can be openly used and plugged into other Web3 projects going forward. In case you're keen on making your own on-chain curations, let's dive a little deeper for today's Metaversal!
-WMP
---
🙏 Sponsor: Immutable X — Scaling Ethereum and NFTs!
---
Inside JPG
JPG is an NFT curation protocol. Under the hood, the project's an on-chain registry-based system.
This means there's a main registry, which is the aggregate of all the NFTs that have been added by creators, collectors, and curators. These users can then permissionlessly create non-custodial sub-registries, i.e. exhibitions, by curating pieces from JPG's main registry.
The result is a protocol that can ossify NFT exhibitions into Web3 media legos that live securely atop Ethereum.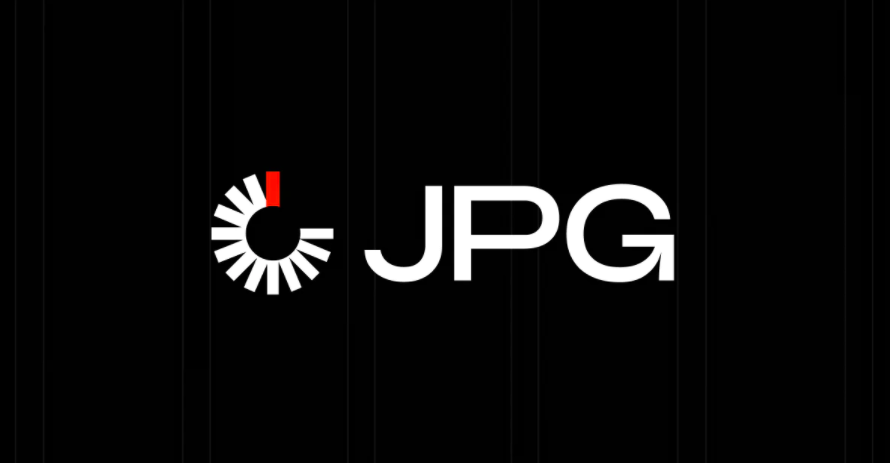 How's this different from NFT showcase projects like Showtime and Lazy.com, then? Well these user-customizable galleries are curated off-chain. While useful these galleries aren't timeless and aren't programmable on-chain as such, whereas JPG's exhibitions are.
Accordingly, you can think of JPG as crypto-native, open-source infrastructure anyone can use to curate on-chain exhibitions.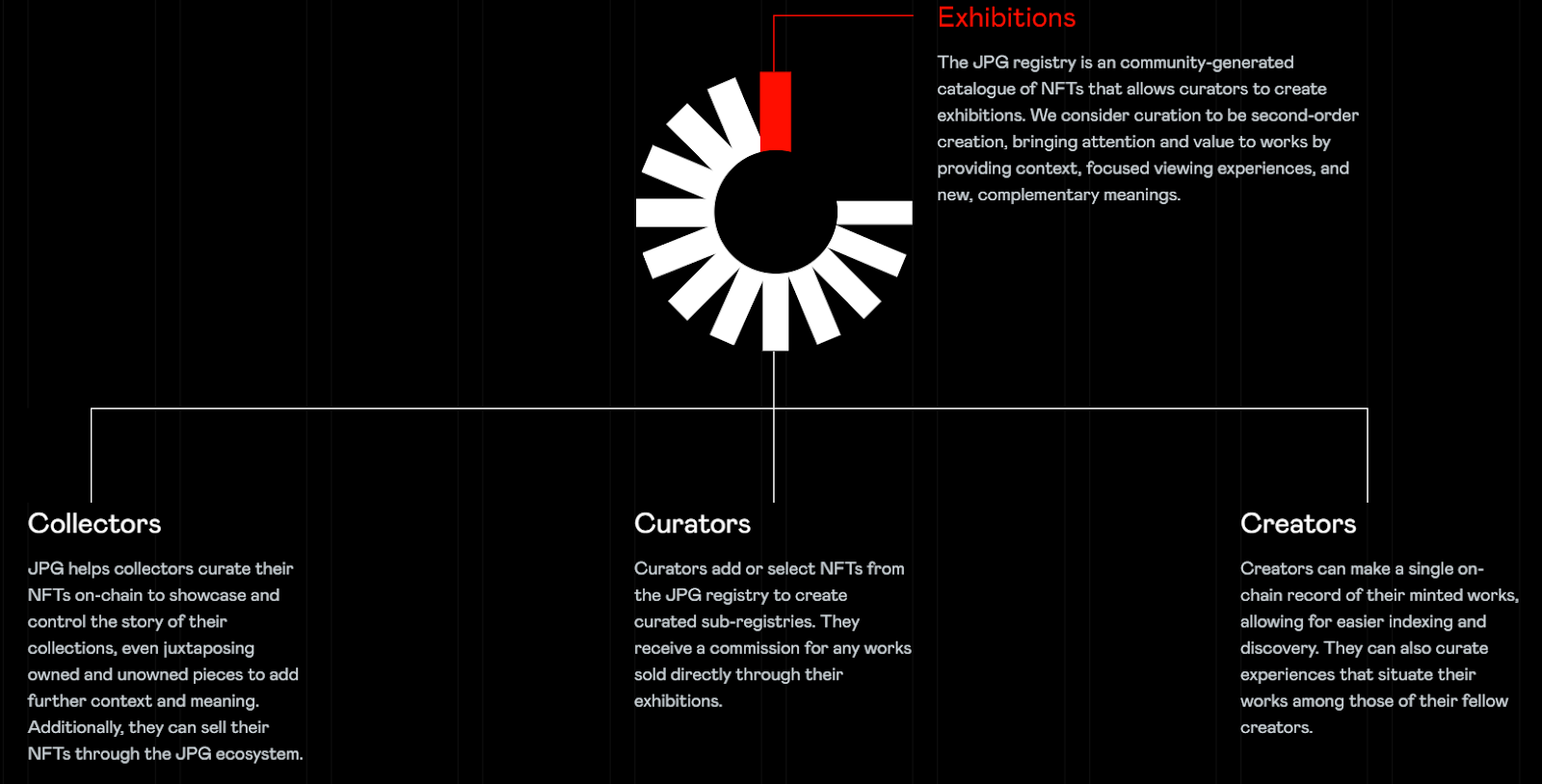 At the end of the day, the result of JPG will be an on-chain network of NFT exhibitions. In turn this paves the way for a novel kind of cultural infrastructure, one through which we can weave stories and curations in new, on-chain ways.
How these exhibitions are put together and used are entirely up to users' imaginations, so the creative possibilities are wide open. How about on-chain Ethereum Name Service (ENS) .eth poems? Or exhibitions of the ugliest CryptoPunks, the top Mirror articles, or the earliest XCOPY pieces?
Additionally, artists might create a sub-registry exhibition of all their minted NFTs, for example, or collectors can use sub-registries to create thematic narratives within their collections. Also on the slate's a marketplace functionality NFT owners can optionally sell their NFTs during exhibitions and through which curators can earn commissions.
Why a curation protocol?
JPG is about letting anyone cultivate and share cultural perspectives around NFTs in a verifiable, on-chain manner. The protocol will also prove pivotal in opening up the possibilities of curatorial provenance.
By curatorial provenance I mean building up a chain of curational activities, thereby creating a mechanism to better understand the cultural values of the underlying NFT objects.
NFTs are first and foremost cultural, yet they've mostly been mediated as financial assets in the ecosystem to date. On-chain exhibitions allow for that cultural nature to play a bigger role — and anyone can contribute to that thanks to JPG's permissionless nature. As the protocol's team noted in their introduction post:
"At JPG we believe that curators don't have to be collectors, and that a truly decentralized culture is only possible when everyone, regardless of what they own, can share new perspectives and experiences through the exhibition medium. The JPG protocol has been developed with precisely this in mind."
The Deep Time Exhibition
To commemorate the project's v1 launch and showcase the new protocol, the JPG team is hosting the inaugural Deep Time exhibition this week featuring iconic works from artists including Robbie Barrat, Anne Spalter, Sarah Zucker, and beyond.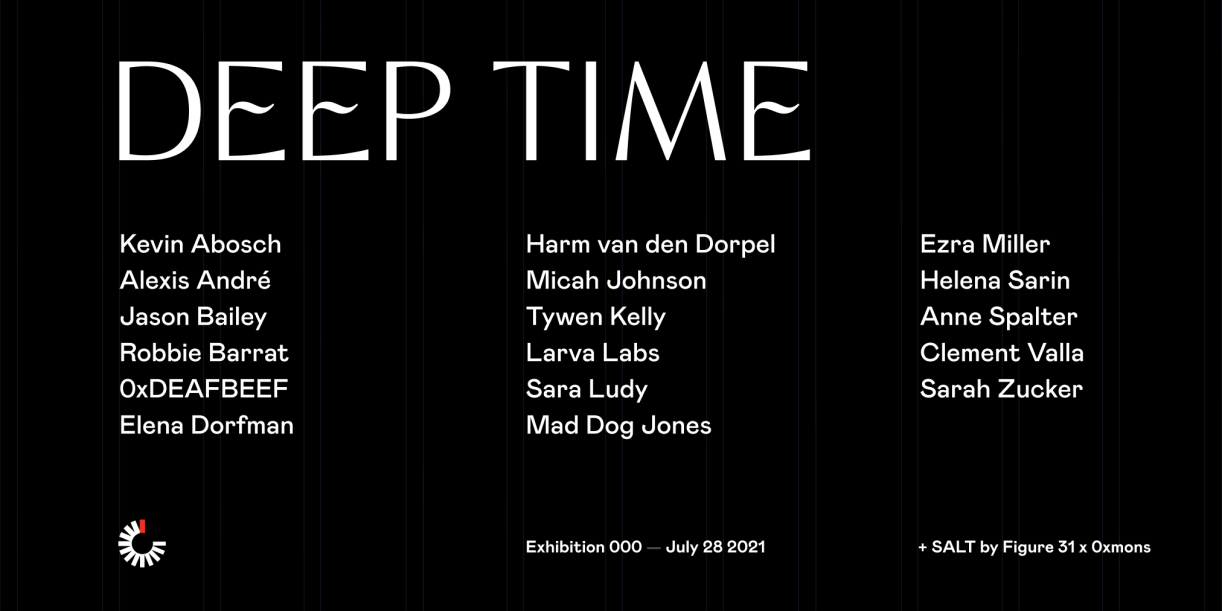 Beginning tomorrow, July 28th, Deep Time will highlight curated NFT submissions that deal with the thematic of time "from a future-facing perspective, combining the digital and the primordial, the prehistoric and the post-human."
This first exhibition will mark but a taste of the curation possibilities to come and also the opening of JPG to public curators, so start getting your themed lists of NFTs in order 😄
Zooming out
My background/education is in creative writing. And as a creative writer I think if you get stuck it's best to sit on a story, however long, until you have a breakthrough.
Accordingly, one story I've personally been sitting on for years I call "Beasts of the Field." It involves the Serapsi, a sleeper vessel equipped with AI, 3D printers, etc. It was thought to be the last hope of humanity at the time, and its limited human crew spends most of their time in cryo as the long, automated search for a new planet is conducted.
The drama comes when the Serapsi is one day overtaken by a massive ship that when scanned shows no signs of life. The huge ship sucks the Serapsi in and welcomes the crew members aboard. It's all androids!
They apparently built their own splendorous vessel to escape earth after most humans had perished. But they had been hardwired to be humanlike and overemphasize creativity, so they raced to find the last humans on the Serapsi over centuries. Upon finding them, they wanted to share with the final humans all the earth artifacts and art they've preserved over time.
For a long time, what I've described above is all I had on the story. Then a few weeks ago, the possibility dawned on me: what if the androids triumphantly showed off very old digital artifacts to the Serapsi's crew via on-chain JPG exhibitions? "Behold humans, look what we have! These historic, long-lost NFT sub-registries!"
Of course, that's just an idea I had from melding my personal interests. And to be sure, JPG isn't only interesting because of the durability of its exhibitions. But I do think this story reflects in part just how powerful JPG can be going forward. JPG taps into how we tell NFT stories to ourselves. And that's something I think is worth taking a long-term approach to.
---
Action steps