How Tos
,
Investing
How to Create Your Own Crypto Treasury
Funding your own DAO is easier than you think with Juicebox.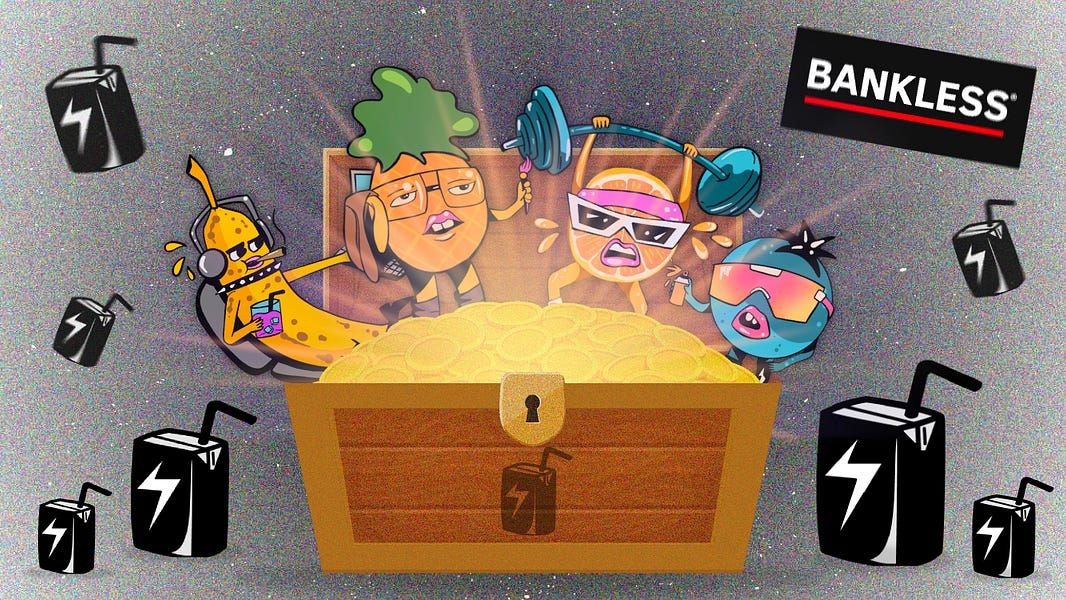 Dear Bankless Nation,
Remember the ICO mania of 2017?
Those were some wild times, anon.
While ICOs may be a thing of the past, it doesn't mean that community funding of crypto projects is a dead scene.
In fact, it's evolved and improved.
Let Bankless tactician WM Peaster walk you through a simple and elegant route to bootstrapping your own crypto project: Juicebox.
— Bankless team
---
How to Fund Your Own DAO
Tactic Tuesday // William M. Peaster, Bankless contributor and Metaversal writer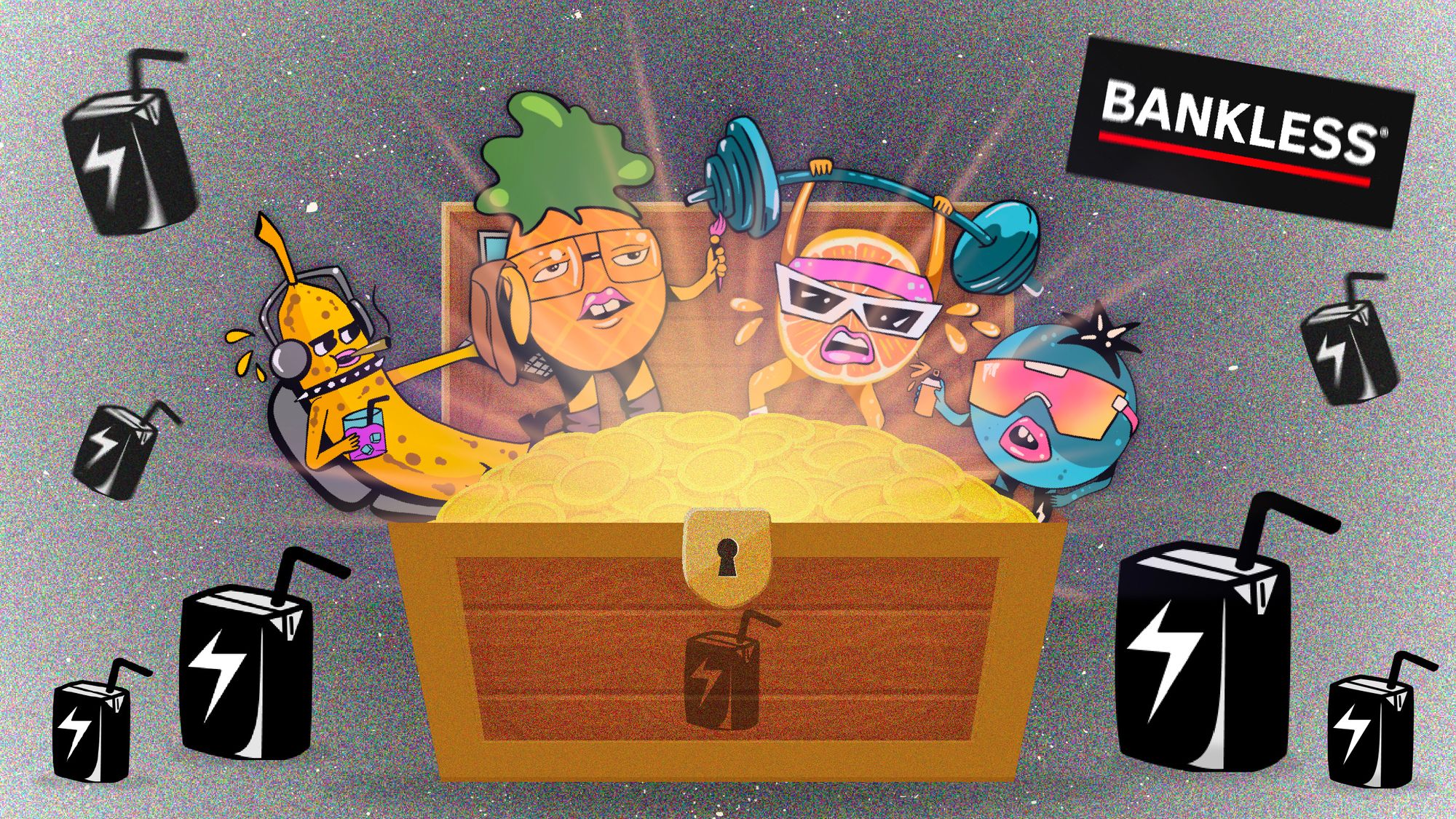 Juicebox is a protocol on Ethereum that makes it simple to spin up and manage a programmable treasury.
This Bankless tactic will walk you through the ins and outs of Juicebox, and walk you through how you can use the platform to create your own crypto treasury.
Goal: Learn how to use Juicebox
Skill: Intermediate
Effort: 30 minutes for research + 30 minutes for setting up
ROI: Experience with an out-of-the-box web3 treasury solution
---
Juicebox: build a treasury, web3 style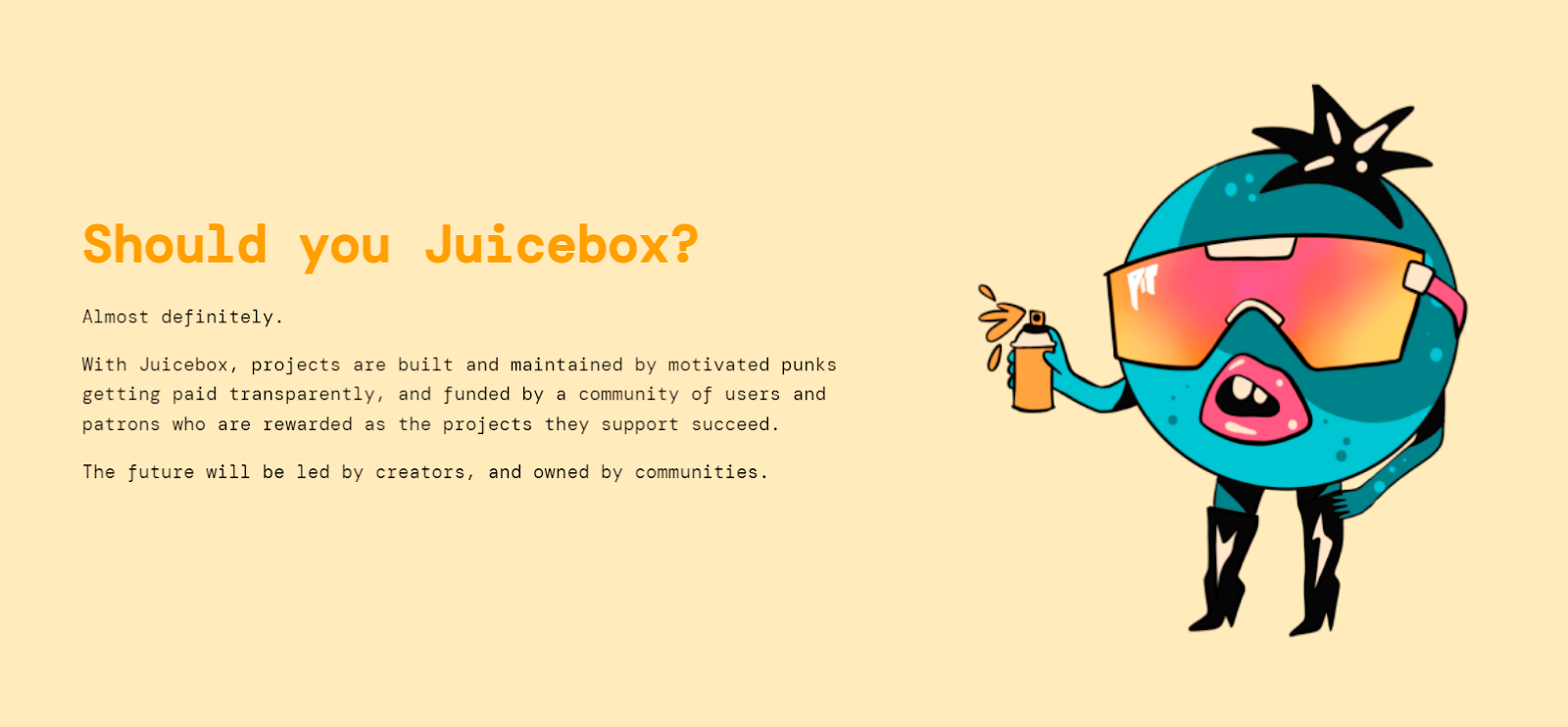 The Juicebox 101
"The Juicebox protocol is a programmable treasury. Projects can use it to configure how its tokens should be minted when it receives funds, and under what conditions those funds can be distributed to preprogrammed addresses or reclaimed by its community. These rules can evolve over funding cycles, allowing people to bootstrap open-ended projects and add structure, constraints, extensions, and incentives over time as needed. The protocol is light enough for a group of friends, yet powerful enough for a global network of anons sharing thousands of ETH, ERC-20s, or other assets." — Juicebox docs
Juicebox is a protocol that offers programmable on-chain treasury tooling for community-funded Ethereum projects.
The Juicebox platform — which is built upon a framework of smart contracts — is like a flexible, open-source, and Ethereum-native version of mainstream crowdfunding platforms like GoFundMe, Indiegogo, or Kickstarter.

That said, Juicebox caters to web3 users of all stripes. Whether you're a solo indie builder trying to crowdfund a personal creative effort, an NFT team starting up, or a large DAO looking to formalize its treasury, the Juicebox protocol provides infra that makes creating and managing an on-chain treasury a straightforward and transparent process.
Why Juicebox?
You're good at a lot of things, but let's be honest: building an on-chain treasury system from scratch is not one of those things.
That's perfectly fine, as that statement is true for the vast majority of people in web3. And that's exactly where Juicebox comes in: the protocol serves as an out-of-the-box treasury builder that lets web3 projects automate and streamline their treasury management processes from start to finish. Simply put, if you bring the idea, Juicebox can help you fund it in organized fashion.
How Juicebox works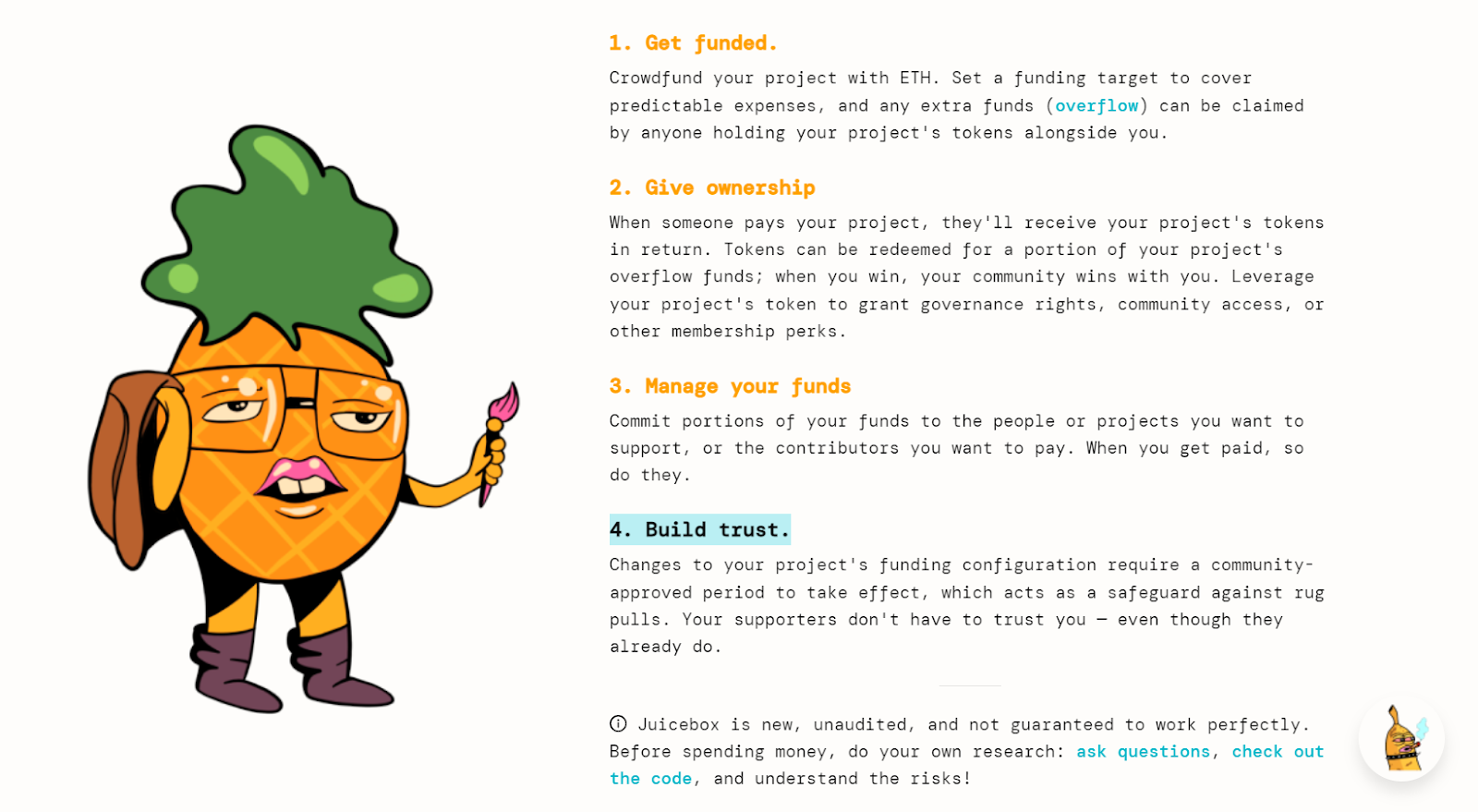 When you create your own treasury on Juicebox, you start out by configuring all the necessary info. This will include setting up stuff like:
Your project's name and key links
Your funding target and duration parameters (one-time or ongoing cycles)
Your fund distribution strategy (how your ETH will be split)
Your token strategy (how your project's ERC20 tokens will be rewarded to your funders)
Notably, whenever someone creates a treasury through Juicebox, an NFT is minted that represents the administrative rights to that treasury. The holder can then set the parameters of the treasury themselves or transfer the NFT for someone else to manage from then on.
Projects can also bring their own already existing tokens into Juicebox if they don't want to launch a new token through the protocol.
Projects can withdraw raised ETH as they wish, but they pay a 5% fee to Juicebox DAO for the service. In kind, Juicebox awards fee payers with distributions of the protocol's native JBX governance token.
Examples of Juicebox in action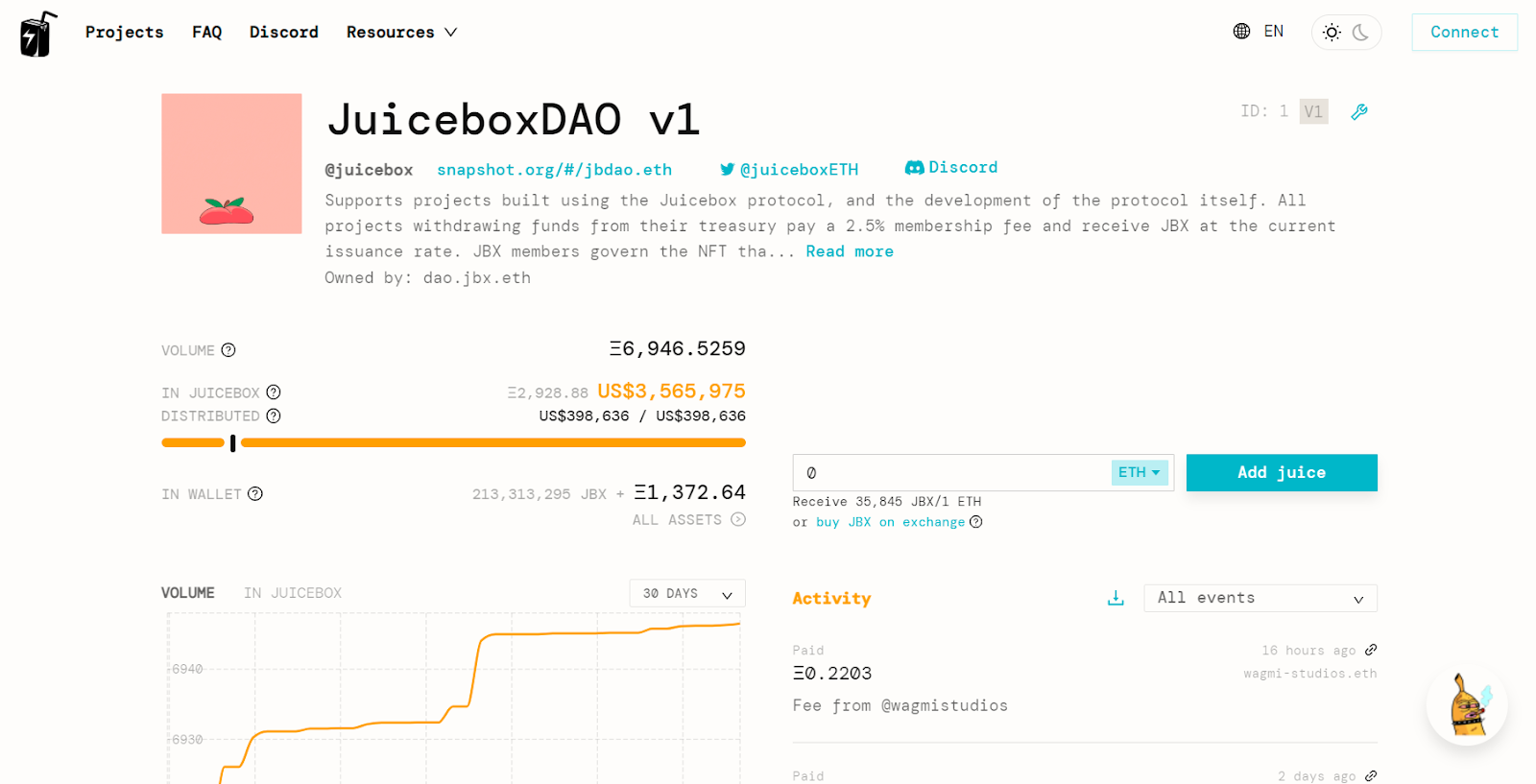 As you can see in the image above, Juicebox team members have put their money where their mouth is by dogfooding their own protocol to manage their v1 treasury. Yet nearly 750 other projects have raised funds on Juicebox to date, with some examples you might recognize being: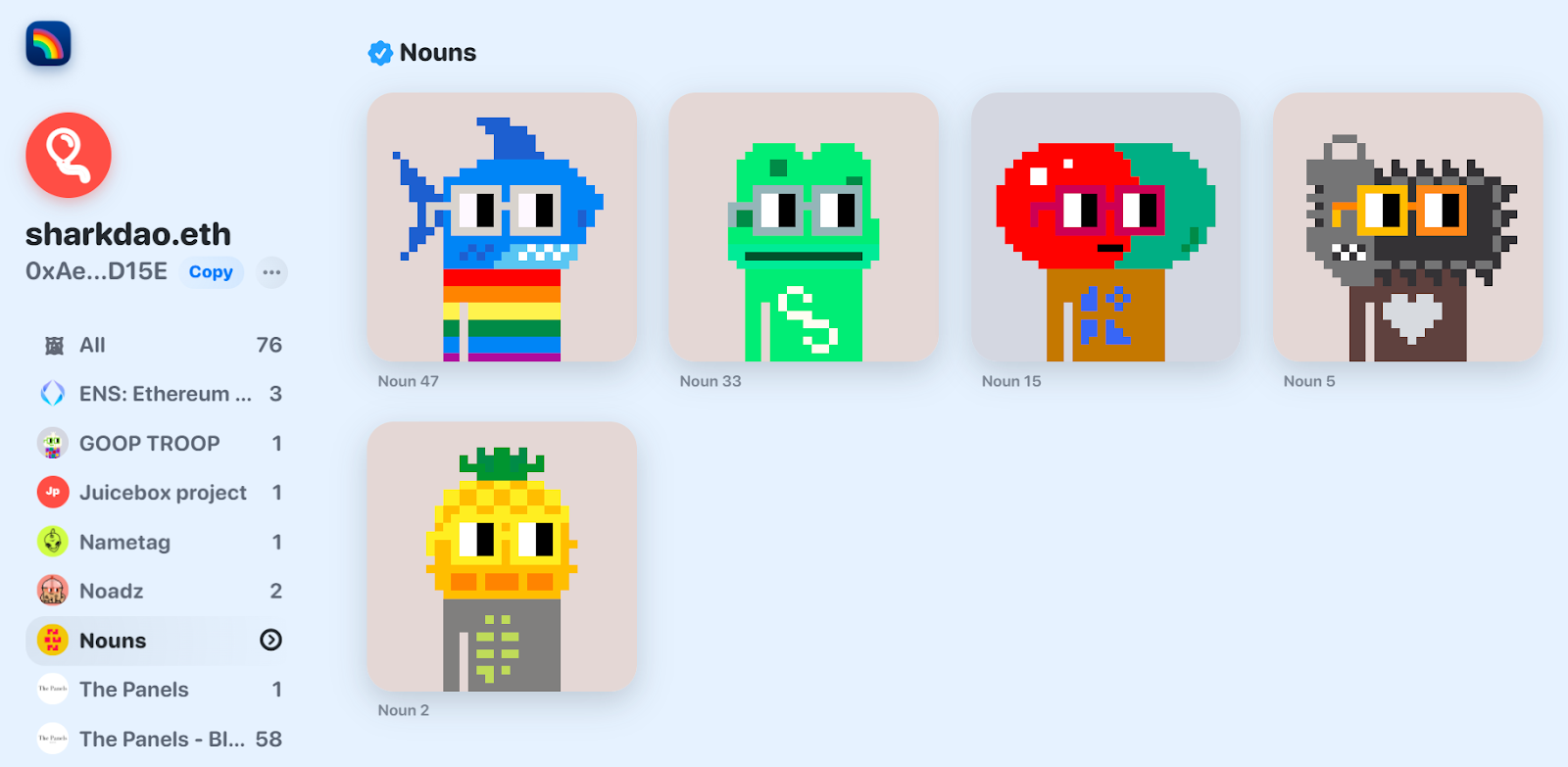 A word of caution
I think Juicebox is one of the most exciting and innovative projects to have been born out of 2021. Nevertheless, it's important to recognize that Juicebox is ultimately experimental software that hasn't been fully unaudited yet.
Other projects have used it successfully so far, but bugs may still exist in the protocol so you should be clear-eyed about that. As the Juicebox FAQ explains:
"Due to their public nature, any exploits to the [Juicebox] contracts may have irreversable consequences, including loss of funds. Please use Juicebox with caution. Each project has its own sets of legal and structural risks."
How to create your own crypto treasury
Go to juicebox.money and connect your wallet
Click on the "Design your project" button
In the "Project details" section of the UI, configure the main info and appearance of your project, including its name, description, and logo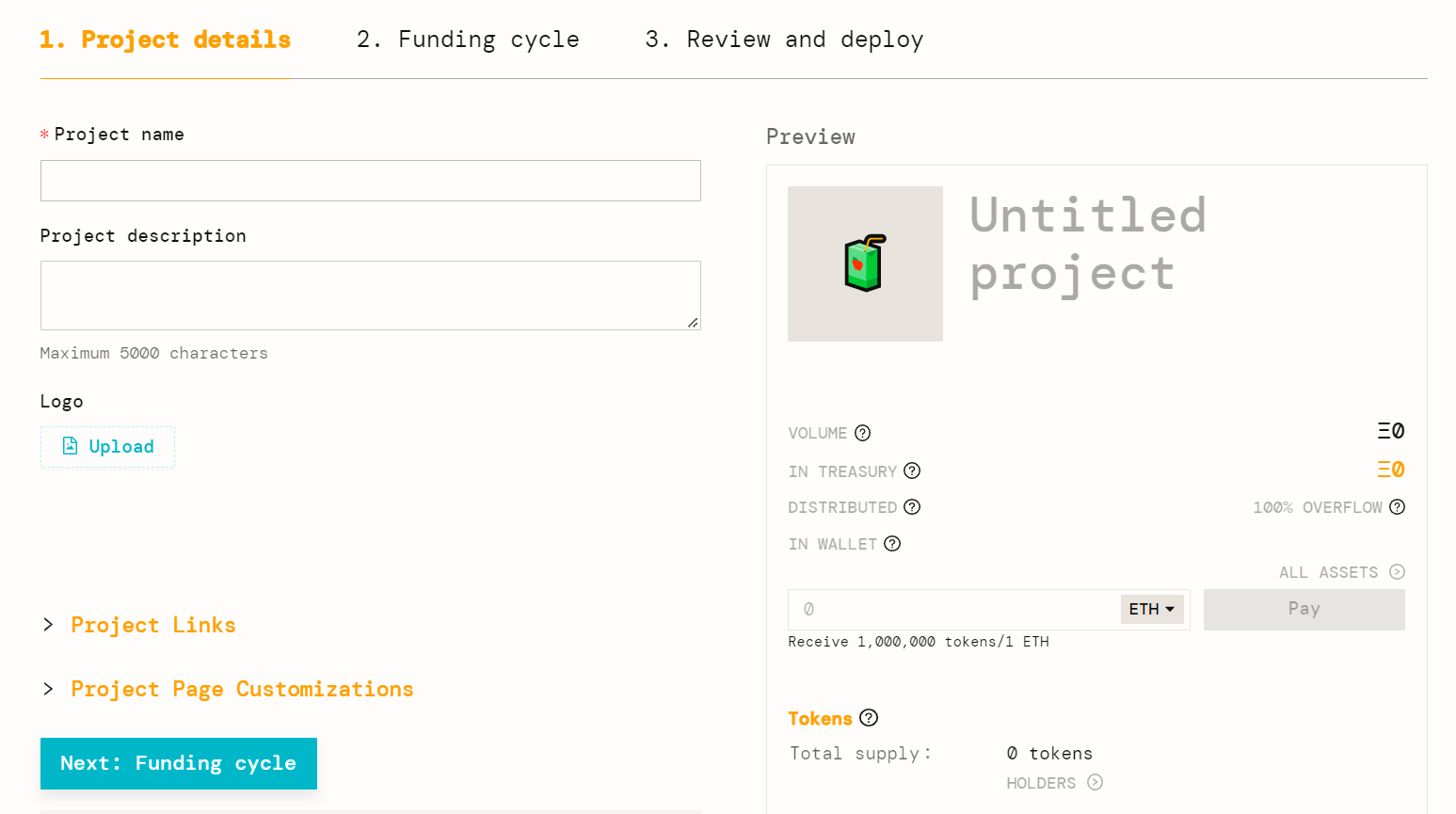 Next click on the "Funding cycle" button and start setting up your funding parameters, e.g. whether you want to automate your funding cycles and how you want to handle payouts
Press the "Token" tab to configure the mint info, discount rate, and redemption rate of your project's native token
Press the "Rules" tab to determine when your project can receive payments and mint tokens and how it can reconfigure its funding processes
On the final "Review and Deploy" page, review the details of your treasury to make sure all the info is correct
Lastly, finish up by pressing the "Deploy project to mainnet" button and firing off the deployment transaction with your wallet — that's it, now you're ready to start managing your crypto treasury through Juicebox!
Conclusion
"Fund and operate your thing, your way." That's the motto — and the reality — of Juicebox.
If you have a creative vision and want to fund it, Juicebox is programmable treasury infra that can help you bring your web3 work to life. The protocol is experimental technology to be sure, but if helping to pioneer new coordination frameworks is your thing, trying Juicebox might be just right for you.
---
Action steps