NFTs
Celebrating the Merge with NFTs ✨
Check out these commemorative NFT efforts!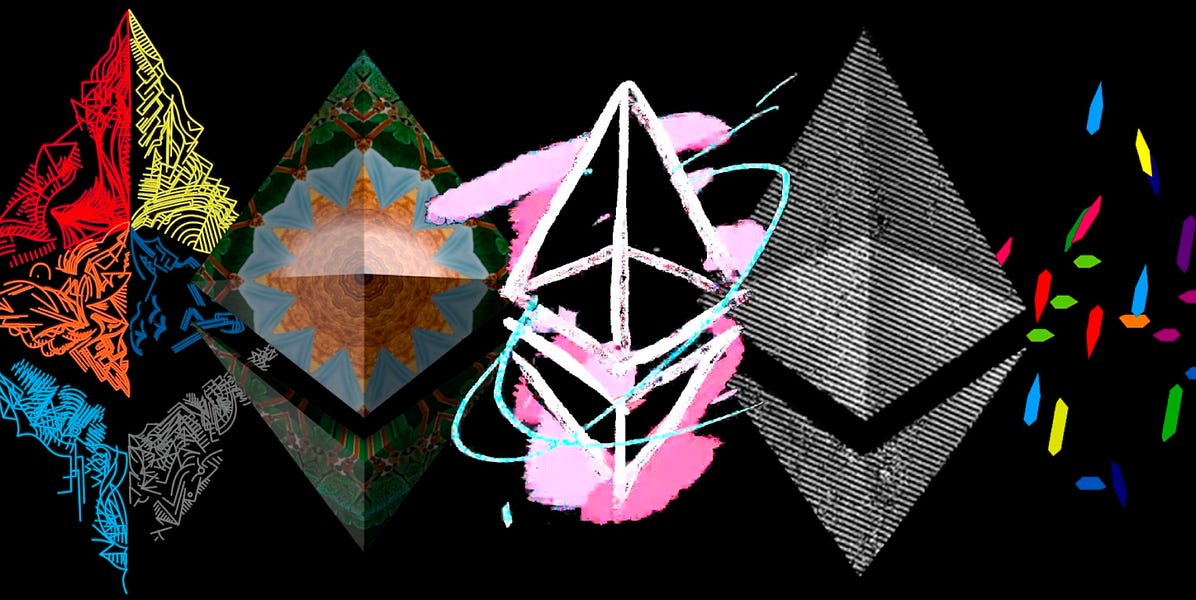 Friend & Sponsor
Aave

- Decentralized, open-sourced, and community governed✨
Dear Bankless Nation,
Ethereum is one week out from the Merge, which will be the leading smart contract network's biggest evolution to date.
This level-up has been years in the making, and it's going to make Ethereum drastically more efficient and considerably more secure.
As you can imagine then, the Ethereum community is downright over the moon that the Merge has finally arrived, and NFT events are popping up left and right to celebrate the occasion.
That said, let's go over a few of these NFT happenings you can check out if you want to join in on these Merge festivities over the coming days!
-WMP
---
All hail the Merge, NFT edition
First, new Bankless Merge resources
Still trying to wrap your head around the fundamentals and larger implications of the Merge? You're in luck, because Bankless has more than a few resources for you to dive into. Recent content drops include:
---
Merge time: NFT projects to watch
1. EPICS // MERGE
2. Ethereum Merge Fractals
3. "New Home of the Heart" exhibition + benefit sale
4. Regenesis
---
EPICS // MERGE
What it is: EPICS // MERGE is an on-chain pixel art project created by the Proof of Beauty NFT studio in order to celebrate the Merge.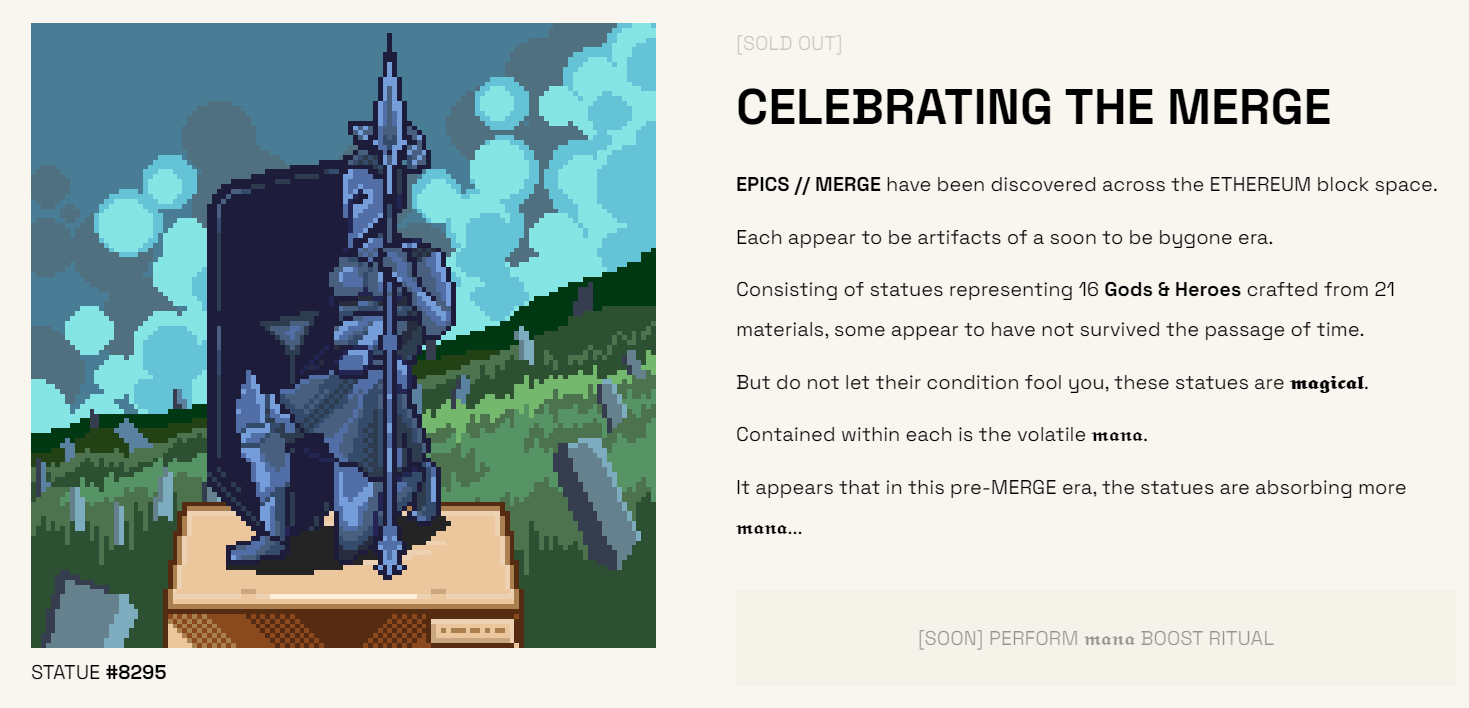 How to participate: The recently launched collection has already minted out, though NFTs from the series are available on secondary markets for as low as ~0.005 ETH at the time of this post's writing. The statue NFTs can accrue more and more "mana" points as the Merge nears depending on various multipliers, and then after the Merge mana will give way to "channeling." If you want to tag along for the adventure, consider nabbing at least one of these statue NFTs.
Ethereum Merge Fractals
What it is: Created by developer David Ryan, Ethereum Merge Fractals is a generative Merge-themed NFT drop, the proceeds of which are all being allocated to Ethereum protocol devs via Protocol Guild, a collective of Ethereum contributors, and Stateful Works, a facilitator of Ethereum cultural artifacts.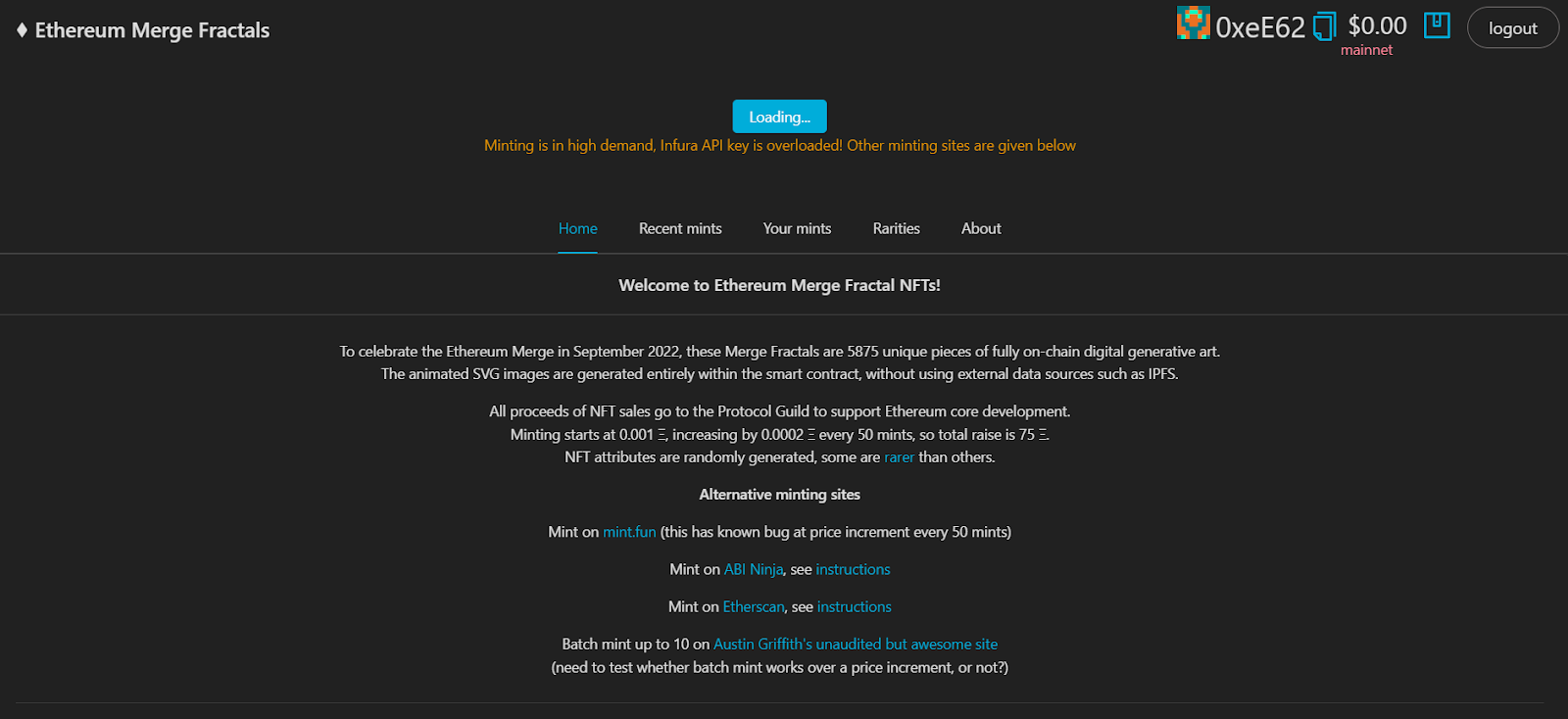 How to participate: At the time of this post's writing, 650 of the collection's 5,875 unique pieces had been minted. The NFTs started at a price of 0.001 ETH each and then rise 0.0002 ETH every 50 mints, so when all is said and done the mint will have raised 75 ETH for Ethereum core devs upon selling out. As such, using one of the available minting options will let you help Ethereum contributors while also scoring some cool NFTs in the process.
New Home of the Heart
What it is: I contribute to JPG, an NFT curation protocol. We've teamed up with Stateful Works and Sofia Garcia on one of our biggest undertakings to date, "New Home of the Heart." Slated for Monday, September 12th, this event is a Merge-themed cryptoart exhibition and benefit sale, the proceeds of which will be split among Ethereum core devs via Protocol Guild and the participating artists. The artists contributing pieces to the exhibition include NFT titans like Sarah Zucker, Shl0ms, Snowfro, and beyond!
How to participate: New Home of the Heart will feature both 1/1 auctions and editioned "Buy Now" pieces to open up the event to more collectors. Check in on the exhibition launch on Monday September 12th to bid, buy, or just show your support in honor of the devs that have made the Merge possible!
Regenesis
What it is: ConsenSys, the Ethereum product suite studio, is launching Regenesis, an NFT mint event with a variety of different drop styles, to commemorate the arrival of the Merge.
How to participate: The main Regenesis drop will be an open edition free mintthat will last for 72 hours after the Merge has begun. Mint one of these NFTs during this window to have bragging rights forever that you were around for the Merge!
---
Zooming out
During the Merge, Ethereum NFT users won't have to do anything. In other words, everything should transition smoothly to the new PoS chain during the upgrade, so instead of stressing you'll be able to sit back, relax, and celebrate. These are historic times we're living through after all, and with NFTs we can mark this huge occassion with long-lasting digital things!
---
Action steps
🎉 Celebrate the Merge by creating or collecting Merge-themed NFTs
🔍 Read my previous NFT analytics roundup guide if you missed it!