NFTs
Bridging NFTs to L2 🌉
beeple's NFT studio, Foundation Drops, Mango hacker's NFT flips, & more!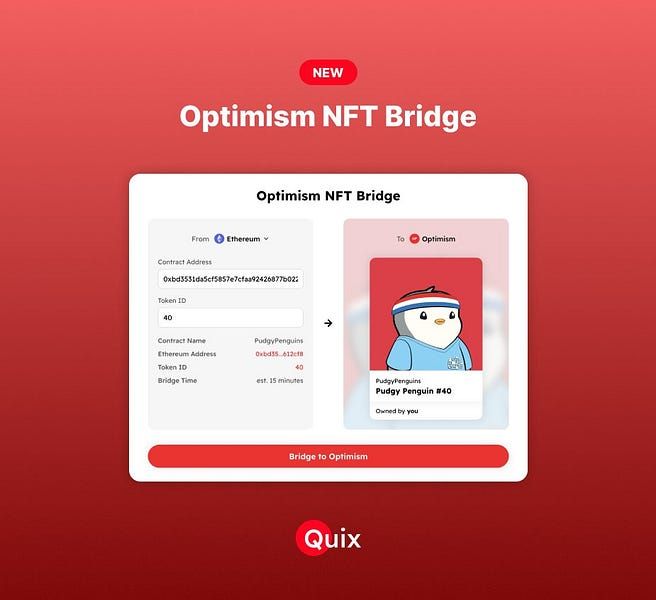 Friend & Sponsor
NEAR DA

- DA for Ethereum rollups at a fraction of the cost.
Dear Bankless Nation,
Quix, the first NFT marketplace on the Optimism L2, opened up the Optimism NFT Bridge this week.
The idea? Now you have the ability to bridge over and trade your Ethereum L1 NFTs on Optimism, where transaction costs are drastically lower than on mainnet.
The NFT bridging scene is super early right now, so we're still a ways off from seeing a lot of activity from migrating over. But in my mind, this is roundabouts the start of a new era for NFTs so keep your eyes on the bridges over the next couple of years!
In the meantime have a great weekend everyone! And as always thanks kindly for reading ✌️
-WMP
---
📣 General NFT News
CNN shuttered its Vault NFT series, leading to plenty of rug pull complaints and jokes.
cygaar, ERC721A pioneer and Azuki collection dev, released an open-source library for subscription NFTs based on his EIP-5634 design.
Foundation introduced Drops, a new resource for releasing big NFT collections and creating editioned packs of NFTs:
🏆 Digital Collectibles
🎨 Cryptoart
🎮 Decentralized Gaming
Axie Infinity: Raylights, a mini-game for Axie land holders, is now live.
Forgotten Runes Wizard's Club unveiled details about the combat system of its upcoming Forgotten Runiverse game:
💽 Music NFTs
🌐 Virtual Worlds
Decentraland estimated it currently has ~8,000 daily active users in response to a since-edited article that relied on limited data to wrongly claim the virtual world had only ~38 DAUs:
💎 DeFi x NFTs
---
Action steps