Opinion
,
Macro
Bankless 2023 Predictions
The Bankless team looks into our crypto crystal ball once again.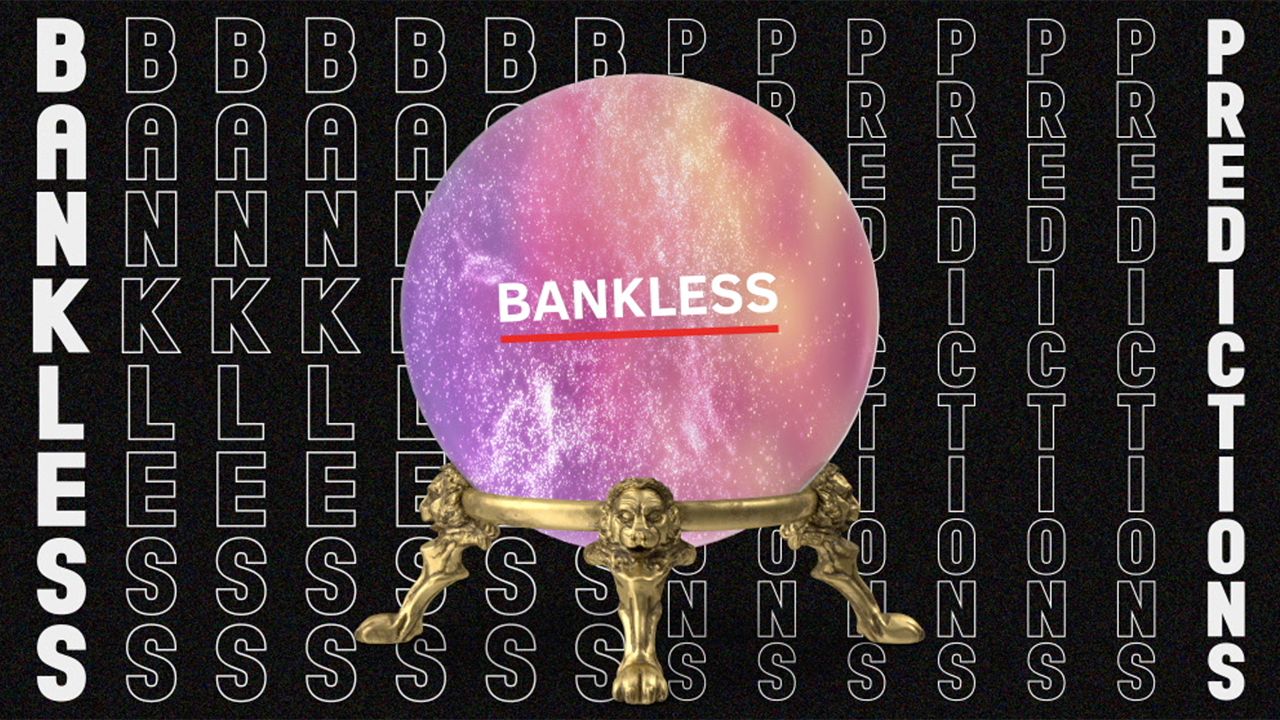 Friend & Sponsor
NEAR DA

- DA for Ethereum rollups at a fraction of the cost.
Dear Bankless nation,
Well, 2022 was full of surprises wasn't it? I didn't expect…
But should we be surprised?
While the specifics are never predictable, the 2022 craziness is exactly what the Bankless thesis predicts will happen when we put our trust in people instead of code.
We don't know which crypto bank will fail us…we just know they will fail.
So we take take custody of our keys.
We don't know which trader god on twitter is just an overleveraged gambler.
So we make thesis investments instead of chasing their narratives.
We don't know which blockchain technology will change the world next.
But we know it'll be the ones that prioritize decentralization.
Protocols, not people.
Code, not kings.
We're doubling-down on the core Bankless thesis in 2023. We won't get all the specifics right. That's impossible. But we have the right direction. The direction, as ever, is westward.
We're going bankless.
- RSA
---
Bankless 2023 Predictions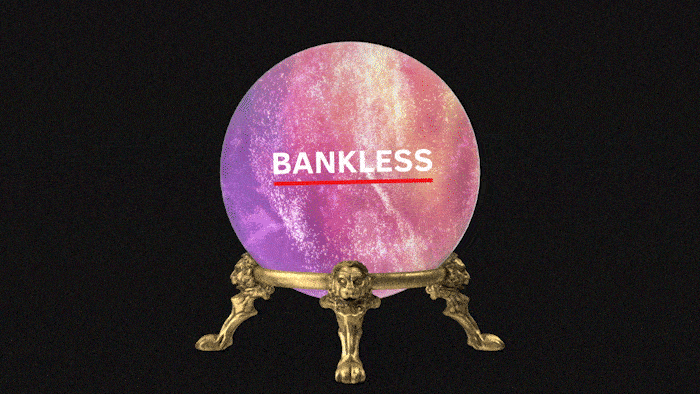 It's a new year and it's time to make some grand predictions. We got many wrong last year… but really, who the hell could've predicted FTX?
The good news is that's not stopping us from laying down more bold predictions for the new year. Predictions, in hindsight, can be a useful gauge for just how deep into our echo chambers or misled by market sentiment we were.
"What the hell were you thinking?" is a valuable question we don't ask ourselves enough.
So how'd we do with some of our overarching predictions going into 2022?
❌ Crypto crosses new ATHs.
✅ Eth2 merge happens.
❌ Total market cap reaches $5T (highpoint remains $3T)
✅ Bitcoin gets adopted by another nation-state (CAR did in June)
❌ Ethereum becomes a trillion-dollar network. (only has reached $.56T)
❌ Layer 2 reaches $25B in total value locked. (only reached $7B)
✅ NFT sales hit $30B. (passed $30B by April—washtrading count?)
❌ One DeFi Protocol will reach the top 10 in market cap.
➖ DAOs will make an 8-figure purchase for an IRL item. (UkraineDAO?)
✅ Michael Saylor buys more bitcoin. (he bought 5610 BTC)
Overall Grade: C
Now, let's turn to the team's predictions, starting with some reflections and forecasts from Ryan, David and William.
---
Grading Ryan's 2022 predictions:
❌ Crypto above $7 trillion. (highpoint remains $3T)
❌ ETH to $10k. (only reached $4.5k)
✅ L2s enter Top 10. (let's count Polygon—it hit #10)
❌ Bridges to Billions. (Across, Hop issued tokens but still in the millions)
✅ BTC to $100k. (only hit $63k)
➖ Web3 gets social. (Farcaster, Lens, Deso… still early)
➖ DeFi returns. (DeFi did not return… yet it served us when CeFi failed!)
❌ Crypto Banks IPO. (nope)
✅ DAOs get weirder. ($8M raised for Ukraine to fight a war counts as weird)
✅ NFTs add extensions. (NFTs expanded… BAYC alone)
❌  GameFi builds niche. (not even a niche last year…too early)
Overall grade: C-
Take: I expected this bull cycle to have 50% more upside than it had. By April last year the Fed tightening cut the bull short, but retrospectively I'm glad—we needed a detox!
RSA's 2023 predictions:
I'm going light and tight this year:
Many ups and downs but crypto finishes up above $2 trillion.
ETH withdrawals enabled by Q2 2023 and Proto-Danksharding in 2023.
ETH spikes to 3 digits giving us a final generational buying opp. (sorry David)
Ethereum outperforms Bitcoin but 2023 is not the year of the flippening.
A crypto law almost passes through Congress and it's not the end of the world.
Layer 2s reach $25B in TVL (yes, I'm trying this again).
DeFi rebuilds back to TVL of $125 billion.
The strongest dev communities remain: Ethereum, Cosmos, Solana in that order.
---
Grading David's 2022 predictions:
❌ The bear market never comes. (Well… no one has ever said I wasn't bullish enough)
✅ Crypto newbies care less about centralization worries. (But, betting on the complete opposite for 2023!)
✅ The merge happens.
❌ ETH competitors try to fix monetary supply schedules. (Competitors still have heads in the sand on oversupply of blockspace and therefore token issuance schedules)
➖ Solid fee markets arise on ETH-competing chain. (Yes, then it went back to 0)
✅ Optimism & Arbitrum develop into thriving metropolises. (These two L2s are one of the few areas of growth left in crypto)
❌ EVM equivalence pushes Optimism to dominate. (Not in 2022, but prospects for this looking good!)
✅ NFT flipping loses steam. (Retail ran out of money = less profitable for everyone)
❌ RAI receives adoption tailwinds. (RAI certainly received mindshare adoption; has not translated to real adoption)
✅ Bored Apes flip Punks. (Gotta love those ✨security-like properties✨)
➖ 'Web3' is adopted as a household name. (Yes, but not in the way I wanted 😔)
✅ The 'bankless' meme picks up speed. (Thanks FTX! )
✅  Politicians rise to defend Web3. (Shout outs to Tom Emmer and Pat Toomey!)
✅ Bankless keeps delivering. (Pretty proud of our coverage of the FTX fallout, and Bankless has a lot of things being built for Q1 and Q2 of 2023.)
Overall grade: B
David's 2023 predictions:
Ethereum L2s will continue to see steady growth and adoption throughout 2023 — Ethereum's scaling factor will go from 2x to >5x.
At least one generalized zkEVM will open up its playground for users.
The StarkNet ecosystem will maintain its lead ahead of the rest of the zkEVMs.
Ethereum DeFi blue chips will outperform Alt-L1 tokens. L2 tokens too, for that matter.
DAOs still won't have their sh*t figured out. Most will continue to operate at a loss, only a few will focus on their PNL.
There's always a bull market somewhere! I think this one will be with Sign in with Ethereum. We'll see more websites with 'SIWE' powers.
Bitcoin Maxis will continue to become more and more insane and disconnected from reality. Cory Klippsten will spearhead this effort.
Richard Heart will find a new scam to promote after Pulsechain wears off.
Collectible NFT communities will emulate Balaji's Network State thesis. The ones that survive the bear will inject real utility into their assets.
Dual encroachment from both the CFTC and the SEC will push crypto to its only safe place: the intangible land of ✨decentralization✨
---
Grading William's 2022 predictions:
❌ TVL in Ethereum DeFi will x2
❌ TVL in Ethereum L2s to reach $100B
✅ A top 50 DeFi project will go bust
➖ U.S. politicos will keep warming to Web3
❌ All-time NFT sales will hit +$50B
❌ Cool Cats become a top 3 NFT brand
Overall grade: F
WMP's 2023 NFT Predictions:
Ethereum's market share of NFT volume will reach the 80% mark once again as alt-L1s falter.
Polygon will overtake the alt-L1s Cardano, Flow, and Solana in all-time NFT sales volume.
OpenSea's market share in the NFT marketplace sector will sink below 50% as other marketplace aggregators continue to gain traction.
Yuga Labs's collections (BAYC, MAYC, BAKC, Otherdeeds, and CryptoPunks) will reach $10B USD in all-time trade volume.
The Yuga Labs vs. SEC faceoff will see some fireworks.
Sorare will overtake Flow-based NBA Top Shot in sales activity.
The NFT-based identity ecosystem (ENS, POAP, SBTs) will see its next wave of major activity.
NFT use cases will increasingly drive activity on L2s.
The NFT gaming sector will field its next breakthrough franchise (a la Axie in 2020-2021).
A large project will lose control of its NFT collection via hack.
---
Bankless Team Predictions
A mishmash of team predictions signaling our excitements, interests and blindspots.
Gemini Earn will return all frozen funds back 100%. I've got a ton stuck here, so I'm optimistic with this one.
Brian Armstrong will become much more famous. Crypto needs good actors to idolize after the rug-filled 2022. Brian is poised to be a knight-in-shining-armor.
Sui, Aptos, or similar will gain traction and then break at scale.
Ethereum will open physical stores (like Solana). I was a hater until I tried it and now I see some folks need an IRL experience to understand.
CryptoPunks will moon.
Bankless Labs will create two more web3-defining products - Earnifi brought over $150 million to folks with airdrop notifications, now we are expanding to more tech for your Bankless journey.
ETH is going to flip Bitcoin.
Things get worse at Twitter, Elon's staunchest defenders in crypto distance themselves, Crypto Twitter still doesn't move to decentralized social.
Reddit quietly become major crypto player.
The SEC takes aim at some crypto VC firms directly.
Elizabeth Warren gives up on being the Senate's face of aggressive crypto regulation, realizes that hating DeFi isn't the progressive rallying cry she thinks it is.
A non-Kardashian celebrity gets fined more than $1M for shilling a project.
Apple continues war on crypto while quietly building team to figure out how they can monetize it in App Store.
ENS crushes it on fundamentals (names registered, revenue, etc).
Liquid staking outperforms market.
Music NFTs continue to gain traction on the back of new artists and collectors entering the space. Music is collectible.
Web3 social lays the groundwork for a bull market (similar to DeFi in 2019). Identity, social graphs, collectible content , etc. are all key pieces of this new social layer of the internet.
Hot TCR Summer. Token Curated Registries, a crypto primitive hypothesized in the early days of Ethereum, finally begins to see some adoption (due to the wave in web3 social).
CBDCs get launched. They don't really go anywhere, unless governments coercively tie them to essential payment services (like taxes).
StarkNet underdelivers on performance relative to its L2 competitors.
Censorship issues on Ethereum remain a thing of the past, technically speaking. Another black swan event like a Tornado Cash sanction might kick up a lot of ruckus, but there won't be any existential censorship issues like in 2022.
BTC doesn't break 28.7K in 2023.
I lose more money on crypto.
The liquid staking DeFi sector sees massive growth post-Shanghai. Lido remains the market leader but loses significant share to challengers like Rocket Pool, StakeWise, Frax, and others. $RPL flips $LDO in market cap. All the LSD pure plays (LDO, RPL, SWISE) outperform ETH for the year.
Ethereum L2s surpass $10B in total TVL, fueling a DeFi renaissance. Arbitrum becomes the second largest L1/L2 by TVL after they launch their token and GMX becomes a unicorn.
A major L1 announces that they will become an Ethereum L2.
We look back on November 9, 2022 as the crypto bottom and finish the year green. ETH never sees triple-digits again, hitting $3K at some point in 2023 before retracing.
A gridlocked Congress makes very little, if any, significant steps towards crypto regulation or legal clarity.
Asset management protocols on Arbitrum gain wide adoption, fueled by yield on GLP.
SBF is convicted.
50% of Fortune 500 companies will enable "pay with crypto" and 15% will add connect wallet to their site or dip a toe into crypto/web3  via partnerships, dedicated features or NFTs.
Twitter will be the wanna-be web3 company of the year. As it searches for more ways to make money, it will introduce more and more web3 products/features that other web2 companies will copy. Farcaster will pull away as the leading web3 social app, though.
Moonbirds DAO will reach, not entirely so, but close to Nouns DAO level success.
Further consolidation of Bitcoin miners and tighter oligopoly market
Discussions in the Bitcoin community flourish around improving Bitcoin security in the long term. I really believe that it will become a topic of 2023/2024 (depending on market conditions).
---
Until next year…
So there you have it — the 2023 predictions of the Bankless team.
Remember… this isn't financial advice.
Leave your own predictions in the comments down below! Do our predictions indicate a bullish or bearish sentiment?
We'll let the Bankless Nation decide… 🔮
---
Action steps