NFTs
Axie Infinity's Katana Surge
The NFT game's new DEX is seeing a huge activity spike!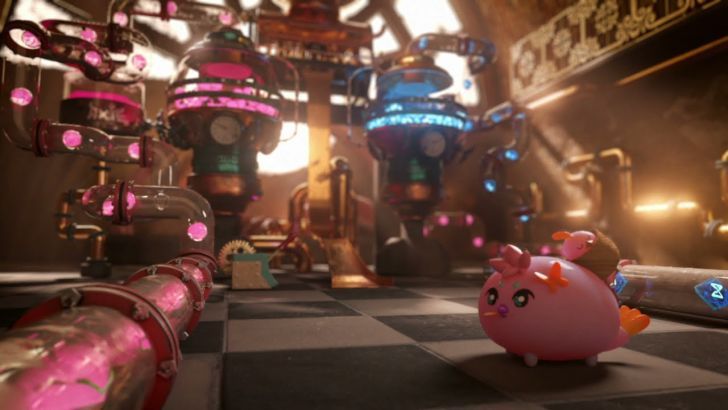 Dear Bankless Nation,
Last week, leading NFT game Axie Infinity launched Katana.
Katana is a decentralized exchange, or DEX, based on the tried and true Uniswap V2 design.
Accordingly, players can now easily provide liquidity for, or trade through, Axie Infinity's AXS and SLP tokens on the game's bespoke sidechain, Ronin. This is a UX gamechanger for the Axie economy!
Note, Katana's also initially being bootstrapped with rewards denominated in RON, Ronin's upcoming native token. The practical utility combined with RON farming has led to a major liquidity migration to the DEX in recent days. Let's zoom in on the action 👇
-WMP
---
Katana unsheathed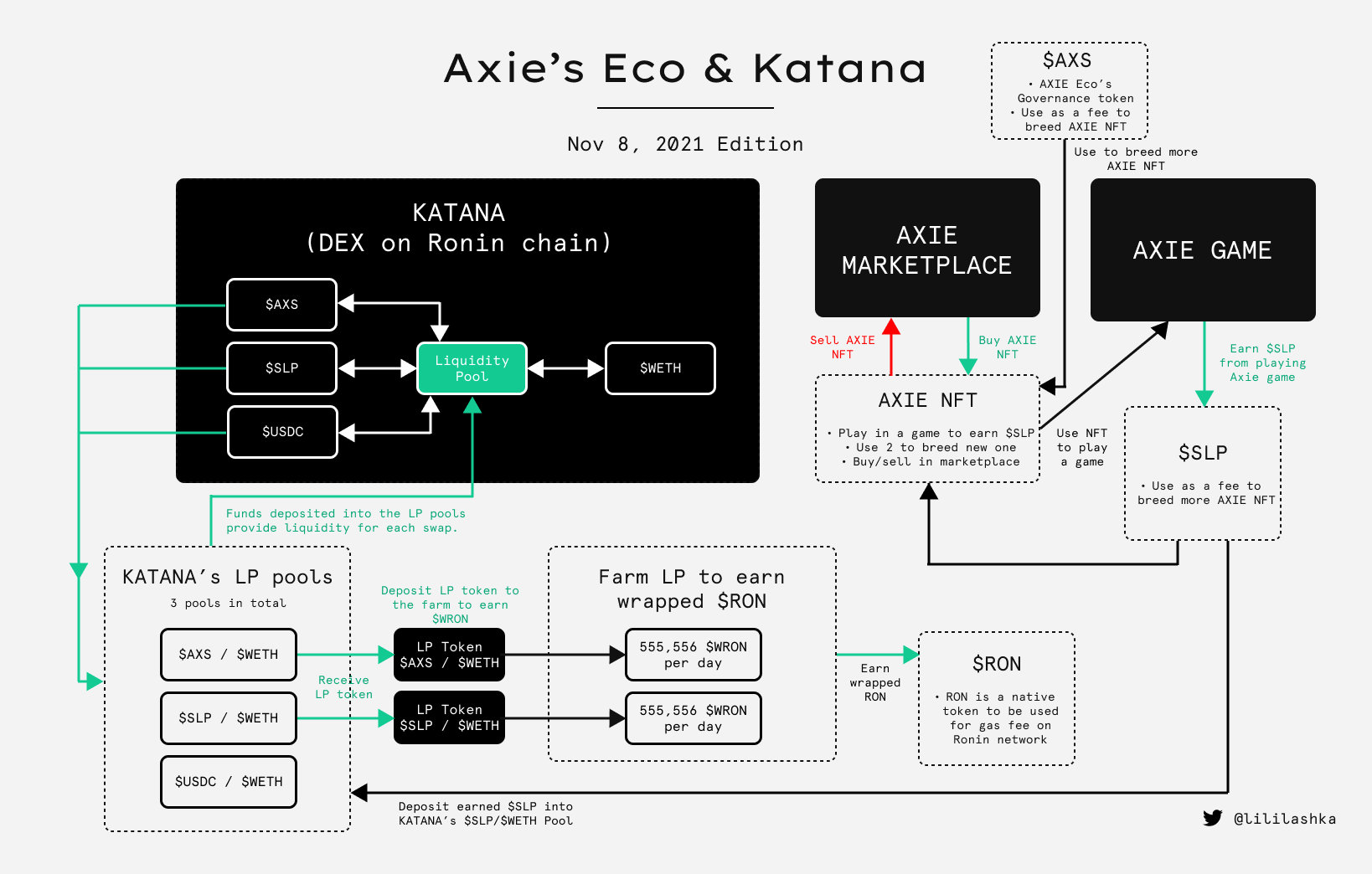 One of the main reasons Ronin exists is to serve as specialized infrastructure for providing Axie Infinity players with low-cost, high-speed transactions.
Remember, users can bridge assets like ETH, USDC, AXS, and SLP over to Ronin from Ethereum and vice versa as needed. Thus prior to Katana, players would have to bridge funds back to Ethereum and use a third-party DEX to make new trades.
That transaction flow was lanky and costly, which is where Katana comes in. With Katana live, now users can affordably handle key trades, and even liquidity providing (LPing), directly on Ronin. In the process, the bespoke DEX helps the leading NFT game become that much more self-sufficient.
Katana hits +$1B on RON excitement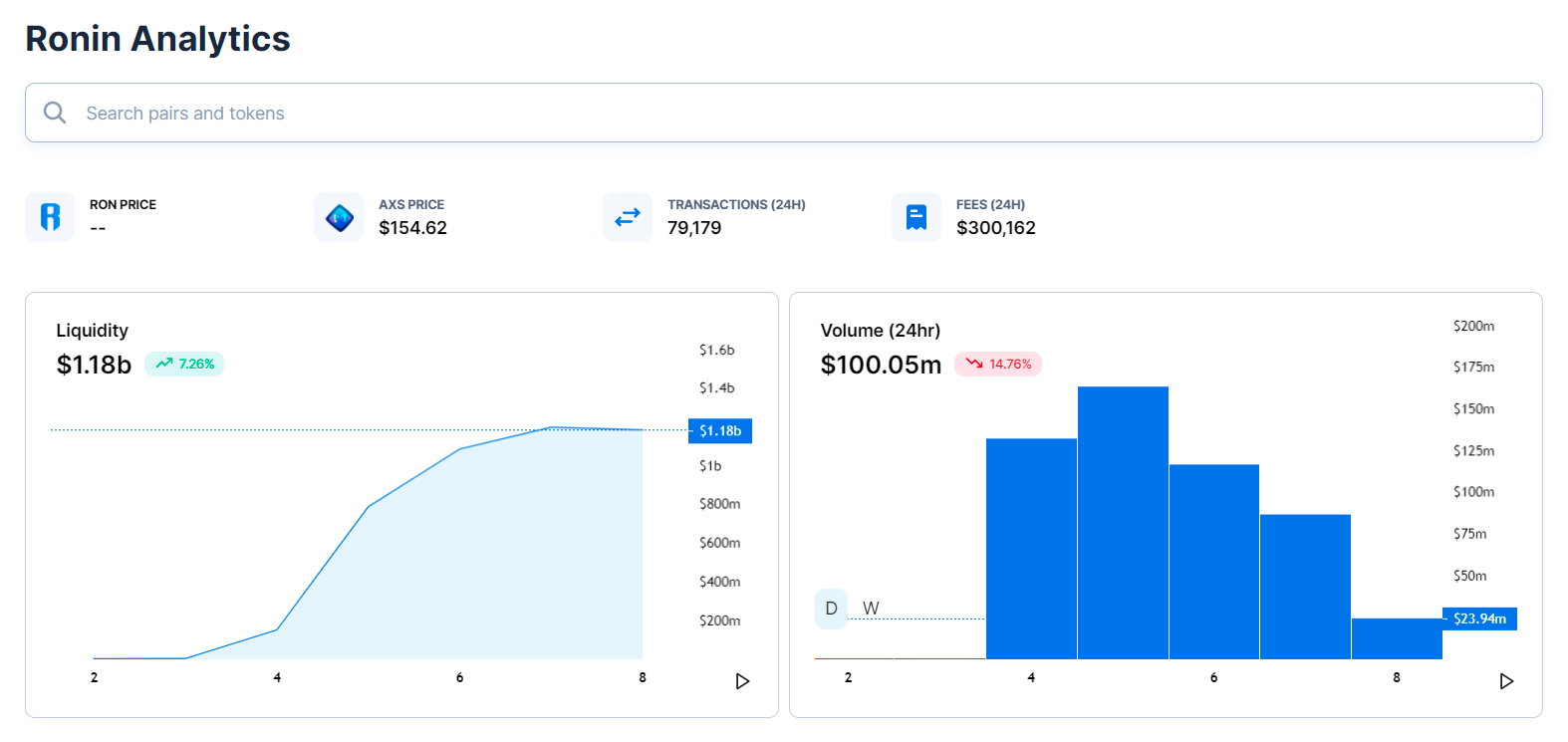 Katana crossed $100M in liquidity for the first time ever last Wednesday and by Friday that figure had grown 10x to +$1B. It's now hovering around ~$1.18B. Additionally, DappRadar estimates that ~175k users have already interacted with the DEX.
Axie Infinity has a large international community of fans, so the fact that Katana has had early growth isn't shocking. What is surprising, though, is the sheer volume and sheer rapidity of the growth. Indeed, it's not every day you see a dapp reach $1B in total value locked (TVL) within one week!
Of course, a major contributing factor to this surge is RON incentives. Still unreleased, RON is set to be the "ecosystem token" of Ronin and will be used to pay for transactions on the sidechain in the future.
In order to bootstrap Katana with liquidity in its earliest days and start distributing RON to the Axie community, the game's builders are running a liquidity mining program for Katana.
As such, in exchange for users supplying assets to the DEX's flagship AXS/WETH or SLP/WETH liquidity pools and thereafter staking their LP tokens, the program is allocating RON rewards now that will be claimable later.
Notably, this campaign is distributing 10% of the planned 1B RON supply over the next three months. RON isn't live, so no one knows what the reward yields will look like for Katana stakers just yet. Those who have piled into these yield farms early have done so out of the belief that Ronin appears poised to have a bright future.
Tips on getting started
If you've never used Ronin before, you'll need a wallet. You can download the Ronin Wallet as a browser extension for Chrome or Firefox. Sky Mavis, the builders of Axie Infinity, also just released a Ronin Mobile Wallet for Android and iOS.

You can migrate funds between Ronin and Ethereum via the Ronin Bridge whenever you want.

Regarding hardware wallets, Ronin Wallet currently only offers basic support for Trezor devices. If you want to yield farm RON and don't have a Trezor, you'll use a Ronin "hot wallet." Accordingly, be cautious with your funds and password, and store your seed phrase somewhere safe.

RON rewards are being distributed as WRON, i.e. Wrapped Ronin, to be compatible with Katana's staking smart contract. The AXS/WETH and the SLP/WETH pools are doing a 50-50 split of all WRON rewards over the next few months.

For a visual guide on how to get started, check out Axie Infinity streamer Brycent's new video lesson on Katana staking:
---
Action steps