NFTs
Axie Infinity Builders Raise $7.5M
Sky Mavis, the team behind Axie Infinity, completed its Series A funding round!

Friend & Sponsor
NEAR DA

- DA for Ethereum rollups at a fraction of the cost.
Dear Bankless Nation,
In the NFT ecosystem, many of the best projects are ones whose teams have proven excellent in managing and allocating resources.
That's why it's a big deal that Sky Mavis, the creators of hit NFT game Axie Infinity, just announced they've raised $7.5M in a new funding round.
Sky Mavis is one of the aforementioned excellent allocator projects, so they can seriously make this new bonanza of cash go a long way for the Axie ecosystem.
We've recently seen the Ronin sidechain released, for example, which shows exactly what Sky Mavis can do when they put muscle and money behind an effort. Now we patiently wait and see what these empowered builders do next!
-WMP
---
Axie Builders Reach for the Stars
Axie Infinity is arguably the most pivotal pioneer of the rising play-to-earn NFT gaming style.
Notably, this style may come to dominate the wider gaming ecosystem in the decades ahead, as players earning real money from grinding in their favorite games simply makes sense to anyone who's, well, ever played a modern video game. Thus if you're not paying attention to Axie Infinity right now, then you're seriously missing out.
Fortunately for Sky Mavis, the team that created and has excellently stewarded Axie Infinity, shrewd investors are paying attention.
That's because today, May 11th, Sky Mavis announced it's completed a $7.5M Series A fundraising round with some of the cryptoeconomy's most influential stakeholders.
Over a dozen institutions and nearly two dozen individuals participated in the Series A, including but not limited to Libertus Capital, BlockTower Capital, Animoca Brands, MetaCartel Ventures, Coingecko Ventures, Mark Cuban, Alexis Ohanian, Gabby Dizon, Peter Pan, Julian Bouteloup, GmoneyNFT, Leo Cheng, and more.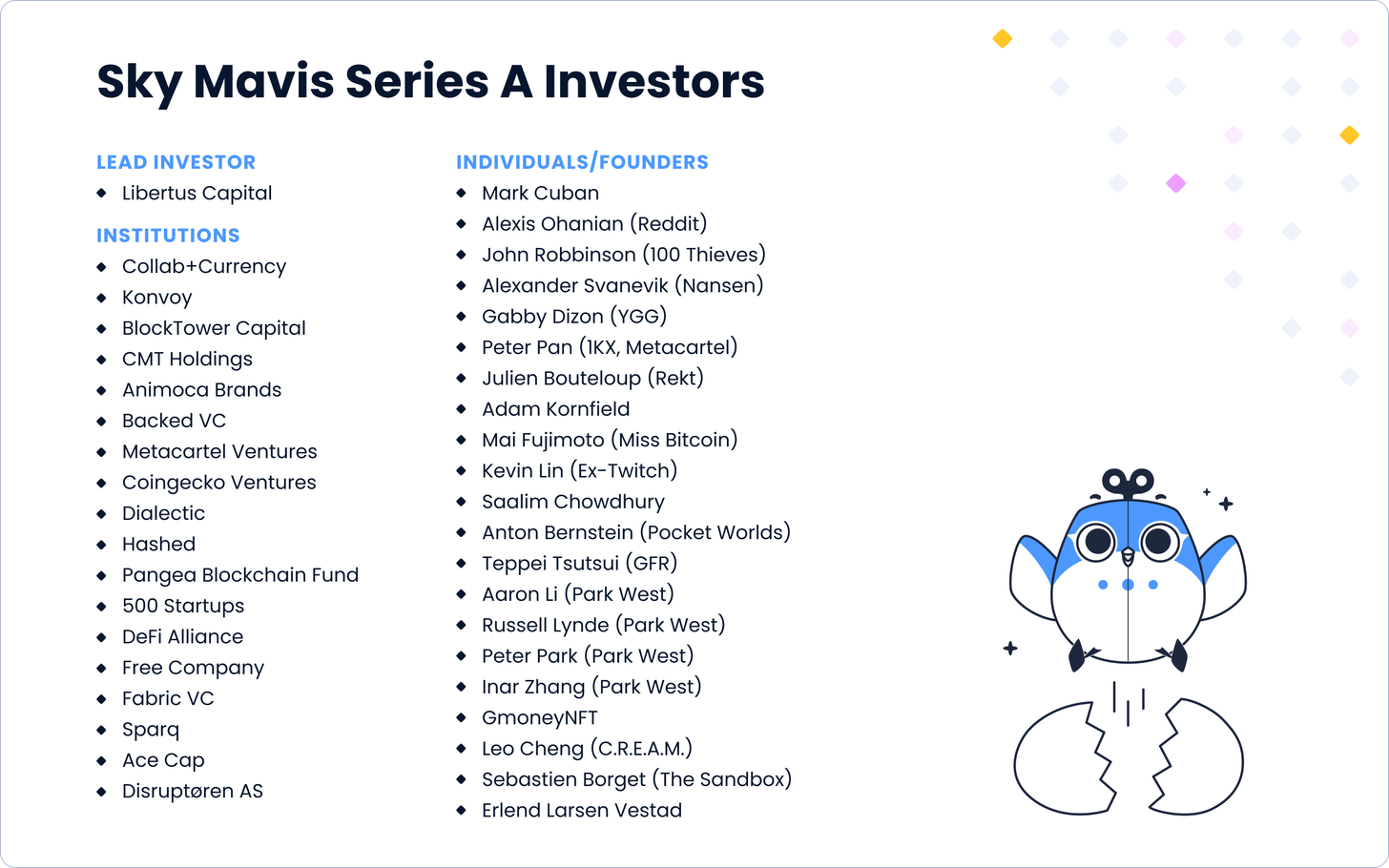 The new wave of funding comes after Sky Mavis first raised $1.5M back in Nov. 2019 and on the heels of the Axie Infinity franchise becoming a bona fide sensation in the NFT ecosystem over the last two years.
Toward that second point, the proof's indeed in the pudding when it comes to Axie Infinity's current metrics, which include +40k Axie holders, +39k daily active users (DAUs), +$12M in monthly trading volume, and beyond.
It's these kinds of irrefutable numbers that attracted cheques from some of the cryptoeconomy's biggest firms, like Blocktower Capital. On the news, Blocktower's CIO and noted crypto analyst Ari Paul noted:
"Axie Infinity is at the intersection of gaming and NFTs, two of the fastest growing and most promising cryptocurrency use cases.  With over 30,000 daily active users, they have proven product-market fit and an incredibly passionate community.  We're excited to support Sky Mavis as they scale to the next 300,000 and then 3 million users."
And that's the interesting part. It seems that anyone who really digs into Axie Infinity, both the game and its ecosystem, eventually comes around to thinking, "Oh yeah, wow, this game can easily win over millions of players." I personally think so. Axie's fun, it's magical, it's empowering. What's not to love, right?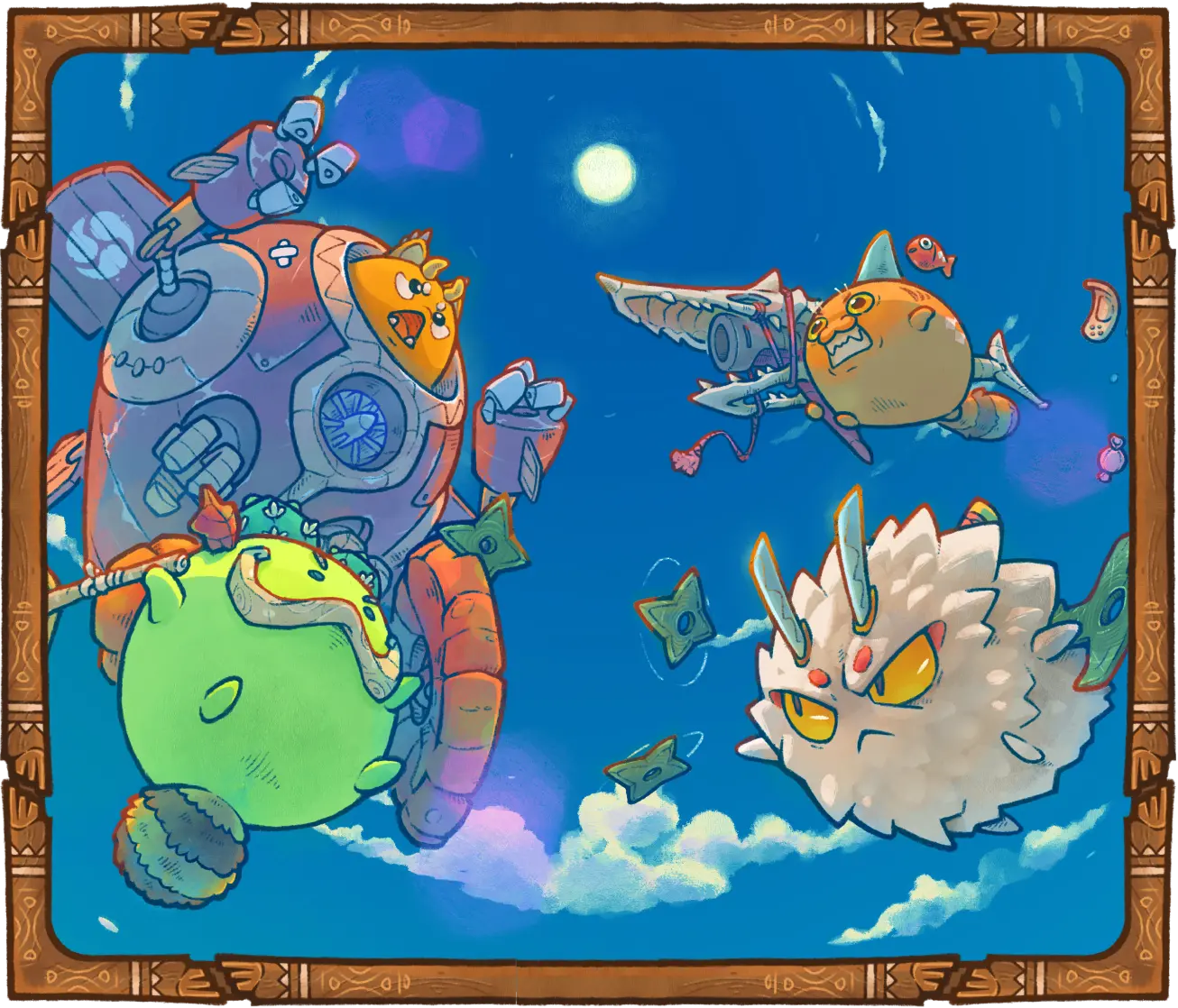 So cheers to the Sky Mavis team. You can reasonably assume with their track record that they'll put this new war chest to excellent use in their flagship mission to make Axie Infinity into a teeming, fun-filled digital nation!
---
Action steps