Daily Brief
10 Hot Airdrops We're Still Waiting For
The tokenless protocols you need to be watching (and experimenting with)
🔒
Security Tip: Bankless only sends emails from the @bankless.com & @bankless.ghost.io URLs!
Dear Bankless Nation,

Hunting airdrops is serious business. We launched Airdrop Hunter this week to give our paying subscribers the tools to maximize their chances of scoring airdrops.
We want to give everybody some alpha as well, so check out our list of the hottest airdrop targets for the rest of 2023 (and beyond) below. If you want to get serious about actually qualifying for them though, we've bundled all of the tools you need in Airdrop Hunter 🫡

-Bankless team
The 10 Hottest Airdrop Targets of 2023
Bankless Writer: Jack Inabinet | disclosures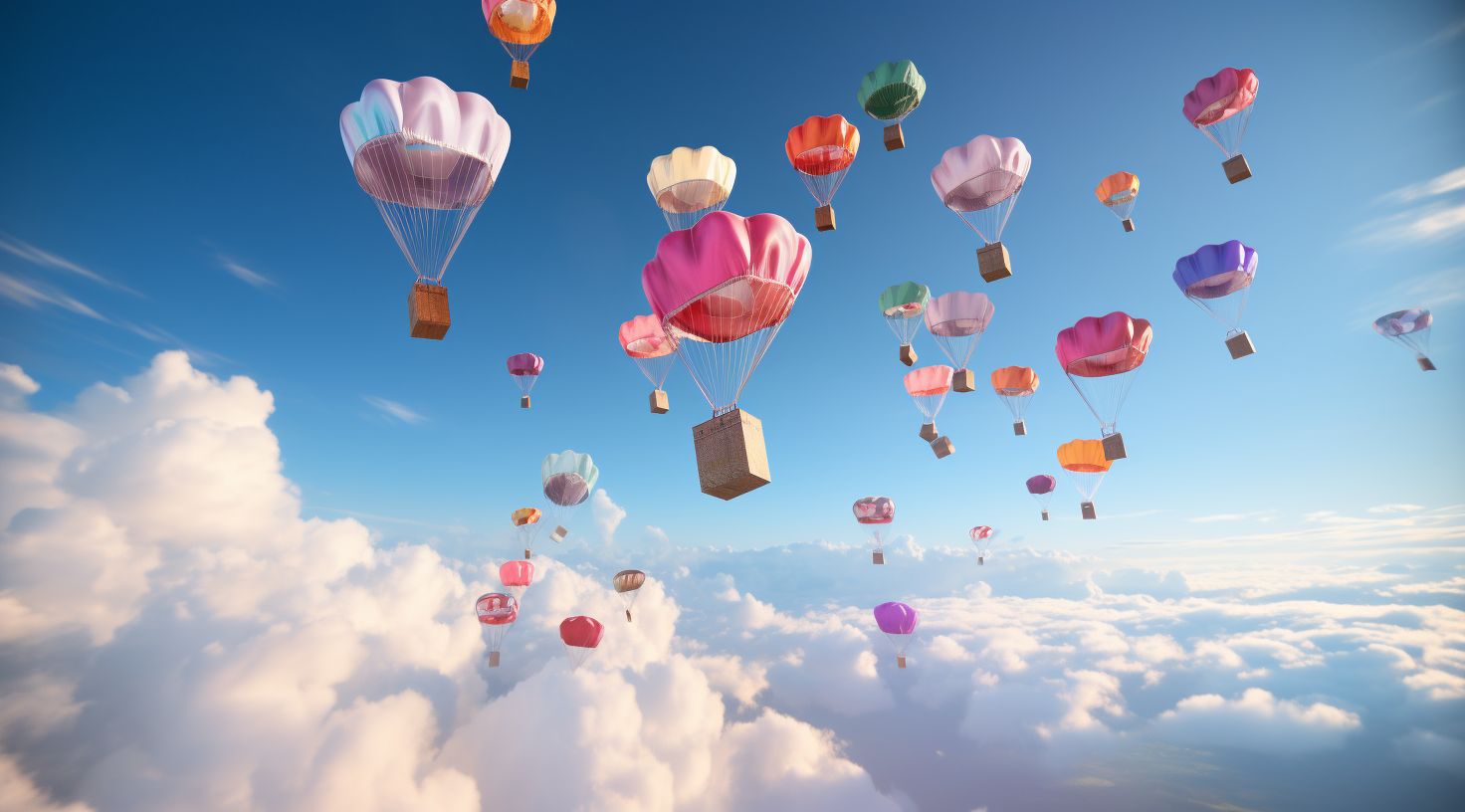 Interacting with any tokenless crypto project could help you qualify for an airdrop, but your time is money! Spend yours wisely by hunting from our list 😎
While everyone can read the rationale behind our choices and brief descriptions of the subject protocols, only paying subscribers can receive step-by-step instructions on maximizing their eligibility for all of the airdrops listed here and many more using our latest tool: Airdrop Hunter!
↔️ zkSync
Website | Twitter
Confidence: High
Sector: L2
About:
zkSync's latest iteration of the L2, Era, is a general-purpose rollup that not only seeks to increase Ethereum's throughput and lower transaction fees, but to fully preserve the chain's foundational values of freedom, self-sovereignty, and decentralization at scale.
Instead of publishing all transaction inputs, like Polygon's zkEVM, zkSync only publishes the state differences to Ethereum, theoretically lowering fees by further compressing data and reducing storage costs. Account abstraction is native to zkSync Era, opening the doors for tons of cool wallet features, like gasless transactions and flexible security rules.
Why we're watching:
The Matter Labs Chief Product Officer told CoinDesk that while zkSync will likely be one of the last zero-knowledge rollups to launch a token, two-thirds of the tokens distributed will go towards the zkSync ecosystem, meaning that this drop will likely be meaningful for early users.
It's unclear exactly how or to whom those funds would be disbursed, but we expect to see an airdrop used to allocate a large percentage of these tokens. Failure to do so would break from L2 precedent and would risk irreparable harm to the relationship between zkSync and the chain's community.
Best strategies for getting the airdrop:
---
⚫ LayerZero
Website | Twitter
Confidence: Medium
Sector: Infrastructure
About:
LayerZero is an omnichain interoperability protocol that enables developers to securely send data of any kind across blockchains.
The protocol aims to enable trustless, direct transactions of any type between chains, and the generalizability of its messaging technology allows LayerZero to be used as a building block for a wide variety of inter-chain use cases, from cross-chain governance to NFT marketplace applications. Implications of the further progression and adoption of generalized messaging technology are numerous, from a simplified onchain user experience to a reduction in liquidity fragmentation.
Why we're watching:
While LayerZero does not directly speak to the possibility of a governance token in its docs, there are clear indications that LayerZero may have a token visible in the protocol's code. Multiple references are made to the ZRO token and its potential usage for payments in the Protocol's Github repos.
An airdrop has not been confirmed as a partial distribution mechanism, but we believe usage is likely. No precedent exists for messaging protocols to airdrop tokens, however an LZO airdrop would likely help attract additional attention to and bootstrap further liquidity for the LayerZero ecosystem, producing similar network effects as an L2 airdrop.
Best strategies for getting the airdrop:
No more waiting in line: the "Buy" feature in MetaMask Portfolio lets you instantly convert your money into crypto using top providers. Embrace the speed and convenience of our direct-to-wallet on-ramp and go from fiat to DeFi with ease.
⚪ Linea
Website | Twitter
Confidence: High
Sector: L2
About:
Linea is the next generation of the Consensys zkEVM, aiming to serve the next generation of dApps built on Ethereum while empowering devs with low fees and a scalable blockchain.
The L2 was designed to be as developer-friendly as possible, coming with out-of-the-box support for popular tools, like MetaMask and Truffle. Linea's unique prover design ensures faster transaction speeds and reduced gas costs, without sacrificing security.
Why we're watching:
In May 2023, Linea announced the start of its 9-week Voyage campaign, similar to Arbitrum's Odyssey. Users accumulated points for completing Galxe quests, and top testers earned the rights to mint a one-of-a-kind NFT at the culmination of the Voyage!
Early-stage project NFTs are often used as a basis to identify a protocol's most dedicated users. While you can no longer earn these early stage NFTs, Linea's usage of NFTs as reward to top Voyage participants signals that it will likely conduct a future airdrop. It is likely NFT holders will qualify for an outsized allocation, but we also suspect that early users of this L2 will also have the opportunity to scoop a free LINEA bag.
Best strategies for getting the airdrop:
---
🌊 Swell
Website | Twitter
Confidence: High
Sector: Liquid Staking
About:
Swell is a permissionless, non-custodial liquid staking solution on Ethereum that connects node operators with their end users: stakers. The protocol returns 95% of rewards to stakers and gives 5% to node operators, but has the ability to direct a cut to the Swell DAO Treasury at some point in the future.
By reducing the barrier of entry to staking and assembling a performant network of node operators working to maximize staking rewards, Swell hopes to create a more secure, decentralized, and transparent financial future.
Why we're watching:
On April 28th, Swell announced a large list of developments, including limited-time zero-fee staking and the launch of the Voyage to decentralization, where early users can earn pearls in exchange for completing pre-specified tasks (like minting swETH and providing liquidity). Collecting pearls will make you eligible for an airdrop!
Swell has stated that, "each pearl represents a portion of the $SWELL airdrop, and will ultimately give holders governance tokens at the final destination deep beneath the waves."
Best strategies for getting the airdrop:
---
🔵 Base
Website | Twitter
Confidence: Low
Sector: L2
About:
Base is an L2 from the Coinbase team built on the open-sourced OP Stack, meaning it inherits the security of Ethereum while providing users with faster transaction speeds and lower transaction costs than available on mainnet. The chain's earliest days have been filled with meme coin debauchery, but it is envisioned that Base will eventually serve hub for various Coinbase proprietary dApps which help to on-board the exchange's 110M verified users into web3.
Why we're watching:
While Coinbase has been absolutely clear that they have no plans on issuing a network token at the moment, getting regulatory clarity on token airdrops in the future could clear the path for a BASE token. While no airdrop is currently in the works, you can certainly still set yourself up to qualify for one.
Best strategies for getting the airdrop:
---
🗣️ EigenLayer
Website | Twitter
Confidence: Medium
Sector: Restaking
About:
EigenLayer is bringing restaking – a novel primitive in crypto economic security – to Ethereum! There are two ways to retake with EigenLayer. Easily restake whitelisted liquid staking derivatives (rETH, stETH, and cbETH) with EigenLayer or spin up an EigenPod to run your own validator while restaking.
Staked ETH can be rehypothecated to secure a wider variety of applications and accrue additional rewards. EigenLayer will create a marketplace for the security of these applications and brings capital efficiency to staking by allowing one source of capital to secure multiple applications in tandem!
Why we're watching:
We've previously seen protocols allocate an outsized percentage of tokens to their earliest users and EigenLayer just hit mainnet, making now an excellent time to take the first steps towards maximizing your eligibility for an EigenLayer airdrop! While EigenLayer has not confirmed whether it will have a token, the eventual decentralization of the protocol's governance control is crucial to its success. By choosing to distribute tokens back to the community via an airdrop, EigenLayer would further align itself with Ethereum's values, helping to establish favor within a community deeply concerned about potential risks created by rehypothecation of stake.
Best strategies for getting the airdrop:
---
✨ Starknet
Website | Twitter
Confidence: High
Sector: L2
About:
Starknet is a permissionless decentralized Validity-Rollup (often referred to as zkRollup). It operates as an L2 network over Ethereum, enabling any dApp to achieve unlimited scale for its computation – without compromising Ethereum's composability and security. Smart contracts on Ethereum and the majority of L2s are written in Solidity, but Starknet uses Cairo, a Turing-complete programming language designed for STARK proofs.
Why we're watching:
The Starknet team confirmed details on tokenomics in a Medium post from July 2022 and revealed that 8.1% of the token supply was unallocated. These tokens will be used, "to further support the Starknet community in a manner to be decided by the community," and it is highly likely that these tokens will partially be allocated via airdrop to early Starknet participants. Failure to do so would break with L2 precedent set by protocols like Arbitrum and Optimism.
Best strategies for getting the airdrop:
---
🟣 Polygon zkEVM
Website | Twitter
Confidence: Medium
Sector: L2
About:
Polygon zkEVM is an EVM-equivalent zero-knowledge rollup. It is distinct from the Polygon Proof of Stake chain, which is set to undergo a major upgrade to a zkEVM validium and will remain dependent on the MATIC validator set for data availability. In contrast, the Polygon zkEVM, like other rollups, depends on the Ethereum L1 for data availability.
Why we're watching:
While many initially assumed the Polygon zkEVM would not be airdropping a token to early users, given the existence of MATIC, founder Sandeep Nailwal has hinted at the possibility of one. In a Tweet, Nailwal suggests tokens may be airdropped to early users of the Polygon zkEVM, stating "there is no rule that an existing token can't do a massive airdrop?"
On July 12, Polygon introduced Polygon 2.0 and announced a transition of the governance token from MATIC to POL. In addition to a variety of technical upgrades, the POL whitepaper notes that token emissions will be directed towards a community treasury. Should the POL community wish to incentivize Polygon zkEVM usage, it is possible an airdrop is deemed the best method to do so.
Best strategies for getting the airdrop:
---
🦊 MetaMask
Website | Twitter
Confidence: Medium
Sector: Wallet
[Editor's Note: MetaMask is Bankless sponsor. Its inclusion on this list isn't tied to its sponsorship in any way and was made at the sole discretion of this piece's author]
About:
MetaMask is a leading Ethereum self-custody wallet solution developed by Consensys with both browser and mobile integrations. With MetaMask's in-app swap, users can easily route orders across DEXs, aggregators, and market makers to receive the best possible fill price and with MetaMask Portfolio, users get access to an intuitive interface to track, buy, swap, bridge, and stake digital assets in one location.
Why we're watching:
While airdrop gurus have long proclaimed the coming of a MetaMask airdrop, there has been no indication from Consensys that there will be a MetaMask token.
With that being said, should Consensys pursue the route of a token, it is possible that early users receive an airdrop. Using MetaMask today could translate into a free ownership stake in one of crypto's most widely used products.
Best strategies for getting the airdrop:
---
🟠 Argent
Website | Twitter
Confidence: Medium
Sector: Wallet
About:
Argent is a wallet provider offering a range of products for zkSync Era (Argent), Ethereum (Argent Vault), and Starknet (Argent X), allowing users to create non-custodial wallets without seed phrases using the concept of guardian accounts. Argent is available to download on iOS or Android and Argent X is a browser extension for Chrome and Firefox.
Why we're watching:
On May 2, Argent announced the launch of its Starknet Xplorer Campaign. The deadline to claim the NFT has passed and a total of eight NFTs will be issued.
Project teams have previously used NFTs distributed to early ecosystem participants as the basis for future airdrop allocations, and it appears the Argent team could be following a similar route. While you are no longer able to earn these early ecosystem participant NFTs, their presence bodes well for the possibility of a future Argent airdrop.
Best strategies for getting the airdrop:
---
Action steps
🏹 Try out the free FIRE hunt on Airdrop Hunter