🚨 Alpha Alert: Hop Protocol Airdrop
Everything you need to know about the Hop Protocol airdrop!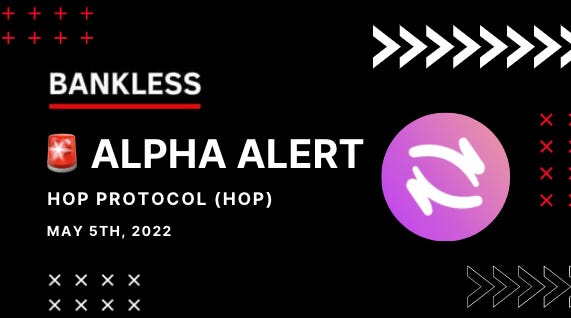 ---
Dear Bankless Nation,
Is L2 summer here yet?
Last week, Optimism launched their airdrop (full interview here).
Today, Hop Protocol announced the launch of Hop DAO and a $HOP airdrop to all early users.
This Alpha Alert tells you everything you need to know about the HOP airdrop. 🦘
Let's get into it.

- Bankless Team
---
ALPHA ALERT: Claim your $HOP airdrop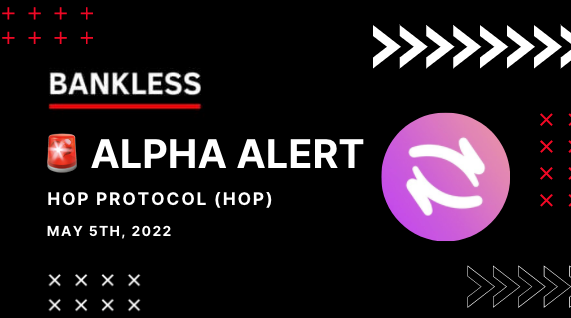 ---
---
Claim your $HOP Token Airdrop
Asset: HOP
Eligibility: Users who made a minimum of 2 bridge transactions and $1000 of volume across the Hop bridge, liquidity providers, bonders, social media evangelists, and more (full details here)
Distribution: 8% of the total supply
Details: Claim your HOP airdrop
ROI: Depends!
Hop is positioning itself as a core infrastructural service on Ethereum, facilitating cross-chain transfers between L2s. That means transferring assets between Optimism to Arbitrum without having to bypass the Ethereum mainnet and get hit with high gas fees.
---
---
With the launch of its DAO, Hop is decentralizing its protocol's governance in its loyal community.
HOP's token supply is 1,000,000,000 and is distributed as follows:
8% airdropped to early network participants
60.5% to the Hop DAO treasury
22.45% to the initial development team (3 year vesting, 1 year cliff)
2.8% saved for future team members
6.25% to investors (3 year vesting, 1 year cliff)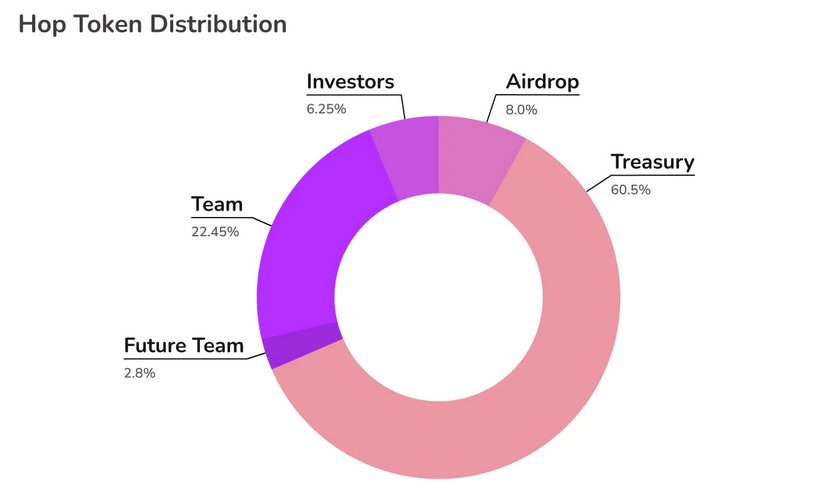 ---
How to check your HOP airdrop eligibility
Airdrop claims are not available yet. There will be a minimum 6-month period to claim your HOP.
Here's a step-by-step guide on how to claim your HOP tokens.
Head over to the official HOP website to connect your wallet. If you're eligible, your claim details will immediately appear.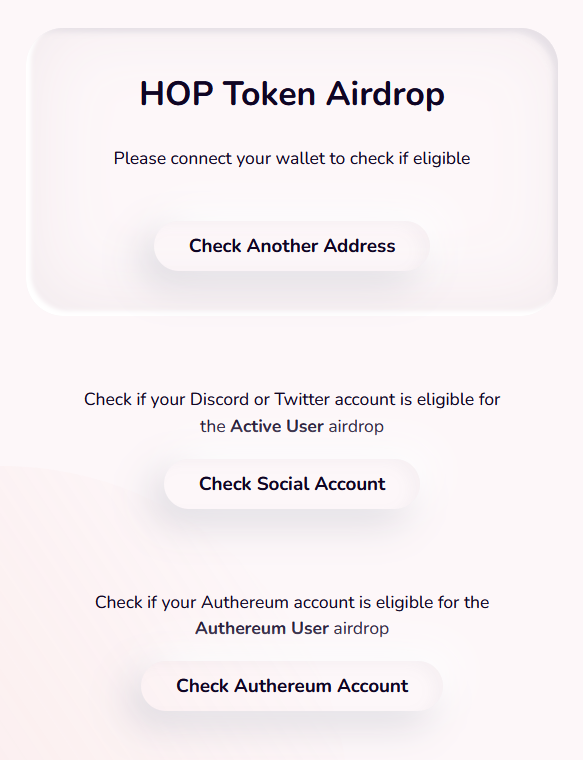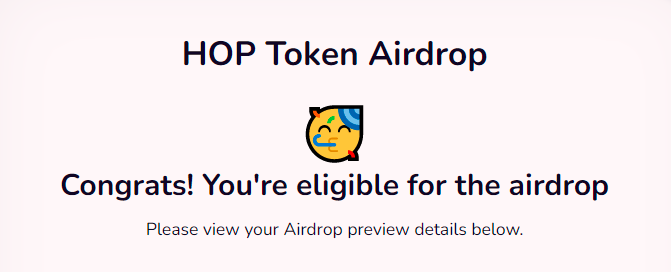 2. Review your rewards information to confirm your base rewards and multipliers. At this point, you can also use the "Check Another Address" button to review additional addresses' eligibility if you want.
Here's what it'll look like if you qualify for the airdrop: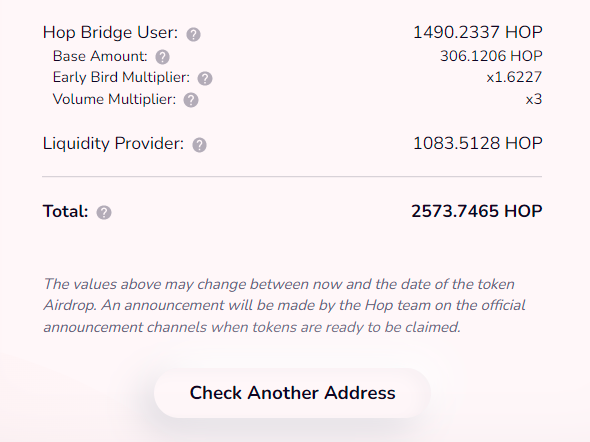 3. Don't forget to scroll down and check if your Discord, Twitter, or Authereum accounts have qualified for the airdrop, too.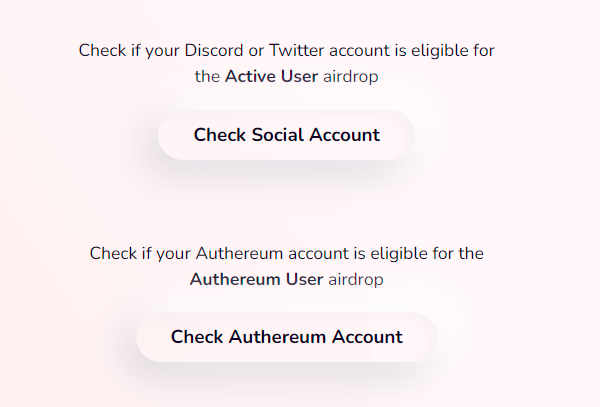 4. Now simply wait! The HOP token isn't live yet, so follow the Hop team's official comms in the coming weeks to stay up to date on the launch time.
---
🏹 Hunt Sybil Addresses to Earn HOP
The Hop team identified and removed 10,253 Sybil attackers after which, a total of 43,058 addresses qualified for the airdrop.
If you identify a minimum of 20 Sybil addresses, Hop DAO is rewarding those bounty efforts.
If you identify yourself as a Sybil attacker before someone else does, you will also receive 25% of the tokens as the original allocation.
Talk about an incentive-aligned airdrop. All details here.
Make sure to check out the Hop Protocol DAO launch with Bankless here:
---
Considerations
Why did you get this alpha? Because you subscribed to Bankless and made an effort to level-up by using DeFi protocols. This is the frontier! There's risk…but there's also reward! Today you were rewarded…congrats.
What if you missed this alpha? Keep leveling up on the Bankless program. Start using projects that might have future airdrops. Spend time each week learning something new. Connect with the community. You're still early…this is a marathon not a sprint!