🚨 Alpha Alert: Fei Protocol Genesis
What you need to know about Fei Protocol and the Genesis Event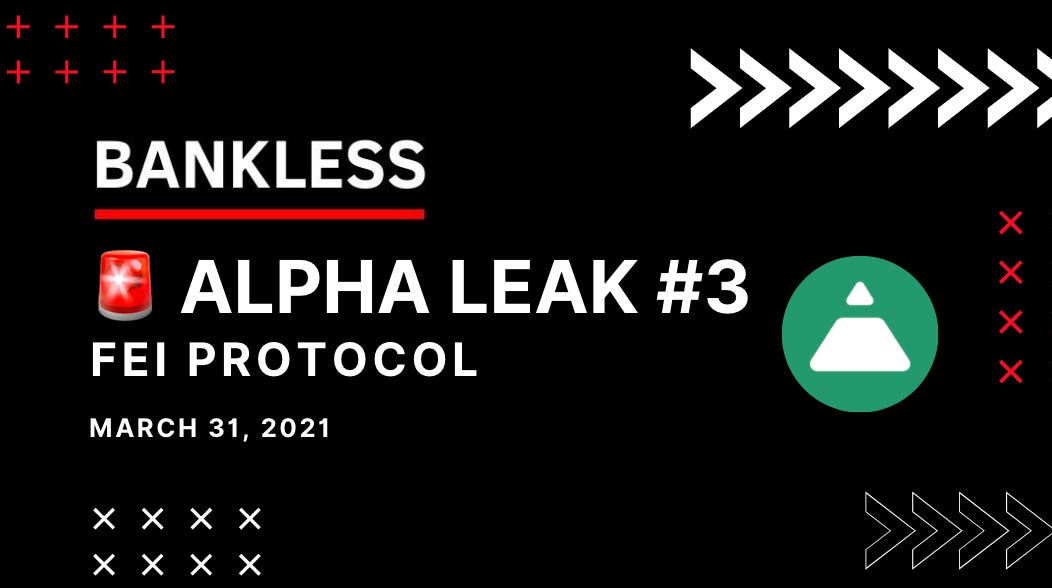 Friend & Sponsor
Across

- Across.to is the bridge you deserve

Dear Bankless Nation,
Fei Protocol is a new decentralized stablecoin protocol. It made news headlines earlier this month following a monstrous $19 million raise from major investors like a16z, Coinbase Ventures, Framework Ventures, and Nascent.
The product wasn't even live yet. But it is now.
The 3 day genesis event starts today at 12:01pm PST.
Here's what you need to know.
Let's get to the Alpha. 🚀

- RSA
P.S. We only send these to Bankless Premium members like you. What a nice perk right? 😎
---
Fei Protocol Genesis Event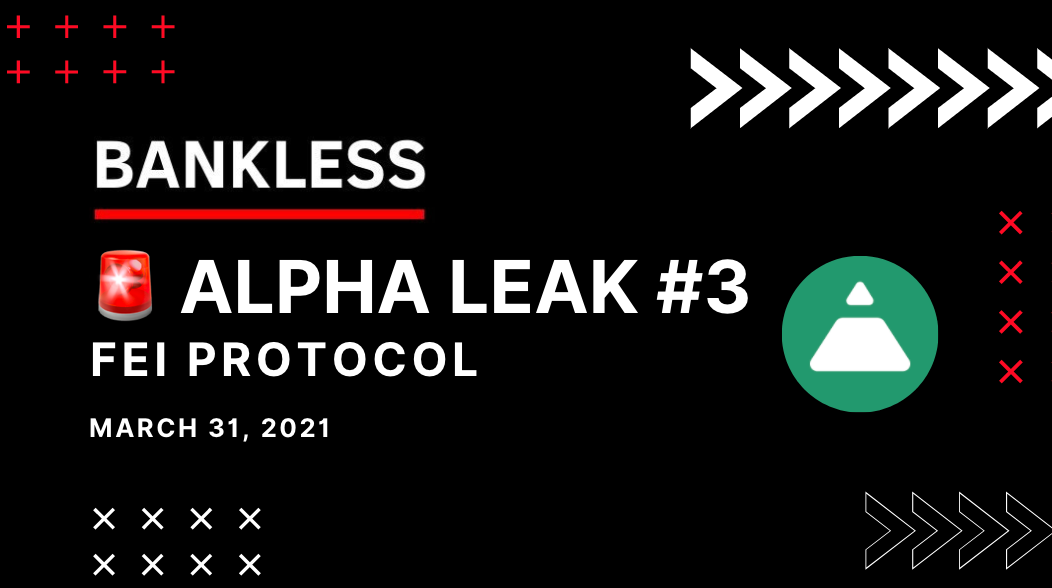 ---
🚨 Disclaimer: None of this is financial or tax advice. DeFi is risky. You can lose what you put in. Please approach this Alpha Alert at your own discretion as this post is strictly educational. It is not investment advice or a solicitation to buy or sell any assets or to make any financial decisions. Do your own research.
---
Alpha Alert: Mint FEI and Earn TRIBE
Market Opportunity
Deposit ETH into Fei Protocol during the 3 day Genesis Event, you get FEI in exchange—an algorithmic stablecoin targeting $1. At the end of the 3-day genesis period, you get TRIBE governance tokens.
Participants also have the option to pre-swap FEI for TRIBE during the Genesis Event.
Background
Fei protocol aims to build a decentralized, fair, liquid, scalable stablecoin called FEI. The protocol uses a "liquidity collateralized" model where FEI is collateralized by protocol-owned liquidity.
---
👉 Ryan Watkins at Messari did a great writeup on Fei Protocol. Give it a read if you're looking to dig deeper into how FEI works.
---
Users that participate in Fei's Genesis Event can commit ETH as part of the Genesis Group to bootstrap the protocol. In order to do this, users mint FEI by contributing ETH to the protocol's bonding curve which starts at a discount of $0.50.
The curve will increase the minting rate to $1 as more ETH is locked until the target supply is reached (100M FEI). This creates a strong incentive to lock up ETH as you're effectively able to buy $1 for less than $1.
IMPORTANT: Minting FEI means you do not get your ETH back directly…ever! Instead you get FEI which targets $1 and can be sold on Uniswap for ETH.
It's important to highlight that minting FEI with ETH is a one way bridge. There's no redeeming FEI for the underlying collateral after you commit. The protocol retains all ETH committed. So be careful and make sure you understand what you're doing. ⚠️
The Genesis Group will be the earliest Fei Protocol adopters. As a result, those who elect contributes to the Genesis Event will be entitled to a pro-rata share of 10% of the total TRIBE, the protocol's native governance token, based on the amount of FEI minted. There's also an optional pre-swap where users can directly swap their FEI for TRIBE before the distribution event (more on this below).
Anyone can participate in this event! So if you're interested in betting on this new decentralized stablecoin for DeFi, get your ETH ready!
Timeline: Genesis begins on March 31st (today!!) at 12:01 pm PT. It will last three days, ending on April 3, 2021, at 12:01 pm PT.
Asset(s): FEI, TRIBE
Eligibility: Anyone
Distribution: 10% of all TRIBE will be created and reserved for Genesis Group participants.
Details: Official Blog Post
---
Want to calculate your potential earnings? Here's a simple spreadsheet to give you an idea!
---
How to Participate in Fei Genesis
1. Prepare your ETH
In case you don't have a WalletConnect compatible wallet, set one up.
If you have your ETH on an exchange or a hosted wallet, transfer it to your compatible wallet or connect your hardware wallet to WalletConnect via our app. Make sure you have your ETH ready for transfer in advance.
2. Wait For Genesis Launch
Fei Protocol Genesis opens later today, March 31st, at 12:01 PM PDT. The event will last 3 days until April 3, 2021 at 12:01 PM PDT.
You can stay up-to-date with the Genesis Opening on Discord, Telegram, and Twitter.
3. Make Your Commitment
Once the Genesis Group has opened, transfer the amount of ETH  you are willing to commit. Go to https://app.fei.money, connecting your prepared wallet with Fei Protocol.
Keep in mind that the committed ETH transactions are one-directional, you can't change the amount after the transaction is confirmed. You can increase the amount of committed ETH with additional transactions, but can't withdraw the committed ETH.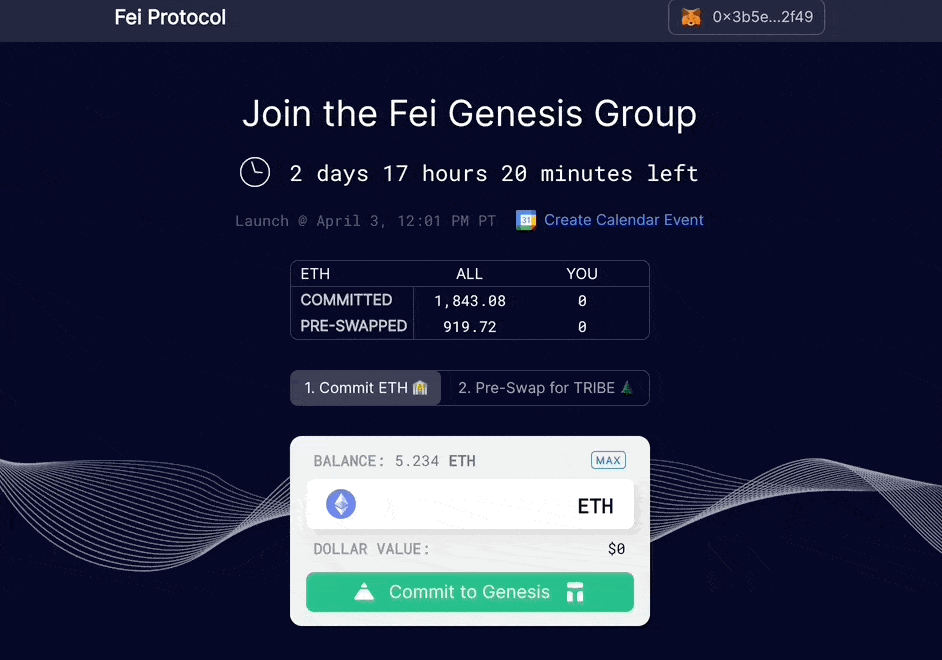 4. Optional Pre-swap for TRIBE
After your ETH commitment transaction is confirmed, you'll have the option to pre-swap your upcoming FEI for TRIBE.
If you are going to pre-swap, select either suggested 50% or 100% of committed ETH, or any other amount you prefer, then confirm the transaction.
Keep in mind that the pre-swap transactions are one-directional, you can't change the pre-swap amount after the transaction is confirmed. You can increase the amount to be pre-swapped with additional transactions, but can't lower the amount of the pre-swapped FEI.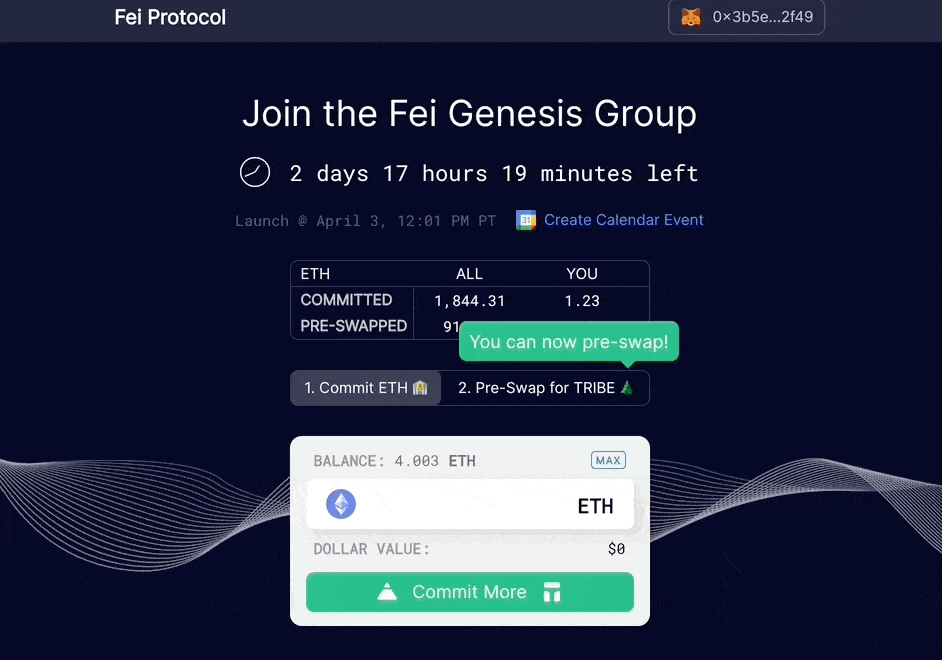 5. Follow The Fei Protocol and Genesis Announcements
We recommend you to check our channels (Discord, Telegram, and Twitter) regularly to track the Genesis progress, especially if you would like to acquire more FEI and TRIBE later on.
The Genesis Group closes on April 3rd, 2021 at 12:01 PM PDT.
---
Considerations
What if you missed this alpha? Keep leveling up on the Bankless program. Start using projects that might have future airdrops. Spend time each week learning something new. Connect with the community. You're still early…this is a marathon not a sprint!
---
🙏Thanks to our sponsor
Aave is a decentralised, open source and non-custodial liquidity protocol enabling users to earn interest on deposits and borrow assets. Aave Protocol is unique in that it tokenizes deposits as aTokens, which accrue interest in real time. It also pioneered Flash Loans and Credit Delegation as innovative DeFi building blocks. The Aave Protocol V2 makes the DeFi experience more seamless with features that allow you to swap your assets for the best yields on the market, and more. Check it out here.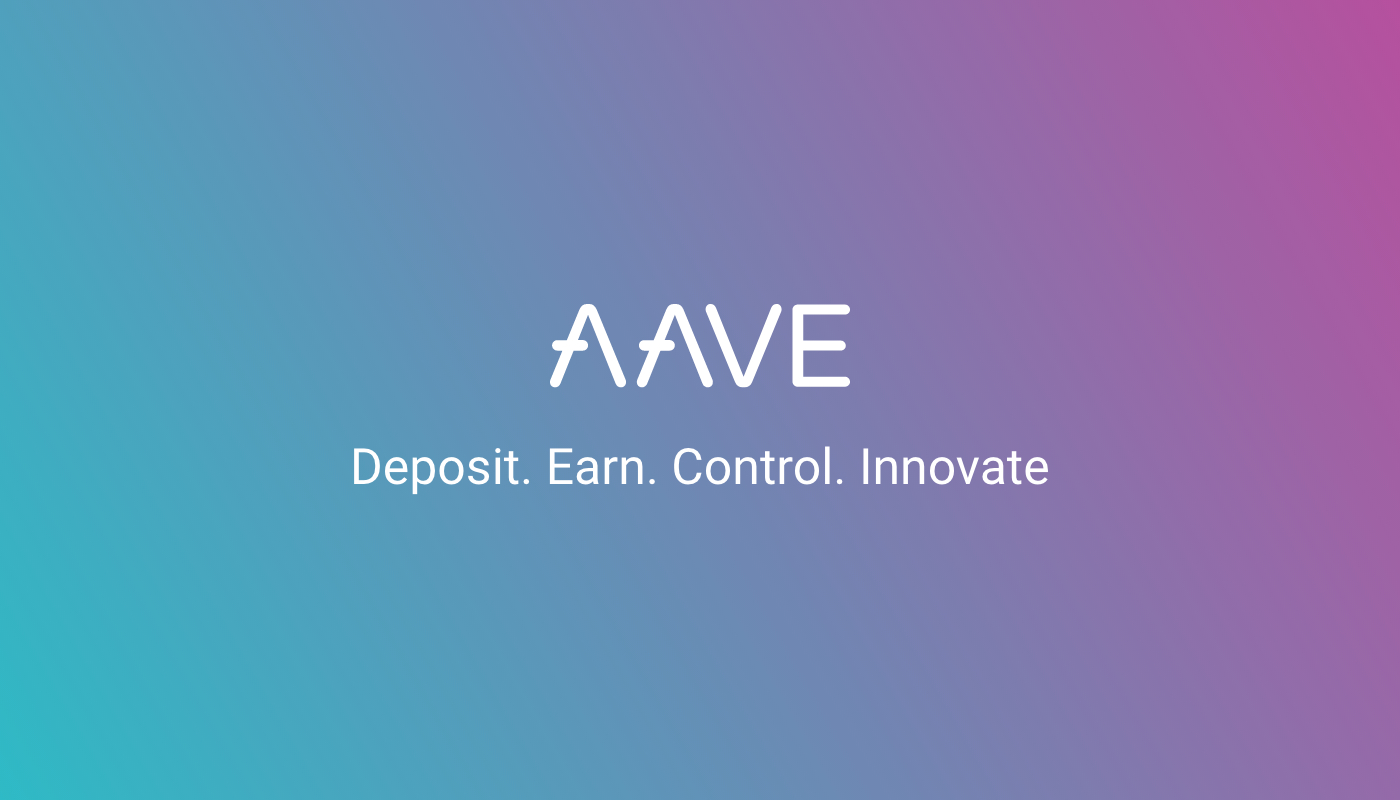 ---
Want to get featured on Bankless? Send your article to [email protected]
---
Not financial or tax advice. This newsletter is strictly educational and is not investment advice or a solicitation to buy or sell any assets or to make any financial decisions. This newsletter is not tax advice. Talk to your accountant. Do your own research.
---
Disclosure. From time-to-time I may add links in this newsletter to products I use. I may receive commission if you make a purchase through one of these links. Additionally, the Bankless writers hold crypto assets. See our investment disclosures here.